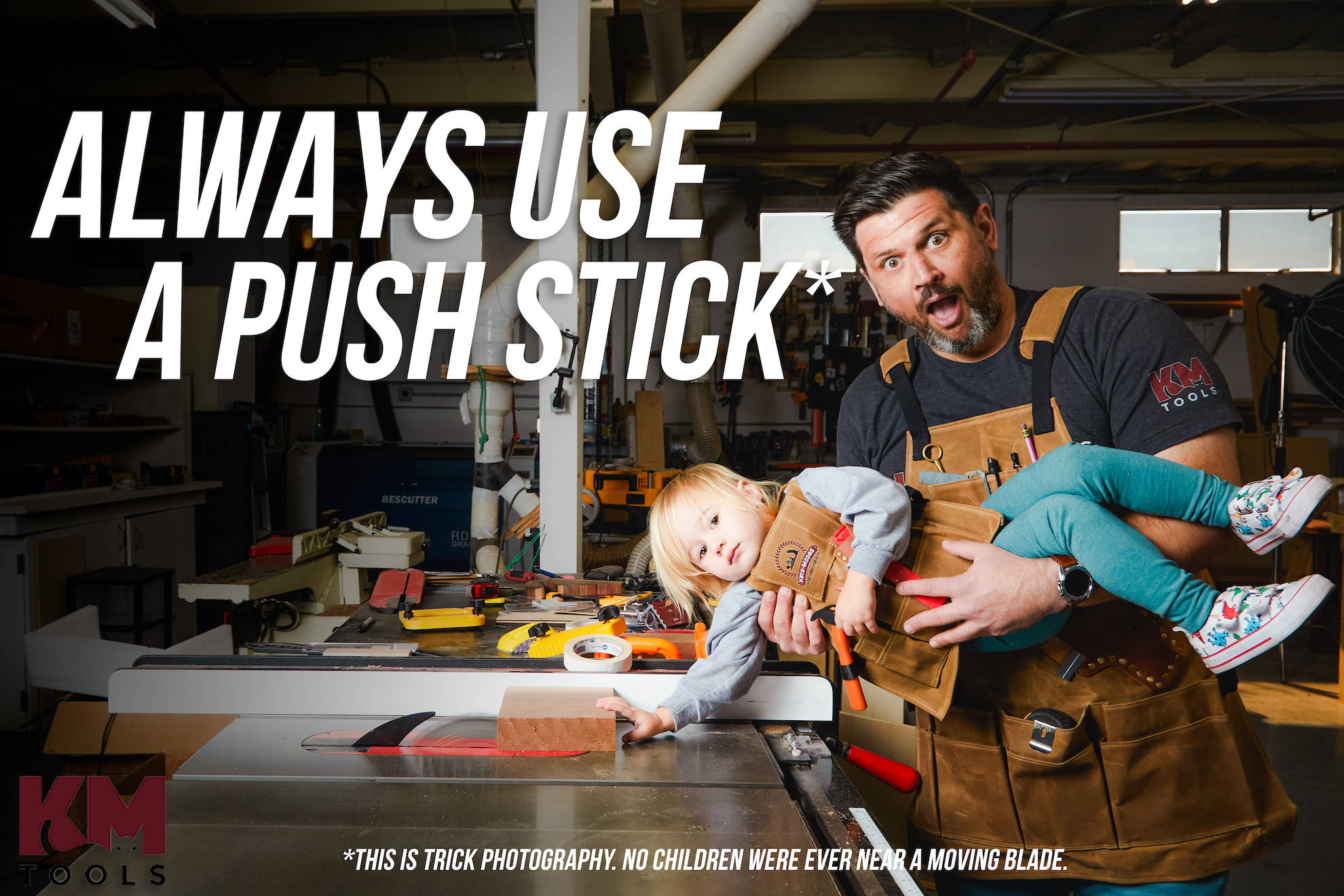 Before you call Child Protective Services: Don't worry — the image above is photoshopped. I wasn't actually holding my daughter as she leapt over the table saw.
You and I are both woodworkers — but we're more than just that.
Outside the shop, you might be holding down a full time desk job, writing the next great novel, or developing a blossoming career as a wild pigeon tamer.
Or, like me, you might be a parent.
As a parent, I want to share my hobbies with my daughter. It helps develop her creativity and show her how wonderful it is to have a passion.
Problem is, my passion involves razor-sharp blades spinning at over 3,000 rpms. Not exactly kindergarten friendly.
So to celebrate the launch of the Katz-Moses Children's Tool Apron, I'm giving you my top 3 tips for bringing your kids into the shop.
Big disclaimer here: Only you can determine what's safe for your kids. Age, maturity, and general personality are all going to be influencing factors in your decision.
If your kid starts twitching after 10 minutes without Call of Duty, maybe don't hand them the nail gun.
For young children, here's a general checklist I follow before bringing them into the shop:
Unplug all power tools: From miter saws to spindle sanders, I make sure there's absolutely no way a tool can get turned on without my supervision.
Move blades out of reach: Running power tools aren't the only danger in the woodshop — sharp edges from saw blades, chisels, and hand planes pose a risk too.

I lower my table saw blade below the throat plate, and make sure any hand tools with sharp edges are out of reach.
Provide proper PPE: Kids love playing 'dress up' — which works out well for bringing them into the shop. Good things to have on hand are: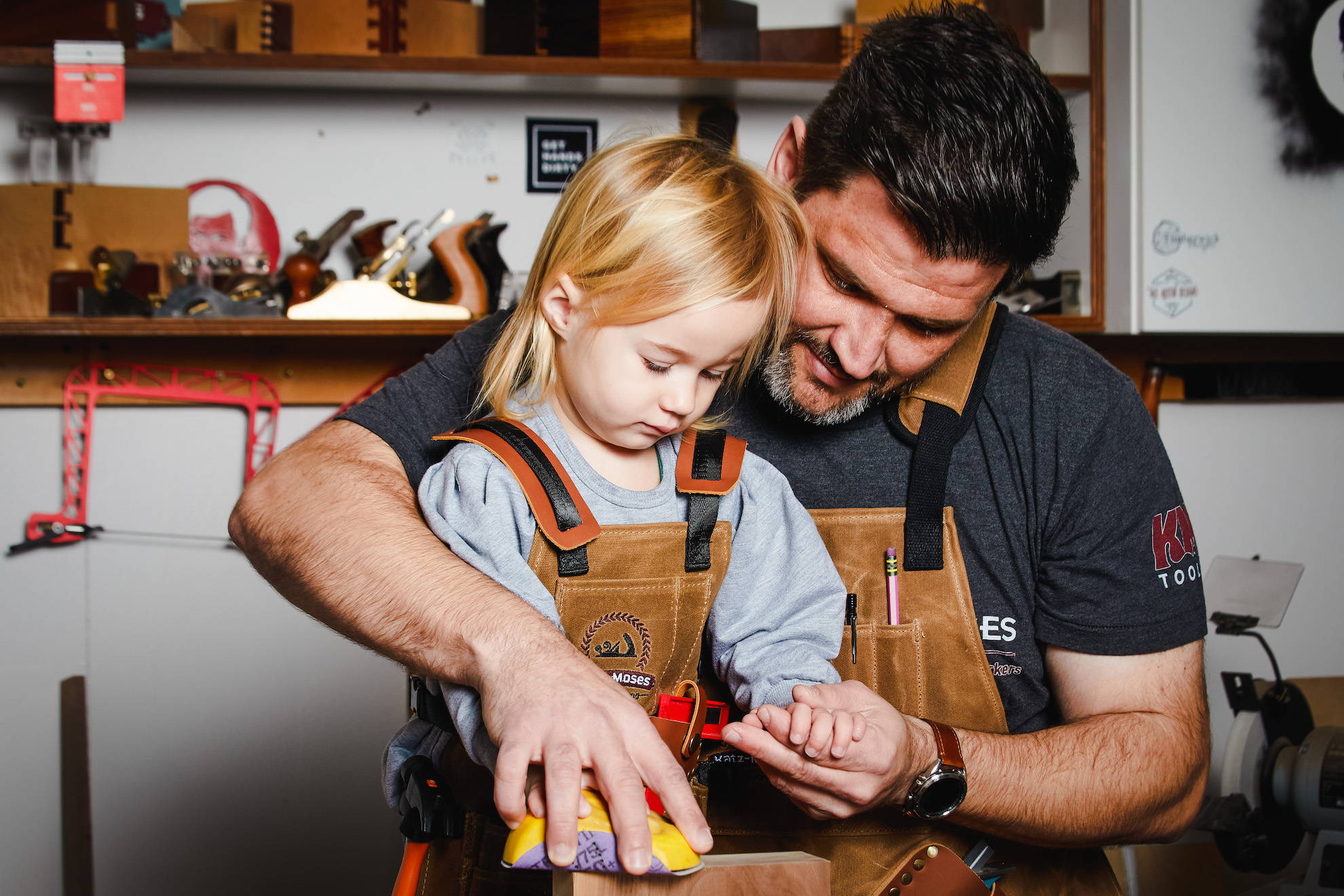 If your kid has an aptitude for grabbing every dangerous object in reach, consider assigning them a "safety stool" by your bench they aren't allowed to leave without your permission. That way, you can fully control what they have access to.
Extra tip:
Take care of any complex or dangerous work — like milling lumber or cutting stock to size — before inviting your kids into the shop.

You don't need them standing around while wood chips threaten to fly into their faces.
---
Half-blind mitered dovetails might be your jam — but probably a few leagues above the ability level and patience of your kids.
Choose age-appropriate activities to keep them focused without getting frustrated. For example:
Young children: Hand-sanding with a sanding pad (make sure they have a mask)
Older children: Knocking in dowels with a mallet or applying finish. You can introduce some battery powered tools, like an impact driver or random orbital sander.
Kids 10+: Hand sawing, hand planing, or assisting with glue ups. At this age, you can exercise more discretion in what you choose to let your children do.

Kids this age are also extremely computer literate, and there are several programs, like Tinkercad, that allow them to design projects digitally. If you have a CNC or 3D Printer, this is a fantastic way to get them excited about building without putting them in harm's way.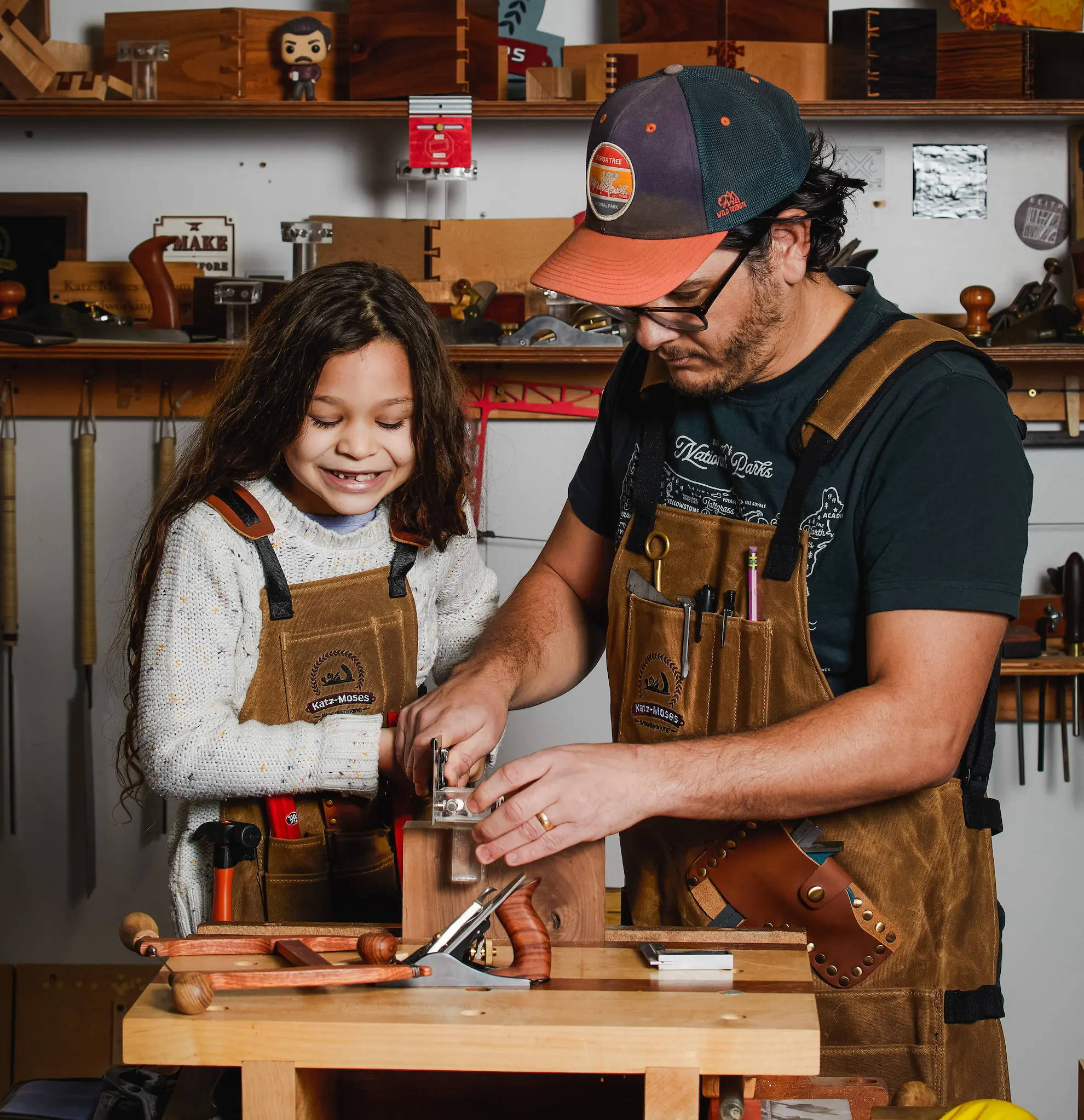 For more complex builds, make the individual parts beforehand. Your children can help with assembly and the finishing touches.
Project Idea:
Your kid needs some tools to put in their
Katz-Moses Children's Tool Apron
. Why not build them together?

A set of digital tool templates come with the apron, and make for a perfect kid-friendly shop project. Just cut out the templates beforehand, then have your kids sand and paint them all the crazy colors they desire.
---
You might always be striving for perfection in your woodworking.
But when your kids are in the shop, let perfection go.
The point is to spend quality time with them — not raise the next George Nakashima.
Even if it means breaking the "rules" a bit, the woodshop is a great space for your kids to explore their creativity.
So your daughter's obsessively sanding only the center of a board? She's making a water dish for the dog. Your son's insisting his box needs just 20 more screws? Have at it, Dr. Frankenstein.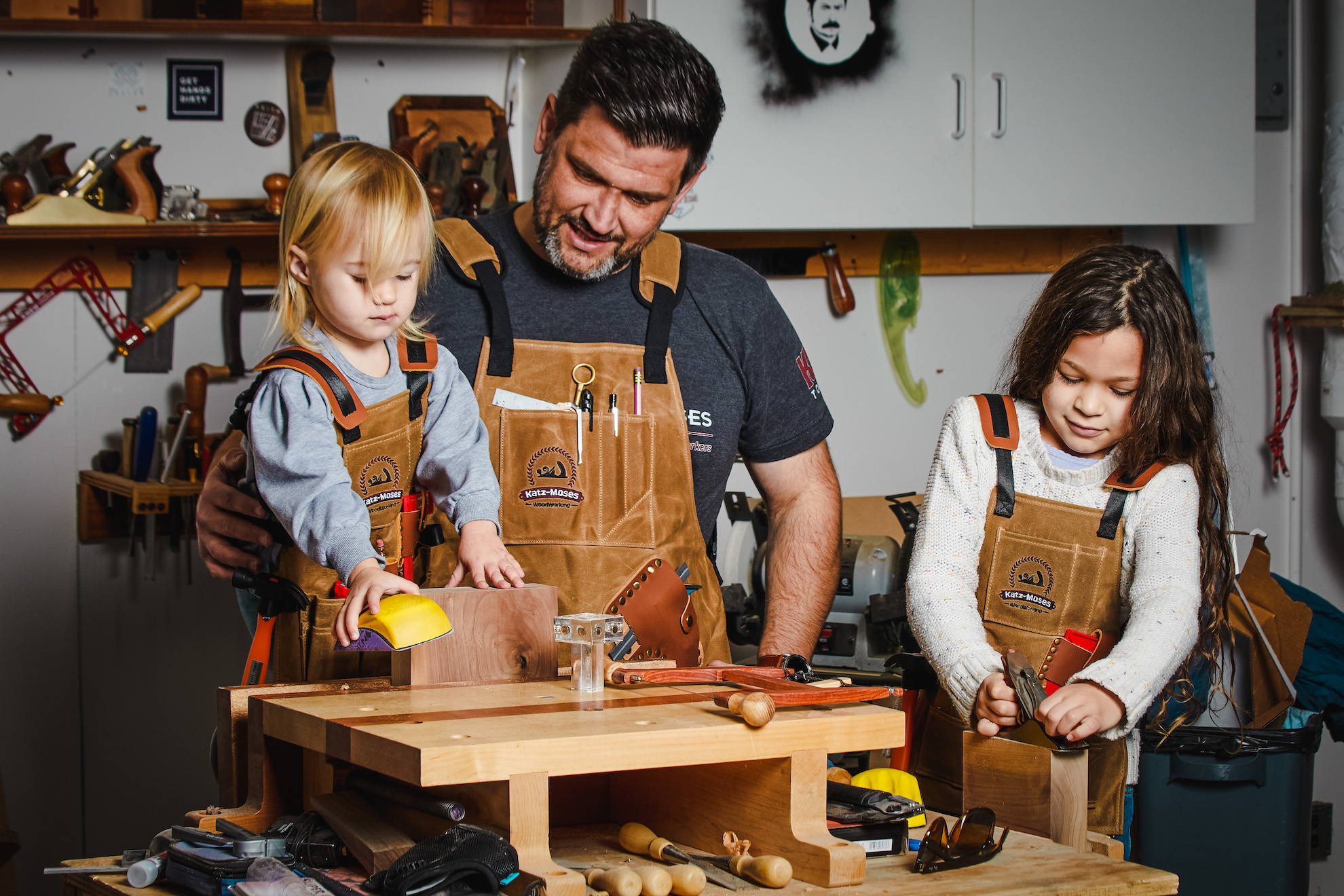 While my daughter's still a bit too young to do much in the woodshop (except look freakin' adorable in her apron), I absolutely love bringing her in.
She talks about wanting to go to "daddy's office" constantly, and loves beeping the horn on the forklift while we drive around the parking lot. (It did, however, take her a while to stop being scared of Cardboard Danny Devito.)
But bringing her in is a great way to expose her to the world of woodworking, which has given her dad so much — and let her explore her own interests and creativity.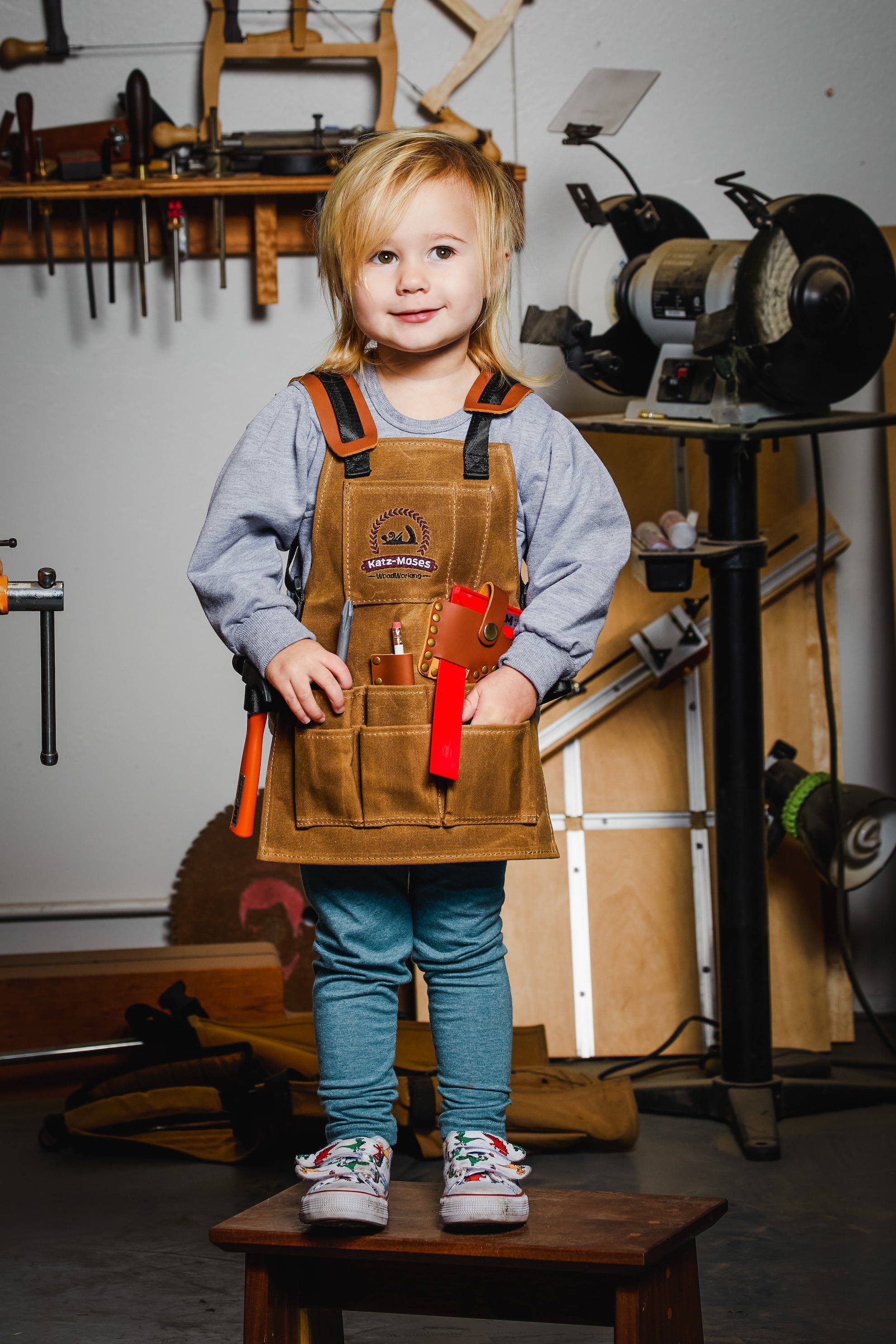 If you plan on bringing your children into the shop, check out the Katz-Moses apron for kids.
It fits kids anywhere from 2 to 12 years old, and you'll never see anything as cute in your life. Plus, the added protection of a 20 oz waxed canvas apron provides peace of mind when you're in the shop.
Got any advice for bringing your kids into the woodshop? Share it in the comments below!
Be sure to follow us on Instagram @katzmosestools and check out my YouTube channel.
And as always, STAY SAFE IN THE SHOP!