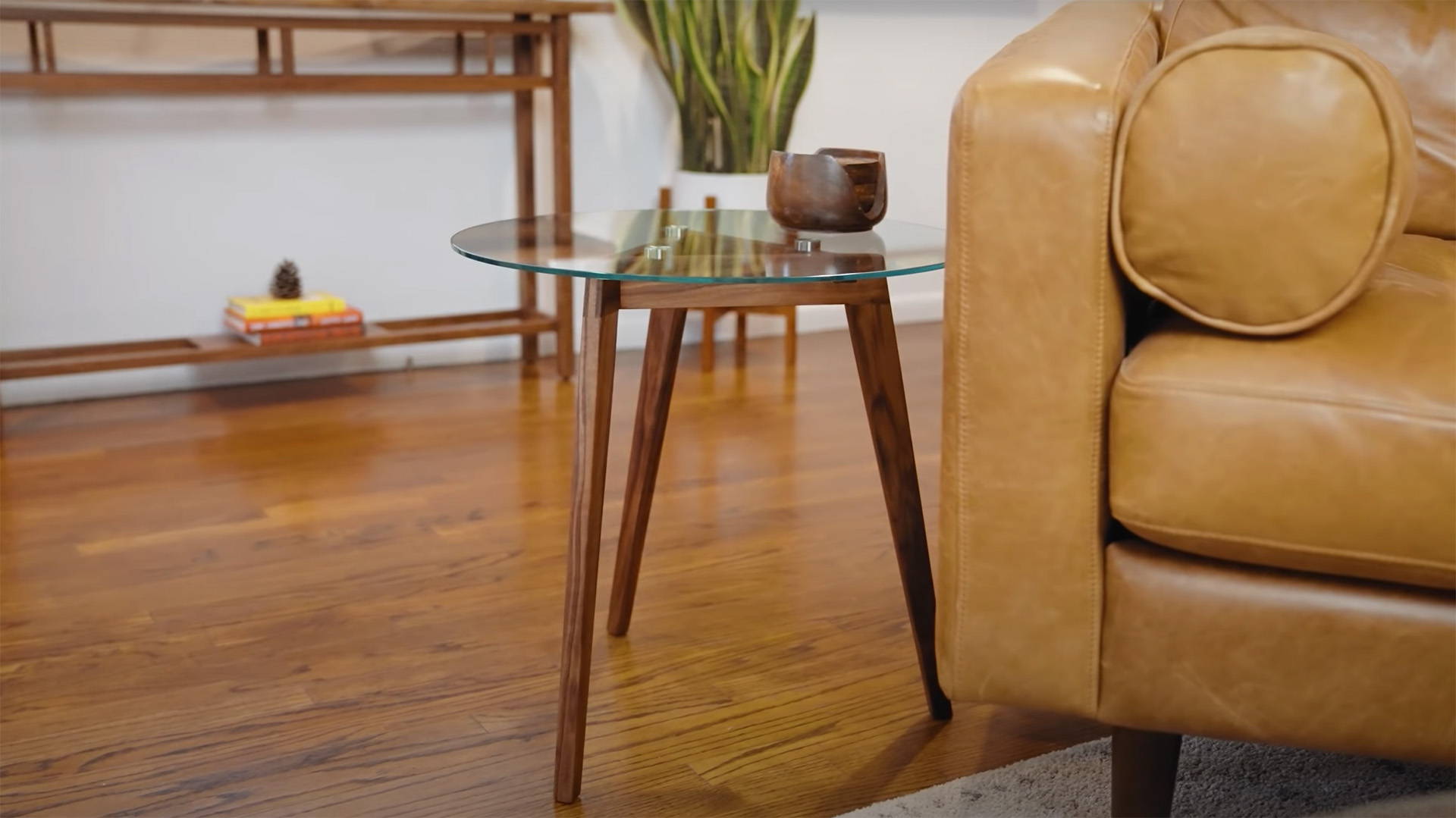 Looking for an easy way to spruce up your furniture designs? Meet tapered legs.
Used in everything from Shaker Style to Mid-Century Modern, tapers trim up the profile of your furniture — making it more elegant, refined, and just plain good-lookin'.
But figuring out the best way to cut a taper takes a bit of creativity. Afterall, so much of woodworking is cutting straight and square.
Today, I'm explaining 3 ways to cut tapered legs with different tools — including hand tools, a table saw, and a router.
Plus, I've added a few other methods for you to look into more deeply if they tickle your interest.
With all these different strategies, you always have something to fall back on if a cut starts to feel sketchy.
So let's get to it.
---
---
HOW TO LAY OUT TAPERED LEGS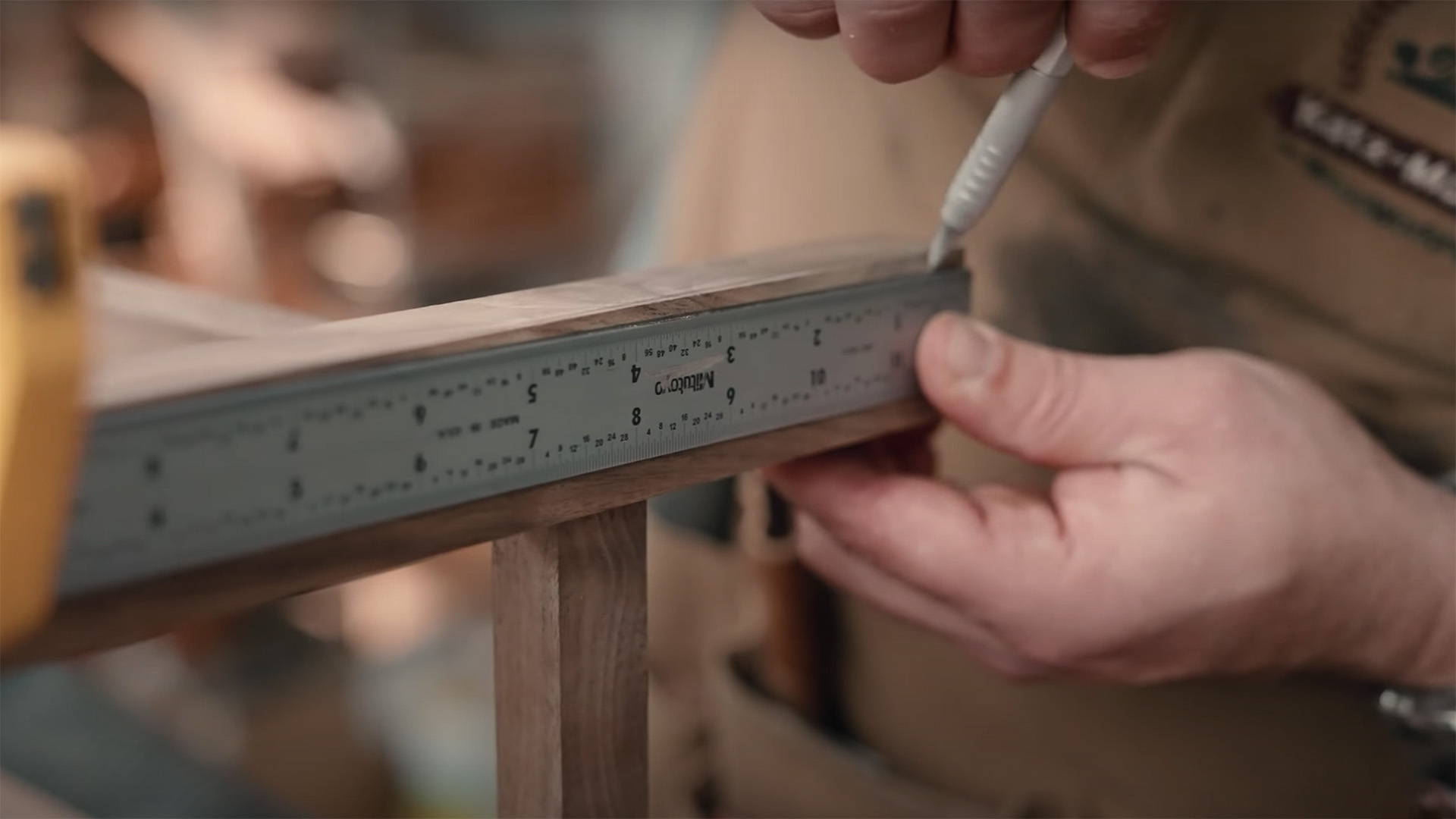 Whatever method you choose, the first step is laying out the angle of your taper.
Start by visualizing with a straight edge and pencil.
I'll place a long, wide ruler on the side of the leg at different angles to get a sense of what looks best.
Trace light pencil lines you can erase and test different angles. Walk a few steps away so you can see the bigger picture.
And make sure you leave space at the top of the leg for any joinery you plan on using.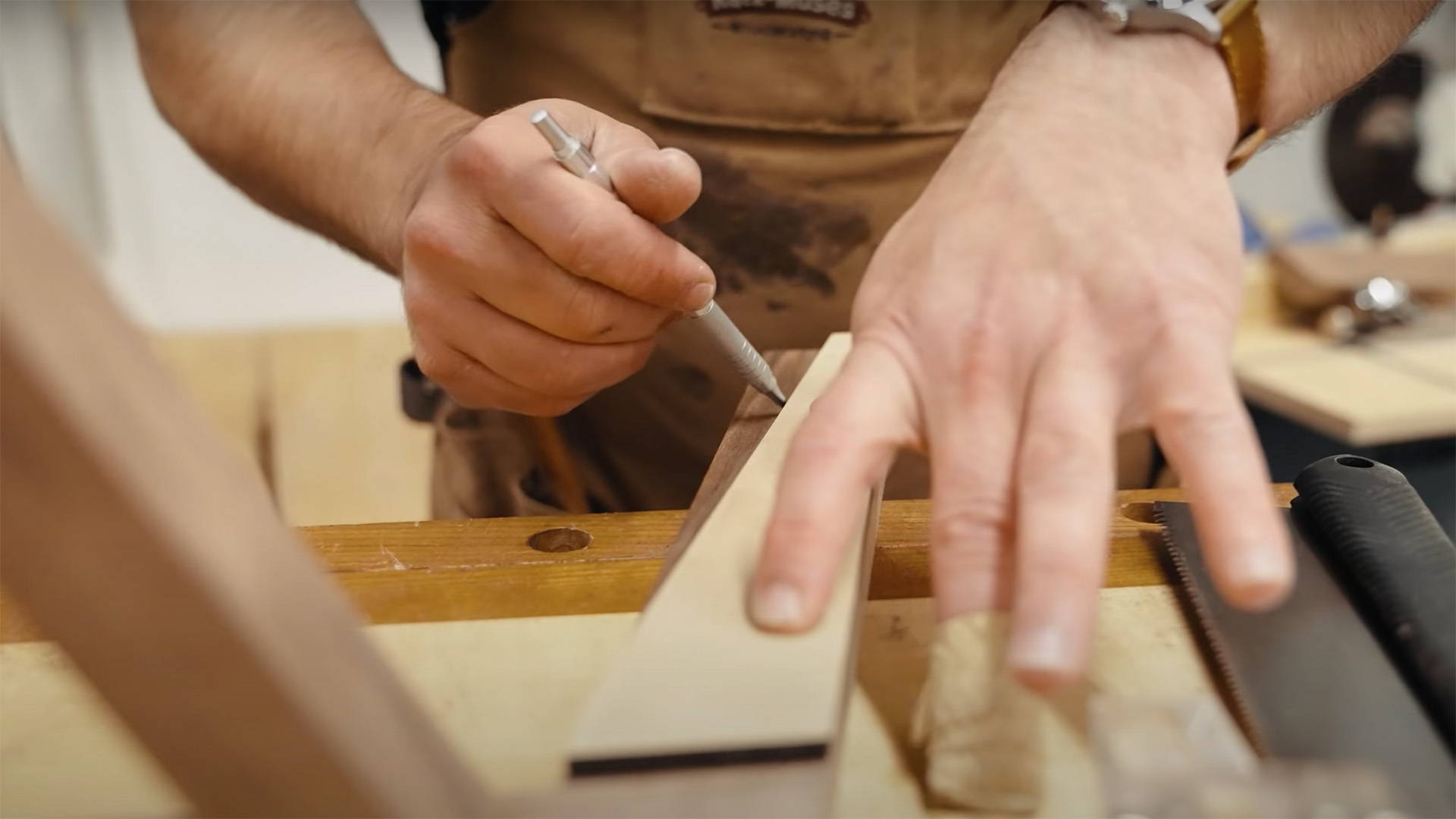 Once you settle on a taper, scribe a line with a straight edge and marking knife.
Make your first pass lightly, then follow up with successively more pressure. If you push too hard on the first pass, the wood grain can pull the knife blade out of line.
Follow up by scribing a line on the end grain at the bottom of the leg with a square that lines up with where your taper line ends.
If you plan on using hand tools, also mark a line on the long grain edge where the taper will be. Use this line and the end grain line to set up a straight edge and mark the other edge's taper line.
As long as your legs are milled to the same dimensions, you only need to do this layout on one of the legs.
It'll then work as your reference for the others. The less measuring you have to do, the more accurate and consistent your woodworking will be.
---
HOW TO CUT TAPERED LEGS WITH HAND TOOLS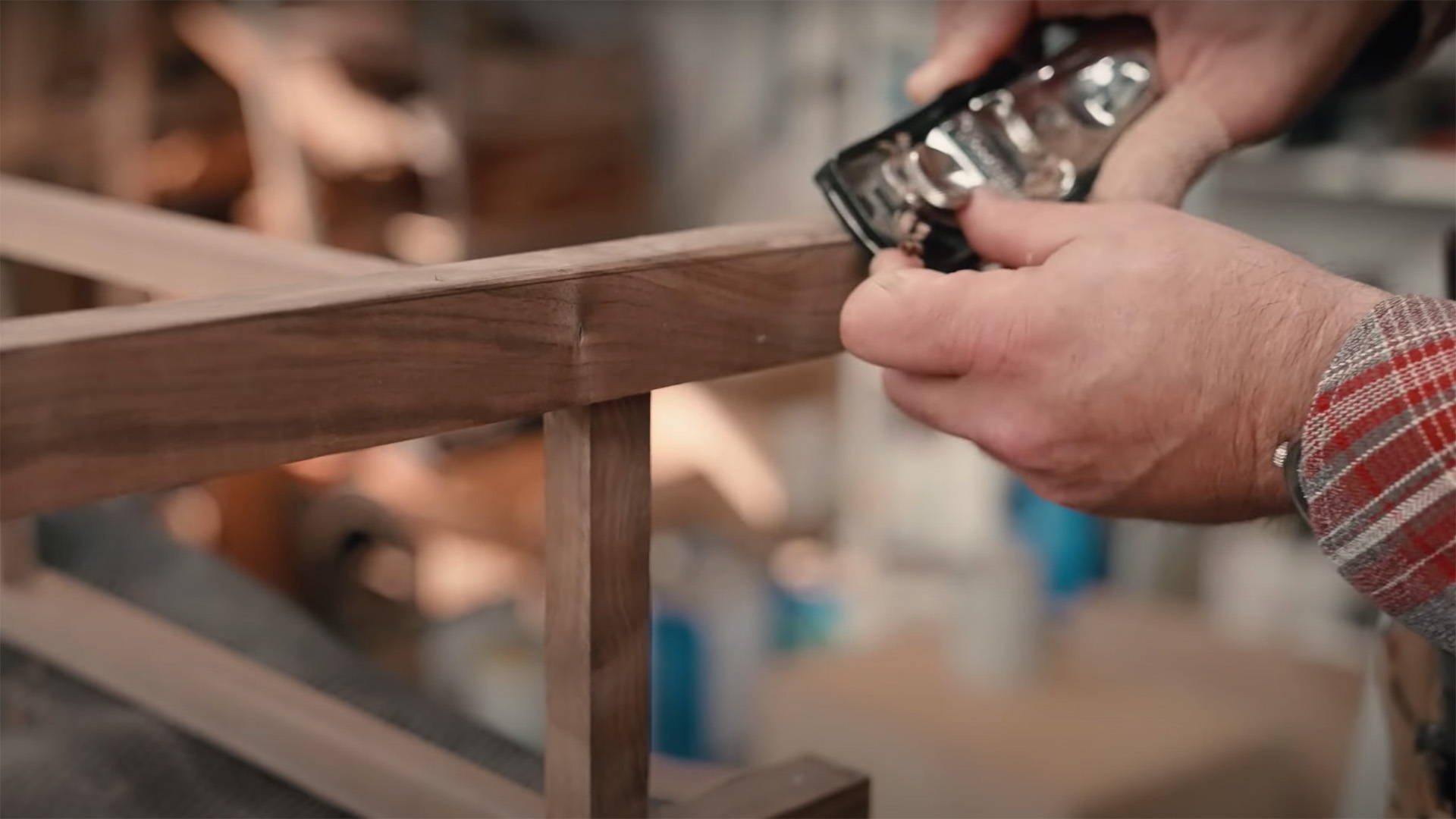 You're going to need a ripping saw and a sharp hand plane.
Any size hand plane can work, but go bigger for big tapers.
Start by flipping the leg upside down in a vise. It's easier to start sawing in the end grain than to come into the long grain at an angle. Angle the leg so you can cut straight down.
You're going to use the ripping saw to cut slightly on the waste side of your line. Aim to stay around ⅛" inch away.
If you have a double-sided Ryoba saw, I like to start the kerf with the crosscut side. Once the kerf's established, switch to the ripping side with bigger teeth.
Let the saw do the work. Your job is to keep the cut parallel to your line.
Make sure to support the offcut as you get close to finishing. You don't want it to fall and rip off a bunch of fibers past the end of the taper.
SAWING TIP:
Sawing at around 45° to the leg helps cut straighter by keeping more of the blade in the kerf.
If you start to wander from your line, saw at 90° to get back on track. Then go back to the angled cut.
---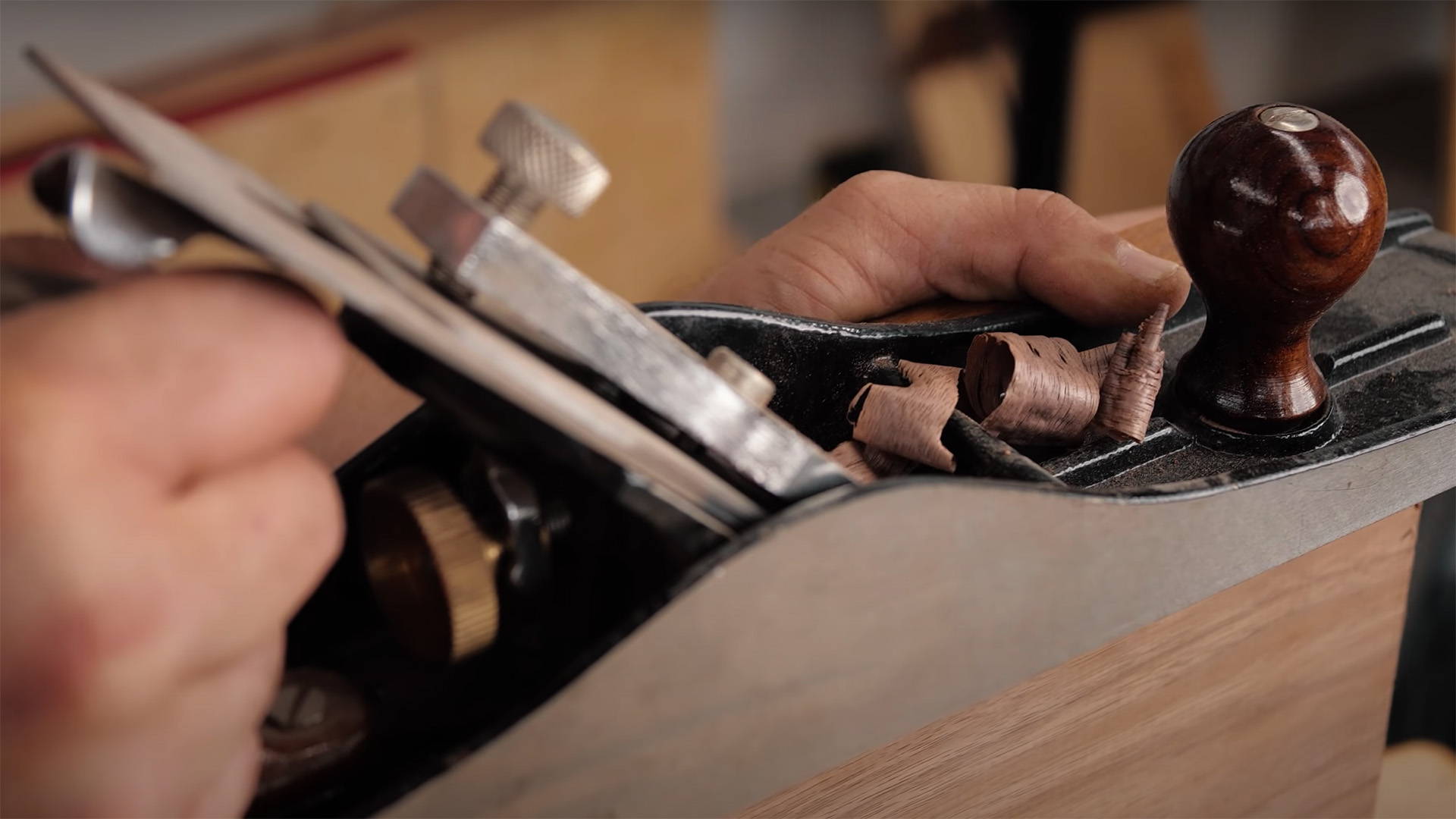 Once the rough taper is cut, it's time to pull out your hand plane.
Hand planing to your lines will take a lot of eyeballing.
Stop and check your work with a square and straight edge. Pay attention to grain direction to avoid tearout as much as possible.
Don't kill yourself trying to get it machine-grade perfect. If it looks and feels straight, it's good enough.
Once you're satisfied, trace the taper onto your other legs with a marking knife and repeat.
---
HOW TO CUT TAPERED LEGS ON A TABLE SAW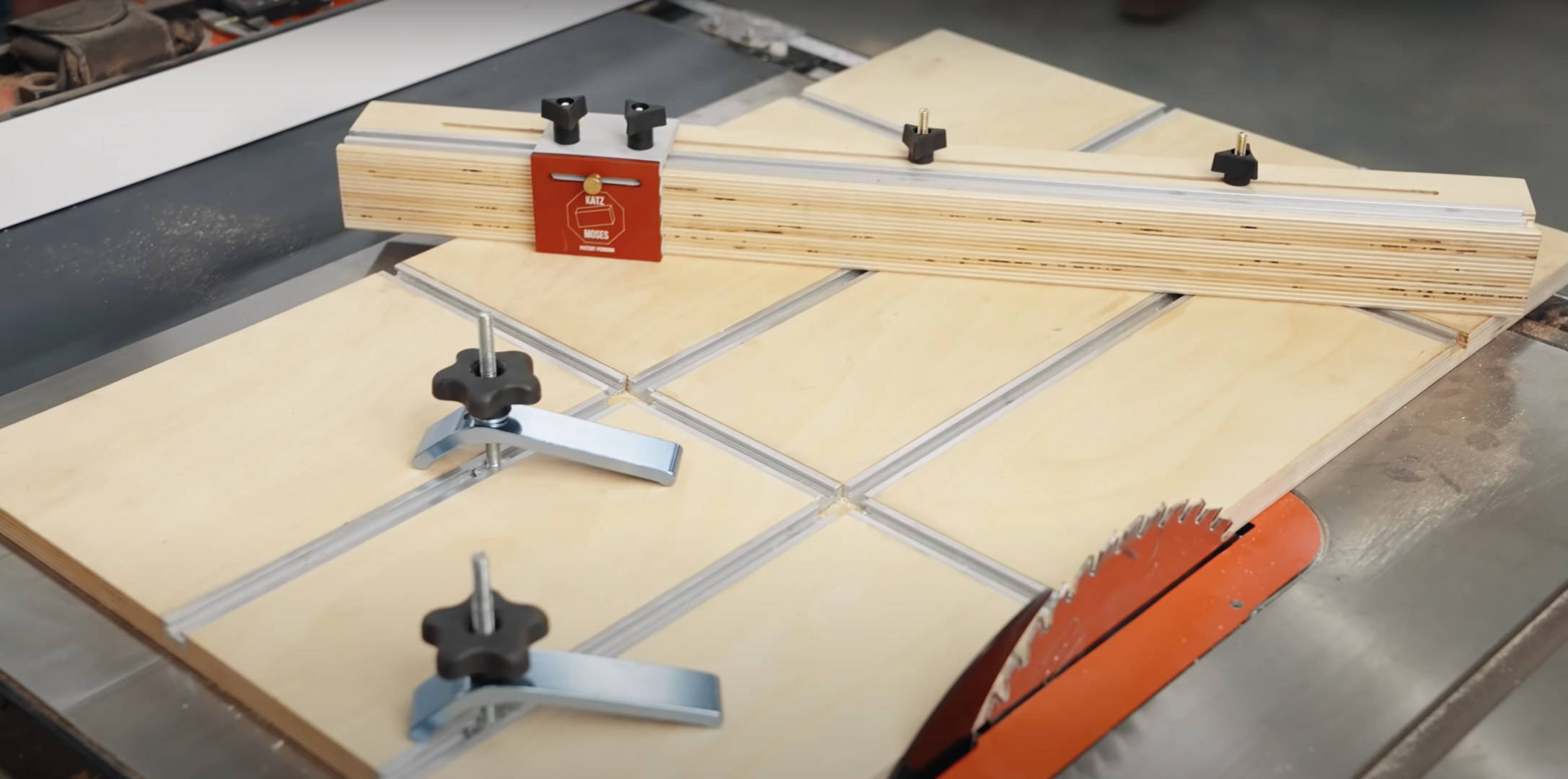 The key to cutting tapers on a table saw is a good sled.
A tapering sled can be as simple or complex as you like. The critical parts are a zero clearance edge and a fence to support the workpiece at the correct angle.
The multi-sled I built is the ultimate tapering machine. It lets you cut tapers at any angle and is dead simple to build (free plans available).
Start by grabbing the leg with the layout lines.
Set it on the sled so the line you marked is perfectly in line with the zero clearance edge.
Once it's in the right position, clamp it down. This is important.
Cutting at odd angles can lead to weird pressure on the workpiece. Clamp it securely in place, and if you can, clamp a stop on the back so it can't shift.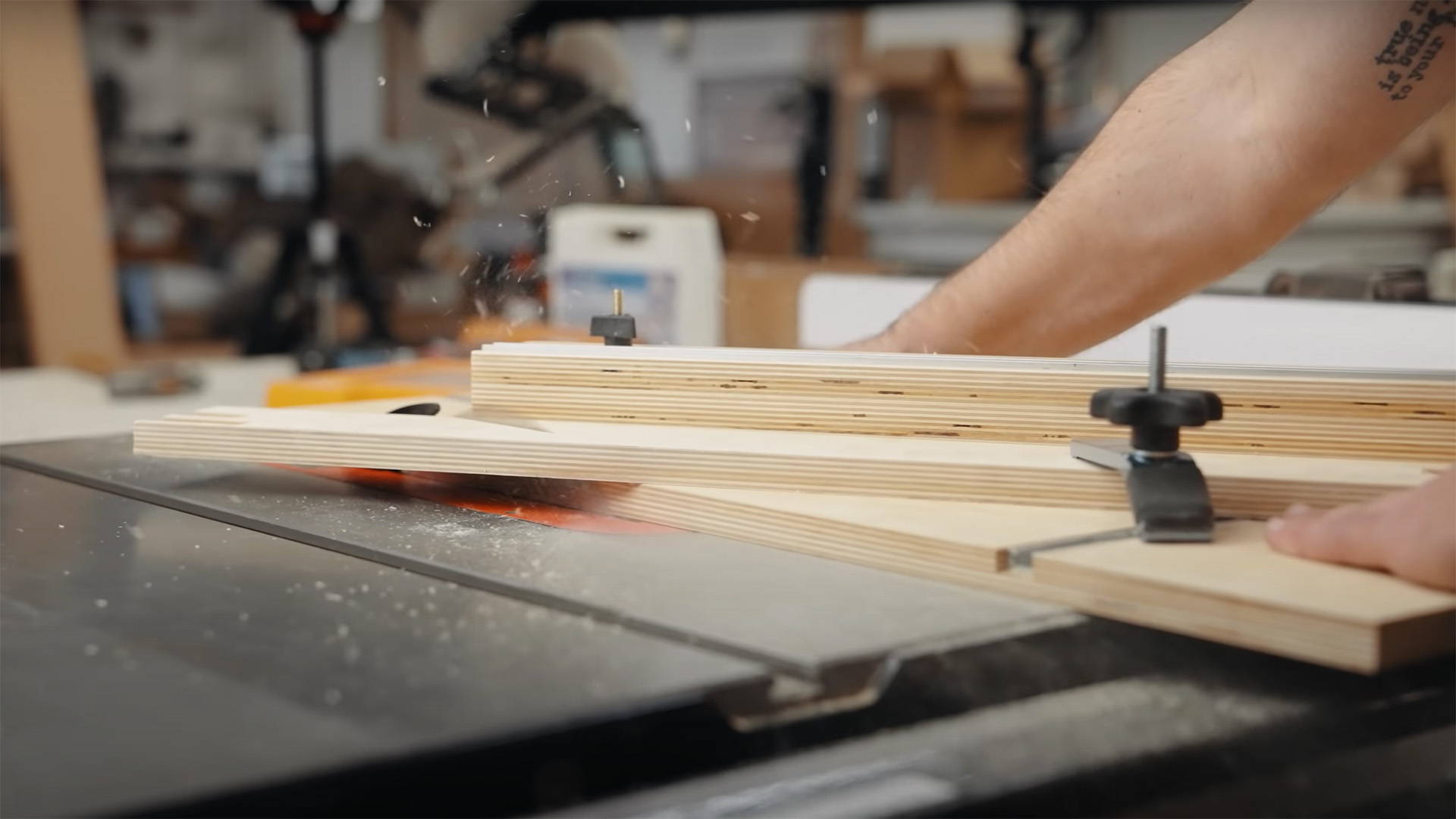 The last thing to do before cutting is to set up a stop block.
With a stop block, you can cut the exact same taper on all your legs without having to do any measuring or eyeballing.
Just push the leg up against the stop, lock it down, and make the cut.
I recommend using a ripping blade in your table saw to quickly clear out a lot of material.
If at any point the cut feels sketchy, consider another method from this list.
---
If you want to cut multiple tapers on a leg, all you need is some tape.
Cut the first taper. Then take the offcut and tape it back in place.
This gives you a solid reference for the sled's fence so you can cut the other side. Repeat as necessary.
---
HOW TO CUT TAPERED LEGS WITH A ROUTER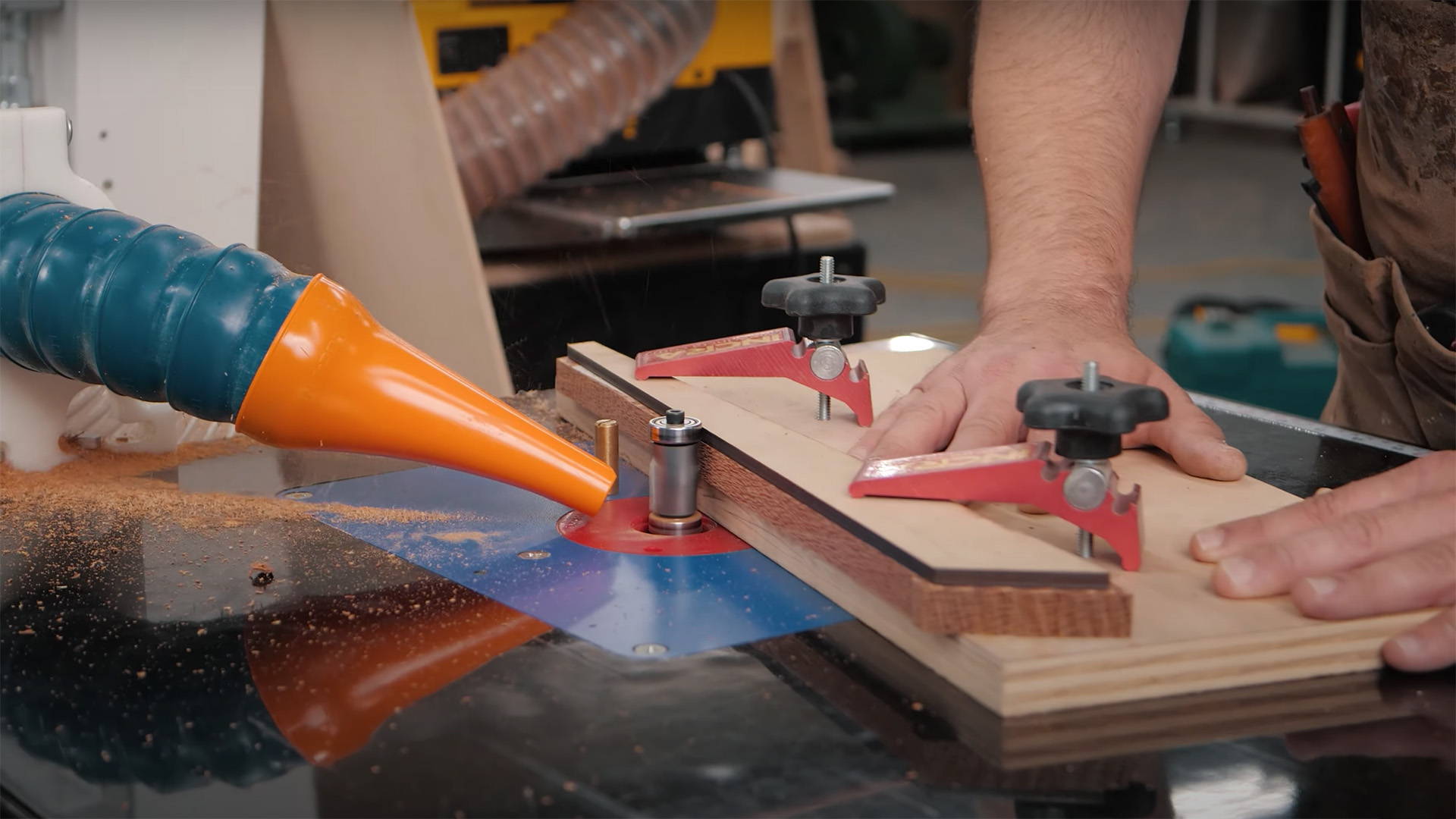 This is essentially template routing. But you don't need a full template — just a straight edge.
Rough cut your taper on the bandsaw or with a jigsaw. Stay 1/16" to ⅛" away from your line.
Double-stick tape a straight edge onto your workpiece. Make sure its edge is perfectly aligned to your marking knife line.
Put a flush trim bit in your router or router table. Set it up so the bearing will ride along the straight edge. Now make the cut.
For the rest of your legs, use the first leg as your template. Make sure the back edges are correctly aligned, and everything should come out identically.
---
If you need to cut multiple tapers, use wedges to stabilize sides of the workpiece you've already cut.
Besides that, just follow the same process explained above.
---
OTHER WAYS TO CUT TAPERED LEGS

---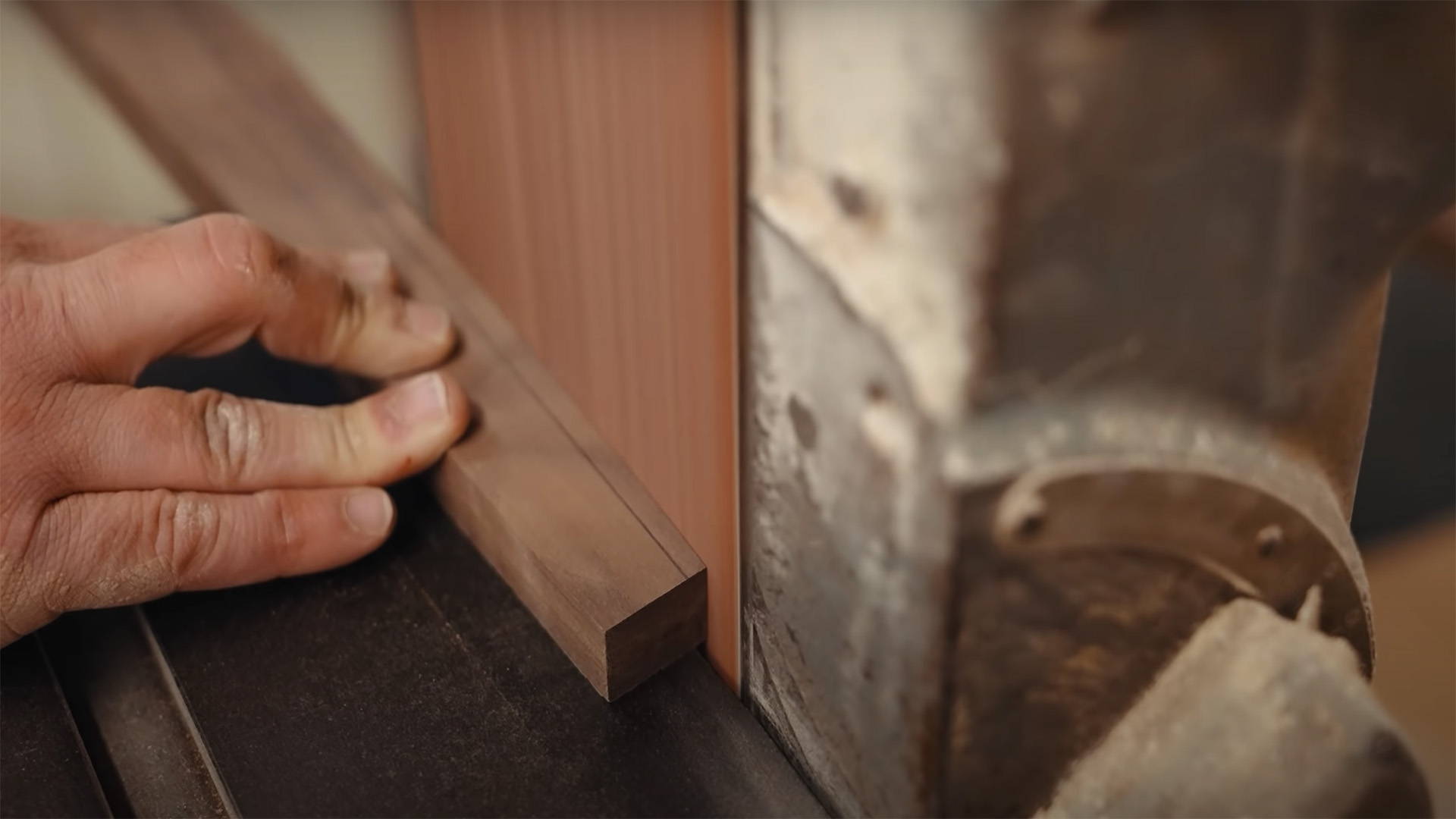 Rough cut the taper with a bandsaw, then flatten it to your line on a belt sander.
It won't work great for tapers longer than your sander. And it can be tricky to get multiple pieces exactly the same.
But if you're tapering small pieces and aren't worried about ultra precision, this is a good approach.
---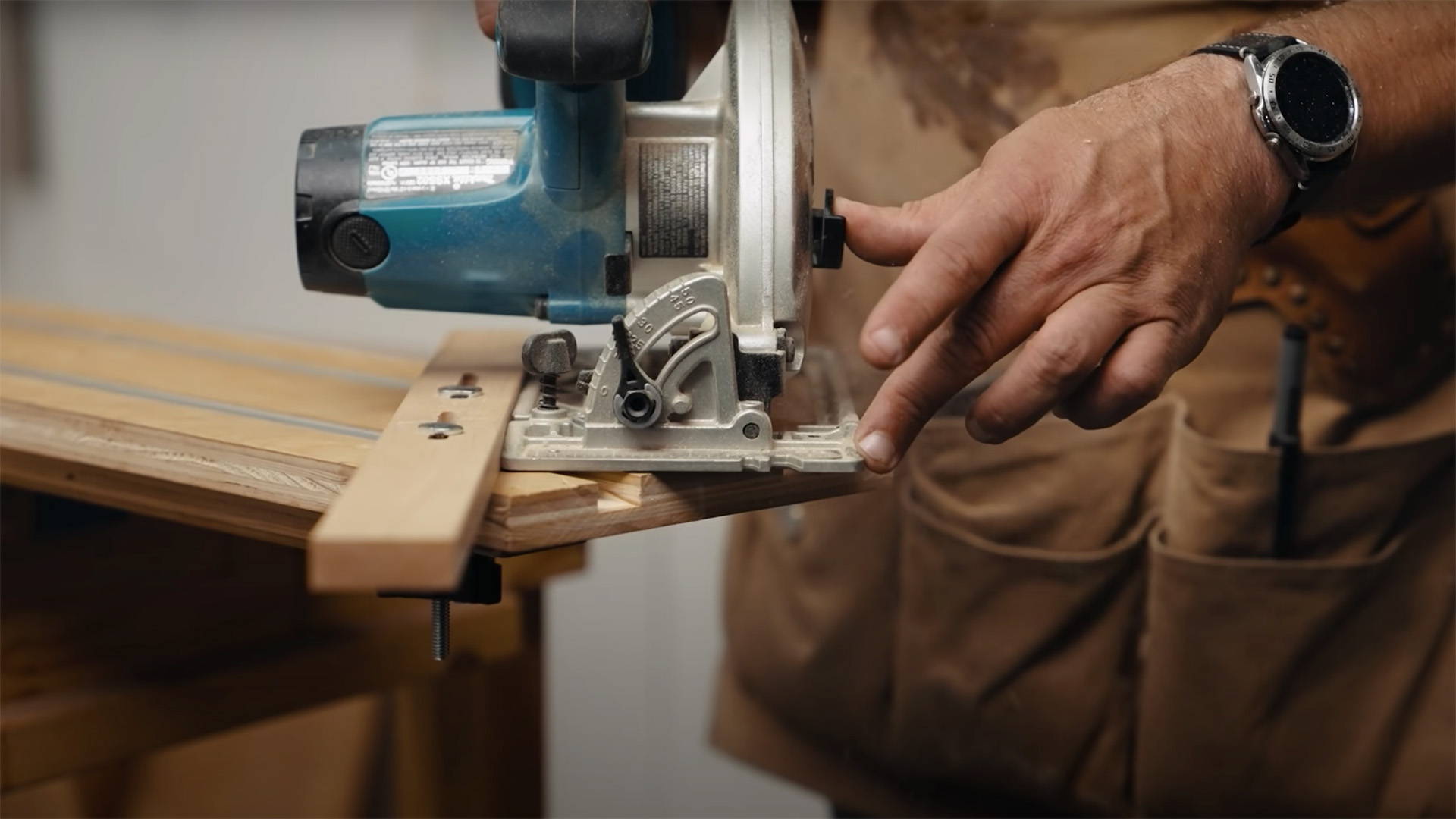 Track saws can definitely work for tapers, but they're not my favorite approach.
For one, it's hard to stabilize the track on narrow legs. You can use the other legs to help create even support, and that can work ok.
Secondly, it's difficult to get super repeatable results. You can definitely get close, but the tapers might not be identical.
That said, you can definitely find ways to make a track saw work for tapers.
---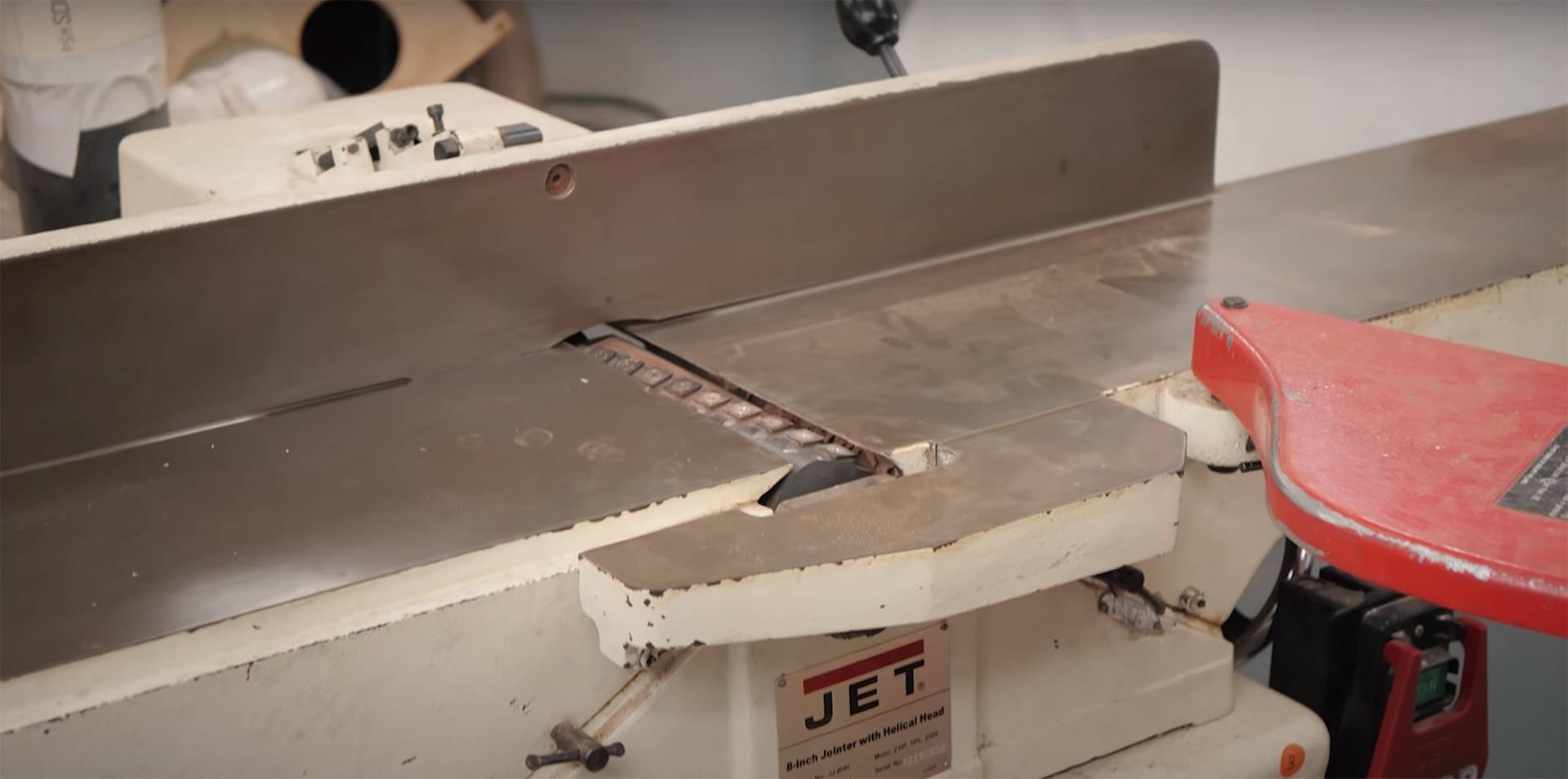 There is a way to cut tapers on a jointer… but I wouldn't use it myself.
Some people swear by it, and they do get good results.
But after my jointer injury, I'm hesitant to use this machine for any cut that requires cutting deeper than ¼".
---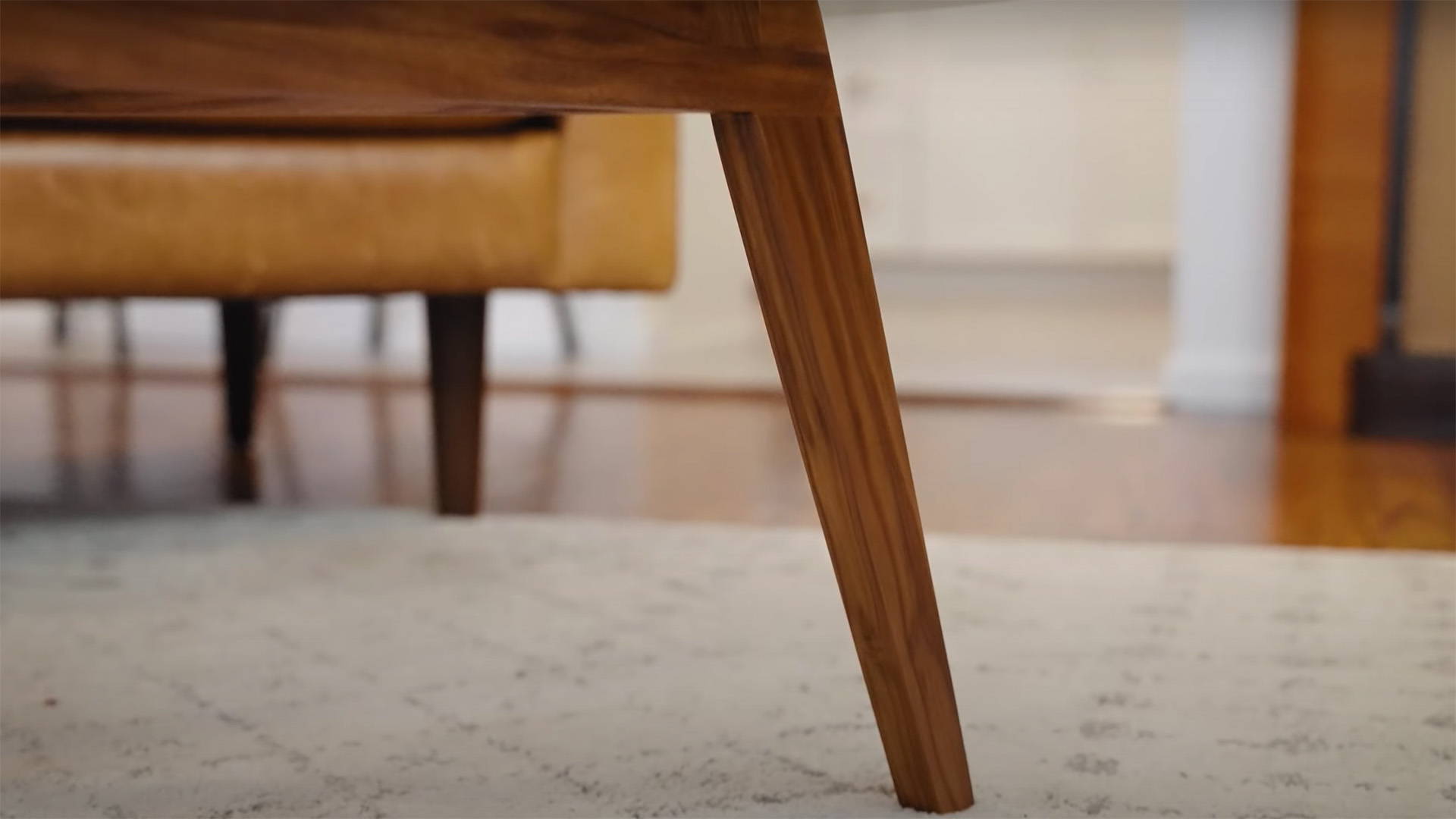 Knowing how to cut tapers is essential to furniture design.
And no matter your tools — or level of expertise — there's always a way for you to get it done.
---