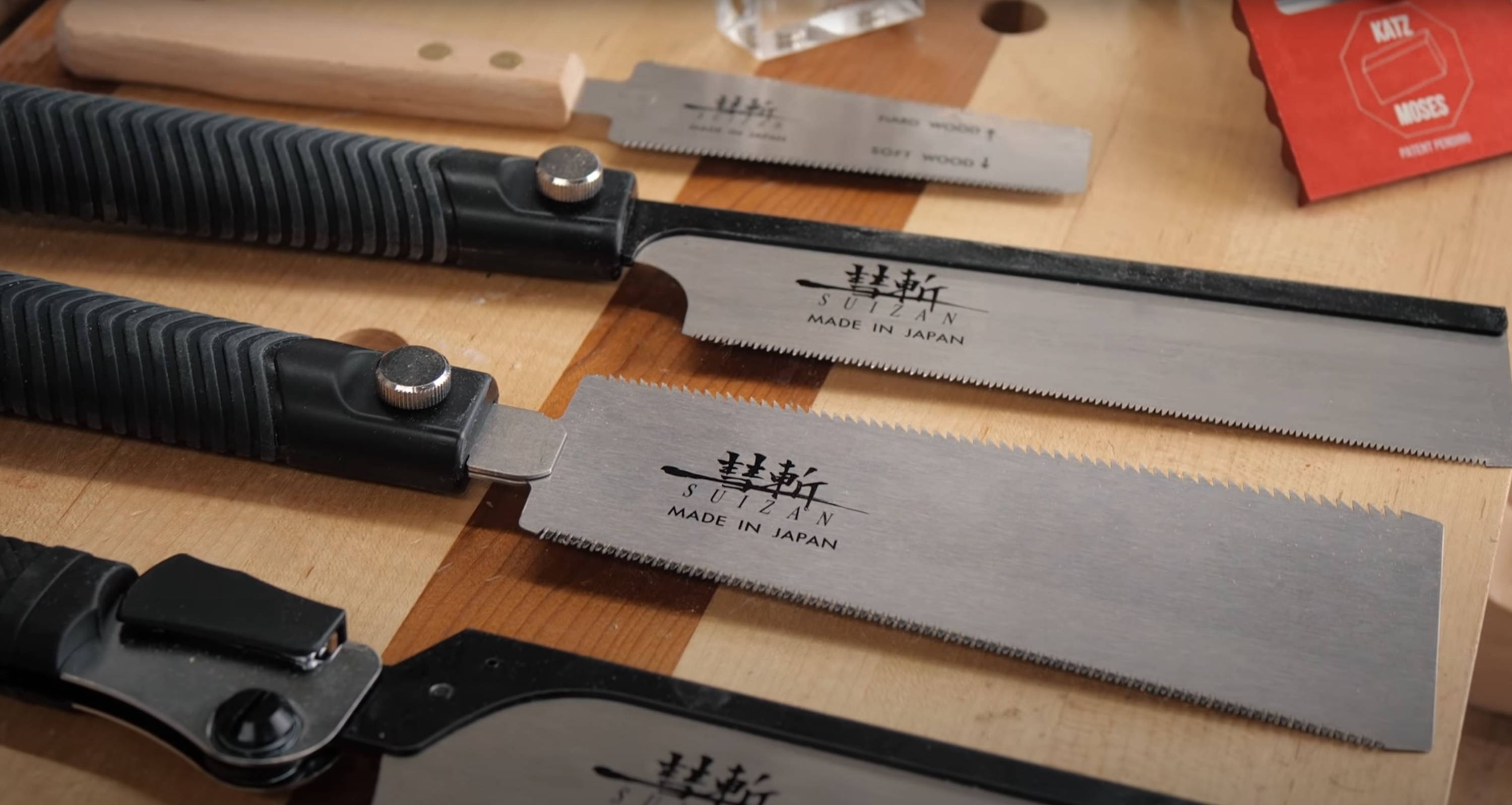 Japanese woodworking is famous for its accuracy. Do a quick online search and you'll see pictures of joinery so precise it'll make your palms sweat.
How do people do it? And how can you achieve the same level of precision in your projects?
It all starts with your tools. And in my mind, Japanese hand saws (Nokogiri) are the best tool for cutting joints that fit together like Legos.
In this post, I'm going to tell you:
But first, let's address the naysayers.
WHY USE HAND SAWS OVER POWER TOOLS?
You just dropped big bills on a brand new table saw...
You've put time and effort into building cross cut, tapering, tenoning, and box joint jigs…
And now I'm telling you to use hand saws?
Don't get me wrong — I love the speed and efficiency of my power tools.
But sometimes, working faster also means making mistakes faster.
When I'm cutting a joint that requires micro-precision, I reach for my hand saws. By slowing down the process, I make sure every cut is exactly where I want it to be.
Hand saws also allow for more flexibility. If you're cutting dovetails, you can lay them out whatever crazy way you like — and aren't beholden to your router or table saw jig.
NOTE: I don't recommend Japanese pull saws for cutting through pressed wood like plywood or MDF. You're liable to blow out some of the teeth.
JAPANENSE SAWS VS WESTERN SAWS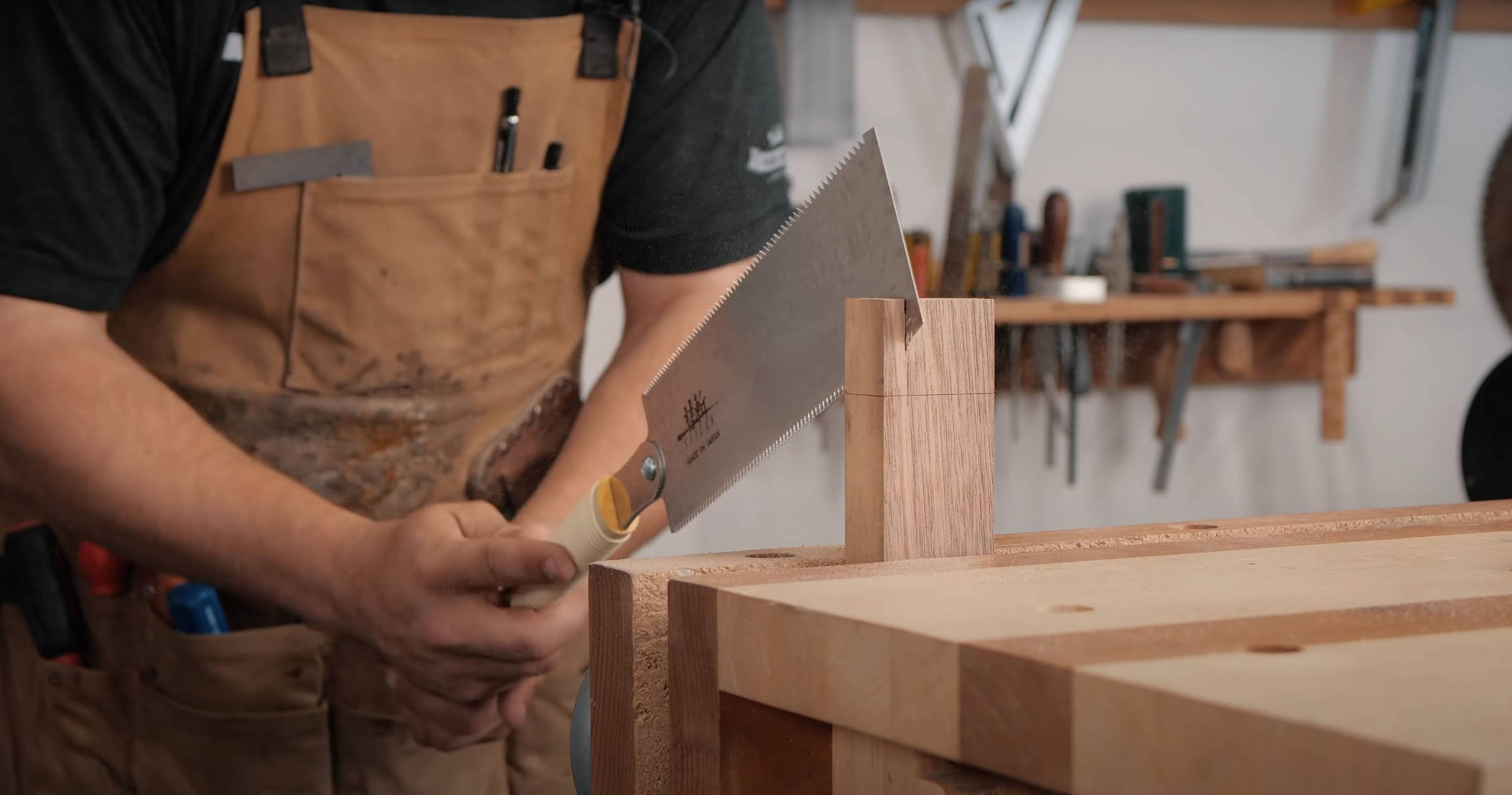 The big difference between Japanese and Western saws is simple:
Japanese saws cut on the

pull

stroke
Western saws cut on the

push

stroke
There are some exceptions, but this is pretty much always true.
Which you choose to use is down to personal preference. A skilled woodworker can make precise cuts with either one.
But by cutting on the pull stroke, Japanese saws have advantages that — in my mind— make them the ideal tool for precise joinery.
WHY JAPANESE SAWS ARE BETTER THAN WESTERN SAWS
Ok, they aren't necessarily "better" — but made you look, right? Personally, however, I prefer Japanese pull saws for multiple reasons:
Easier to use: In my experience, cutting on the pull stroke leads to less binding, so it's easier to get smoother cuts — and your arms don't get as tired
Thinner kerf: With thinner blades, it's easier to stay right on your line, and mistakes are less noticeable
Higher backs: If you use a dovetail jig, the high backs help you cut deep while still being able to let the jig guide your saw
Cost effective: These saws are super sturdy and affordable — and the blades are inexpensive and easy to replace
Built in depth gauge: I'll go into more detail on this later, but it's a flat section on either end of the blade that helps you cut down perfectly to your line
Western saws are great for cutting rough lumber because you can put your full body weight behind the push stroke.
But for really precise work, I always prefer Japanese pull saws.
TYPES OF JAPANESE HAND SAWS
The type of cut you're making will determine the type of saw you need. This list covers the ones you're most likely to use in your shop.
My most-used Japanese saws are my dozuki, ryoba, and flush cutter.
If you're after some badass and affordable Japanese hand-saws that have my tick of approval, check out the Suizan saws in our store. I've personally used Suizan saws for years, which are made to the highest quality by master craftsmen in Japan.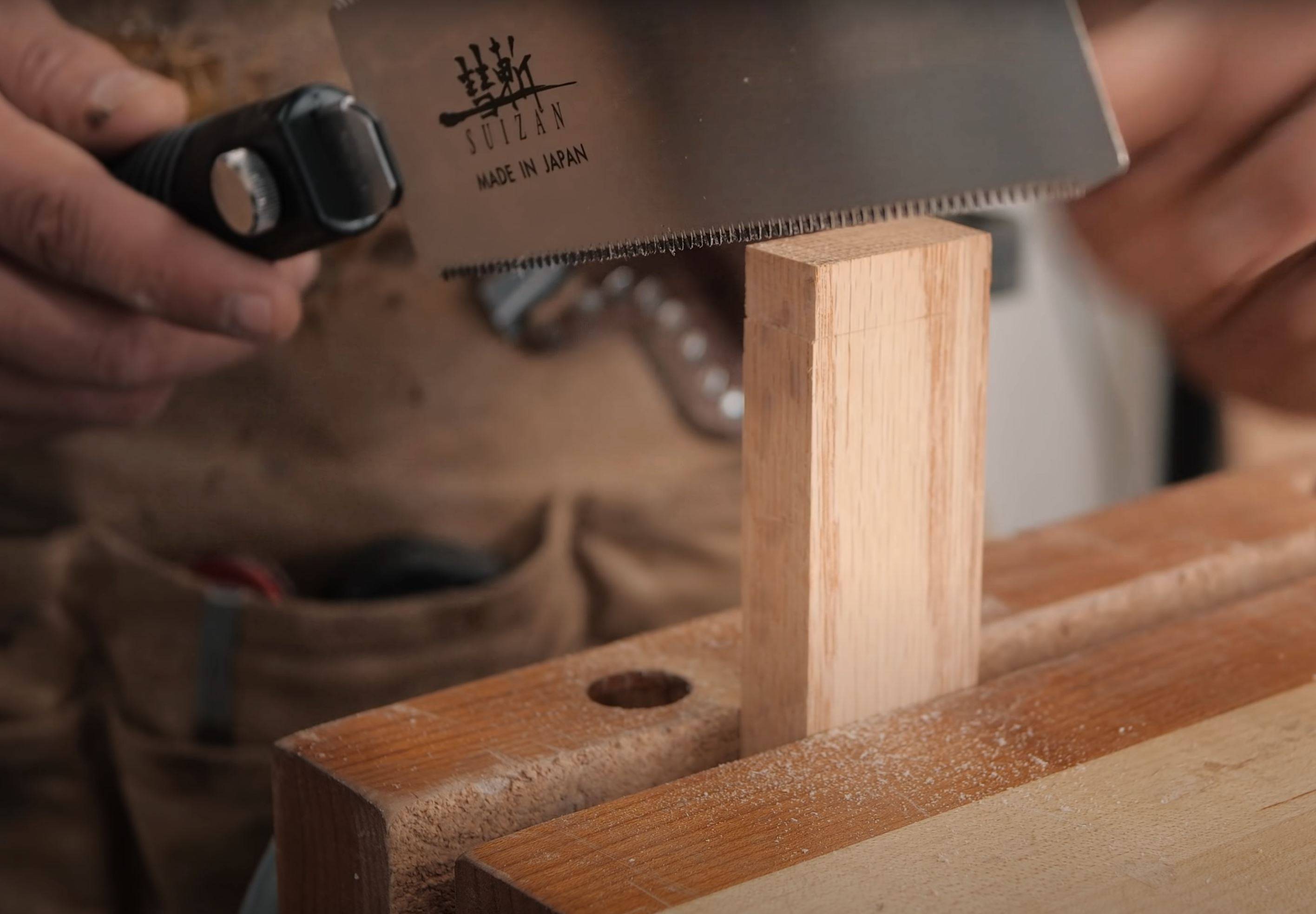 Ryoba saws have teeth on both sides of the blade. One side is for rip cuts (with the grain), and the other for cross cuts (across the grain).
The cross cut side has more teeth for severing wood fibers across the grain — around 15 teeth per inch (TPI).
The rip cut side has fewer, bigger teeth so you can cut faster and with less effort — around 9 TPI.
Ryobas are great all-around saws. You can use them for rough dimensioning, cutting joinery, and even resawing boards (just use a bandsaw you masochist).
I have a 9.5 inch folding ryoba and a 7 inch solid handle ryoba available on the Katz-Moses Tools store — along with replacement blades.
If you're cutting dovetails, however, I recommend you use a dozuki saw.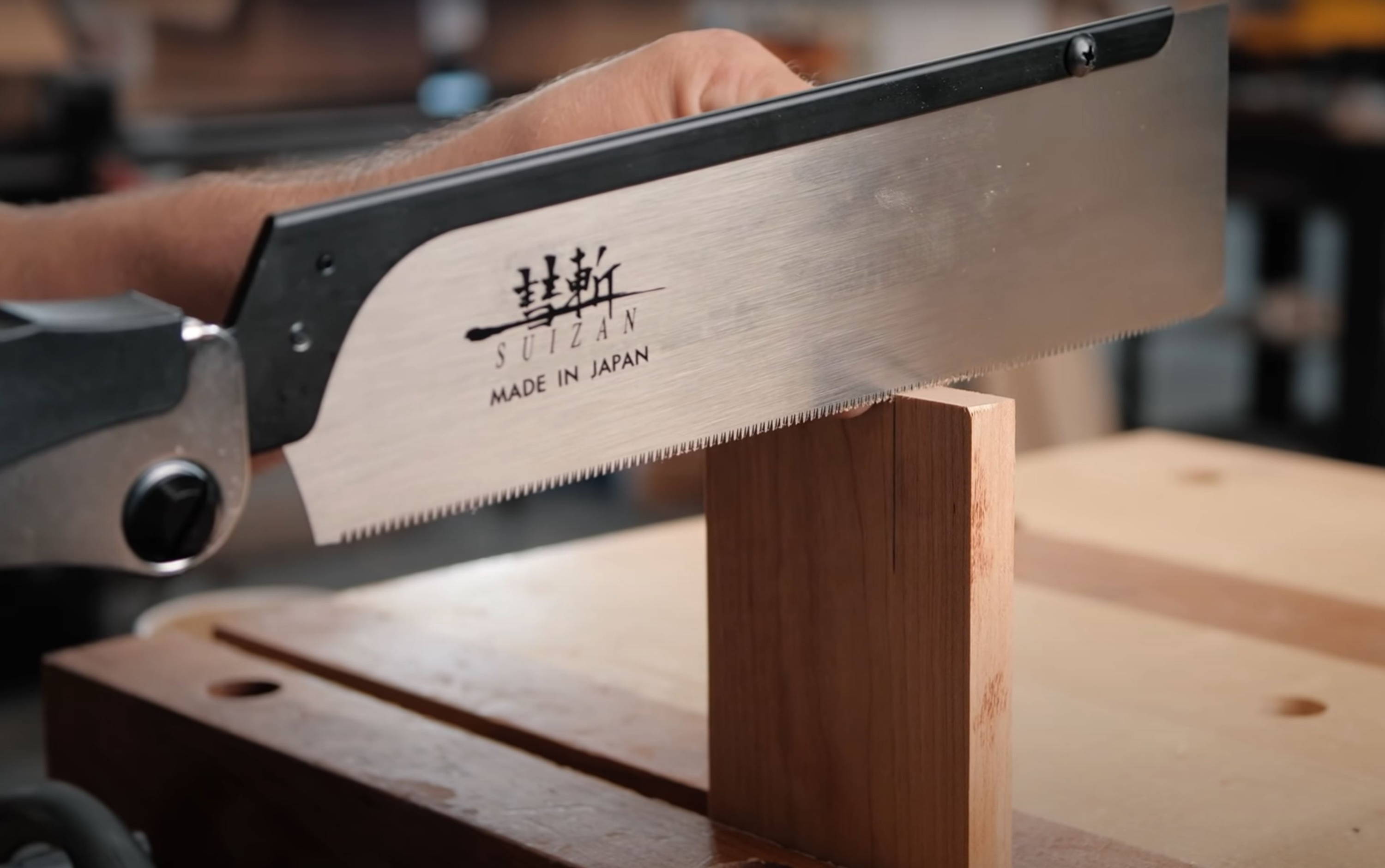 Dozukis are Japanese dovetail saws with a really thin kerf and a stiffening strip along the back to keep the blade ridgid. This lets you make really fine, thin cuts.
If you look closely, the teeth almost look like the cross cut side of a ryoba — but a dozuki will cut even thinner.
They're ideal for cutting fine joinery, like dovetails. I use my folding 9.5 inch folding Dozuki almost exclusively for my Joint of the Week videos.
What I like about the folding version is that it has a little extra weight. You never want to exert downward pressure when sawing, so the extra ounces really help keep the saw moving.
We also have a 7 inch dozuki with an insanely thin blade that's perfect for tiny dovetails.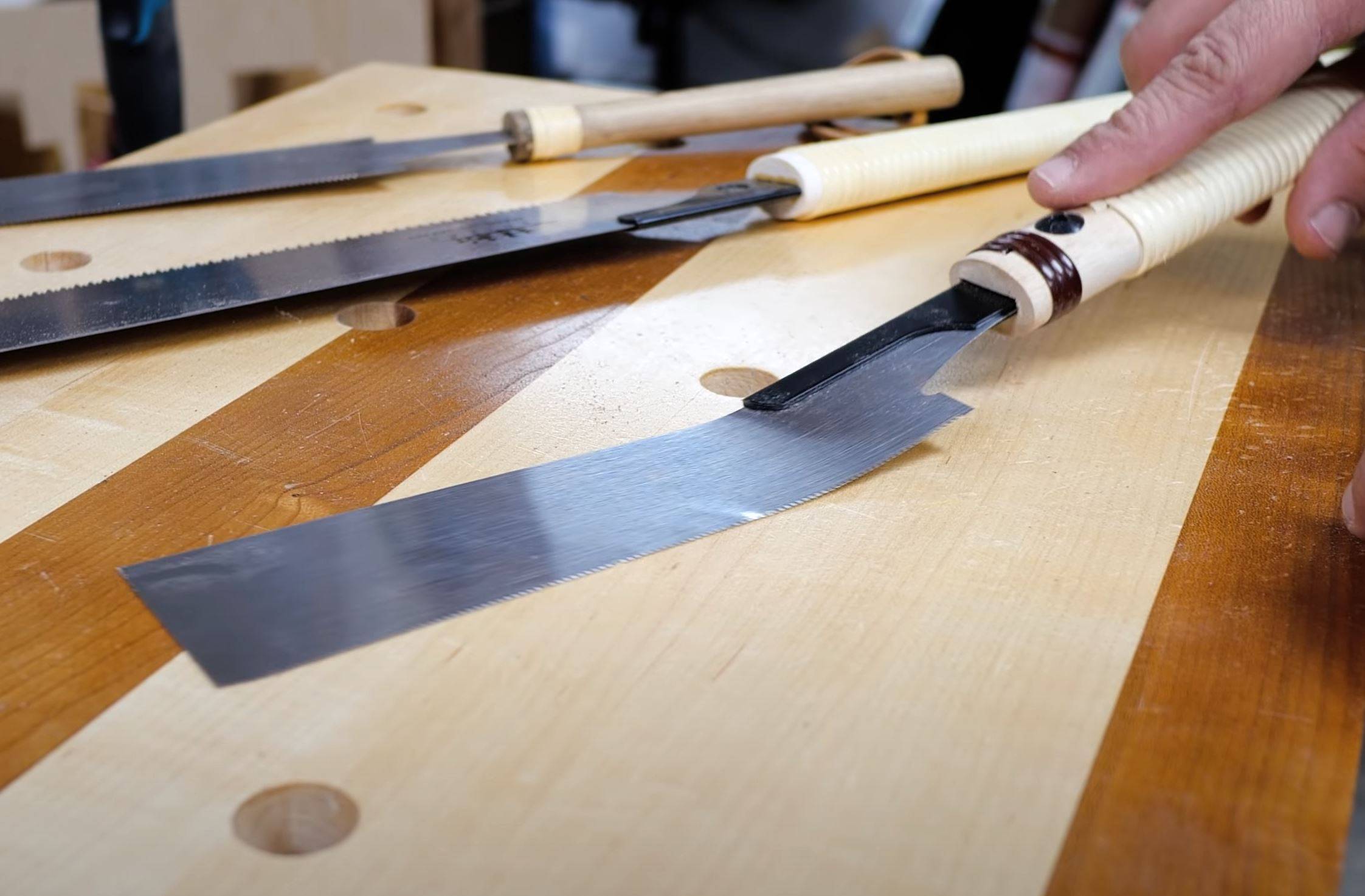 Kugihiki are Japanese flush cut saws made for cutting protruding joinery or inlays flush to a surface.
They have flexible blades you can bend flat against a board, even if you're nowhere near the edge.
They also have no tooth set — meaning the saw teeth don't bend away from the blade. This lets you cut without scratching your workpiece, even when the blade's pressed flat against it.
Kataba saws are really aggressive blades made for quick and dirty cutting.
They're great for rough dimensioning and cutting up bigger pieces of wood.
These are Japanese plunge cutters similar to ryobas, but with a shorter, rounded blade.
An azebiki lets you make cuts starting from the middle of a board instead of an edge.
This is a super narrow Japanese keyhole saw, used for cutting curves or getting into really tight and hard to access places.
WHICH JAPANESE HAND SAW SHOULD YOU CHOOSE?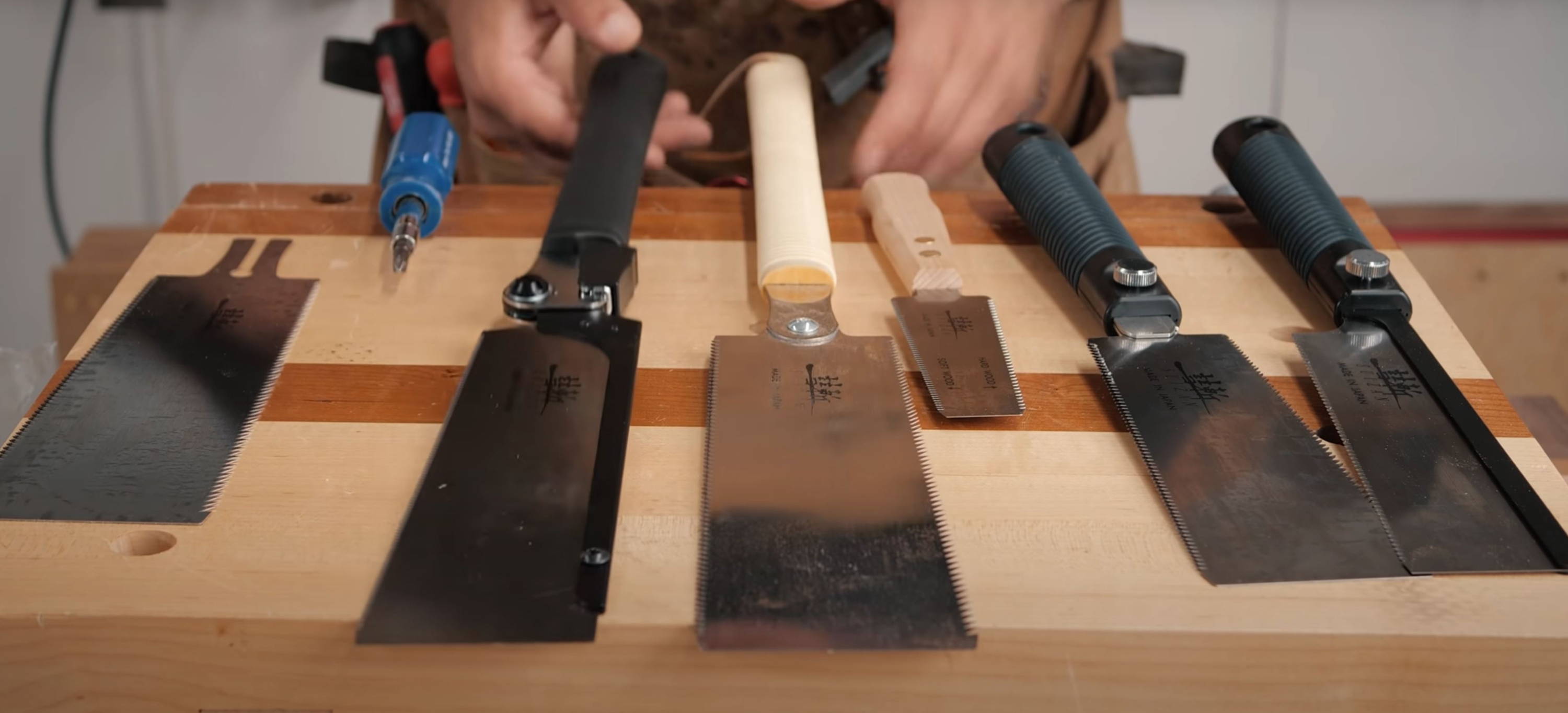 Ideally, you should have a ryoba, dozuki, and a flush cut saw in your arsenal. This will make you prepared for almost any type of sawing situation.
For the ryoba, I like my 9.5 inch folding one for its versatility. I also like the folding version of my 9.5 inch dozuki because the extra weight helps keep the saw moving.
If you can only choose one — it really depends what you need it for.
If dovetails are your jam, definitely go with the dozuki. If you're more into cutting tenons and lap joints, I'd choose the ryoba.
Katz-Moses Tools is an authorized distributor of Suizan saws, which are made in Japan and cut wood like butter. We also have replacement blades for them, which you can find in our store.
HOW TO USE A JAPANESE HAND SAW LIKE A PRO
Follow these steps to master cuts with your Japanese pull saw.
1. FOCUS ON ONLY TWO FACES AT A TIME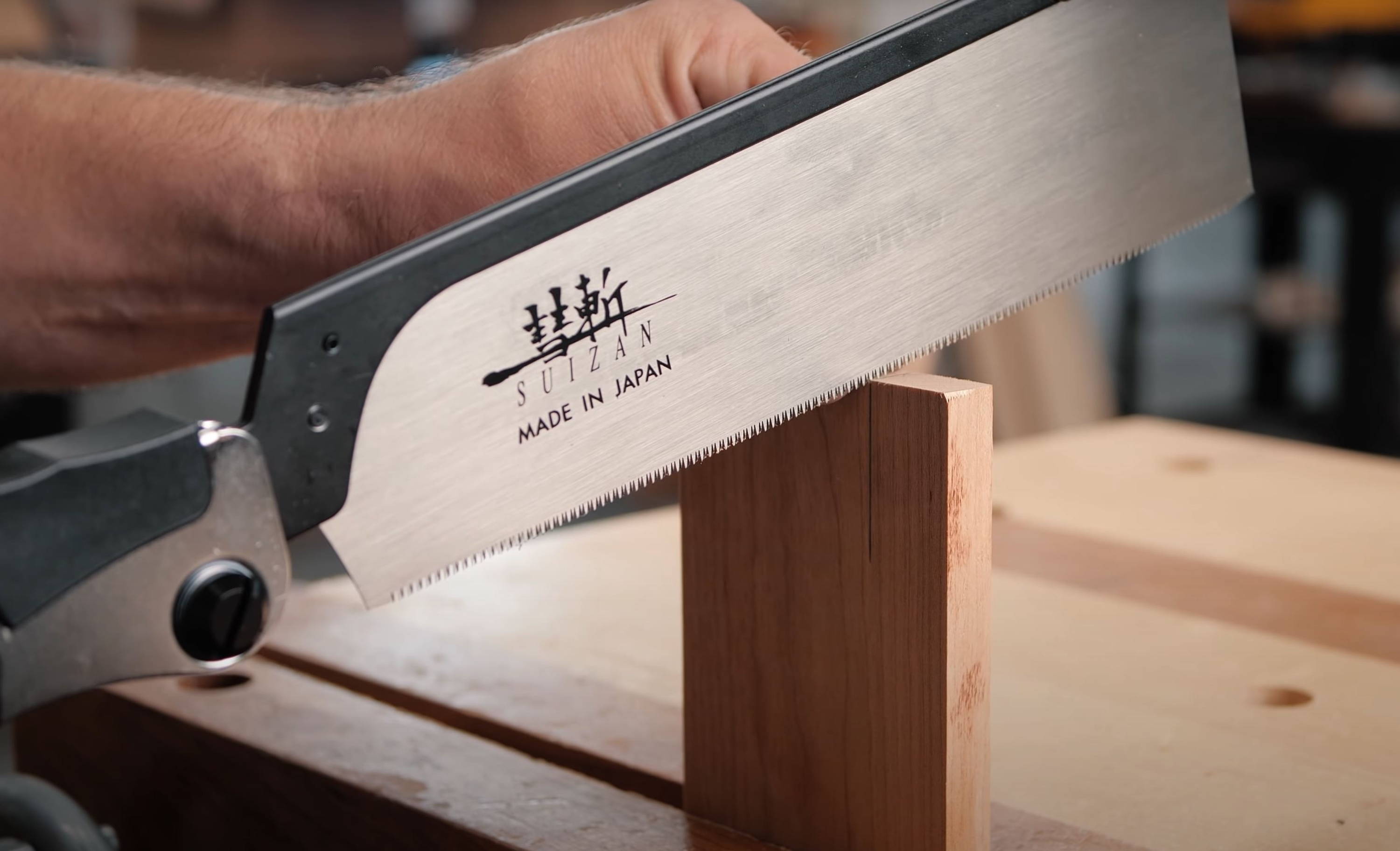 Mark your cut lines on the two sides of the wood you're facing. As long as you keep your cut on these two lines, it's going to be square.
If you're really after precision, mark your lines with a marking knife instead of a pencil.
2. ADJUST YOUR BODY TO WHERE YOU'RE CUTTING
Sawing is like shooting pool. It's all about positioning your body correctly and minimizing movement.
Plant your feet so your whole body is centered on your cut line and you don't have to lean forward while sawing. You can hold the handle with one or two hands, but I prefer two.
When sawing, move your arm like a pendulum — back and forth in a straight line. The rest of your body should be totally still.
Don't try to peer over your saw as you cut. Just look straight down the center of it, and focus on your lines.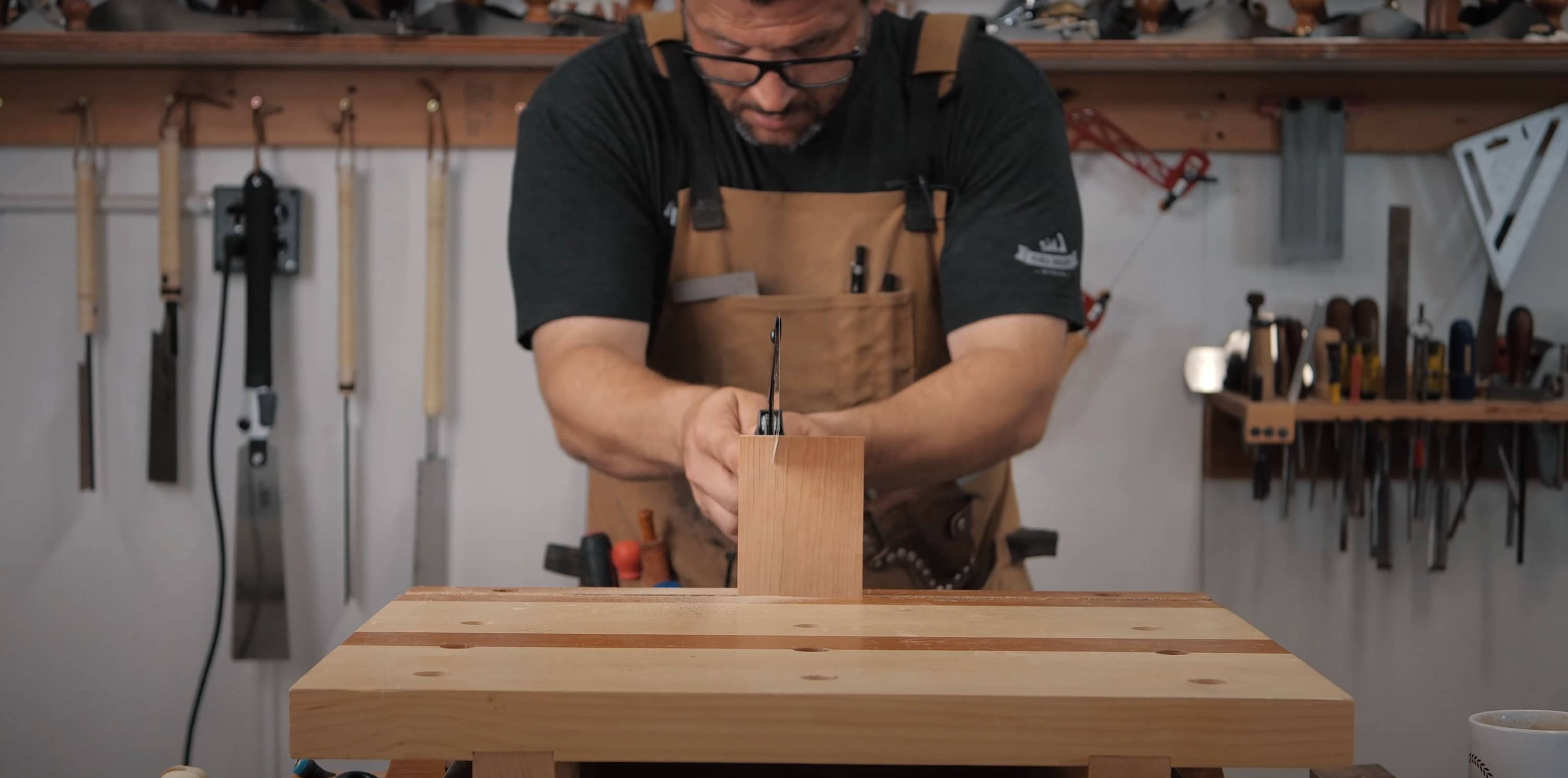 3. START YOUR CUT WITH CARE
Use your thumb to set the saw on the waste side of your line. Push forward lightly to get the kerf started.
If you're using a ryoba, I always start with the cross cut side — even when making rip cuts. It's easier to get the cut started with smaller teeth.
Make your first pull stroke using light pressure. Blow out the sawdust. Set your saw down a little further and repeat.
The first quarter inch of your cut is the most important. If it's not square, the rest of the cut will veer off your line.
Take your time here, stroking and blowing (stop it) until the blade is a quarter inch into your cut.
4. LET THE SAW DO THE WORK
Tilt your blade back and forth, making sure to stay on the two lines you marked.
Don't put downward pressure on the blade — it'll just mess up your accuracy. Simply focus on keeping the saw moving on your lines, and let it do its job.
Again, the key is to take your time.
If you aren't cutting all the way through your stock, cut down to your line on one side, then repeat the whole process on the other.
5. DON'T STRESS OVER PERFECTION
With the possible exception of Paul Sellers, nothing's ever going to come out absolutely perfect.
And like I always say — the difference between a good woodworker and a great woodworker isn't not making mistakes. It's knowing how to fix them.
5 TIPS FOR SUPREME ACCURACY WITH JAPANESE PULL SAWS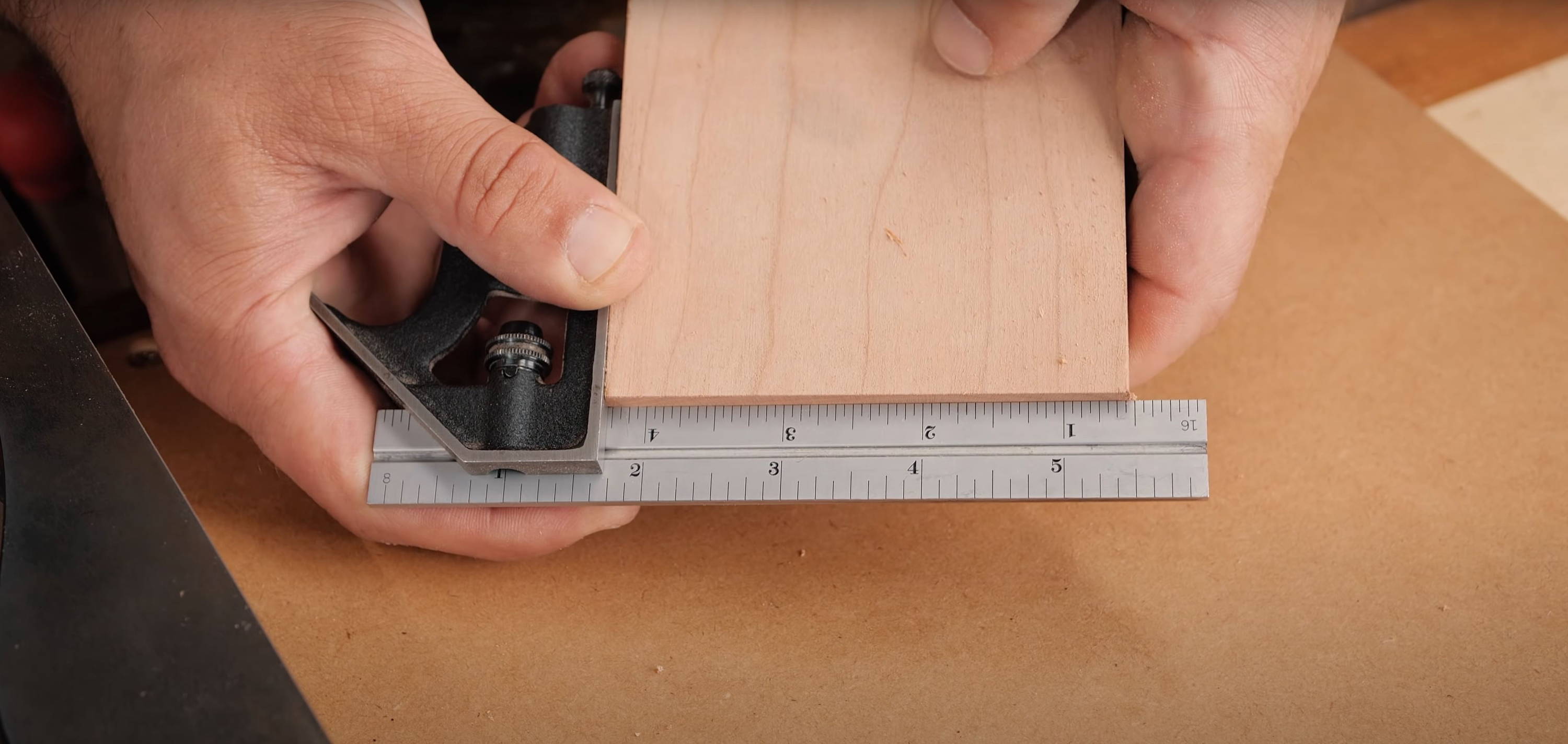 I've picked up a few tricks over the years for dialing in how to cut with my pull saws.
While some of these may seem obvious, they can help you get expert-looking results — without decades of experience.
USE THE REFLECTION TO STAY SQUARE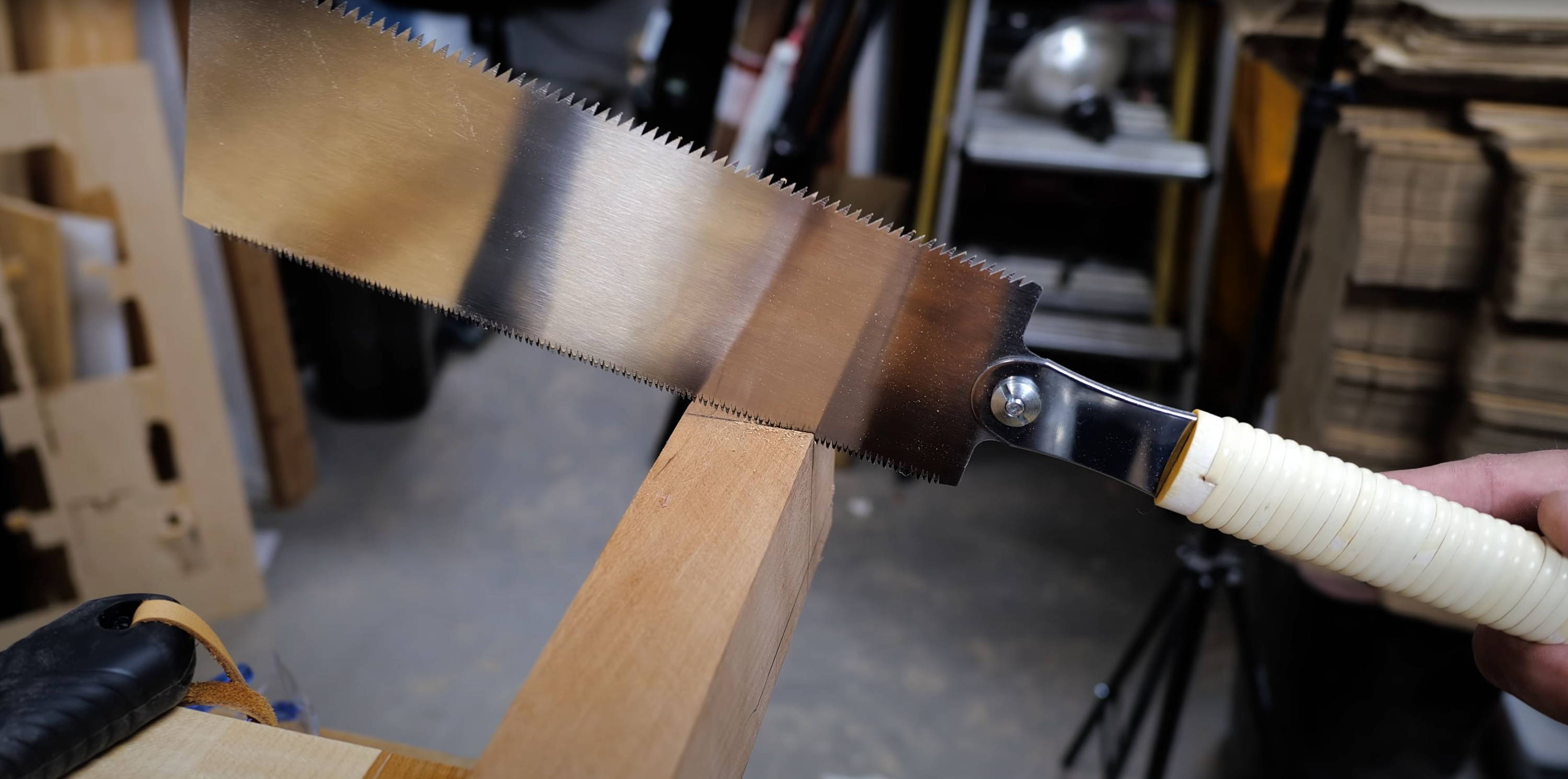 I picked this tip up from William Ng. It's a super easy and practical way to keep your blade square as you start a cut.
All you do is check the reflection of the board in your saw.
If the reflection is in line with the actual board, your saw is positioned straight and true. If the reflection is out of line with the actual board, you need to adjust.
When I start my cuts, I check the reflection periodically until the blade's deep enough that it won't tilt out of position.
CUT PROUD AND FINISH ON A SHOOTING BOARD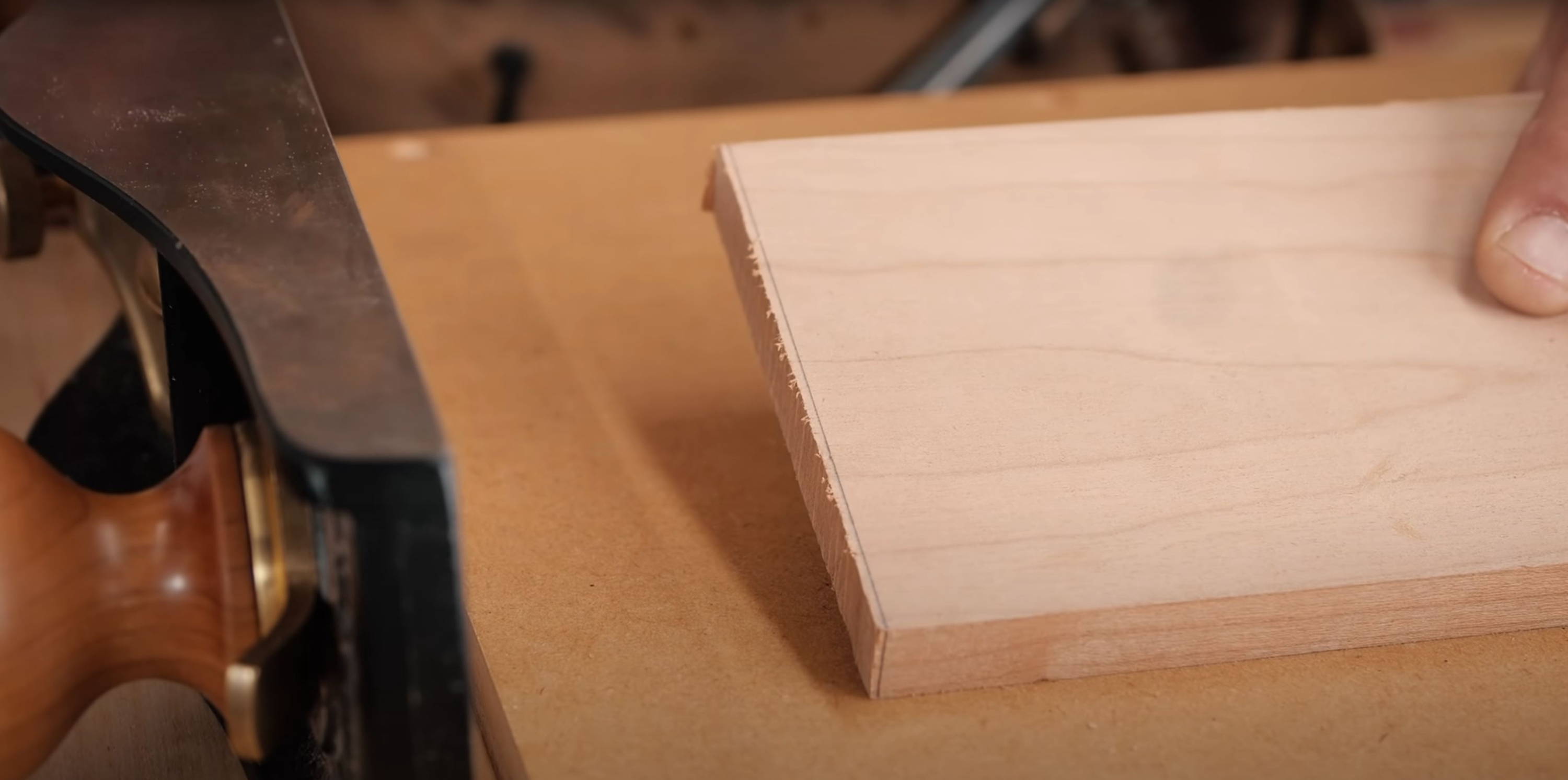 This trick's great if you need a cut to be as perfect as possible.
Set your saw slightly on the waste side of your line, maybe 1/16 inch, and cut as you normally would.
Then, set your stock on a shooting board and get the edge down to your line with a hand plane. After a few passes, you'll have a perfectly square and straight edge.
USE YOUR SAW'S BUILT-IN DEPTH GUIDE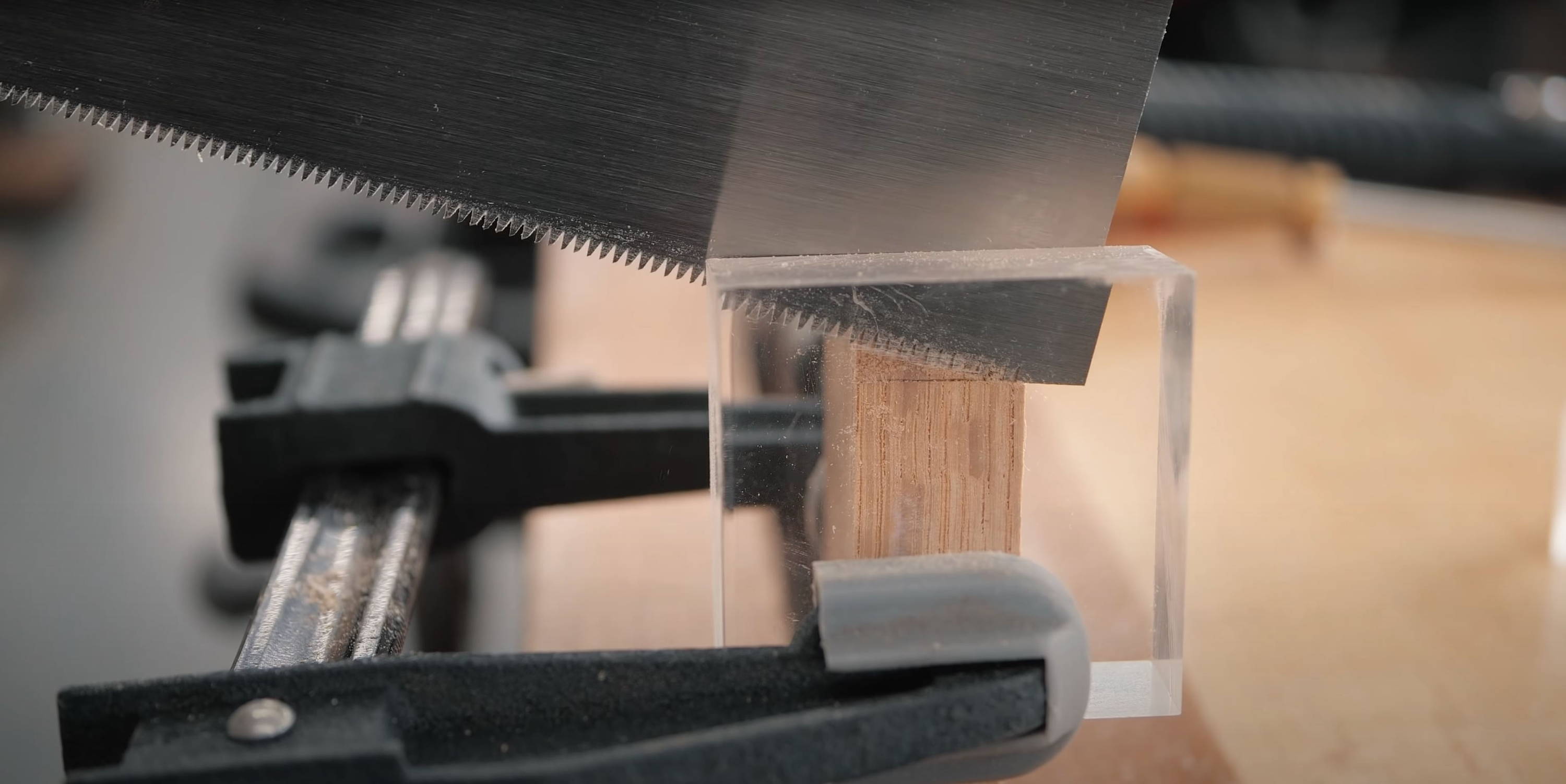 If you look at either end of your saw's teeth, you'll see a flat edge in line with the closest tooth.
This is a depth guide that helps you make sure your cuts are 100% down to your line.
When you saw from both sides, you often saw at an angle to avoid passing your line on the opposite side. This ends up leaving a little triangle of waste at the bottom of your cut.
By placing the depth guide flat into one side of your cut and dragging it through, the next tooth gets rid of that waste — and makes the cut perfectly flat.
MAKE A KNIFE-WALL WITH A CHISEL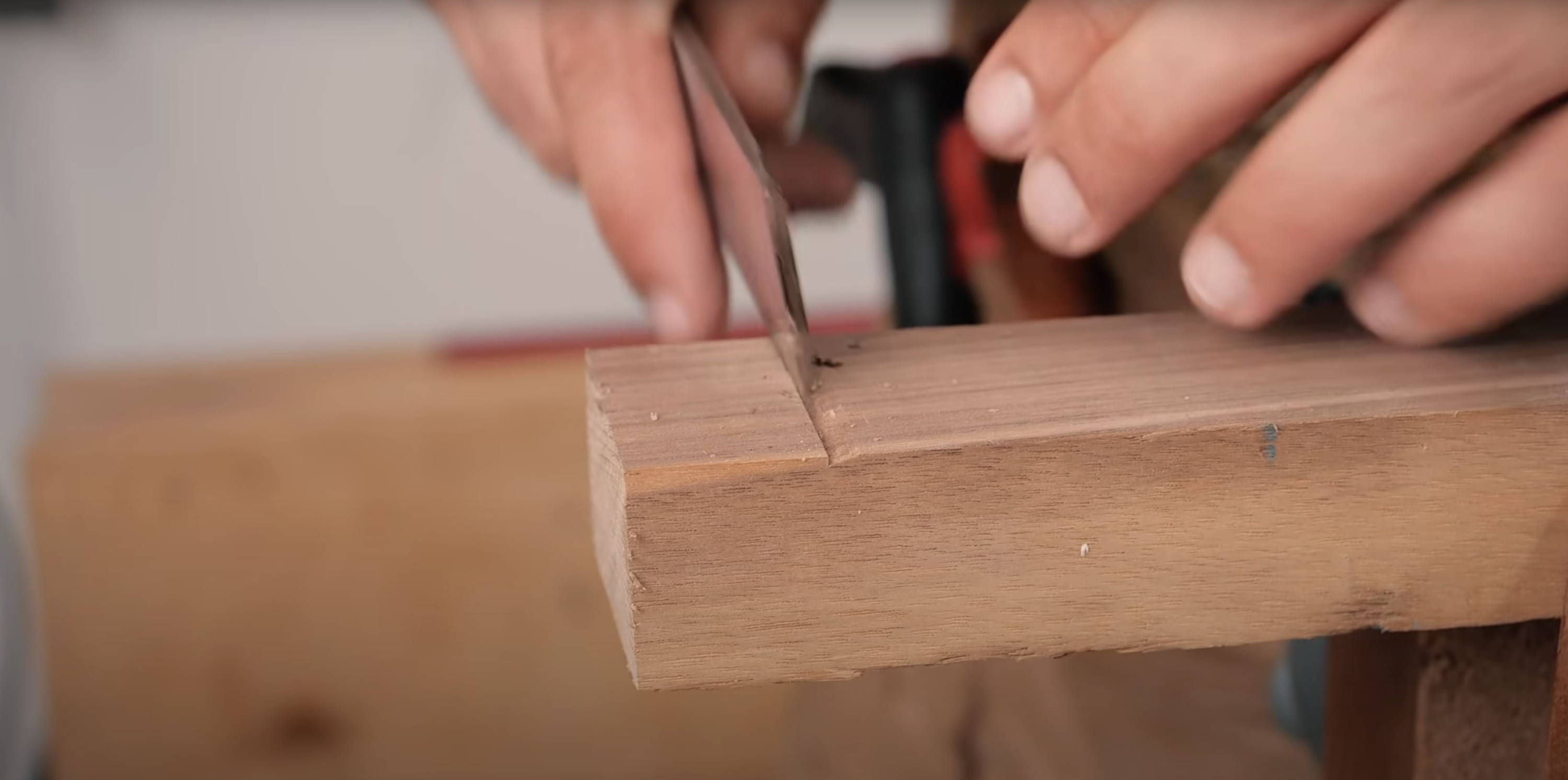 This will help you start your cut exactly on the line.
Mark your line with a marking knife, then use a chisel to make a slight channel right up against your line. Do this on the waste side.
Then, use the depth guide on the ends of your saw to clear out any chisel waste.
Now when you set your saw blade in the channel, it's forced to cut right on the line. No saw jumping around as you start your cut.
KNOW THE SOUND OF GOOD SAWING
Is it even possible to explain this in writing?
Like a lot of things in woodworking, it pays to have a bit of intuition. If something feels, sounds, or smells wrong while you're using a tool — something's probably is.
To get a sense of how sawing should sound, watch this video. I put a microphone right under the blade while cutting through a piece of wood.
Maybe I'll make an album called "Soothing Saw Sounds to Fall Asleep To."
If you're after precision, Japanese pull saws are the way to go.
Part of their beauty is they force you to be patient and take your time — habits we probably all need more of these days…(*gets distracted, checks phone*).
If you're looking to pick up your own Japanese saws, check out our collection of Suizan saws in the Katz-Moses Tools store. They're 100% Japanese-made, super high quality, and extremely affordable.
Got any sawing secrets up your sleeves? Are you a die-hard Western saw believer who'll never convert? Share it all in the comments below!
For company questions or customer service, you can email us at support@kmtools.com.
And as always, STAY SAFE IN THE SHOP.