Two years later and I still barely feel the tip of my right thumb.
I was milling a table leg for an entryway table — but I wasn't thinking about the 28 carbide blades spinning at 5000 RPMs.
My mind was elsewhere (on dovetail jigs, of all things). And before I knew it, my thumb made contact with the cutterhead of my jointer.
I'm no stranger to shop injuries. Cuts, knicks, slices. I single handedly prop up the Band-Aid industry. And I've had enough stitches to hold together Frankenstein's monster.
But this was different. My brain turned off. I froze. Just a breathing, bleeding hunk of meat standing alone in my shop.
Luckily, it turned out ok. I got myself to the hospital, and my thumb's now only ⅛" shy of its original glory.
I'm not telling you this morbid story to scare you (ok, maybe a little).
I'm telling it to you to show that jointers must be respected — and approached with a healthy dose of terror.
But staying safe while using a power jointer is easy if you follow a few protocols — which I'm laying out for you in this blog.
Jointers are incredibly useful tools and I recommend every woodworker get one if they can.
But make sure to follow these safety rules… and don't think about dovetail jigs while milling lumber.
(If you want tips on how to prepare for a potential shop injury, make sure to watch this).
---
---
1. SET THE RIGHT CUTTING DEPTH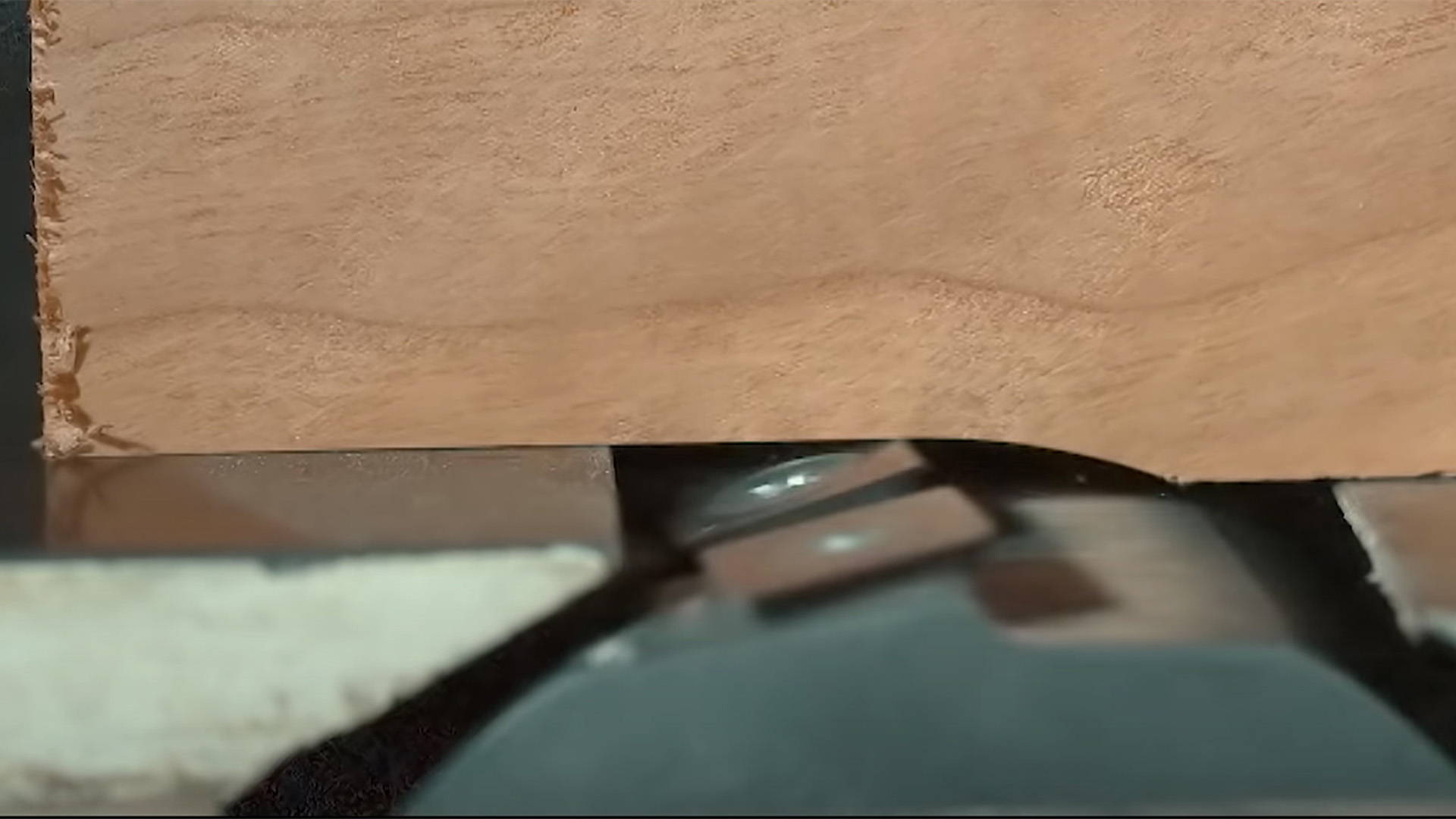 Jointers are big, powerful tools. But that doesn't mean you should take off a lot of material all at once.
Small bites are key to safety and good results. I recommend taking off no more than 1/16" at a time. 1/32" might even be best.
If the cutting depth is set too deep, it's harder to push the board through the cutterhead. And that means higher chances of kickback or your hands slipping.
Not to mention tearout and excessive strain on the motor.
Change the cutting depth by adjusting the height of the infeed table (the right side of the jointer bed).
You can use the depth gauge on your jointer, or even just a straightedge and a square.
Multiple small passes will end up saving you time — and help you avoid chipped out boards or a trip to the hospital.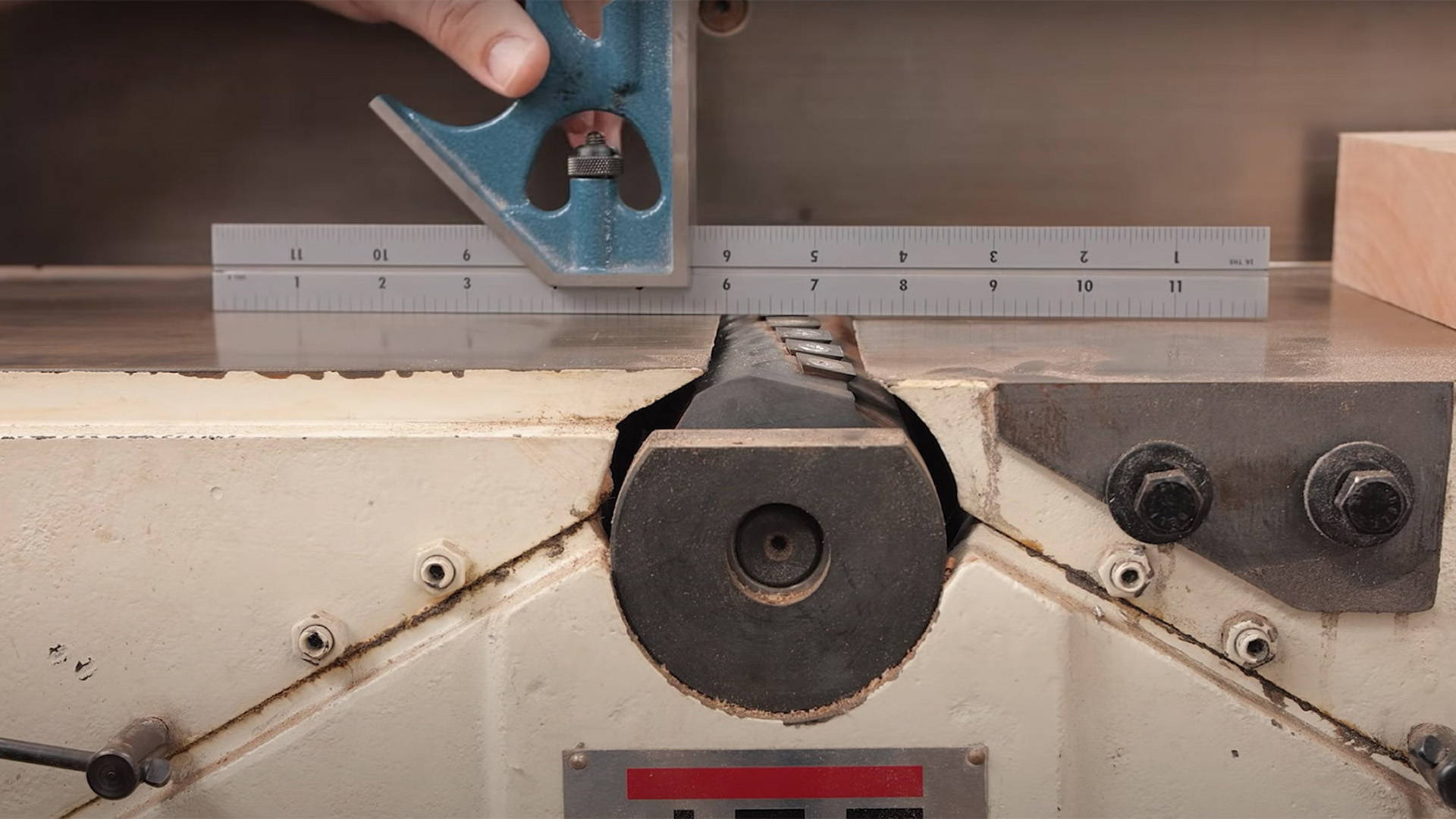 ---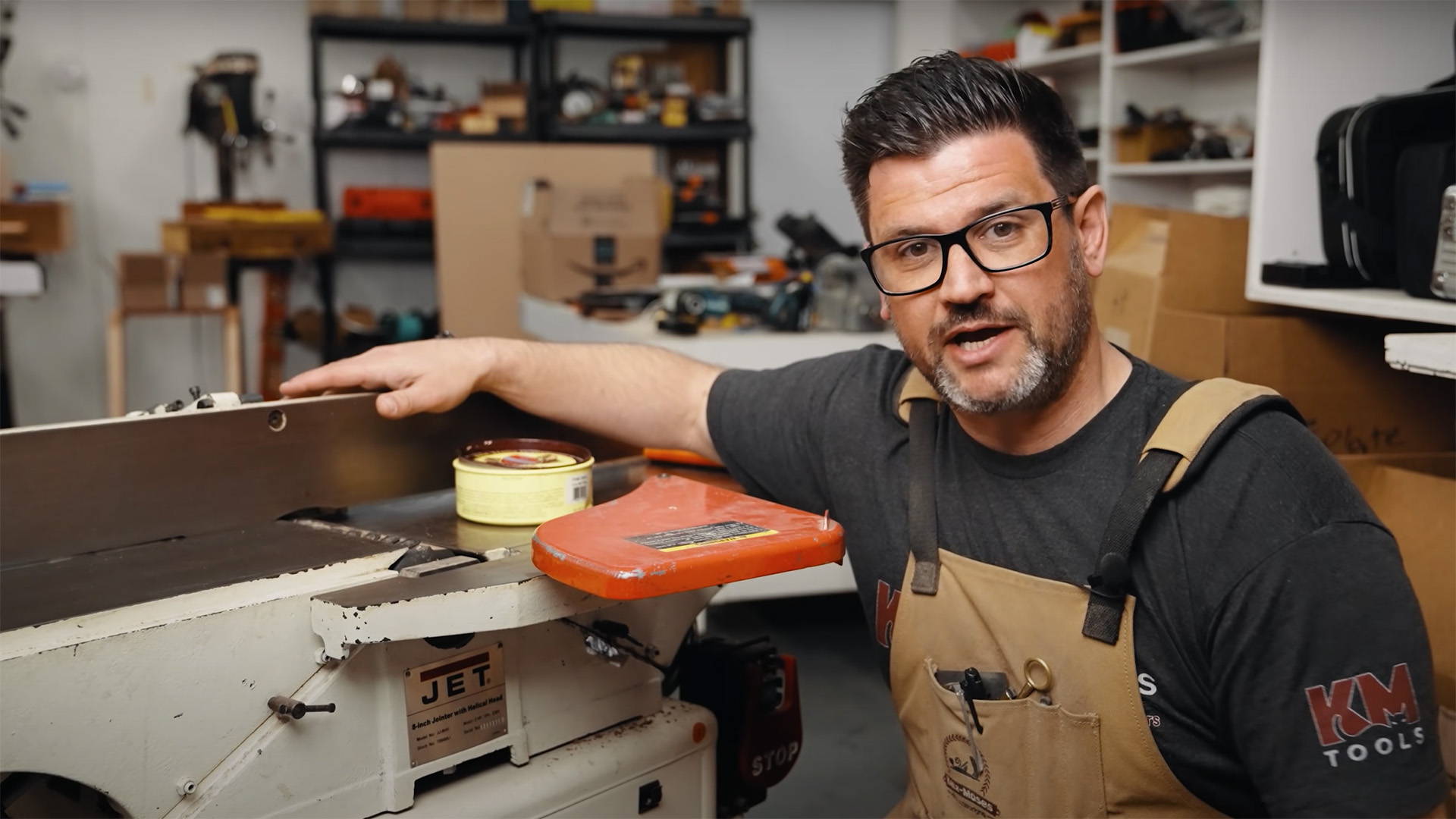 You want boards to slide over your jointer bed as freely as Yoshi sliding over a rogue banana peel on Rainbow Road.
The less resistance the better. Obviously, you'll still need significant pressure to slide a board through the cutterhead — but it shouldn't feel like a workout.
Periodically rub down the jointer beds with paste wax. Slather a healthy amount on both the infeed and outfeed table, then buff it out to a thin layer.
Make sure you do a good job buffing. If thick globs of wax dry, it'll actually make it harder to push boards through.
You don't need to do this every time you use your jointer. Once a month is plenty (depending on how much you use it). But it's better to wax too often than not enough.
---
3. ADJUST THE FENCE POSITION FOR NARROWER BOARDS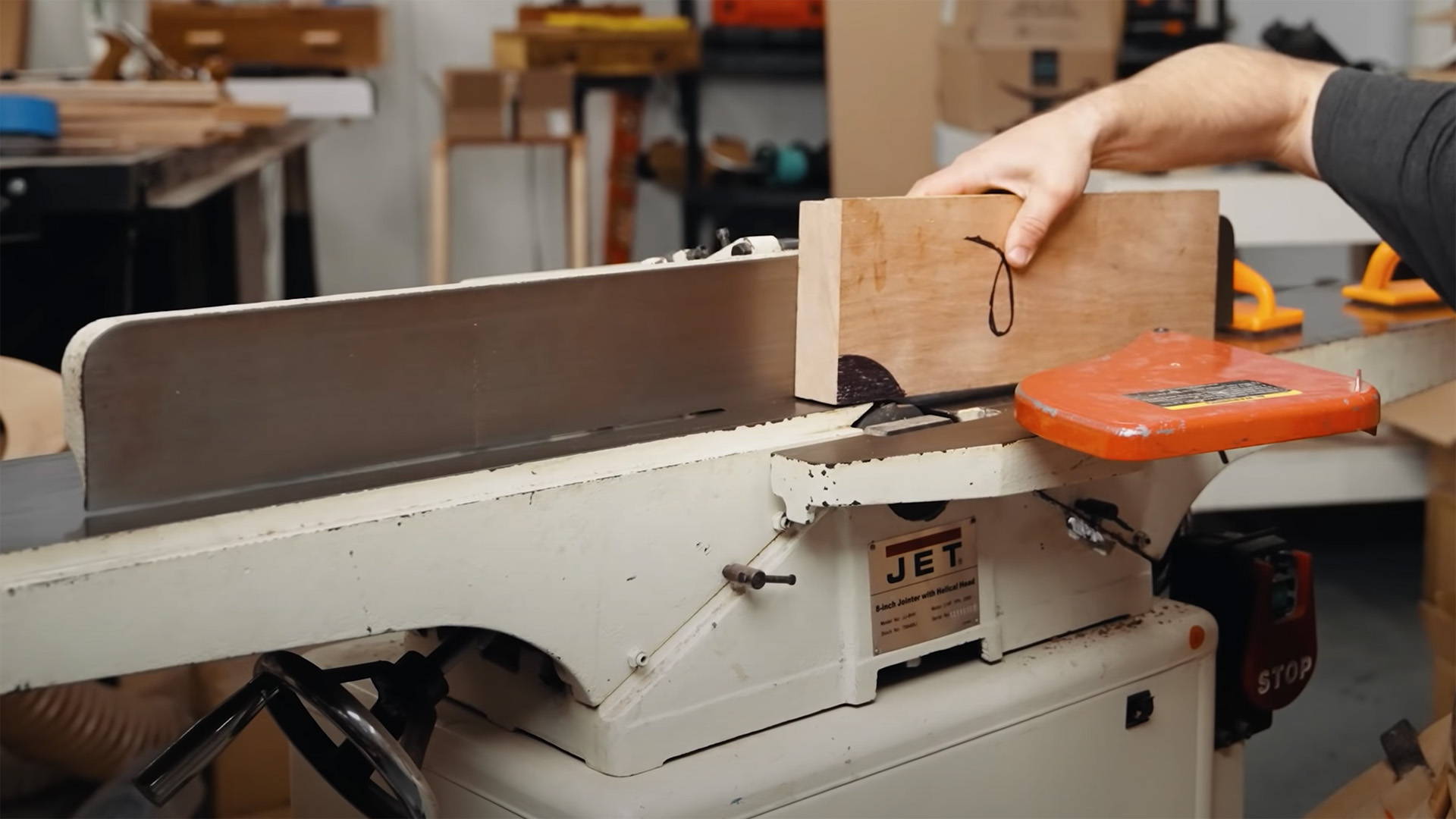 Just because your jointer has 8" of cutting capacity doesn't mean you should always leave the entire cutterhead exposed.
Adjust the position of the fence depending on the width of the board.
For example, if your face jointing a 4" wide board, move the fence back so only around 4 ½" of the cutterhead is exposed.
The less of the blade exposed, the better.
If I'd done this while jointing the leg for my entryway table, my thumb might have been saved from the harassment.
It isn't absolutely essential if you're using push paddles and the blade guard. But if you want to be as safe as possible, it's a great protocol to follow.
---
4. ALWAYS USE THE BLADE GUARD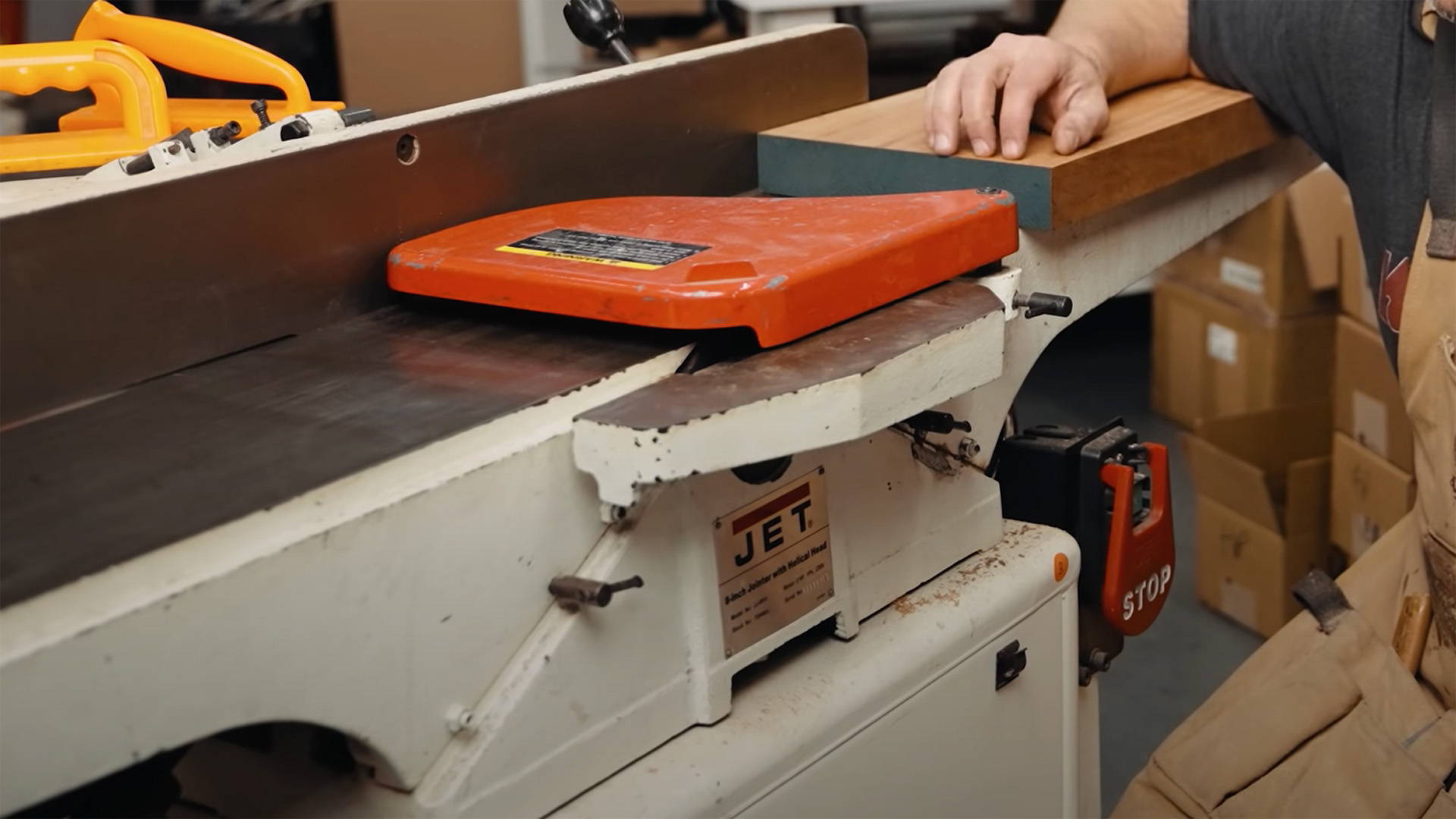 This kind of goes without saying — but you should always keep the blade guard on while using your jointer.
The only time you'd ever need to remove it is if you're using the rabbeting ledge or jointing boards wider than your cutterhead capacity.
Otherwise, keep the guard on. It keeps the cutterhead from being overly exposed — meaning your fingers can't find their way down into the blades from above.
---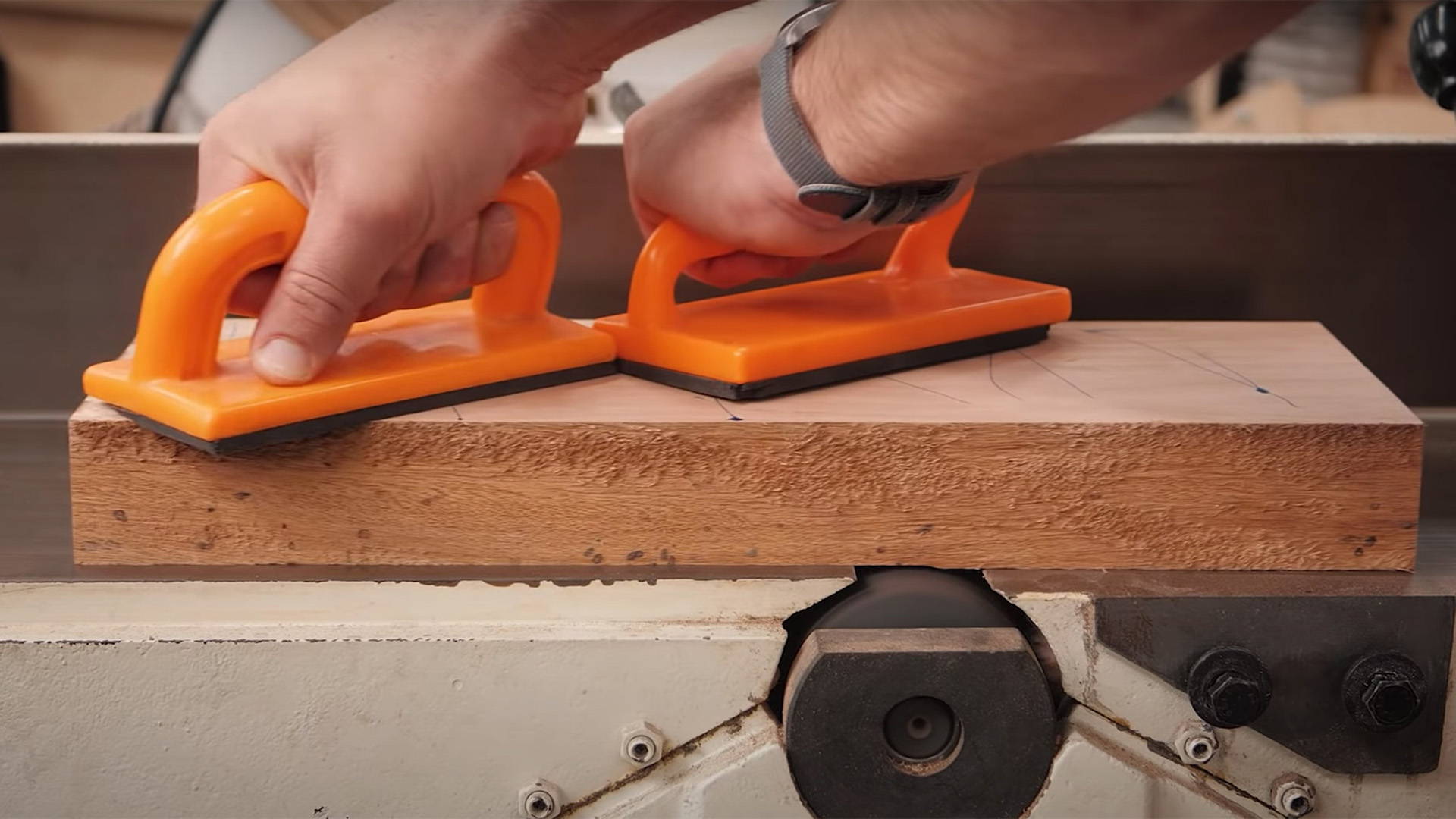 I keep two push paddles by my jointer at all times.
They not only help keep boards flat as you push them through. They're also an extra line of defense between the cutterhead and your fingers.
Make sure to use TWO push paddles — one for each hand.
As the blade passes through the cutterhead, you want to put all the pressure on the outfeed table as soon as possible. Two paddles make it easy.
I don't recommend the long double-handled long push paddles. They don't let you transfer the pressure to the outfeed side soon enough.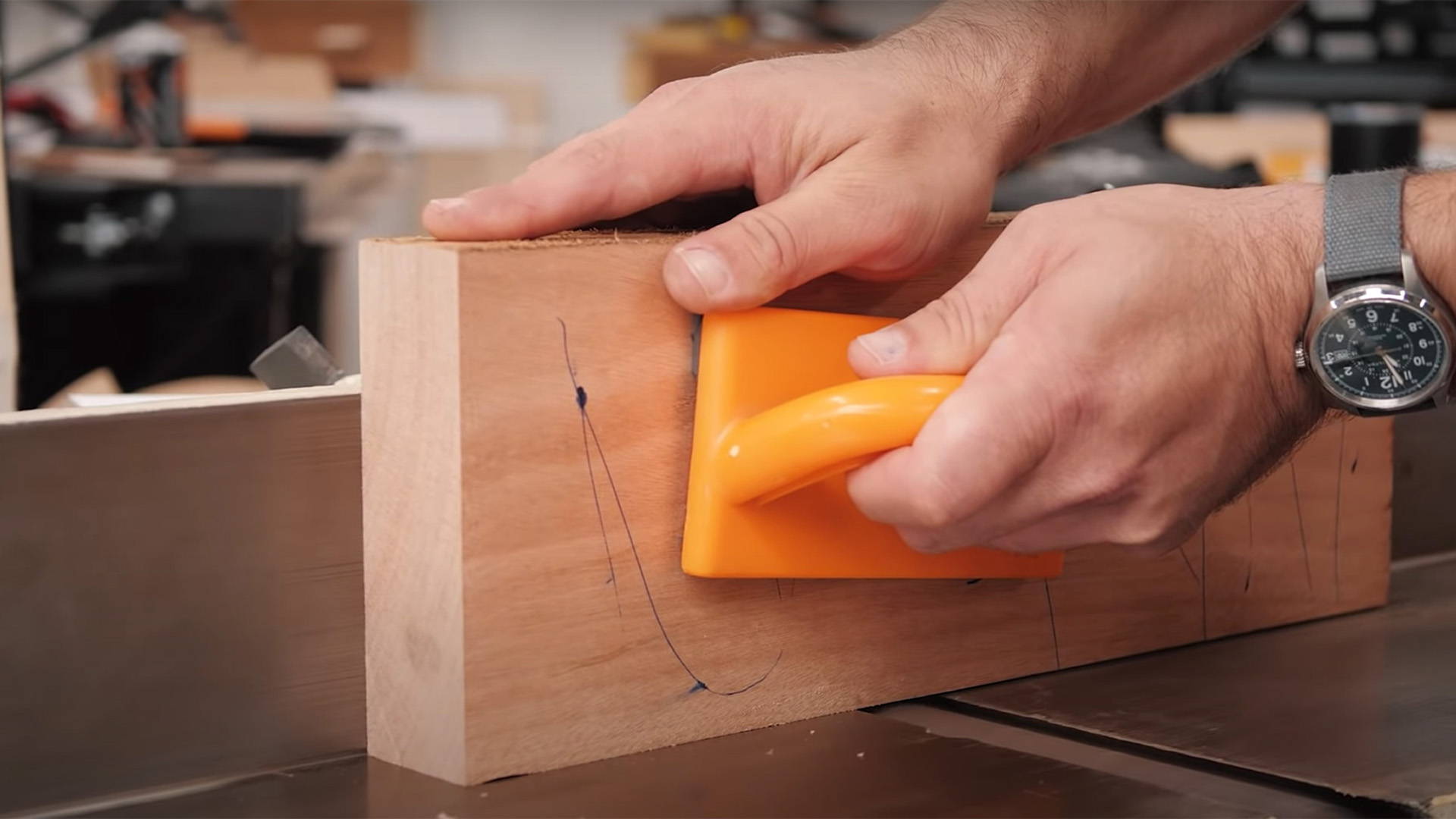 Edge jointing is a little different.
I use one push paddle to keep the board flat against the fence, and my hand on the top edge of the board to push it through and keep it flat on the outfeed table.
One safety tip for this paddle-less hand is to run a finger or two along the top of the fence.
If you slip for any reason, you'll have those fingers to catch the fence and keep them from going towards the cutterhead.
---
6. DON'T PUSH FROM THE BACK OF THE BOARD

This is really about creating good habits.
With well-waxed jointer beds, decent push paddles, and small enough of a cutting depth, you shouldn't have to push a board from the back.
Sometimes you might need to at the very beginning of a cut — but use a push paddle and make it quick.
If you get used to pushing a board with your thumb, you're doing yourself a disservice.
Your thumb will pass way too close to the cutterhead with nothing between. Don't put yourself in this position. There's no good reason to.
---
7. KNOW WHEN A JOINTER IS NOT THE BEST CHOICE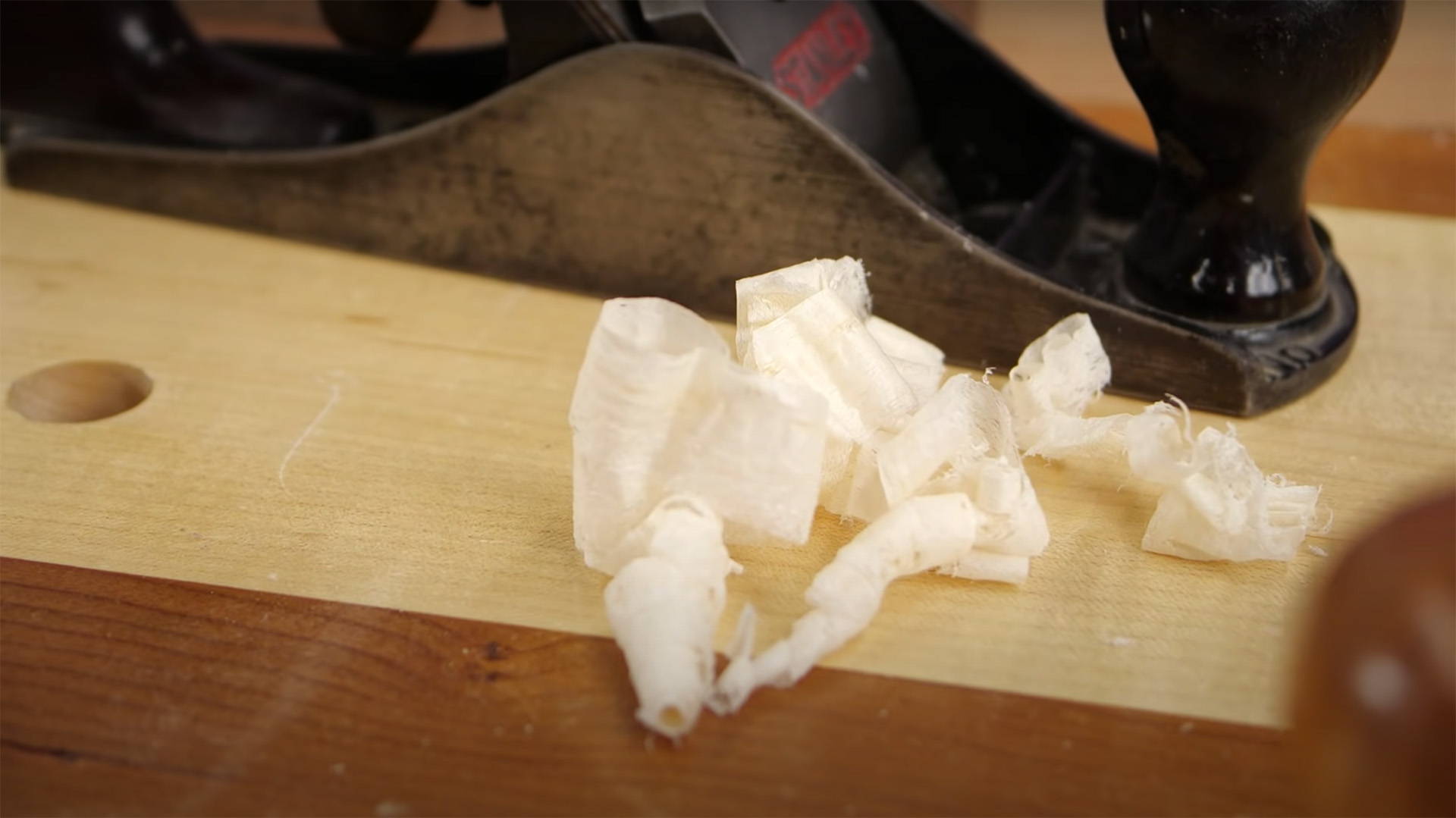 If you've got a thick piece of lumber that needs to be milled, a power jointer is ideal.
But if you need to flatten an extra thin board — grab a hand plane instead.
As a general rule, don't take boards under ½" thick to the jointer.
Material that thin could break under the pressure of the cutterhead. And you don't want your hand to be there if it does.
For thin cupped boards, use a hand plane to flatten out one side until it doesn't rock. From there, just run it through a planer.
---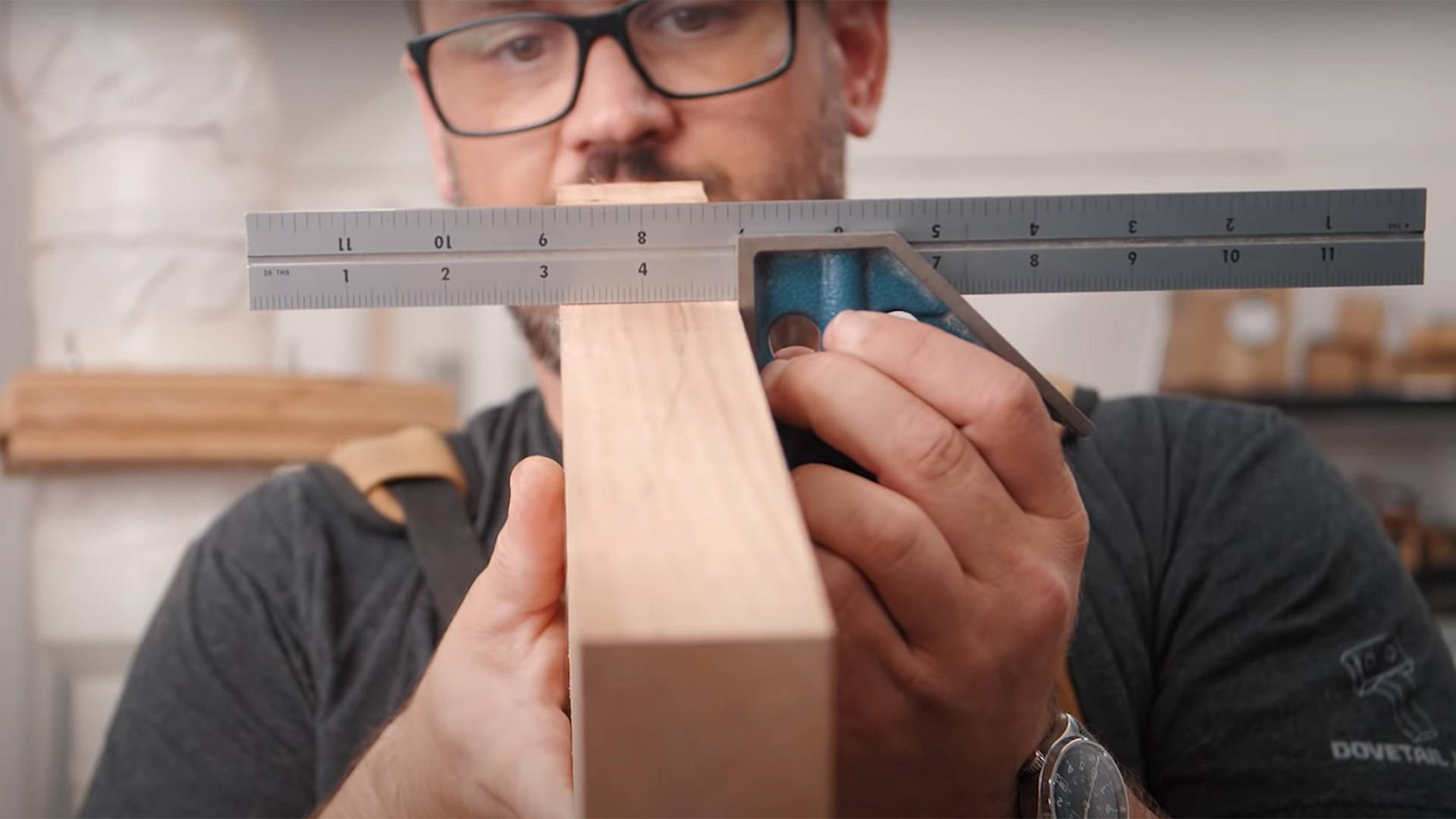 The most important part of using any power tool is paying attention.
When you're at the jointer, be at the jointer.
Your mortgage, obligations, that mean thing your crush said to you in 2nd grade — set it all aside and focus on the machine in front of you.
Think about how you'll make a cut before you hit the on switch. Listen to how the board passes through and kill the power if it doesn't sound right.
Staying focused can save you from making a completely avoidable mistake.
It's incredible the amount of zen that can be found in spinning blades.
---
JOINT BOARDS, NOT YOUR FINGERS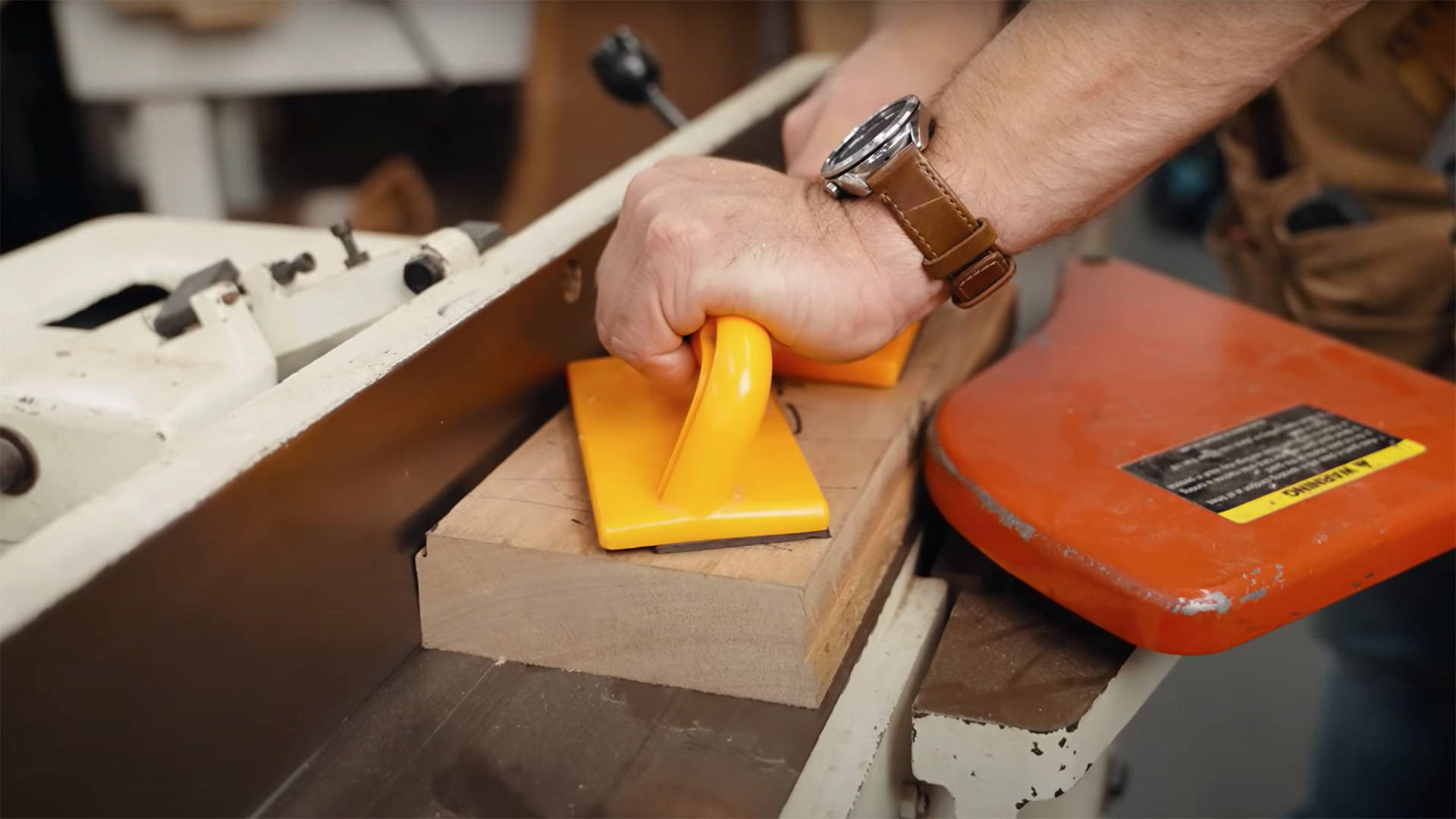 Jointers are tremendously useful — and need to be treated with a tremendous amount of respect.
Always use them with caution and avoid putting yourself in dangerous situations.
Luckily, it's not hard to stay safe. Just follow the guidelines above, take your time — and above all else, focus on the task at hand.
---
Got any other jointer safety tips, or warning tales of what not to do? Share them in the comments below!
Follow us on Instagram @katzmosestools, on TikTok @katzmoseswoodworking, and check out my YouTube channel for more great woodworking content...
And as always, STAY SAFE IN THE SHOP!