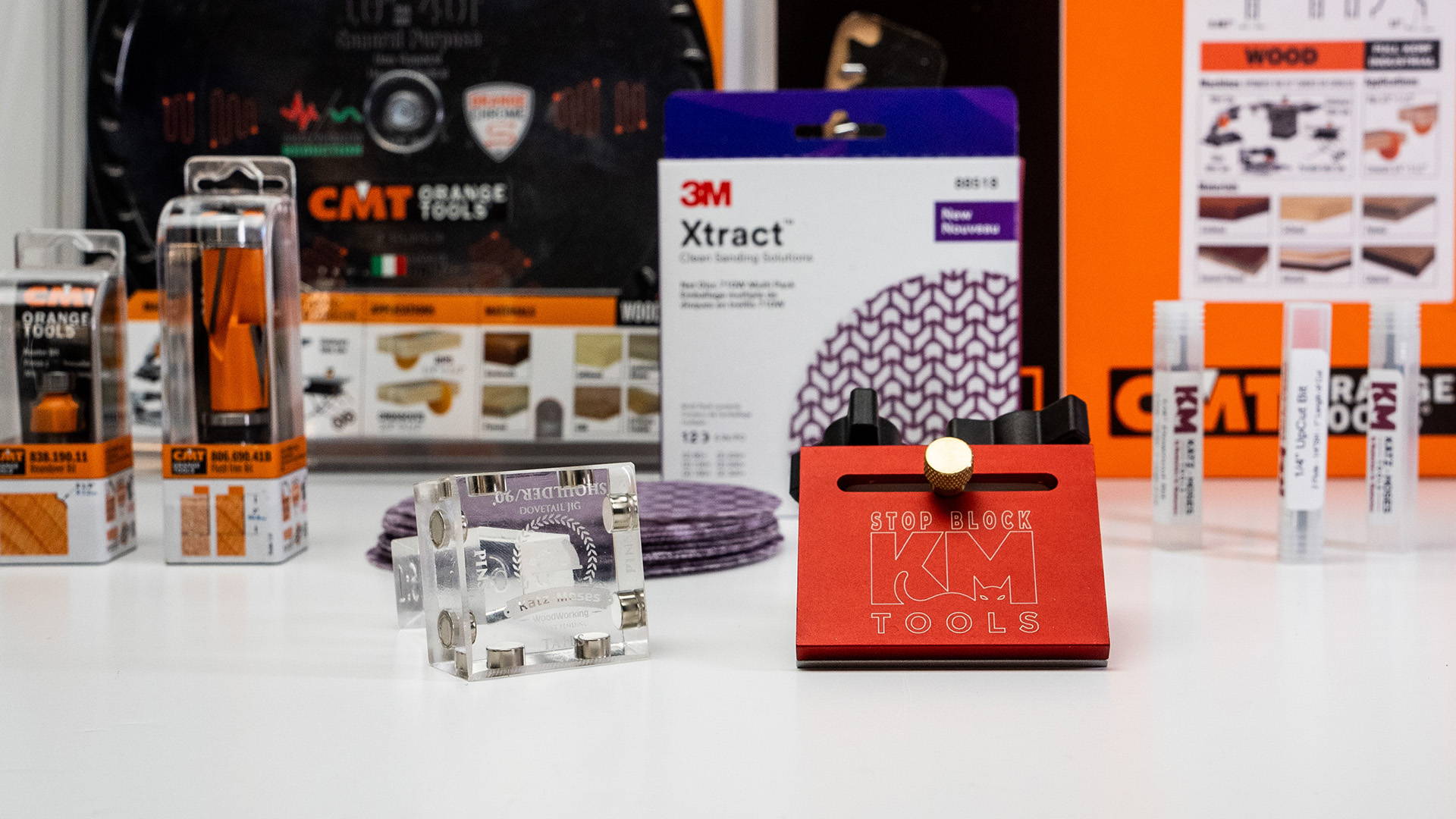 While you've been mastering your dovetails — the KM Tools team has been quietly adding to our arsenal of woodworking tools…
And some of them are WAY too cool.
Today, I'm highlighting the new arrivals to our collection (plus some upcoming releases) — and giving you tips on my favorite ways to use them.
Looking for a reason to take a mallet to your piggy bank? You found it, buddy.
---
---
DOUBLE BEARING FLUSH TRIM BIT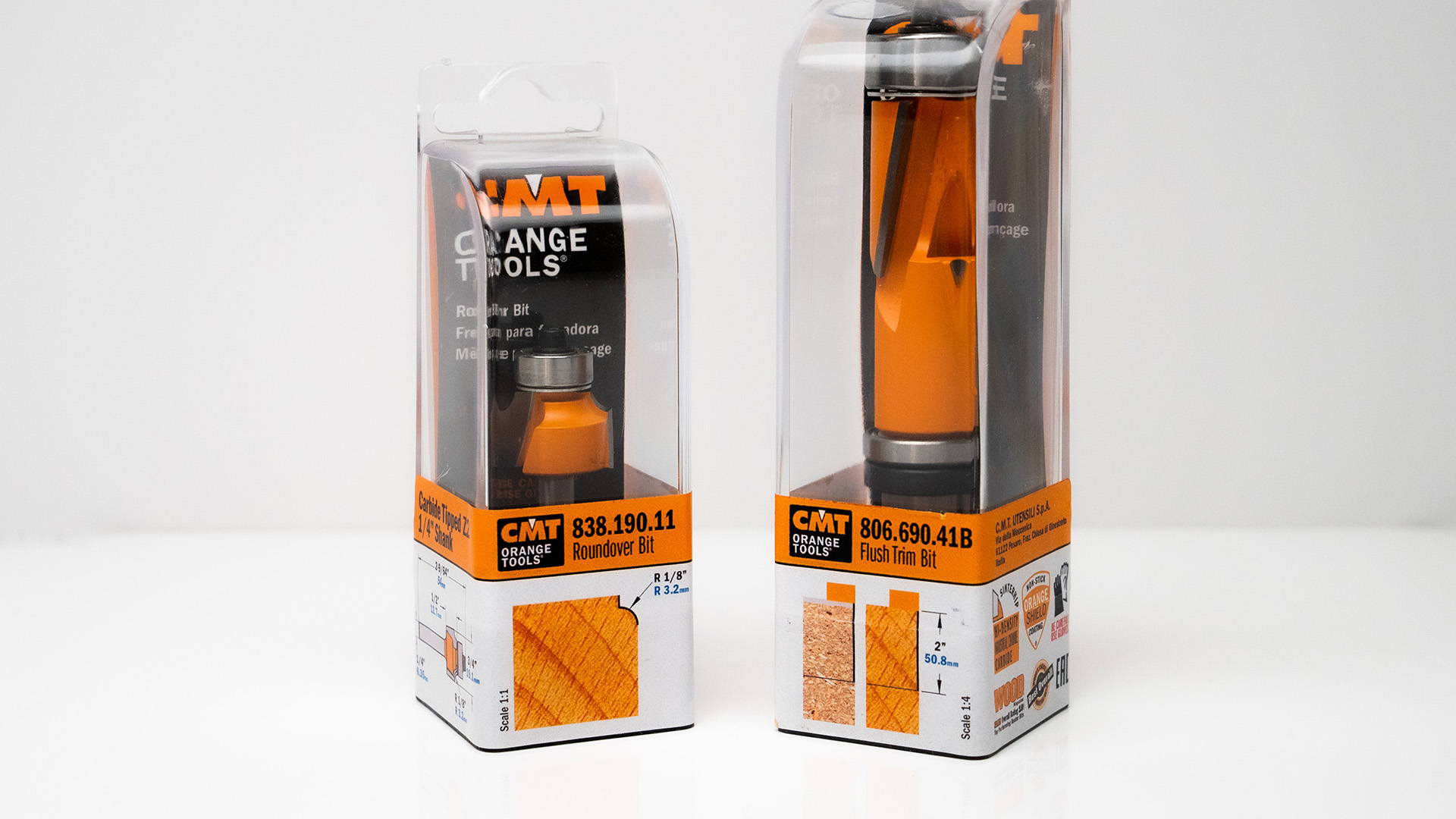 Flush trim bits are useful for so much in woodworking — from edge jointing, to template routing, to hole cutting and more.
But this CMT double bearing flush trim bit takes things to the next level.
It has a full 2" of cutting length, and the compression flute design helps stop tearout on both edges as you cut.
But what really makes it shine are the removable top and bottom bearings.
They let you flush trim from either side of a workpiece — meaning you can easily work with tricky grain direction or thicker boards.
TIP: FLUSH TRIM THICK PIECES
Since regular flush trim bits have the bearing at the end, you can't cut boards thicker than the bit's cutting edge.
But with this CMT bit, you can flush trim boards up to 4" thick — all with a single bit.
Start with the top bearing referencing your template and make the cut. Then switch to the bottom bearing, flip the board so the bearing references the section you cut, and finish up.
---
---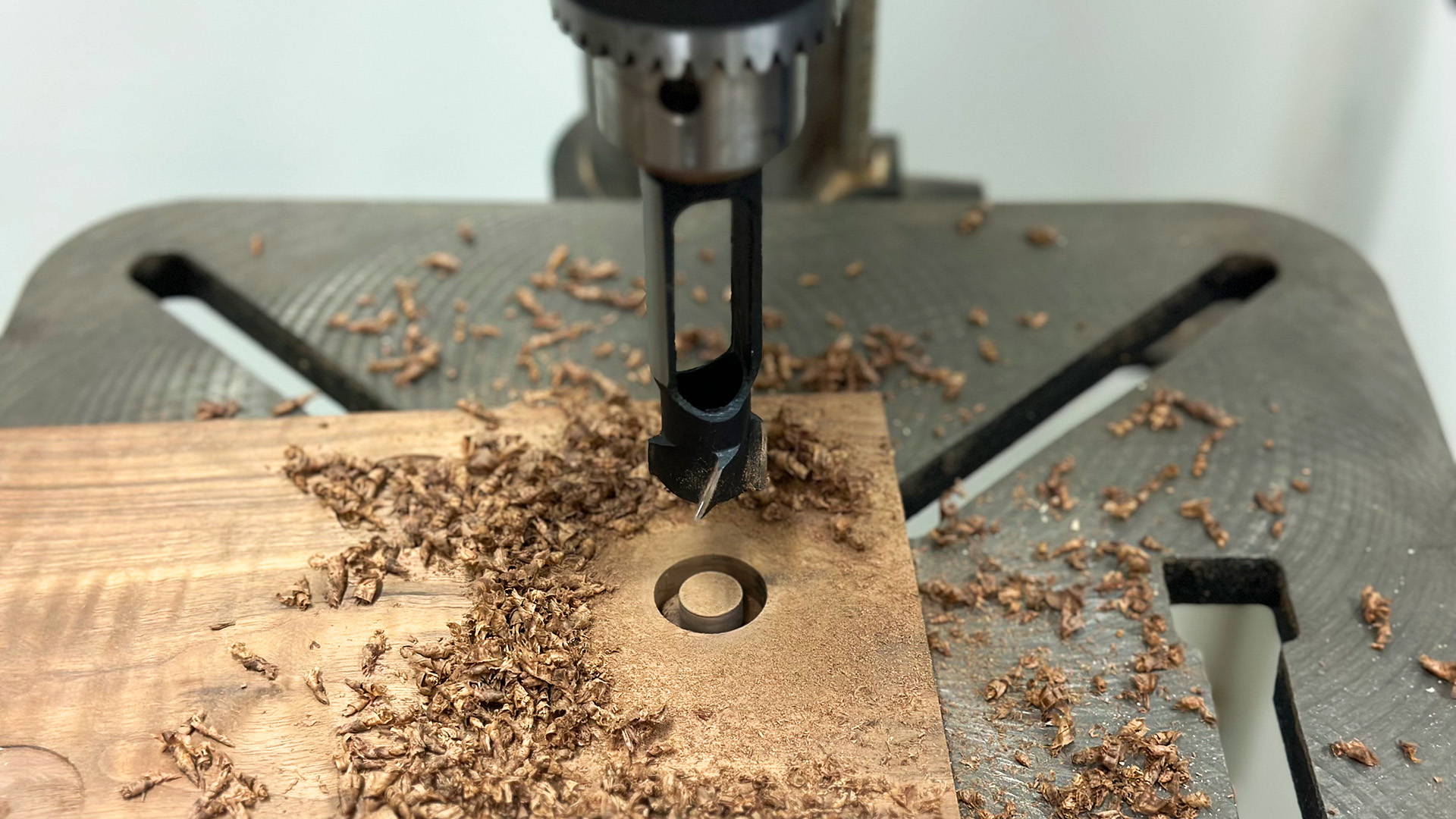 Hiding screws with dowels can look great, but it's a conspicuous detail. Even if it's the same species of wood as your project, the exposed end grain will stand out.
These CMT plug cutters allow you to quickly make plugs with long grain faces that can practically be invisible when flush trimmed.
A lot of plug cutters have a single blade edge that gets so hot they make smoke — and as a result, they dull super fast.
But these plug cutters have teeth that cut more efficiently, create less heat, and stay sharp longer.
PLUG CUTTING TIP:
Cut your plugs close to the edge of a board so one side of the plug is exposed. This makes it super easy to snap out with your fingers.
Also, use an offcut from your project to get perfectly matched grain.
---
SLAB FLATTENING AND SPOILBOARD SURFACING BIT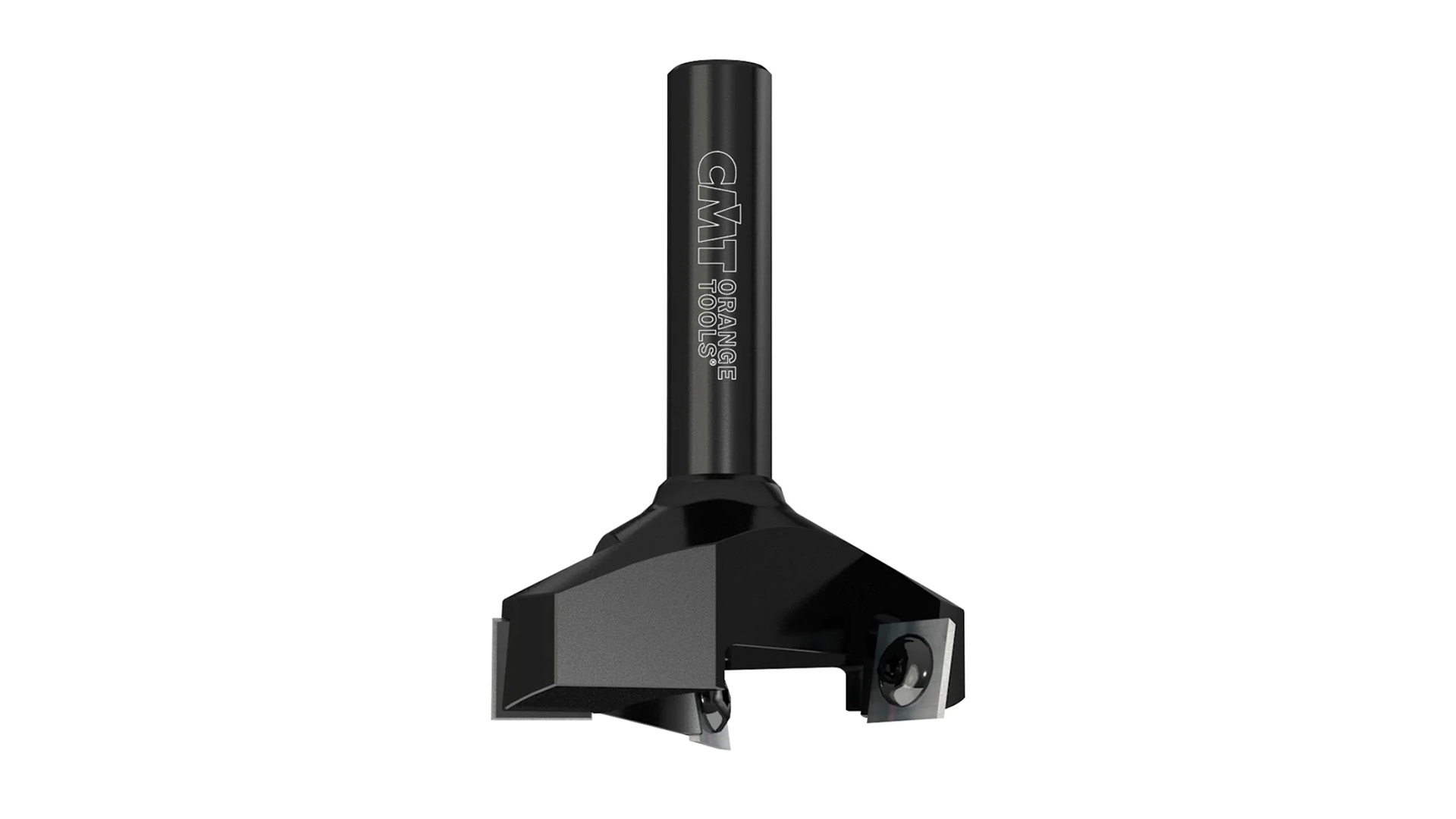 This new slab flattering bit from CMT quickly cuts through bucketloads of material over large areas. If you have a CNC, it's a must-have.
It has three micrograin carbide blades that have 4 cutting edges — meaning you can rotate them as they get dull.
And once you've gone through all four sides (which will take a lot of slabs), simply order replacement blades instead of having to invest in a totally new bit.
It's a great cost-effective solution to standard brazed and solid carbide bits.
TIP: USE THIS BIT AS YOUR JOINTER AND PLANER
If you don't have a jointer — or are working with boards too wide for your planer — this bit is a life saver.
Build a slab flattening jig and use this bit in your router to flatten big boards.
---
NEW AND IMPROVED PROJECT PLANS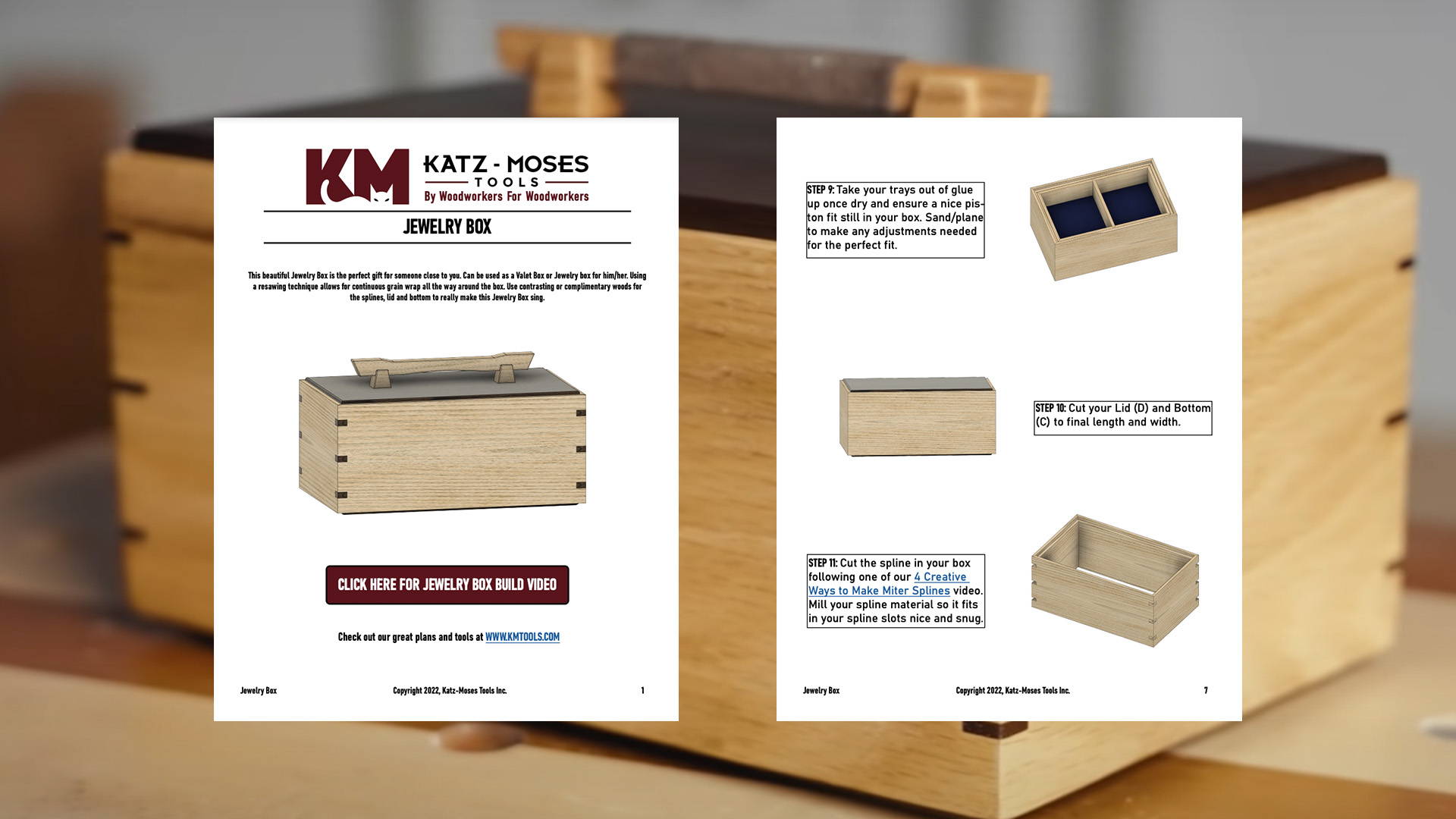 Our new digital woodworking plans are a MAJOR improvement on the old ones.
They include cut lists, step-by-step instructions with graphics, useful tips — and we're releasing a new set almost every week.
We have plans for shop storage solutions, home furniture, jigs and more, including:
Under-table saw storage cabinet
Modern entryway table
Wall-mounted bike rack
Jewelry box
Picture frame mitering jig
And so much more
---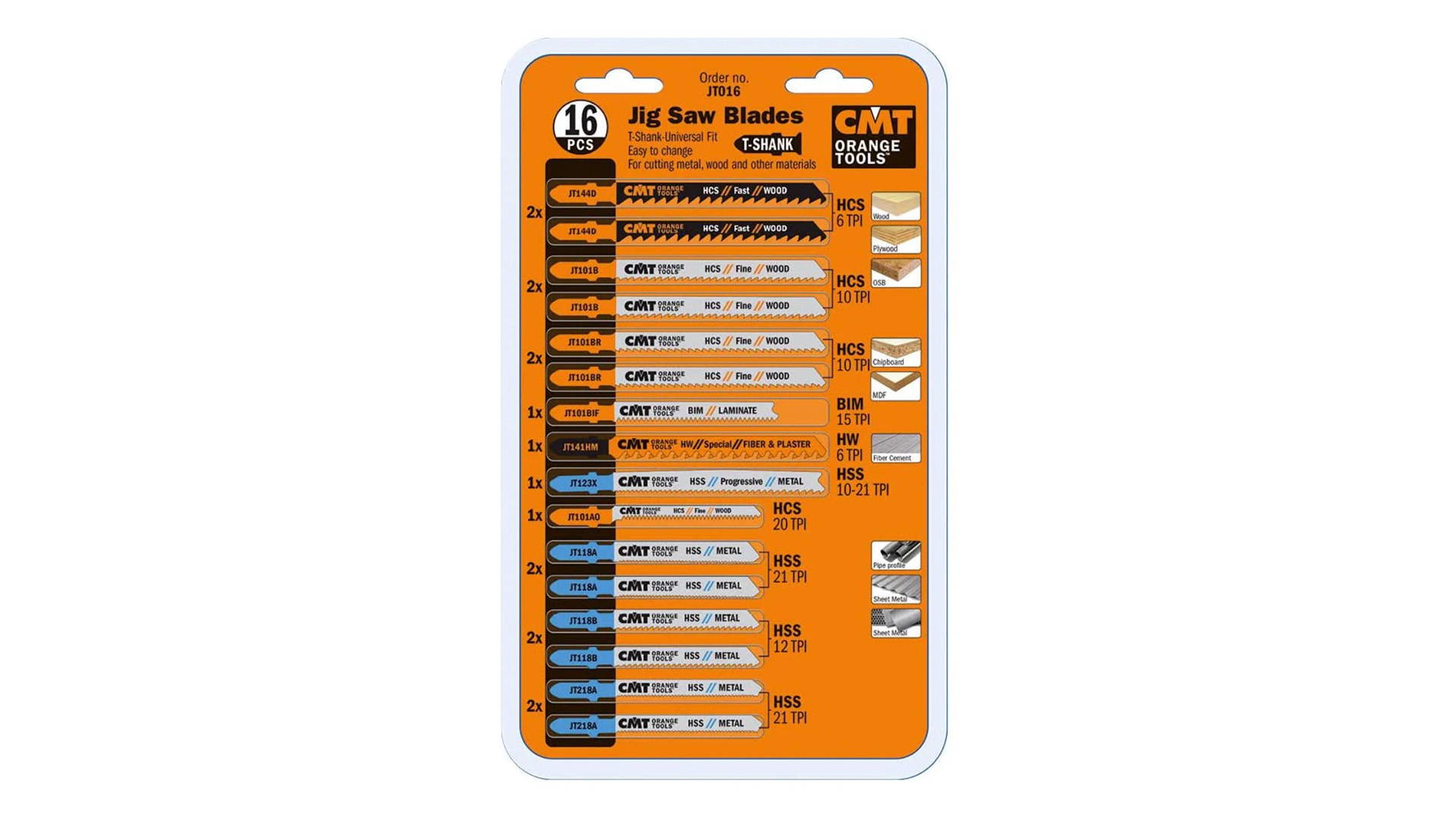 Wood, metal, laminates, and more. This 16 piece set of CMT jigsaw blades has a blade every material you'll ever need to cut.
Whether you need to quickly break down hardwood — or need a clean cut in melamine — there's a blade for it.
TIP: LIMIT JIGSAW TEAROUT
Here's an easy solution for jigsaw tearout.
First, cut from the backside (not showface) of your workpiece. This keeps a cleaner edge on your showface.
If you can, put a strip of blue tape over where you'll cut. This helps hold down the fibers and keep them from tearing out.
---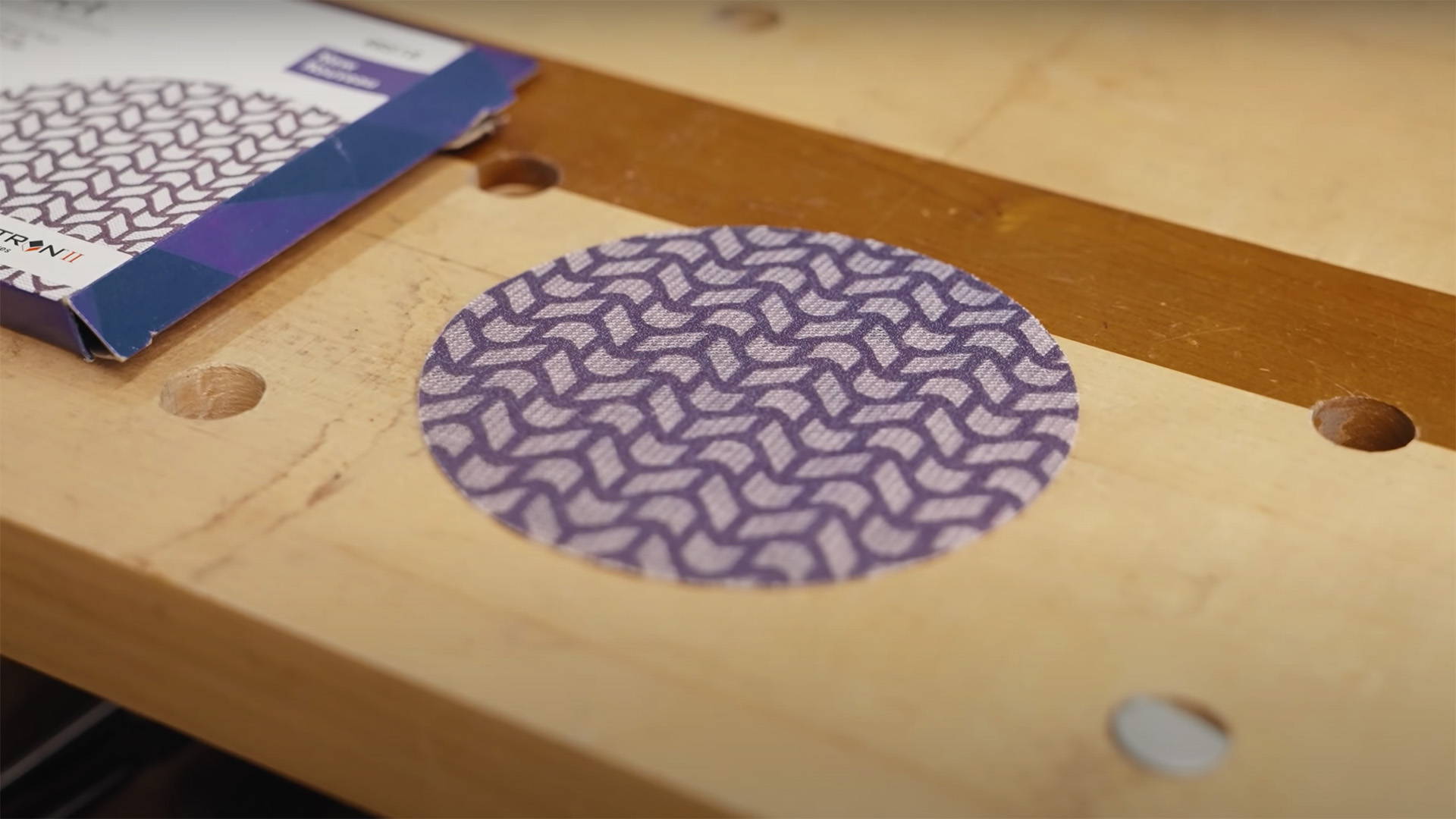 We now carry the world's best sandpaper.
In my robot assisted sandpaper test, it took off more material than any other sandpaper — and kept taking off more material even after 15 minutes of continuous use.
END GRAIN SANDING TIP:
Want the end grain edge of a table top to look even with the rest of your piece when you add finish?
Sand the end grain one grit higher than the rest of your piece. This burnishes the fibers so they don't absorb as much finish — keeping the color more akin to your long grain edges.
---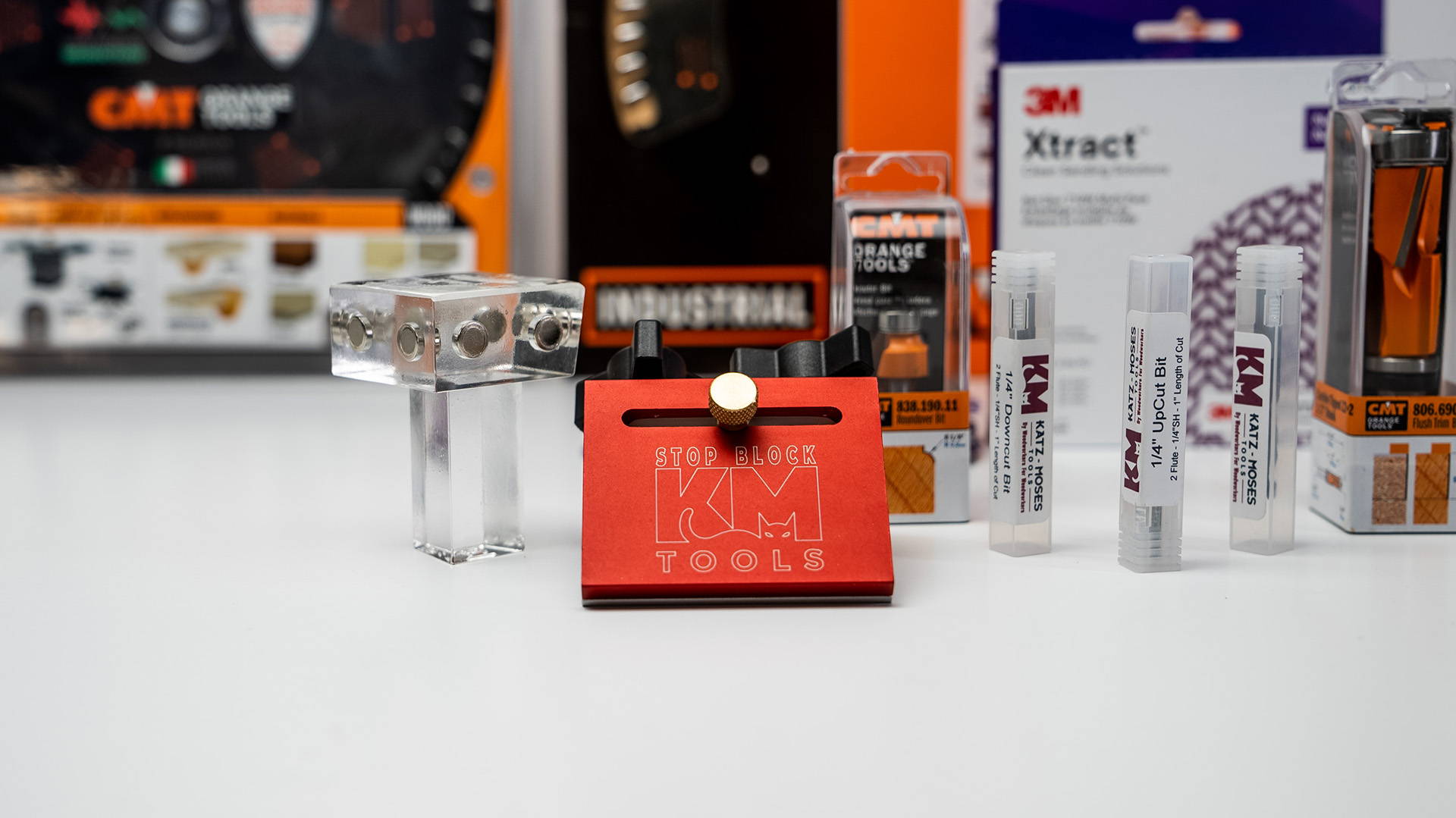 Bold new look, same great taste.
The Katz-Moses Universal No Deflection Stop Block now features the KM Tools logo.
Sure, it's not technically a new tool. But I still want to show it off.
---
Alright… we definitely made a big deal out of releasing this one. But it's friggin' amazing.
The KM-17 Router Plane is the ultimate tool for dialing in precise joinery — and with ZERO backlash, you can adjust it to the micron.
There's a ton of uses for a router plane. And that goes for hand tool and power tool users alike.
ROUTER PLANE TIP
Switch the blade to face backwards (called the bullnose position), and you'll have a host of other uses for your router plane.
Cut away dried glue in tight corners, access hard to reach places — even flush trim small areas of proud joinery.
---
We're not done bringing you cool new tools. Here's a few other releases to look forward to in the near future:
---
3X3 CUSTOM 6-IN-1 UNIVERSAL TRIM ROUTER JIG: 2ND RELEASE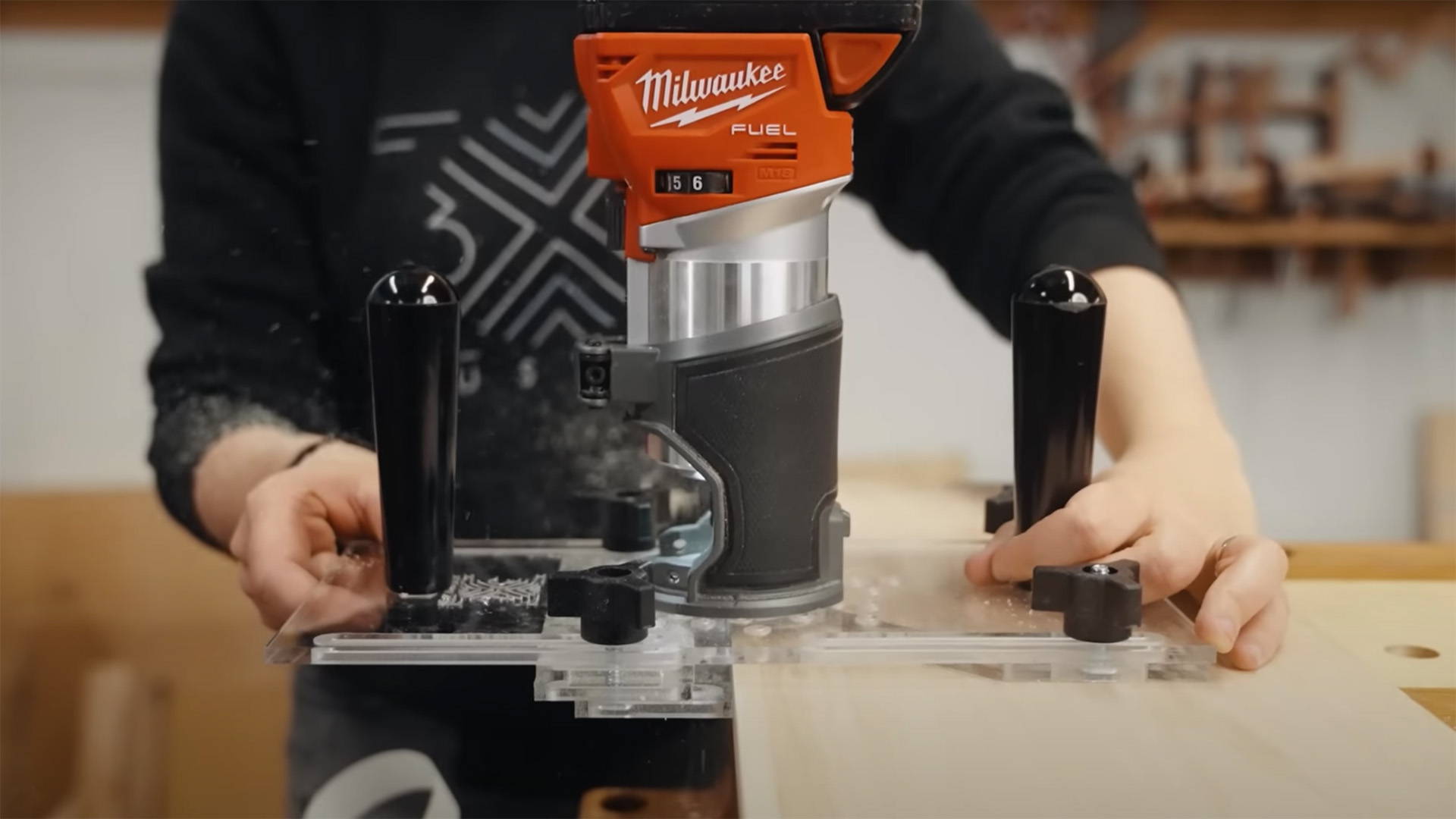 The first release of this jig sold out in a couple of days. But we're hard at work cooking up the next batch.
---
BRASS CHISEL MALLET WITH INTERCHANGEABLE HEADS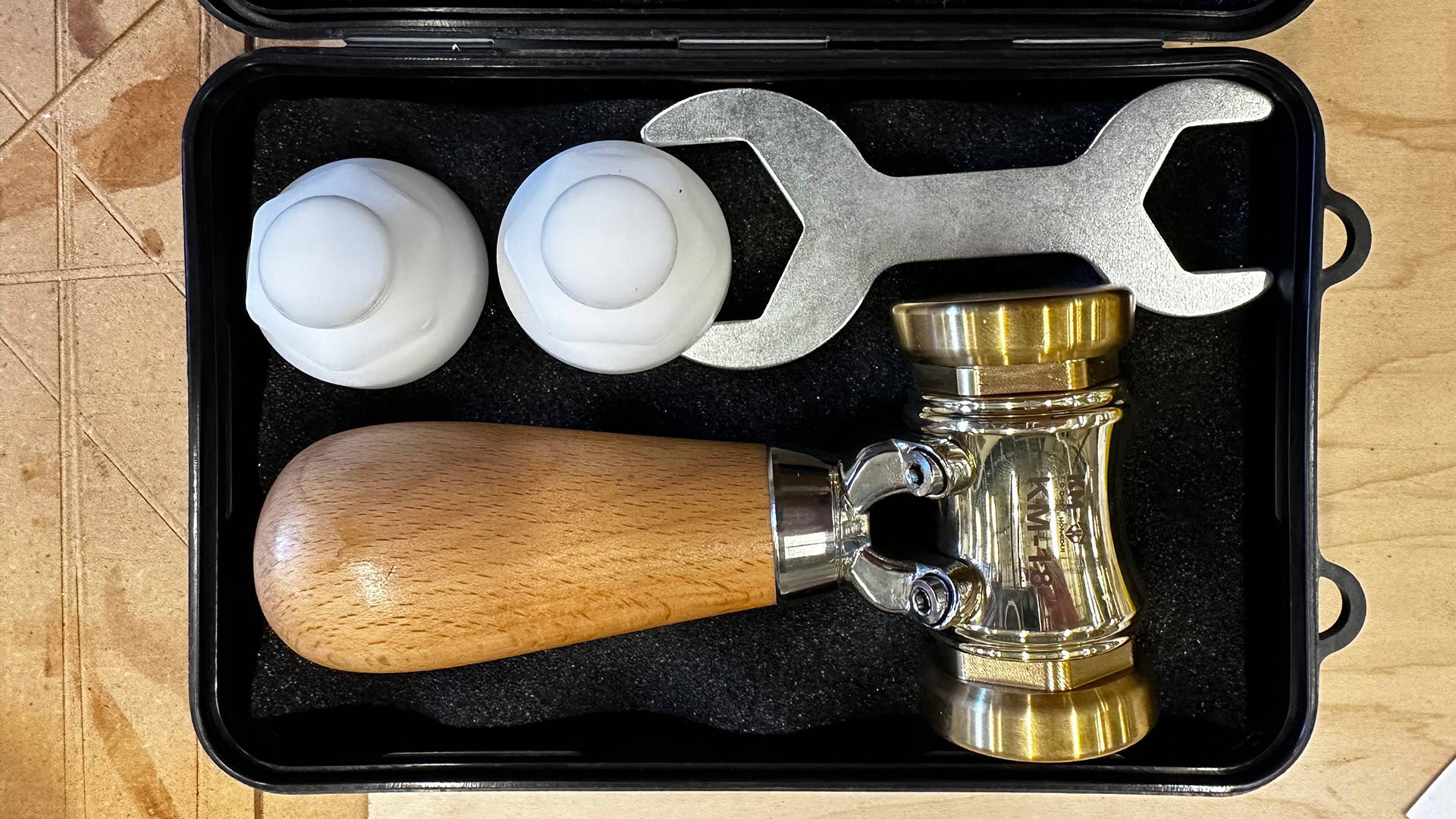 I am SO excited for this one.
This brass headed chisel mallet on a beautiful maple handle is compact — but weighs a whopping 22 ounces.
It's the perfect balance between controllability, aesthetics, and some serious bang bang capability.
Plus, you can switch the brass heads for plastic ones that won't mar a surface if you need to knock joinery together.
We'll release this chisel mallet to our email subscribers first, so be sure to sign up.
---
DAMASCUS STEEL MARKING KNIFE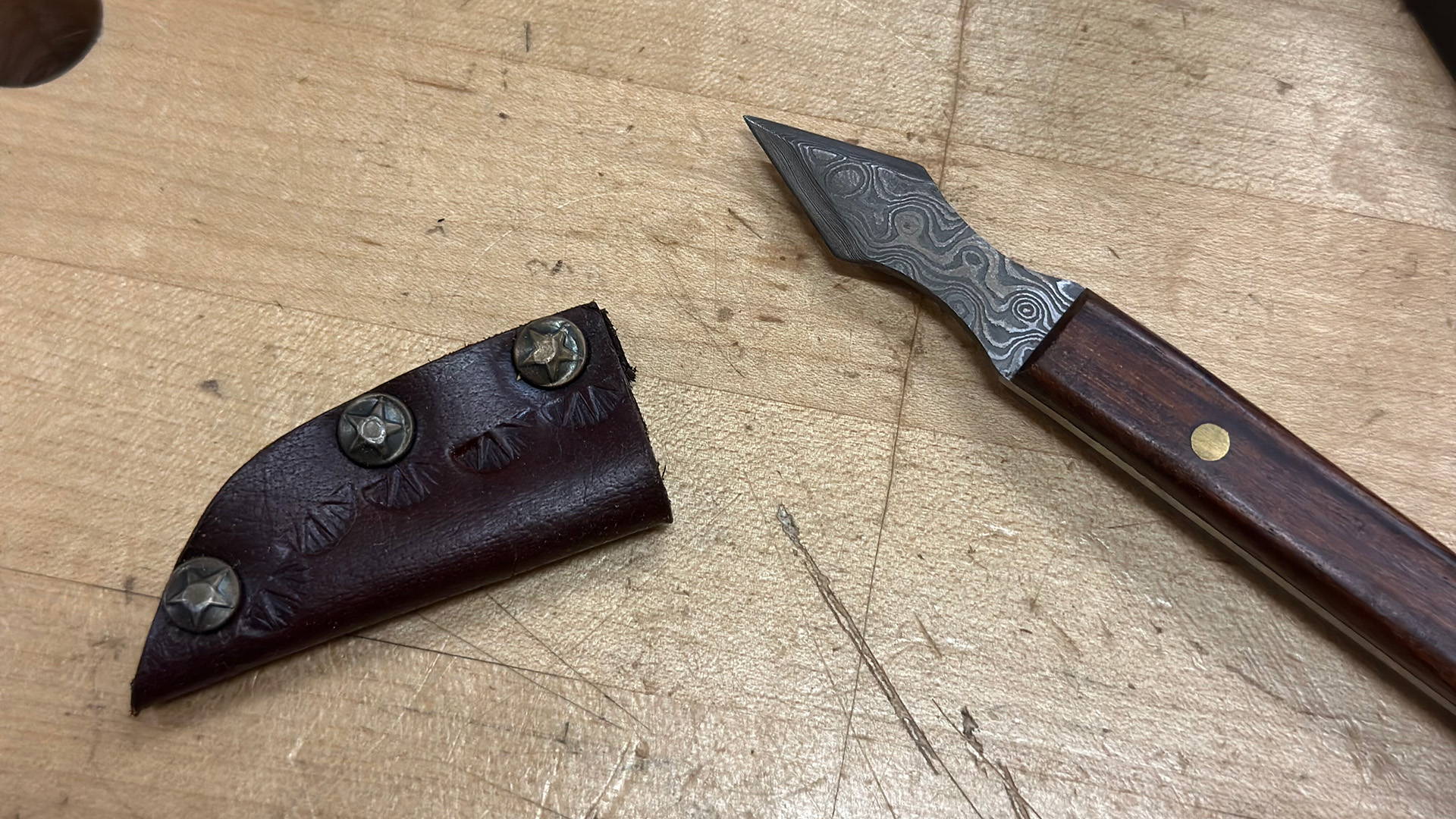 These HAND FORGED damascus steel marking knives are gorgeous.
Damascus steel is harder, more flexible, and retains a sharp edge longer than regular steel. It's what they used back in the day to make high-quality swords.
I'll say that again. Swords.
Again, sign up for our newsletter to be notified when it's available.
---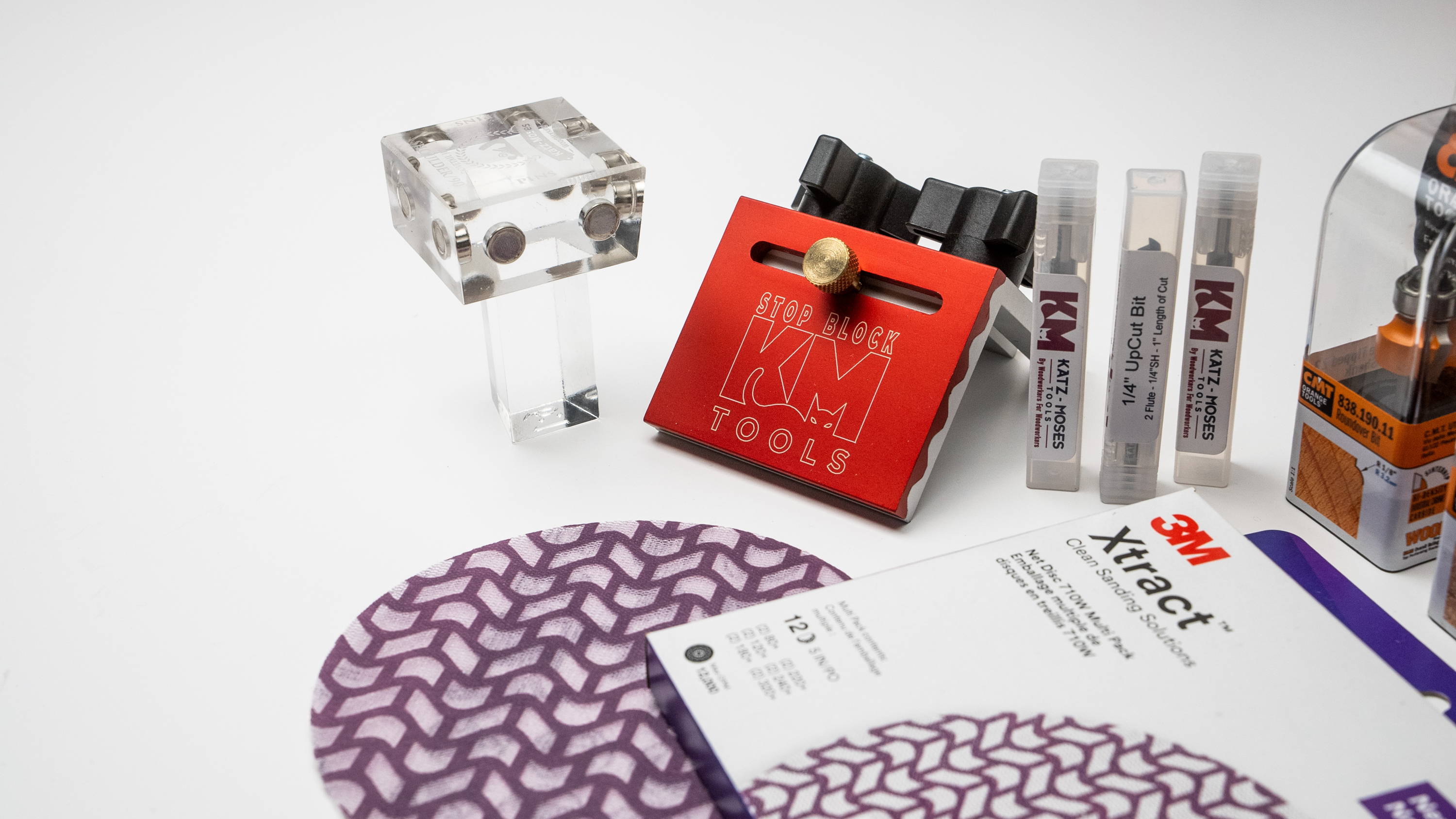 Our mission is to provide the woodworking community with the highest value tools we can find (or create).
And we're ALWAYS looking to add top-notch new products to our collection.
Keep your eyes peeled for more tool releases in the upcoming months… and from the bottom of my heart, THANK YOU for supporting our small business.