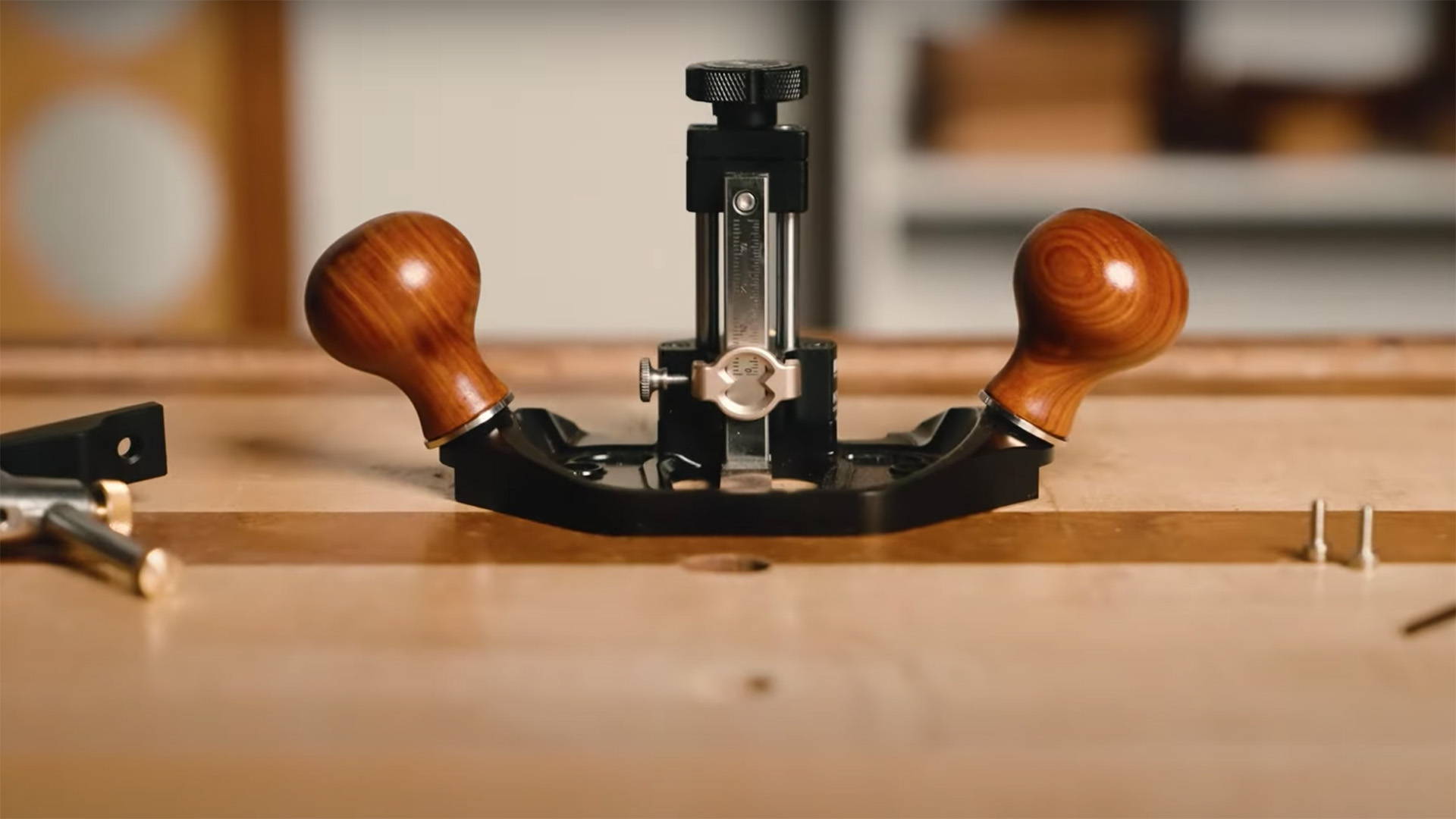 Want to cut rock-solid, immaculate looking joinery? Router planes are the hand tool you didn't know you needed.
No, they aren't some archaic relic only for hand tool aficionados.
Even power tool die-hards will find them ridiculously useful.
Router planes specialize in cleaning up after other tools — and because of that, they quickly improve the quality of your woodworking.
The best part? They're dead easy to use.
Today, I'm giving you 7 different uses for a router plane.
From simple clean-up to dialing in joinery for a perfect fit, they'll all help you achieve stronger, more professional looking furniture…
So you can start building projects worthy of bragging about.
We just launched the Katz-Moses KM-17 Router Plane. Get it on presale now before it sells out!
---
---
WHAT'S THE POINT OF A ROUTER PLANE?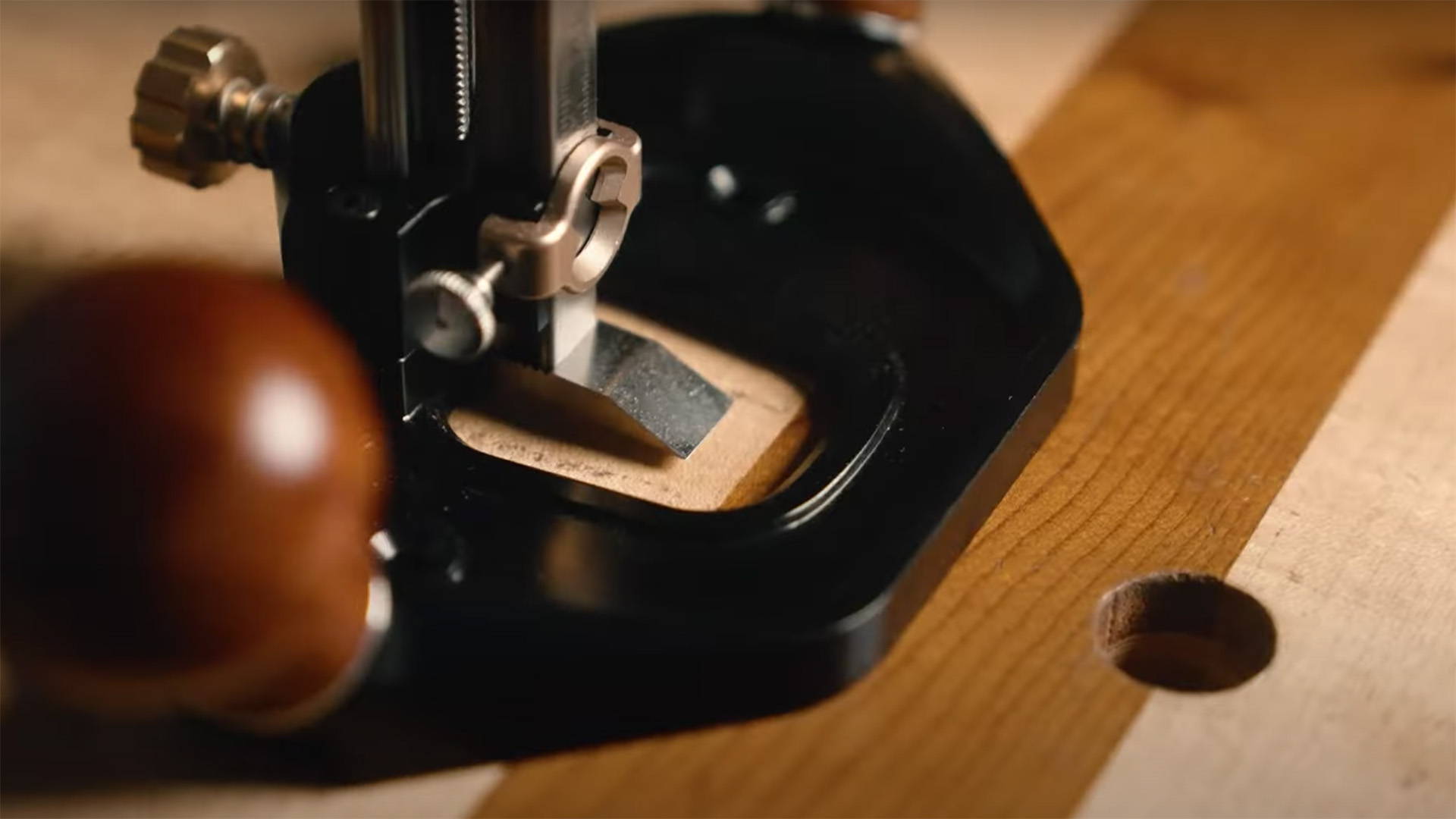 Router planes cut flat recesses below the surface of a workpiece — with the blade cutting parallel to the sole (bottom of the base).
The name is misleading. Even if you have an electric router, you'll still get a ton of use from a router plane. They're more like rabbeting planes than electric routers.
But because of the small blade and available cutting depth, a router plane is far more versatile than a rabbeting plane. Plus, you know your cuts will be coplanar to the reference face.
Router planes shine in fine-tuning joinery to perfection.
I'll cut the bulk of the material with my power tools, then take thin shavings with the router plane until everything is exact.
Their ability to do delicate work in hard to reach places makes them the ultimate precision tool.
---
TIPS FOR USING A ROUTER PLANE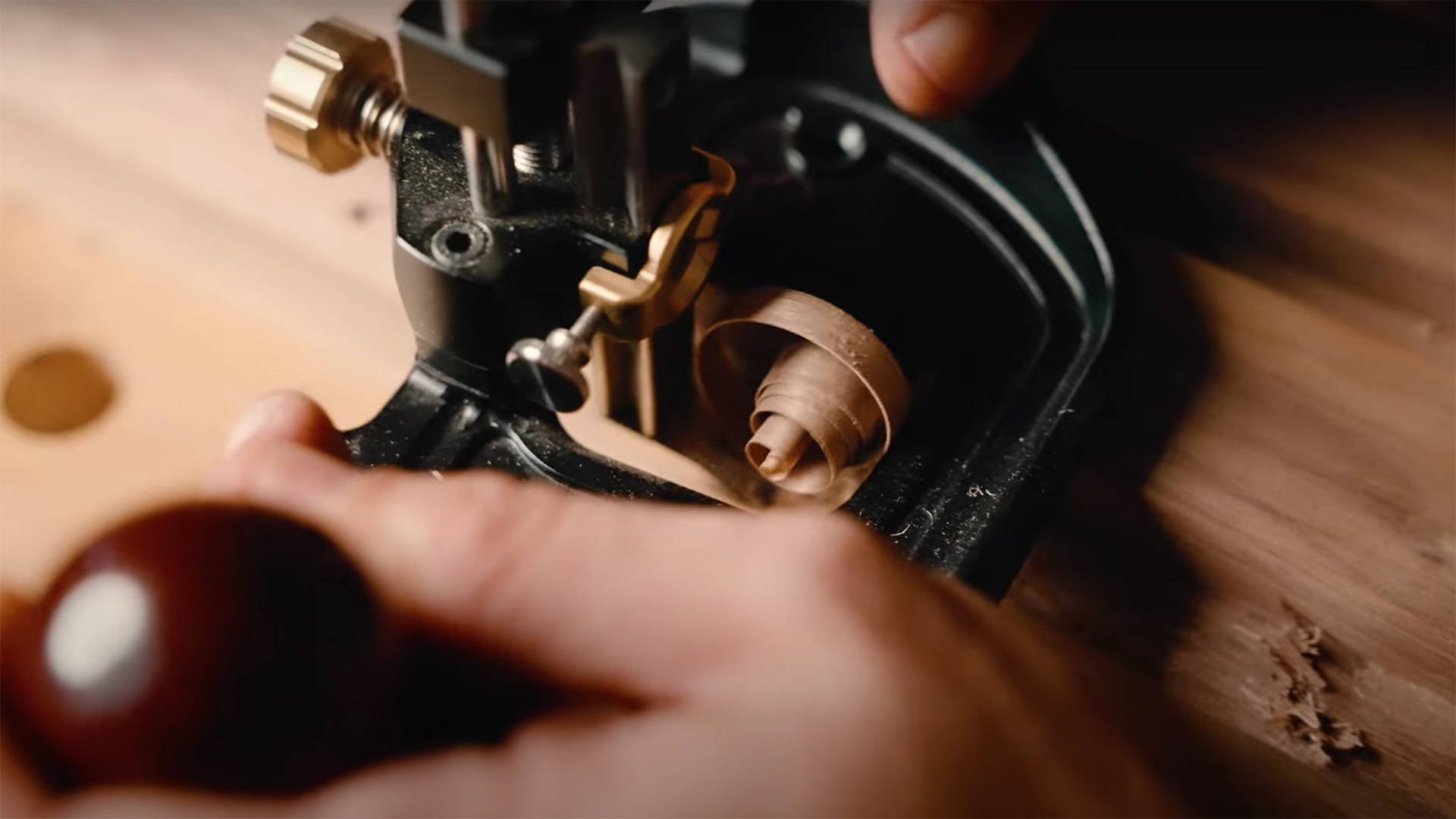 The learning curve for router planes is small — but there are a few things to know.
Take small bites: As with any tool, you'll get the best results by cutting small amounts at a time. Shoot for 1/32" (.8 mm) or less (yes, the picture above is epic, but it's probably too deep of a cut).
Watch your exits: If you're cutting across the grain, cut towards the center of your workpiece from both sides instead of plowing all the way through.
Pivot into crossgrain cuts: Don't try to power the blade through in crossgrain cuts. Instead, hold one side of the base steady and pivot into the crossgrain, taking multiple small shearing passes.
Consider grain direction: When you're cutting long grain, you'll have to be mindful of grain direction. Learn about reading wood grain here.
---
7 WAYS TO USE A ROUTER PLANE

1. PERFECTING DADOS, RABBETS, AND GROOVES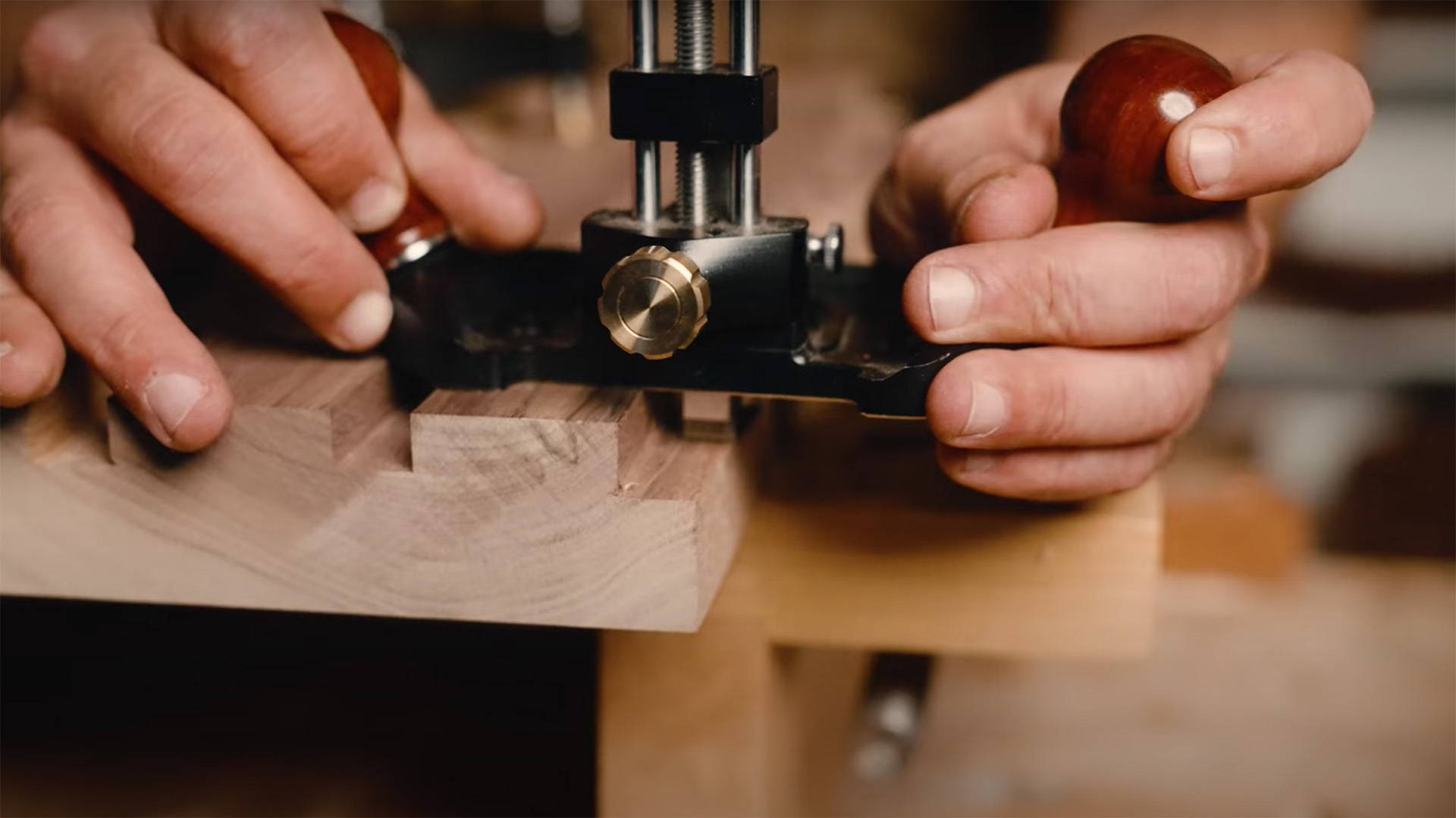 Cutting dados, rabbets, and grooves with power tools is efficient — but doesn't always create a perfectly flat bottom.
Sometimes the piece you're cutting is bowed. Or it can lift on a dado stack, or get cut too deep by a momentary tilt in your router.
This is an easy fix with a router plane.
Set the depth of the blade so it just barely touches the bottom of the groove. Then inch it through to take down any high spots.
Router planes can also help with dovetails.
I always cut a rabbet on the back of my tails board (here's why). And the router plane lets me get it perfectly flat after cutting the bulk of the waste on my table saw.
TIP: MAKE SHEER CUTS
When cleaning up the bottoms of long grain grooves, it can sometimes help to keep the blade at a slight angle.
This creates more of a shearing cut and can help you get through material more easily.
---
You can even use just a router plane to cut your grooves.
Attach a fence to the base (included with the KM-17 Router Plane), adjust it to the right distance, and start with a super light pass.
Lower the cutting depth with each pass until you get to your desired depth and you're good to go.
The KM-17 comes with a guide to help you cut to exact depths — with measurements in both imperial and metric.
---
2. TRIMMING TENONS AND LAP JOINTS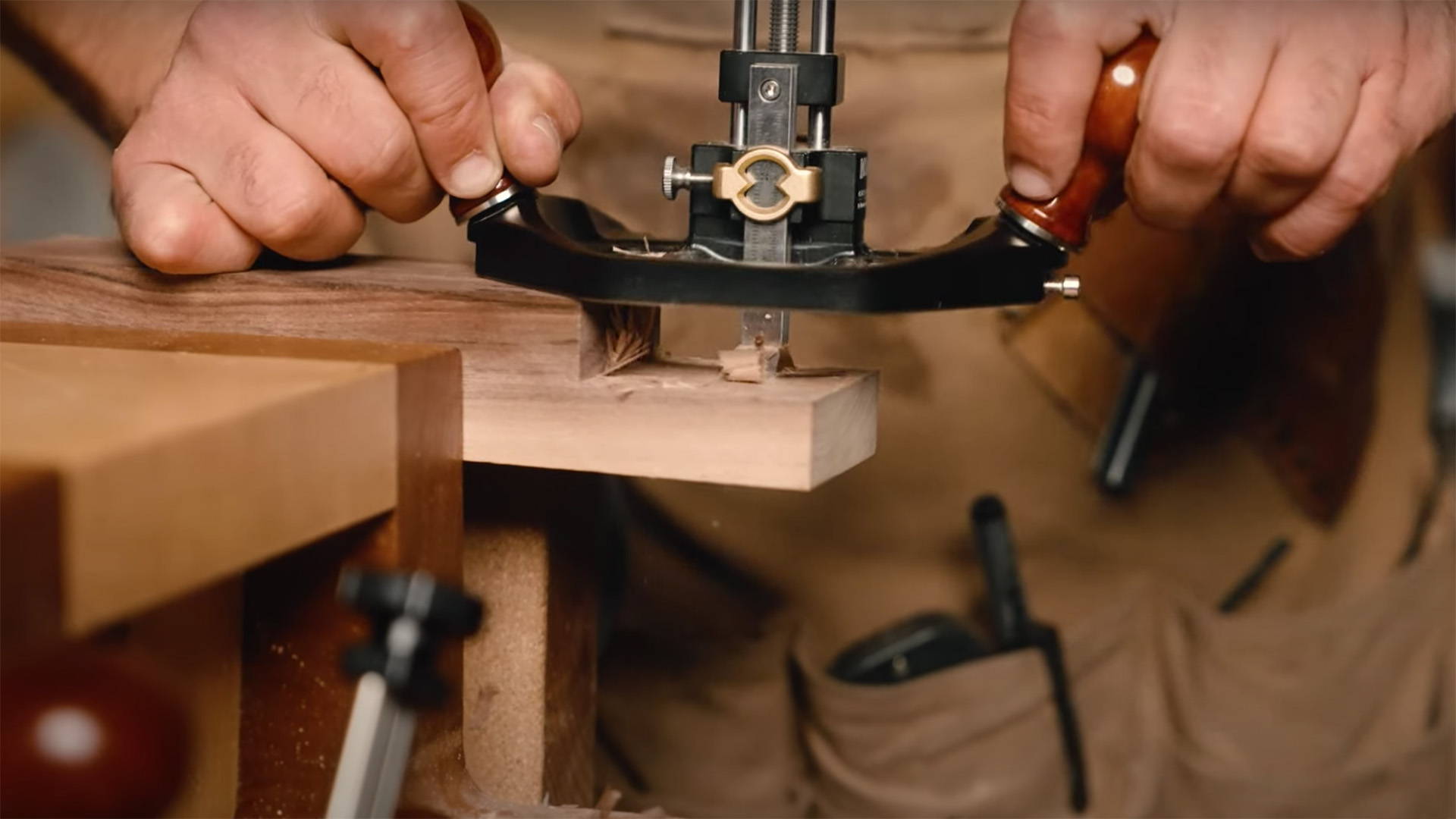 This is maybe my favorite use for a router plane.
When I cut mortise and tenon joints, I start with the mortise. Then I slowly dial in the tenon and test the fit until it's perfect.
But it's difficult to do with big power tools — and pretty nerve racking.
A router plane takes off a thin and even amount of material over the entire cheek of a tenon. And there's a way smaller chance of disaster.
You can even make it perfectly centered by taking an even amount off both sides.
Here's how it works:
Cut out the bulk of the waste with your power tools — but cut a little shy of your line.
Place one side of the router plane base on your workpiece and hold it steady. Now pivot into the tenon, taking off little chunks of material at a time.
Work from both sides so you don't get tearout, and keep testing the fit.
After not too long, you'll have a tenon that's not too tight, not too loose — but just right. Goldilocks would be proud.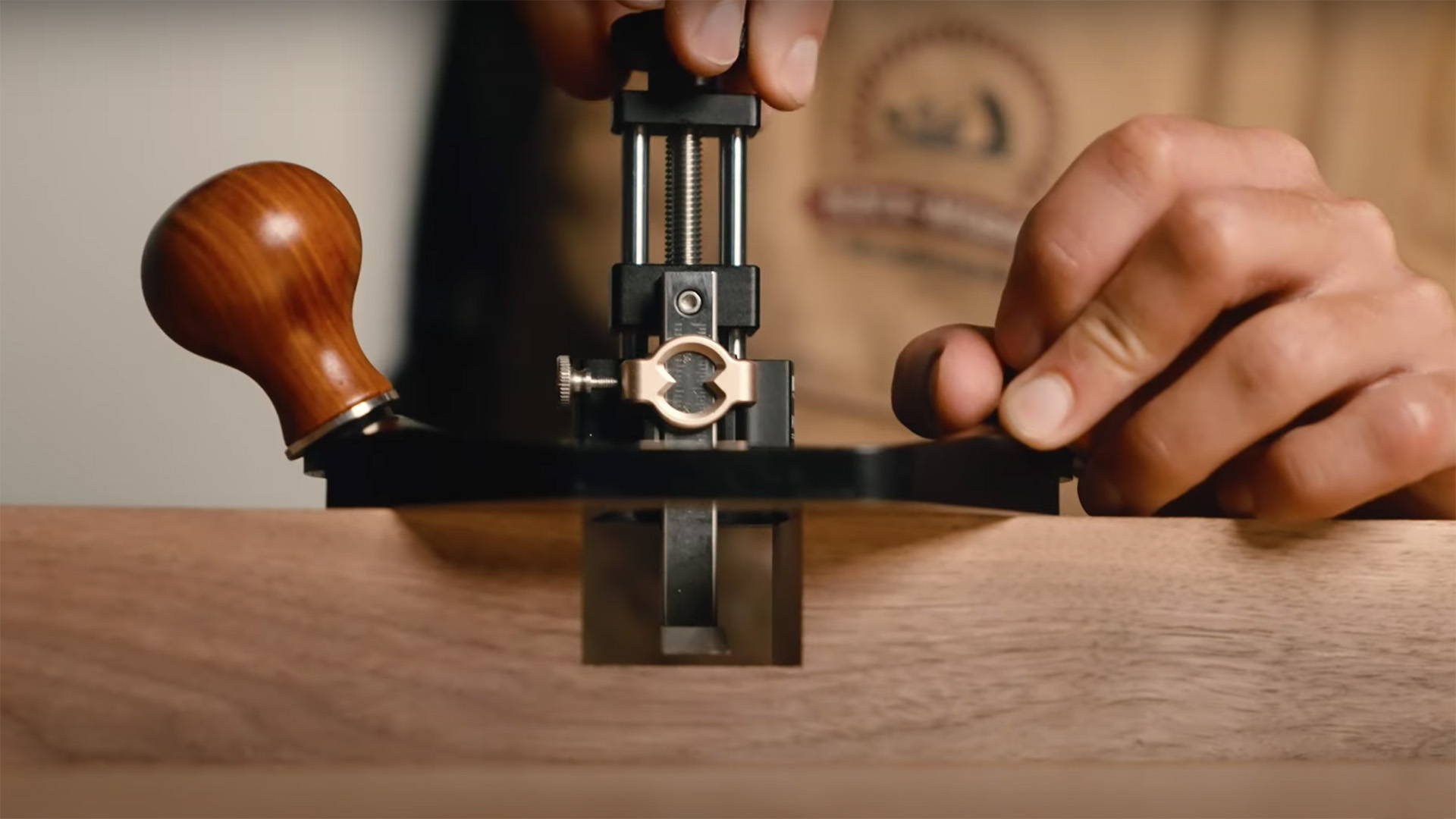 Follow the same principle with half-laps and other lap joints.
Trim the insides of the joints until the tops of your two boards sit perfectly flush.
TIP: GO TWO AT A TIME
Want two tenons to be the exact same dimensions — and get it done quickly?
Push them up against each other on a flat surface and clamp them down.
Now you can rest the router plane base on both of them and shave them down simultaneously.
---
3. CUTTING SHALLOW MORTISES FOR HINGES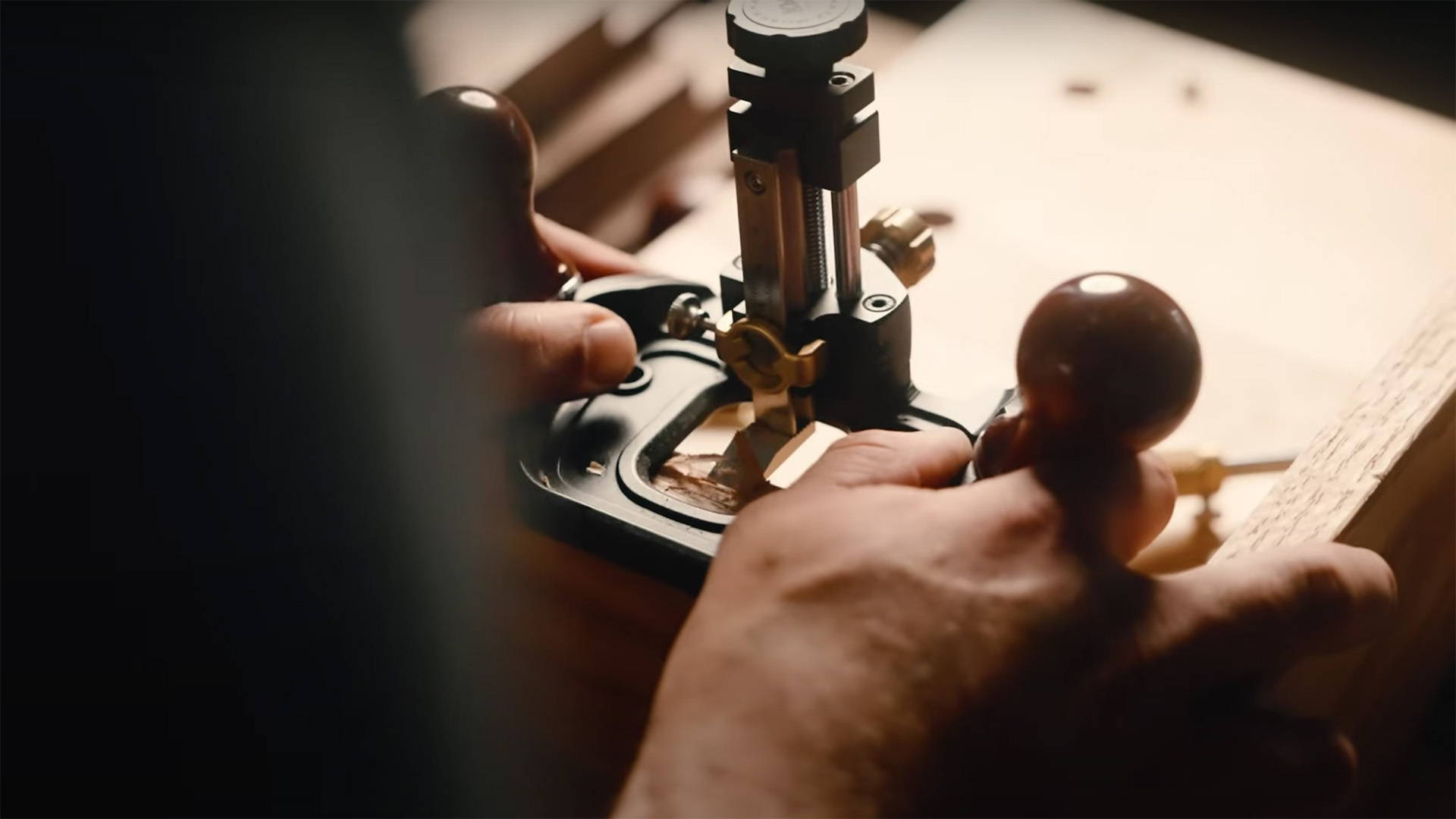 Hinges look best when they're inlayed into a workpiece.
But cutting that recess on the narrow edge of a board isn't easy with an electric router — even if it's a tiny palm router.
A router plane is steadier on narrow edges and a lot easier to control.
Again, the key here is to pivot into your cuts. That way, you can keep one side steady on the workpiece with your other hand.
Trace the hinge with a marking knife, then start clearing away material a little at a time until you reach your final depth.
TIP: PERFECT HINGE DEPTH
Set the base of your router plane on two hinges. Then lower the blade until it barely touches the surface below.
That cutting depth will be the exact thickness of your hinges — and make it so they sit perfectly flush to your workpiece.
---
4. DIALING IN BUTTERFLY KEYS AND INLAYS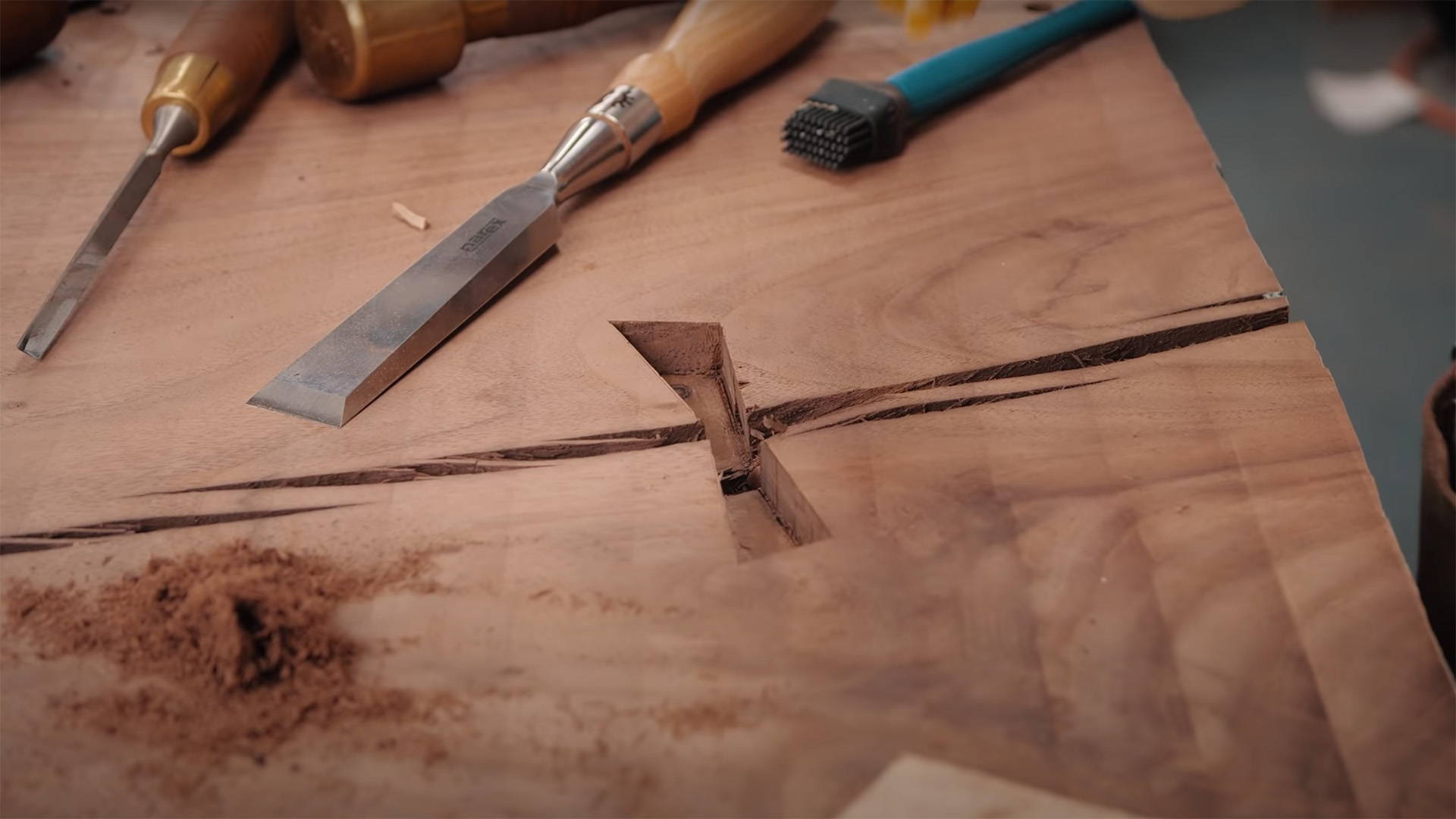 Trim routers are a quick way to clear waste for butterfly key inlays. But they won't always give you a dead flat surface for the inlay to rest on.
Follow up with your router plane to get rid of any high spots.
Now you know your butterfly key will make full contact with the surface below and create an ultra strong glue bond.
TIP: ANGLED BLADE FOR TIGHT CORNERS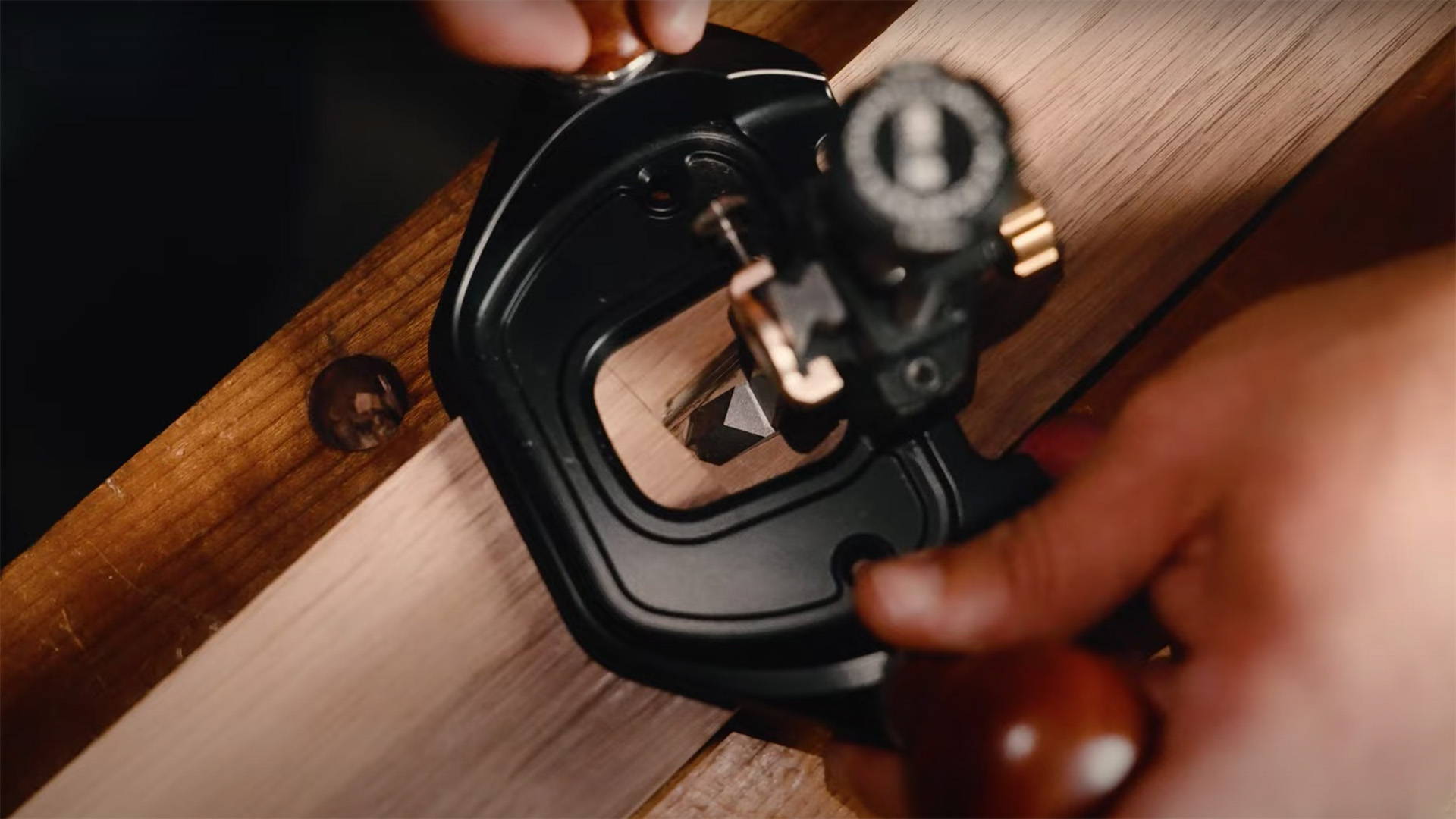 Use a 45° angled blade to get into super tight corners where a straight blade won't fit.
You can also ride it along the bottom of the recess walls to make sure no loose fibers keep your inlay from properly seating.
The KM-17 Router Plane comes with a straight and angled blade — both sharp out of the box.
---
5. REVERSING THE BLADE TO CUT HARD TO REACH PLACES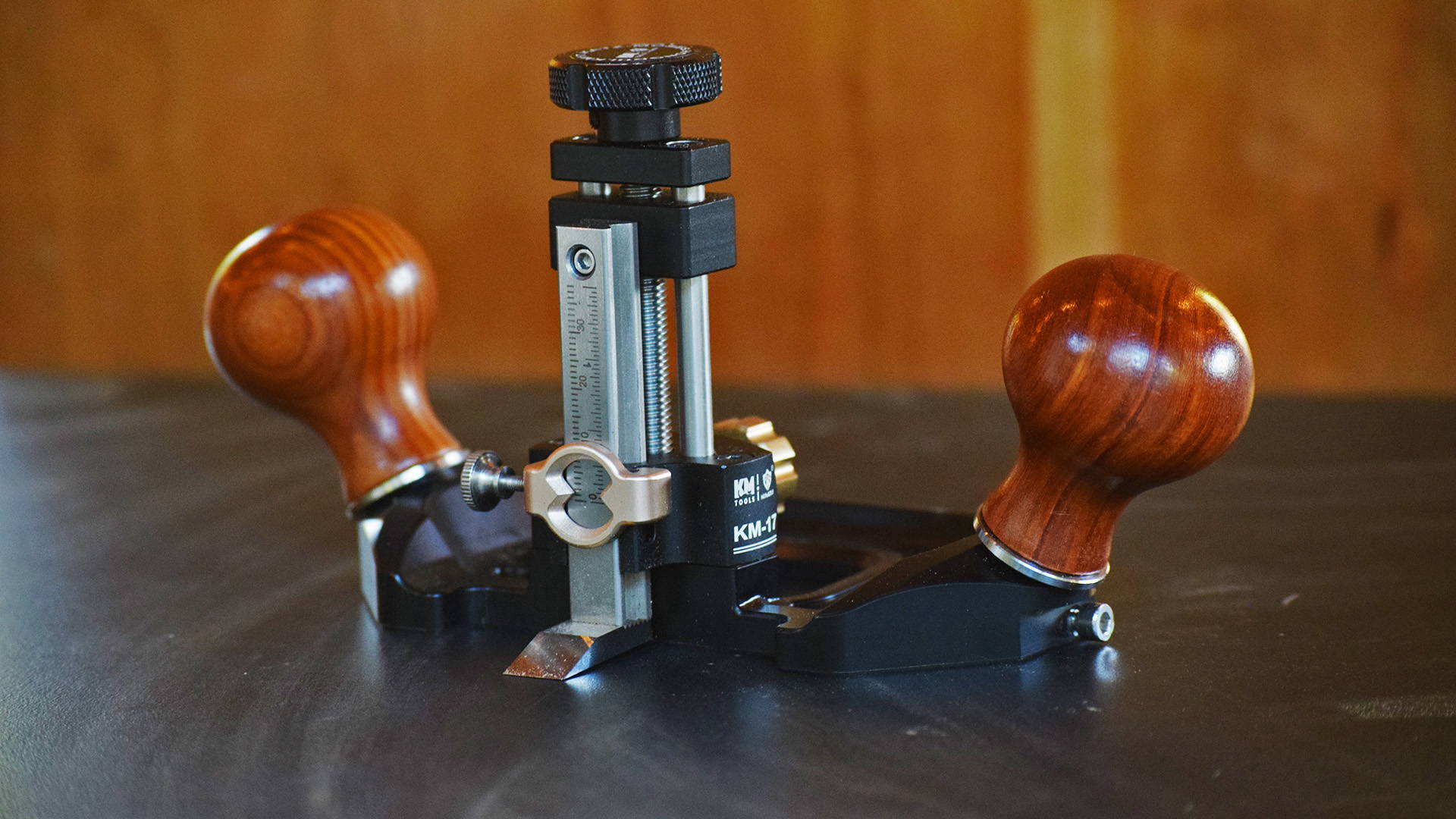 Some router planes have a blade that can be switched to face away from the base — often called the "bullnose" position (yup, including the KM-17 Router Plane).
This is a life saver when you need to cut into places where the base would otherwise get in the way.
With nothing in front of the blade, you can trim right up into the corners where joints come together.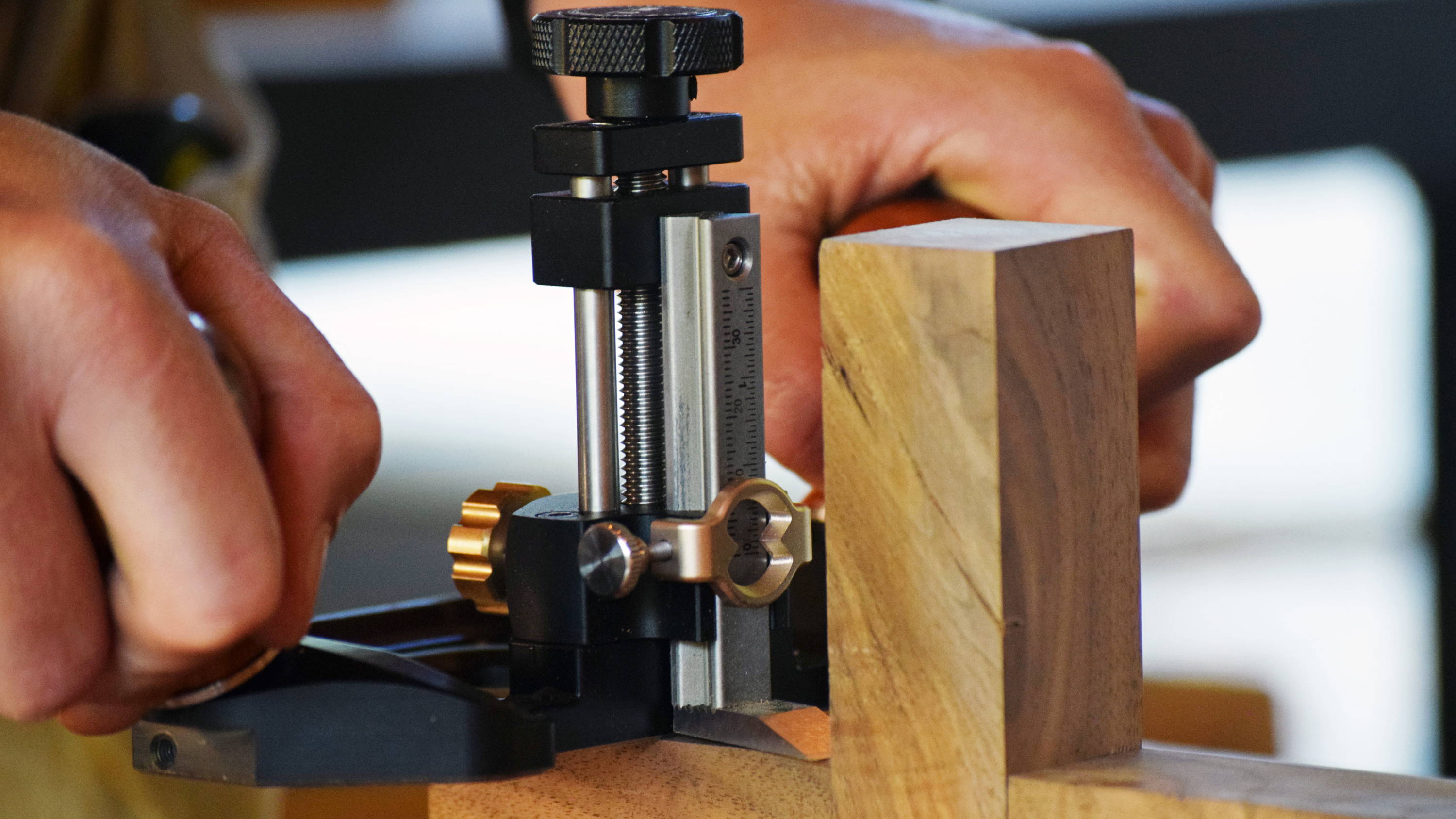 It's also super useful for trimming off dried glue in tight corners or between panels.
You can shave off even the thinnest layers of glue so your finish will look uniform throughout.
There are few things as frustrating as applying finish to a piece you've put hours of work into — only to see a splotch of dried glue you missed that won't take finish.
Your router plane can save you from this torment.
---
6. TRIMMING PERFECT MORTISE WALLS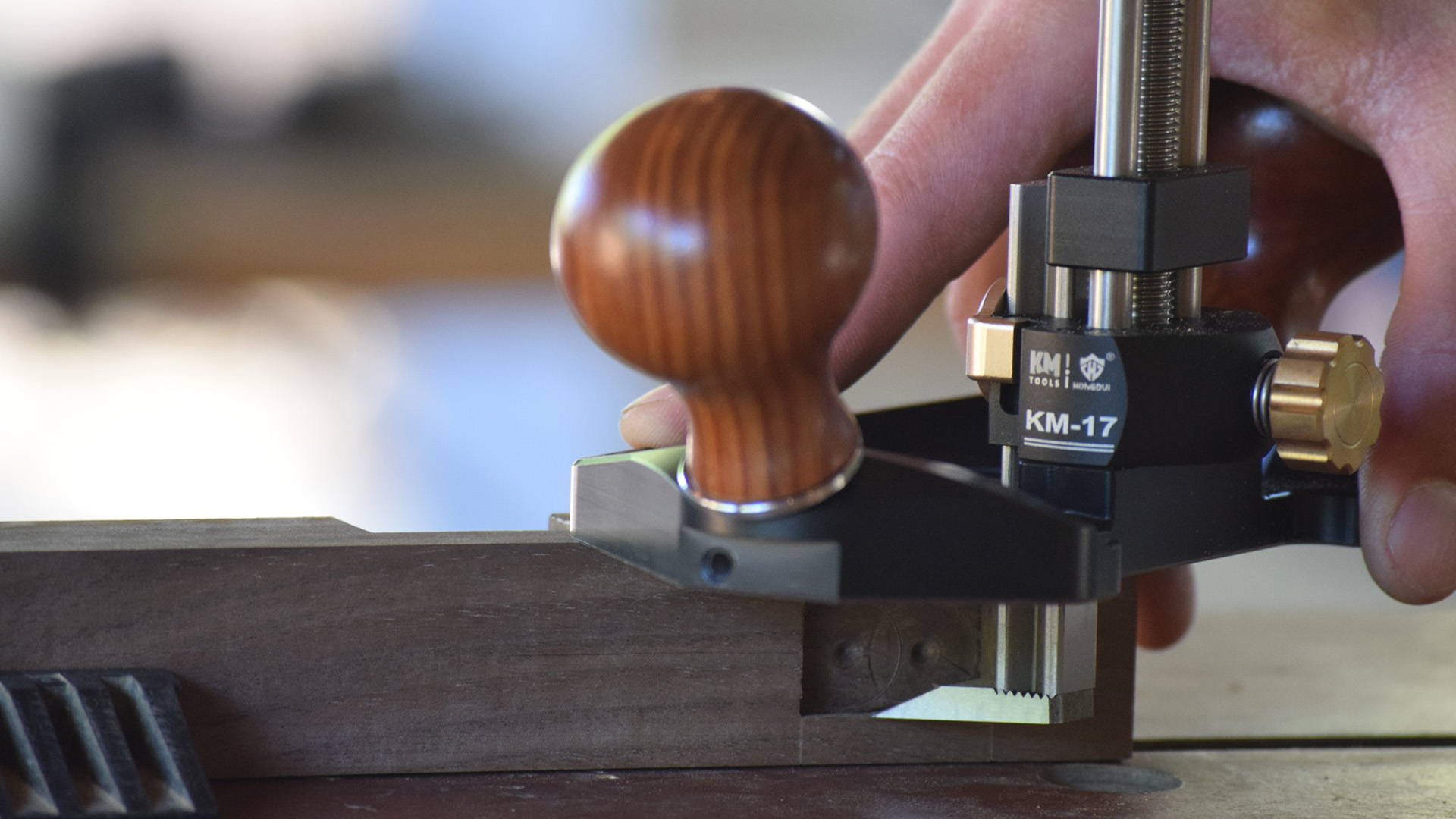 This isn't a conventional way to use a router plane — but it's pretty brilliant.
It won't work in all instances. But when it does, it gives you mortise cheeks that are perfectly square. Here's what to do:
Turn your workpiece so the mortise is facing sideways. Set the router plane on top.
Lower the blade so it cuts to your line on the far side of the mortise. Use pivoting motions to chop in as far as the blade will allow. Repeat this process for all sides.
Use the part you cut with the router plane as a reference for a chisel, then slice off any remaining material.
Even though the router plane blade won't make it all the way through deep mortises, it creates a perfect outside edge and a reference for your chisels.
And if you keep the same cutting depth throughout, your mortise will be perfectly centered.
TIP: USE YOUR ROUTER PLANE AS A MARKING GAUGE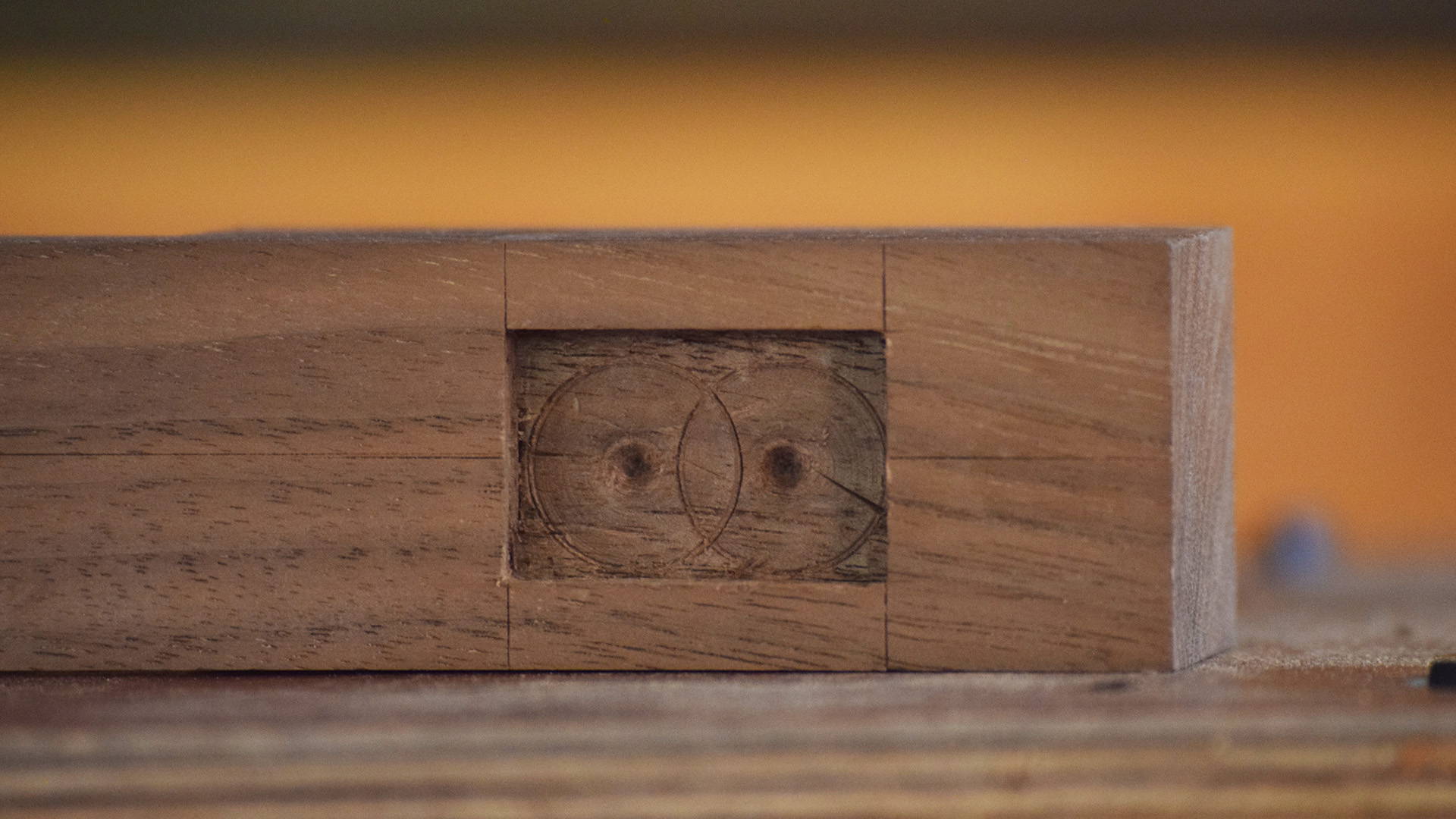 Your router plane can be an all in one tool for mortise and tenon joints.
Set your cutting depth to where you want the edge of your mortise, then drag the point of the blade along the workpiece to mark that edge.
If your tenon board is the same thickness as the mortise board, do the same to scribe the cheeks of the tenon.
Once you cut off the bulk of the waste, trim to the final dimensions with your router plane on both the mortise and tenon.
They'll fit together perfectly — and all with a single setting on your router plane.
Credit to Paul Sellers for this method. You can watch his explanation of it here.
---
7. USING AUXILIARY BASES AND FENCES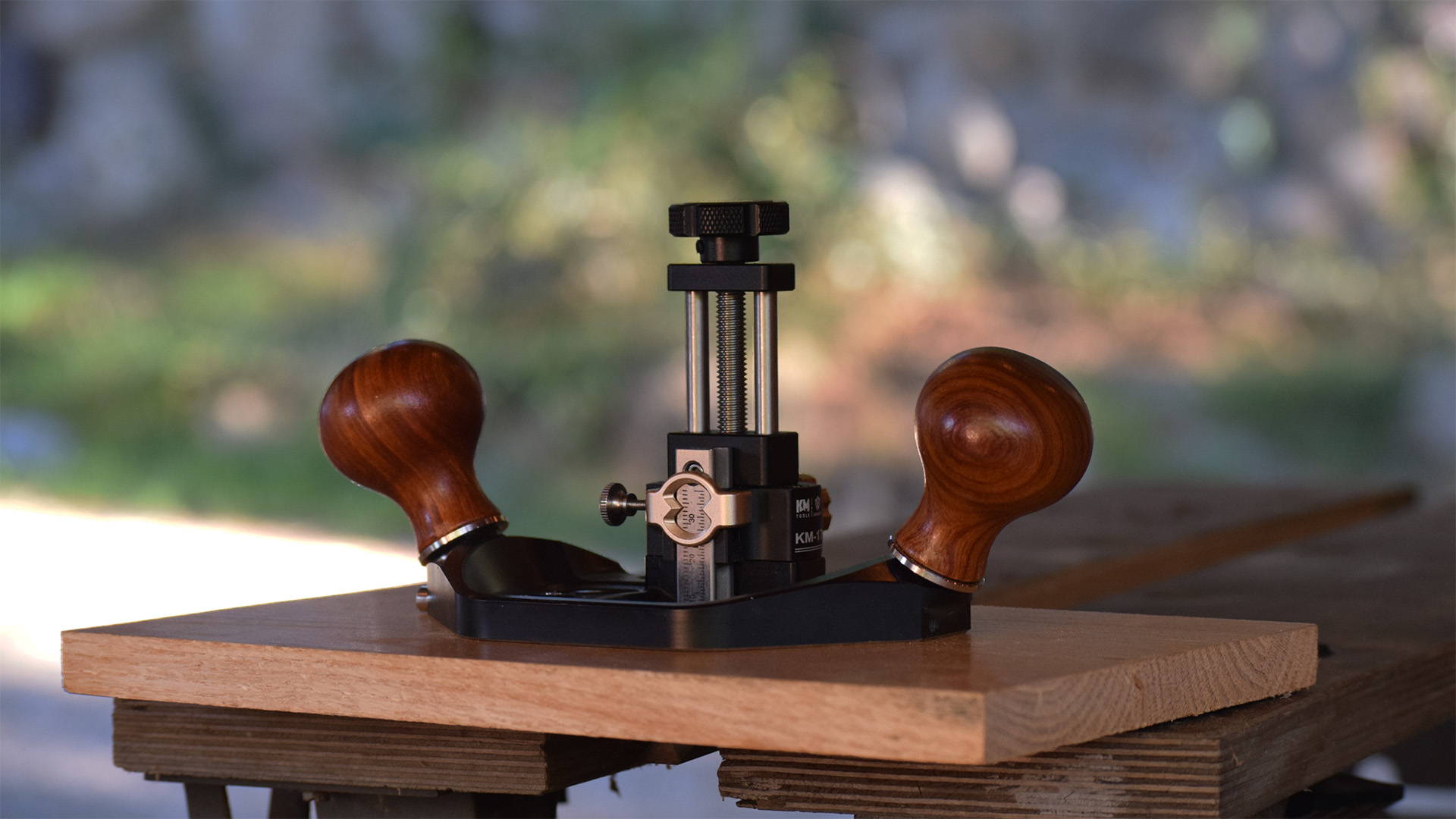 If you need a bigger sole or fence for an operation, simply make your own.
Mill a piece of hardwood flat, use a forstner bit to drill a hole for the blade to pass through, and screw it into your router plane base or fence.
The KM-17 Router Plane comes with predrilled holes in the sole and fence so you can easily add auxiliary bases and fences.
---
THE ULTIMATE PRECISION TOOL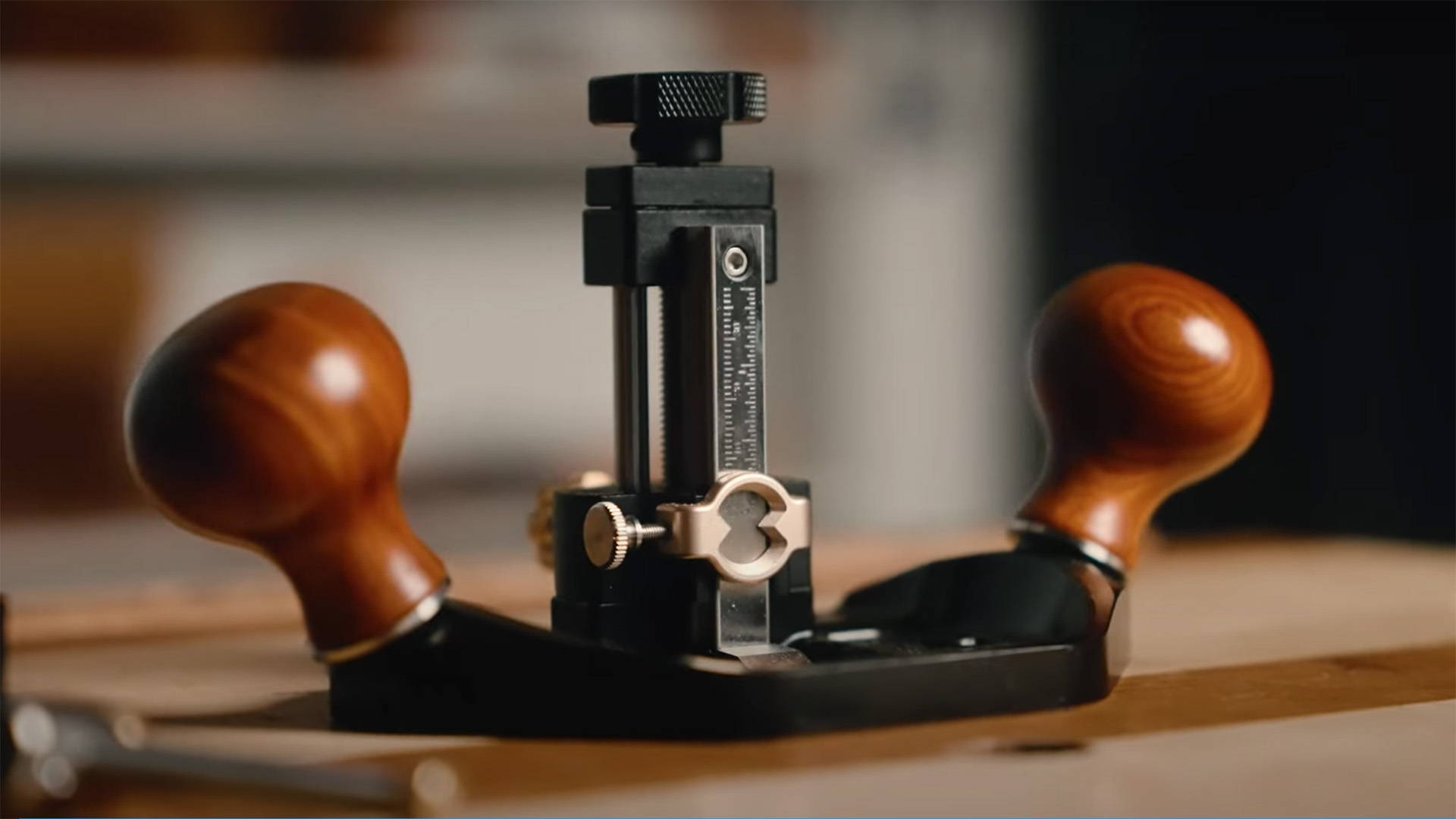 Even as a guy with a plethora of power tools — I now reach for my router plane on almost every project.
It helps you dial your joinery to perfection, and is super simple to use.
The Katz-Moses KM-17 Router Plane is now available for presale, and I expect it to go fast.
Pre-order yours today — and start getting joinery you can drool over.