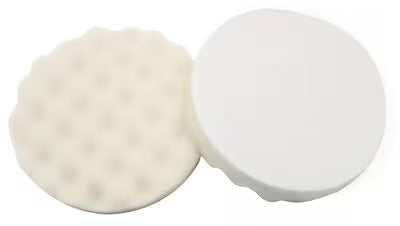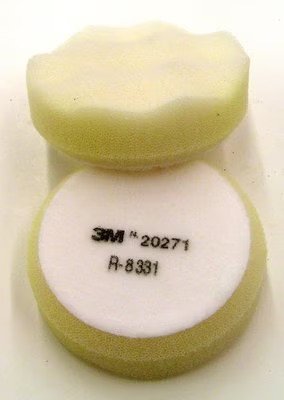 3M™ Finesse-it™ Foam Buffing Pad, 28401, 5-1/4 in, White Open CeII Foam
Jonathan's Hot Take:
Great for BUFFING off rubio after 10 minutes and using with Universal Maintenance Oil coats. 
Amazing time saver because it fits on any hook and loop sander. Run it at around your sander's mid-low speed setting.
Manufacturer Description:
Provides soft, smooth surface for applying 3M™ Finesse-it™ polishes

Pads combine with buffers, random orbital tools, and variable speed polishers to produce desired final finish

Repairs coatings without repainting

3M™ Hookit™ attachment system holds pad securely and provides quick pad change-out

3M™ Finesse-it™ Foam Buffing Pads are designed for use with 3M's specially developed 3M™ Finesse-it™ polishes to achieve satin, semi-gloss or high gloss finishes on automotive, marine, aerospace and wood coatings.
3M™ Finesse-it™ Foam Buffing Pads are ideal for final and extra fine finishing steps for automotive OEM clear coats and removing sand scratches or swirl marks from previous finishing steps. The foam buffing pads can also be used in the 3M™ Finesse-it™ Paint Repair System for AOEM paint and clear coats. Our pads are manufactured with the 3M™ Hookit™ attachment system for quick pad mounting and removal and to hold them securely in place during use. 3M™ Finesse-it(TM) Foam Buffing pads quickly and firmly attach to a hook-and-loop backup disc pad (sold separately) on rotary or random orbital tools, can be removed cleanly and easily, and can be re-used again and again for the life of the pad. Finish results are dependent on specific polish used, coating type, and the tool used.
We developed our line of foam pads to address the unique chemical composition of evolving paint and clear coat technologies. Foam pads are generally less aggressive and produce a finer finish than wool pads. They normally operate at higher RPMs than wool pads, relying on a combination of cutting and heat buildup to slightly melt the surface coating and remove fine scratches, swirl marks, and surface marring. Foam pads range in abrasive levels determined by its softness and the cell size of the holes; the larger the hole, the more aggressive the pad. "Closed cell" pads are the least aggressive type. You can use our foam buffing pads in conjunction with polishes and are suitable to use with rotary and random orbital tools.
Our line of 3M™ Finesse-it™ products are specially designed compounds and polishes to be used on OEM and baked refinish paints to remove sand scratches or to remove defects, sand scratches, or swirl marks on a variety of painted surfaces. 3M™ Finesse-it™ products are an integral part of our recommended buffing system for repairing surface defects to clear coats, lacquered wood, solid surfaces, gelcoat, powder coat, industrial paint, acrylic, and glass.