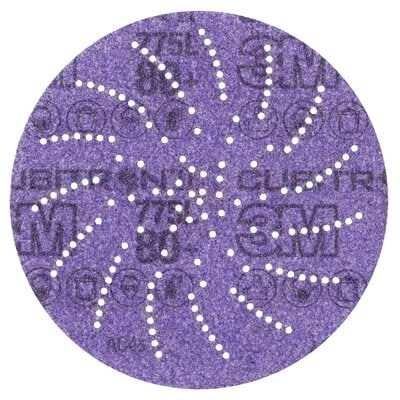 3M Xtract™ Cubitron™ II FILM Disc 775L (Multi Grits)
Top of Class of the Katz-Moses Robot Sanding Test - see video here
Jonathan's Hot Take: Both the Film and Net Cubitron Sanding Discs are the ABSOLUTE BEST sandpapers on the market. We tested it with robots and the results are indisputable. I prefer the 775L Film Discs (this product listing) for rougher/heavier duty sanding, edges and areas that can tear disks. I prefer the 710W Mesh Discs for flat areas and rapid stock removal. Both discs will remove stock faster than anything you've ever used. I guarantee it.
COVERS A WIDE RANGE OF APPLICATIONS: Versatile disc handles applications ranging from finishing to coarse sanding, focused primarily on stock removal

DESIGNED FOR CLEAN SANDING: 3M Xtract™ proprietary multi-hole pattern provides superior dust extraction to prevent loading, increase productivity and provide a cleaner work environment

WORKS WELL ON MANY SURFACES: Suitable for use on all metals, aluminum, carbon steel, composites, wood, fiberglass, gelcoat, topcoats and paint

QUICK AND EASY DISC CHANGES: 3M™ Hookit™ attachment system allows for easy disc changes and helps optimize disc life

OPEN COAT CONSTRUCTION: Open coat construction and load-resistant coating prevent clogging to optimize cut throughout the life of the disc

REVOLUTIONARY GRAIN DESIGN: 3M Precision-Shaped Grain technology cuts up to 2x as fast as conventional abrasives

DURABLE FILM BACKING: Film backing offers greater tear resistance and edge retention compared to paper-backed discs

 

AVAILABLE IN A BROAD RANGE OF GRADES: Choose from grades between 80+ and 400+ to match your specific application
3M Xtract™ Cubitron™ II Disc 775L features a 3M proprietary multi-hole pattern for improved dust extraction in finishing applications. Part of the 3M Xtract™ Series, designed for optimal dust removal. An innovative multi-hole pattern extracts dust better than 5- or 6-hole products — increasing cut and dramatically increasing disc life. The design does not need to align with the disc pad holes, making switching the discs fast, easy and convenient. Featuring ceramic 3M Precision-Shaped Grain, a revolutionary advancement in abrasive technology. The triangular shaped ceramic mineral is designed to slice through the substrate, rather than gouging or "plowing" like conventional abrasives, resulting in a disc that cuts up to 2x as fast as conventional abrasives. The film backing delivers outstanding tear resistance, flexibility and a consistent, uniform finish on a variety of substrates.
These discs are ideal for a broad range of applications focused primarily on stock removal, and are effective on a wide variety of substrates, including metals, composites, gelcoat, and whitewood. The film backing offers greater tear resistance than paper discs, for additional durability and edge retention. For best results, pair with 3M Xtract™ Random Orbital Sanders. Open coat construction means the abrasive grains are placed with space between them to help evacuate dust and other sanding debris and avoid clogging the cutting edge of the grains. The load-resistant coating allows the disc to continue cutting even when sanding softwoods, paints, and other materials that would, otherwise, clog the disc and hinder sanding ability. All of this adds up to increased productivity and reduced material consumption. Sandpaper discs cut better and last longer when dust isn't loading the cutting surface of the abrasives. Our proprietary multi-hole pattern on 3M Xtract™ products removes dust at a higher rate than 5- or 6-hole products. This hole design doesn't even require alignment of holes with the disc pad, making disc changes quick and simple. For maximum dust extraction, use this disc with a 3M Xtract™ Back-up pad and a random orbital sander with vacuum (both sold separately).