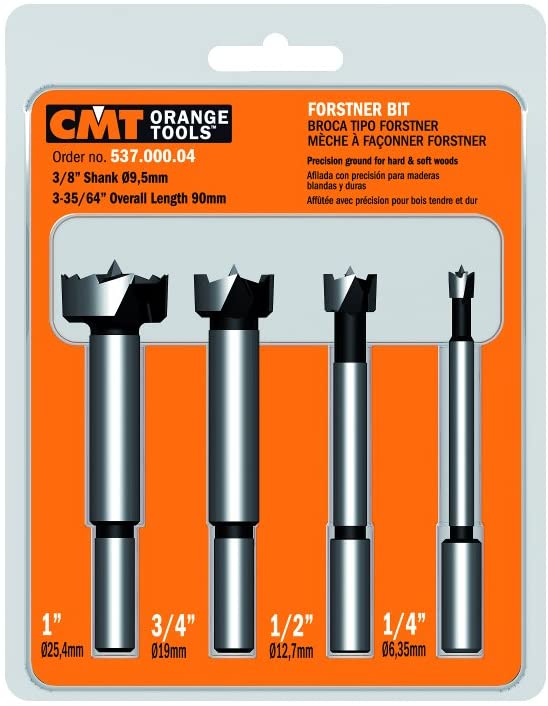 CMT Orange Forstner Bit Set 4 PCS
4 Piece Set includes: 1", ¾", ½", ¼"
Drill through and flat bottom holes on the drill press or with a handheld drill
Great for Clearing out material for mortises and general stock removal
Much safer and cleaner cuts compared to a hole saw
CMT Forstner bits are hardened to 60 Rockwell HRC
Stagger tooth design for clean sharp holes. 
Precision balanced center 2 point center spur  
2 precision ground cutting edges
Shank diameter is 3/8"
Jonathan's Hot Take: They are one of those tools that are super useful when you need to drill holes bigger than a typical twist drill or with a flat bottom. Every woodworker should own some forstner bits BUT they get beat up. There's so much steel moving around in a tight location that they get hot and lose their edge after a while (see tips and tricks below to get max life). This is one of those tools that buying super high end is never worth it. I think these mid grade CMT bits are the best value in Forstner Bits. As you know, I believe in bringing you the best value in tools. Sometimes that doesn't mean the best of the best but the best value. High end bits are 2x-3x more expensive and run the same risks of overheating. You can not beat the price to quality ratio of these forstner bits and if you get the set and dull a bit with heavy use it can easily be replaced by the many individual ones we carry.
Tips and Tricks:
Take 1-3 second plunges and come back up allowing the bit to cool down. 

Heating forstner bits up too much can cause loss of sharpness

Let bit do the cutting and don't press too hard which can cause heat build up

With larger bits a clamp is recommended for your drill press table

Remove shavings from hole when drill multiple holes for a mortise

Make sure to slow down the RPMs of your drill the larger the size of the bit.  

Clean the oil off your bit before initial use with solvent, simple green or CMT Bit and Blade Cleaner works great for removing pitch build up and removing oil off these bits
Recommended RPMs
| | | |
| --- | --- | --- |
| | Softwood | Hardwood |
| 1/4 - 3/8 | 2400 | 700 |
| 1/2 - 5/8 | 2400 | 500 |
| 3/4 - 1 | 1500 | 500 |
| 1 1/8 - 1 1/4 | 1000 | 250 |
| 1 3/8 - 2 1/8 | 500 | 250 |