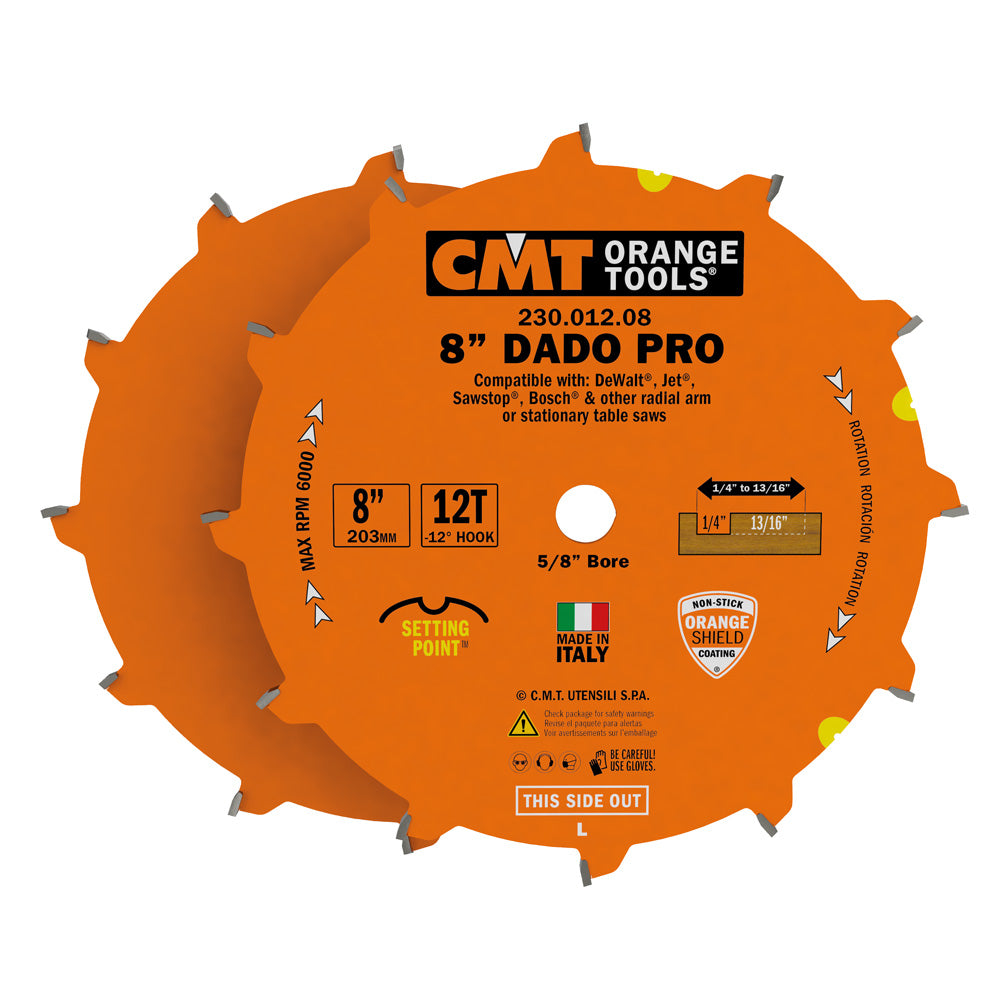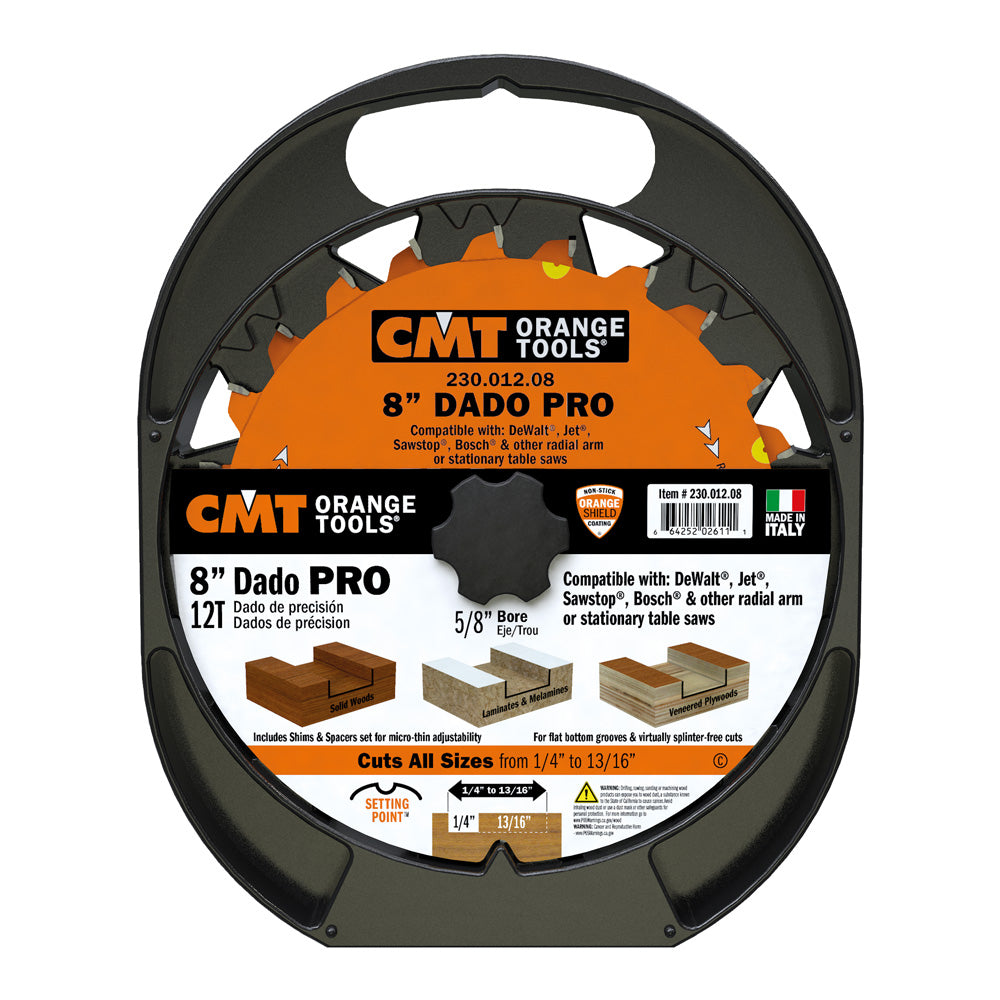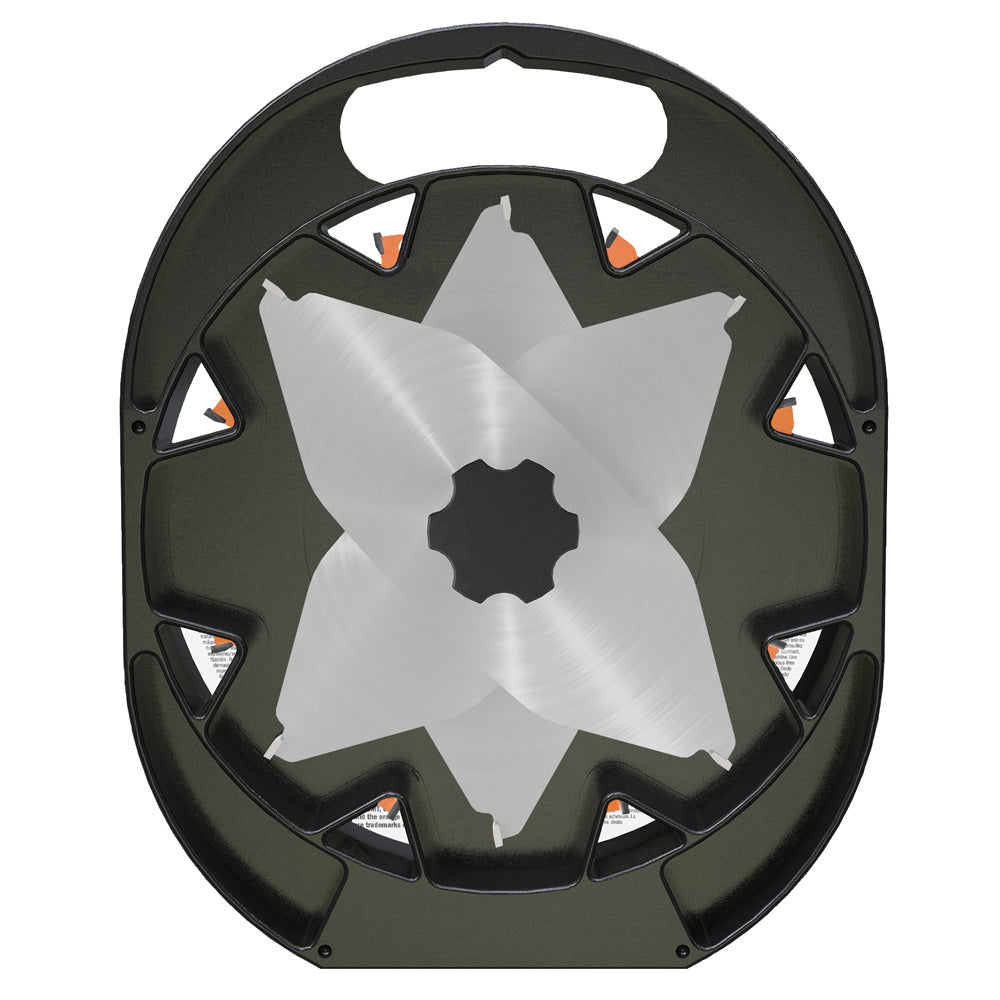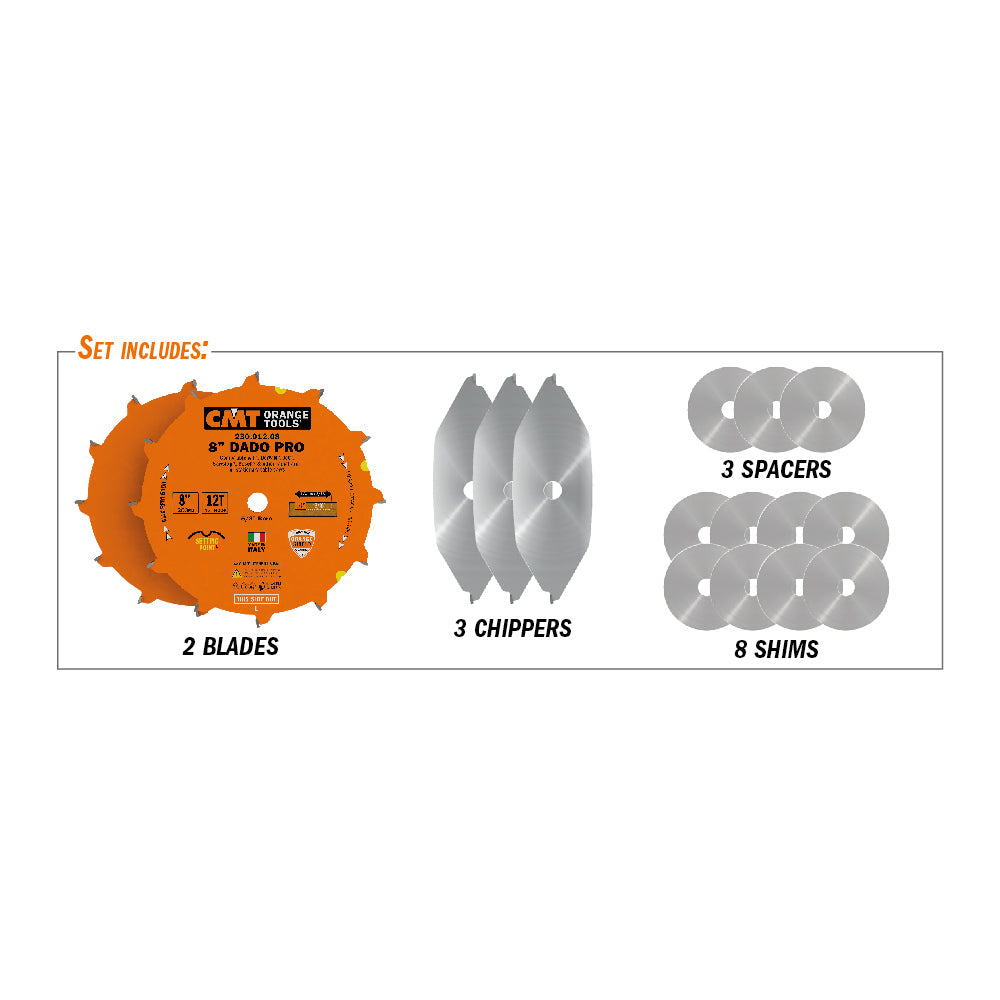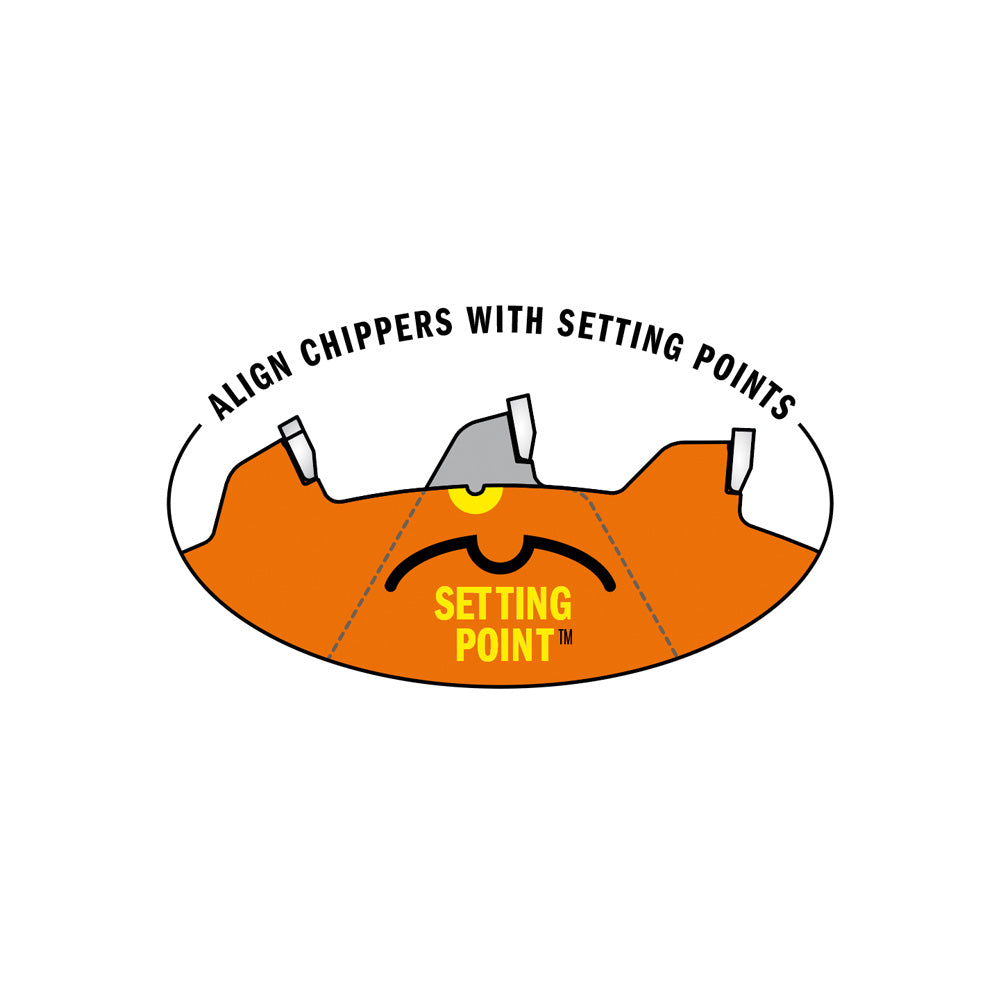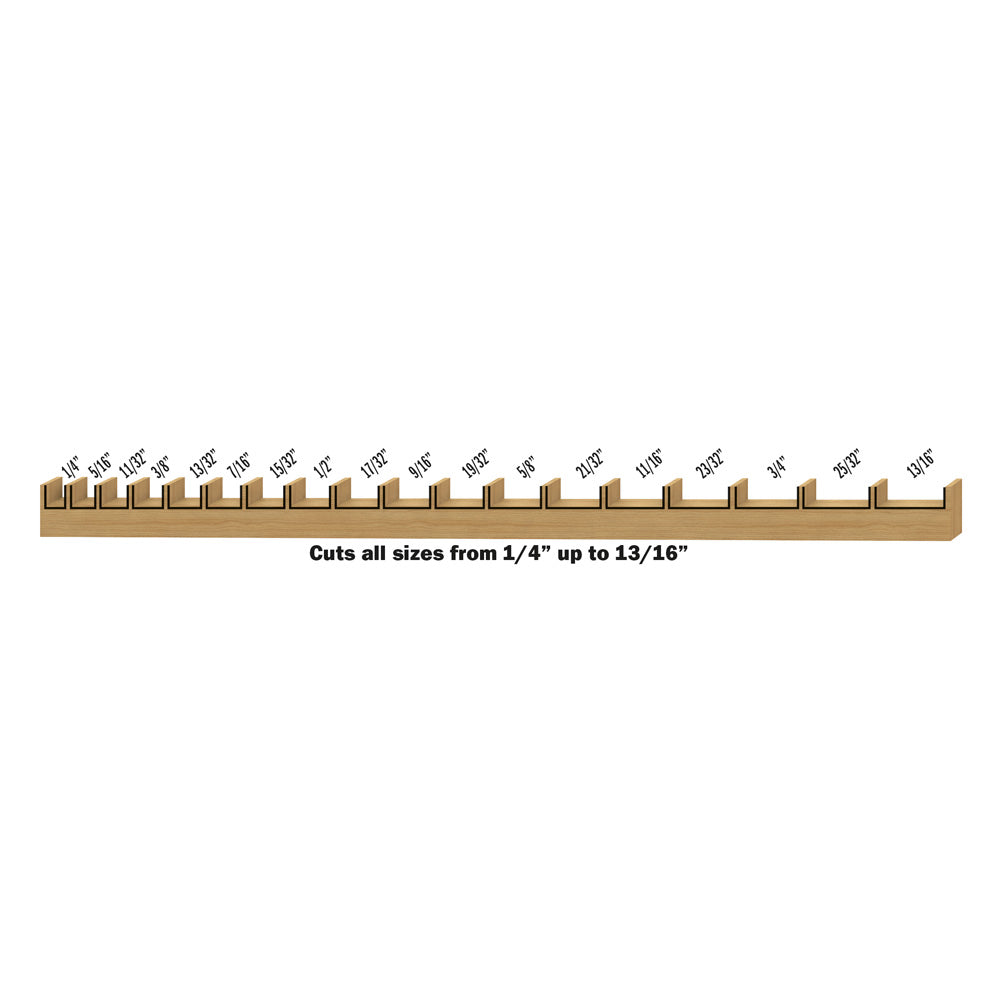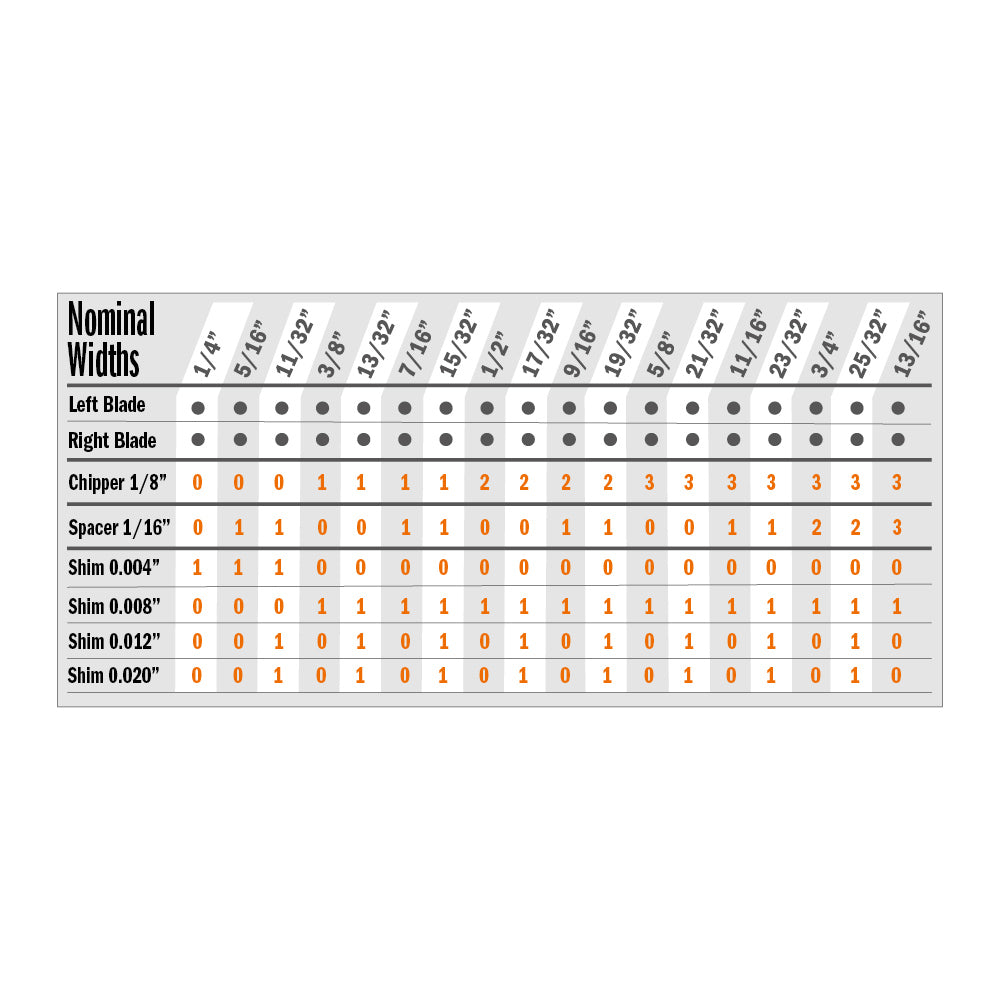 CMT Orange Precision Dado Blade Set 8" x T12 FTG+ATB
Jonathan's Hot Take Description:

This new and improved offering from CMT is finally compatible with Sawstop. 
This 2x12 tooth set can give you really good all-around dados and grooves in everything from plywood to the hardest of hardwoods. The 12t would be considered a general purpose dado set compared to the finer finish 24t set we also carry. 

I absolutely love my dado set and prefer cutting grooves on the table saw so much more than the router table. This set comes in a hard plastic carrying case that will keep your set safe for as long as you own it. 

The chippers are set using CMTs new blade setting marks, which make putting your dado stack to work quick and painless. 
Great Resources for Table Saw Blades:
How do I know When My Blade is Dull? 
Applications:  Dado - Table Saw/Radial Arm Saw
Blade Size: 8"
Bore: 5/8"
Tooth Type: FTG+ATB
Blades Included: 
3 total chippers: 3 x 1/8"
3 total shims: 3 x 1/16"
8 total shims: 5 x 0.004", 1 x 0.008", 1 x 0.012" , 1 x 0.020"
Kerf Thickness Range: 1/8" to 13/16"
Plate thickness: .098"
Model number: 230.012.08
FTG = Flat top Grind
ATB = Alternate Tooth Bevel
HiATB = High angle Alternate Tooth Bevel
TCG = Trapezoidal or Triple Top Grind (top is flat in the middle and sides are beveled)
NEW & IMPROVED CMT DADO PRO SET with the following features:
 Ideal for tongue & groove, shelving and rabbets in solid wood, laminates, melamine & veneered plywood.

 

ORANGE SHIELD COATING

protects from heat build-up, gumming and corrosion.

 

INNOVATIVE SETTING POINTS

for chipper alignment.

 Includes shims and spacers for micro-thin adjustability.

 Compatible with most radial arm saws and stationary table saws, including

SAWSTOP®

.




No-Anti-kickback design.

 Ideal for underpowered saws.