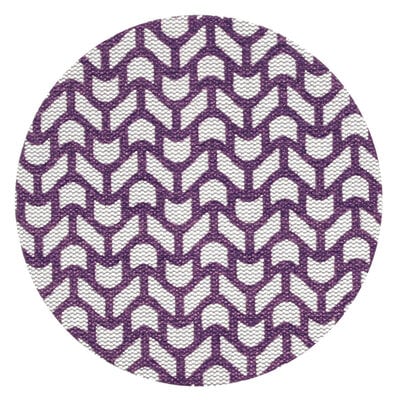 3M Xtract™ Cubitron™ II NET Disc 710W (Multi Grits)
#1 in Stock Removal in the Katz-Moses Robot Sanding Test - see video here
 Jonathan's Hot Take: Both the Film and Net Cubitron Sanding Discs are the ABSOLUTE BEST sandpapers on the market. We tested it with robots and the results are indisputable. I prefer the 775L Film Discs for rougher/heavier duty sanding, edges and areas that can tear disks. I prefer the 710W Mesh Discs (this product listing) for flat areas and rapid stock removal. Both discs will remove stock faster than anything you've ever used. I guarantee it.
Premium net disc allows for virtually dust-free sanding

3M Precision-Shaped Grain arranged in a unique pattern delivers industry-leading cut-rate and long life

Part of the 3M Xtract™ Clean Sanding Solutions, the ultimate in dust removal and performance

Allows for a cleaner work environment than traditional discs with dust extraction holes

Hook-and-loop backing for quick and easy disc changes

Ideal for a wide variety of substrates and applications including stock removal and fine finishing

Available in a range of grades from 80+ to 320+
Dust extraction meets industry-leading cut-rate in 3M Xtract™ Cubitron™ II Net Disc 710W. This premium sanding disc features a unique abrasive pattern on a net backing that allows for virtually dust-free sanding, with legendary 3M Precision-Shaped Grain technology. You'll finish more parts per disc with less dust in the environment, boosting productivity without sacrificing dust extraction.
Sanding, reimagined. 3M has eliminated the tradeoff between dust extraction and disc performance. By combining legendary 3M Precision-Shaped Grain technology with a net backing, 3M Xtract™ Cubitron™ II Net Disc 710W achieves an industry-leading cut-rate while allowing for virtually dust-free sanding. Ceramic 3M Precision-Shaped Grain continually fractures into sharp cutting edges, delivering twice the abrasive life and cut-rate of leading competitor net discs. Take advantage of 3M Xtract™ Cubitron™ II Net Disc 710W to gain a competitive edge in your industry — from metal fabrication and woodworking to aerospace, marine, rail and automotive OEM operations. Enabling a safer work environment.A cleaner work environment is a safer work environment. 3M Xtract™ Cubitron™ II Net Disc 710W extracts up to 97% of dust produced during sanding and creating a cleaner, virtually dust-free work environment. Plus, the 3M Precision-Shaped Grain in the disc cuts with less pressure required by the operator, making for more comfortable sanding. Experience the benefits of the 3M Xtract™ Clean Sanding Solutions. 3M is your one-stop shop for all of your sanding application needs. From net discs to random orbital sanders and portable dust extraction units, we have everything you need to boost productivity and part quality in your operation. 3M technical experts have decades of application and industry expertise to ensure you get the right abrasives and the optimal system solution. Featured Applications: Metal fabrication, Primer sanding, Gelcoat sanding, Composite sanding, Woodworking