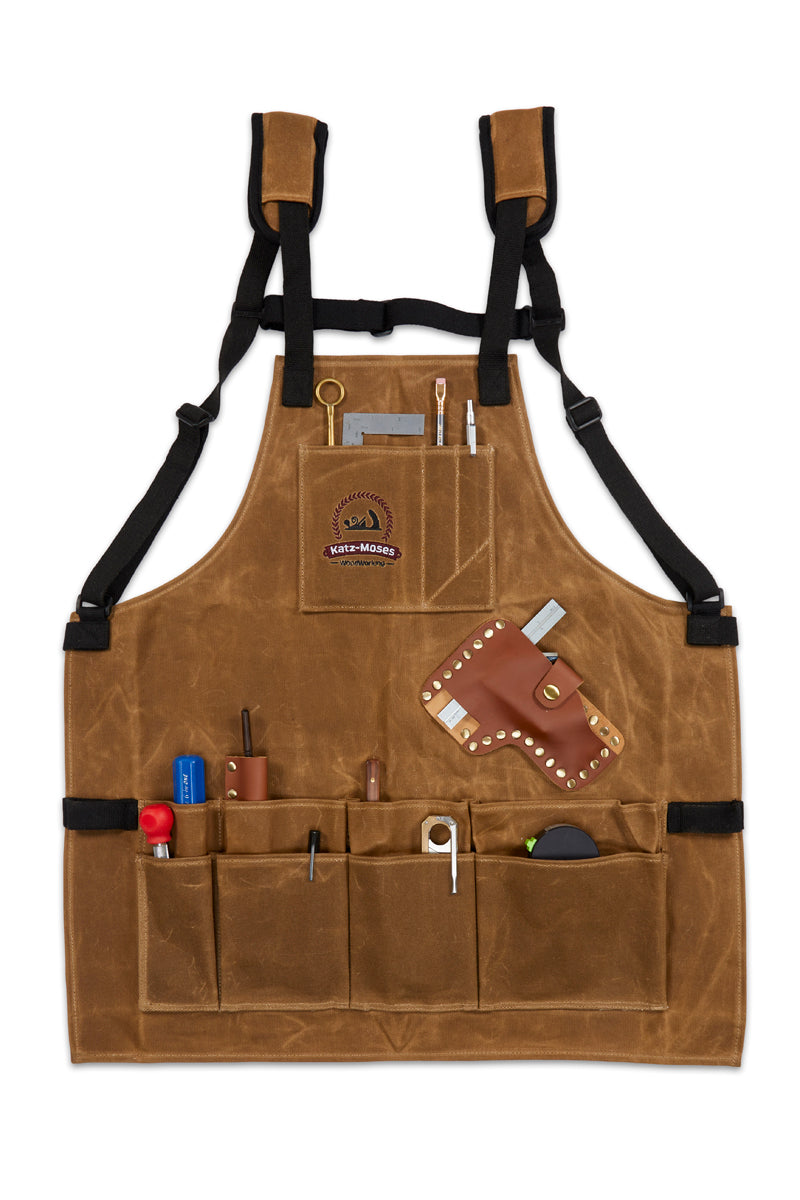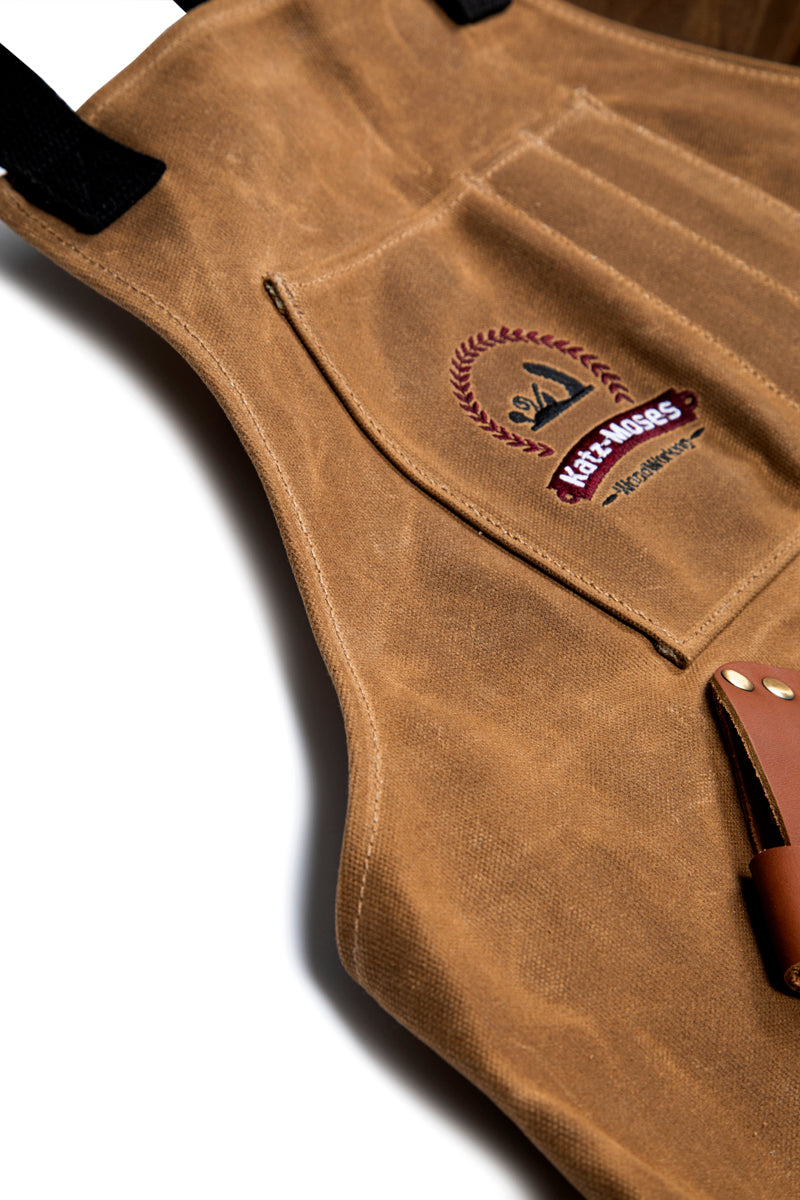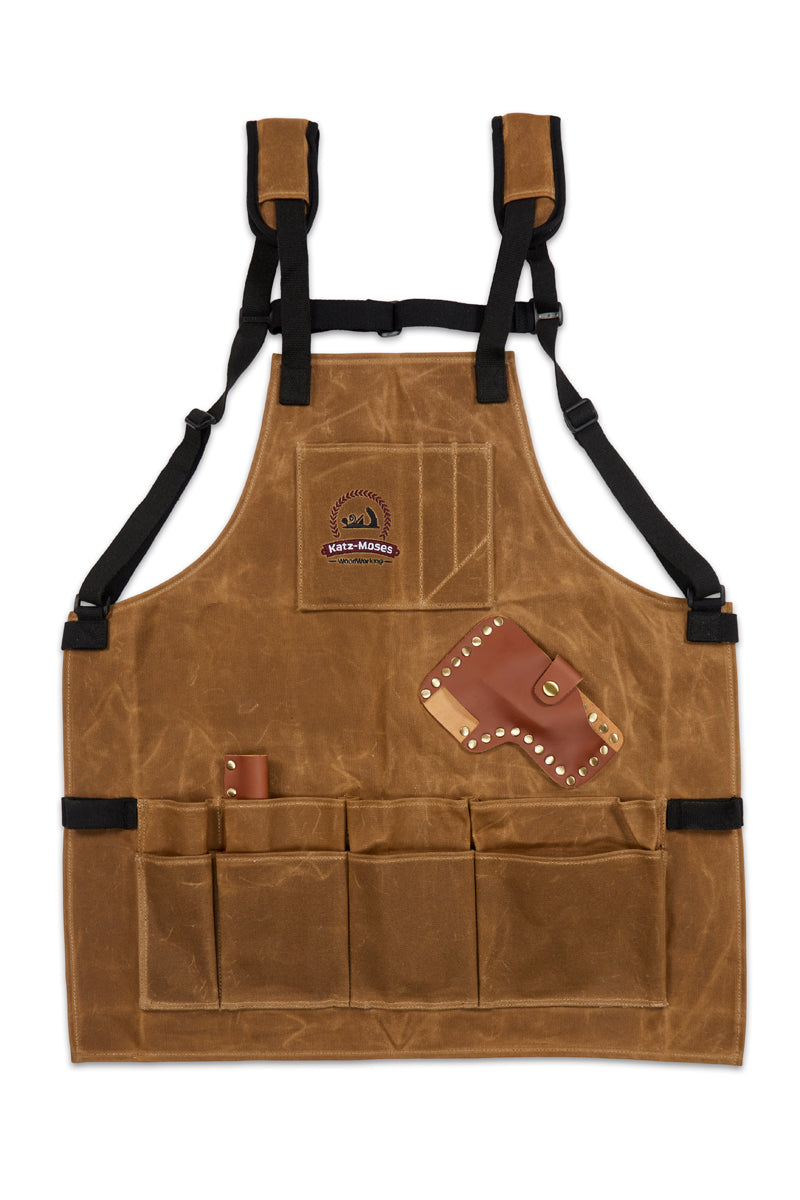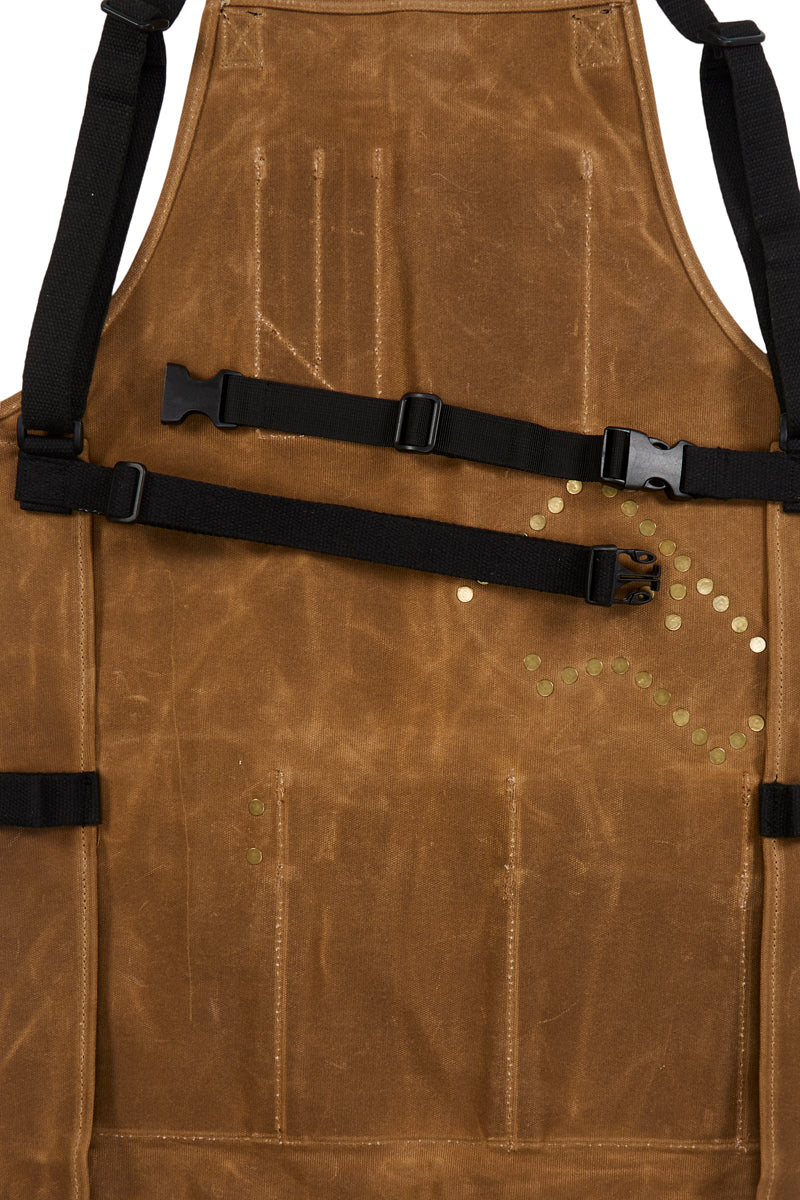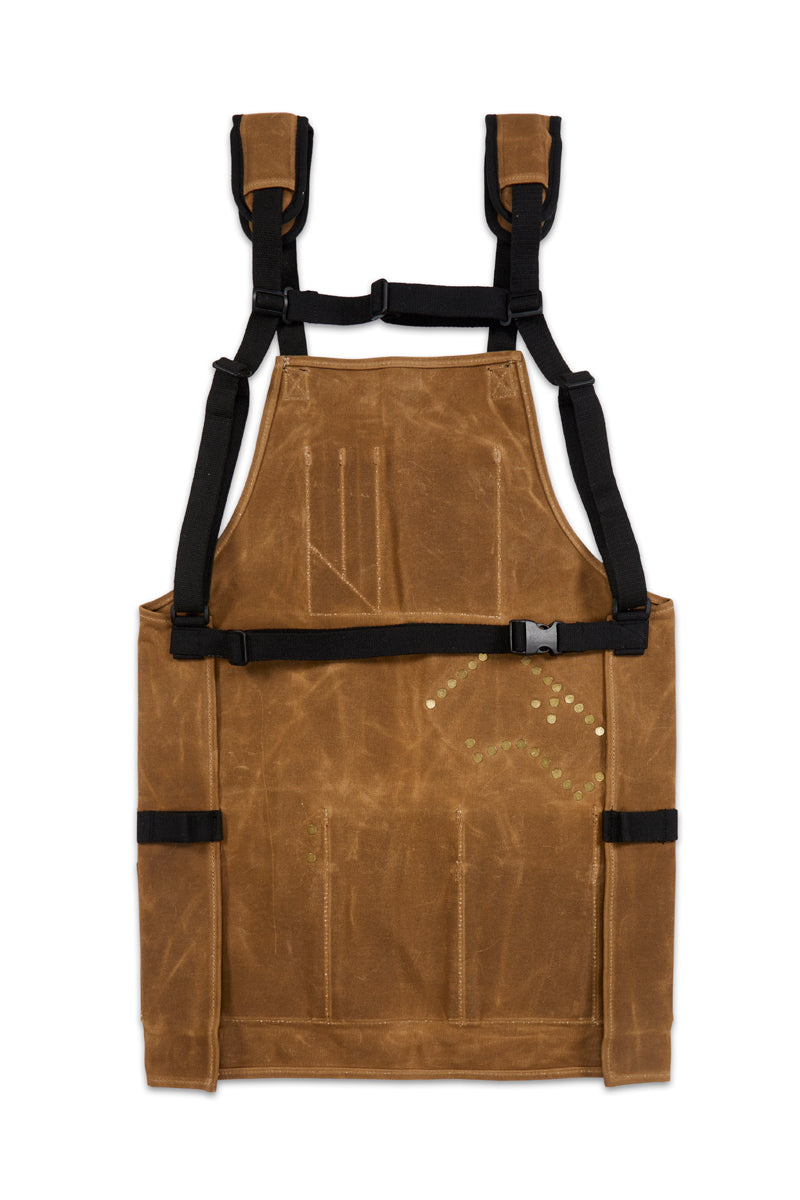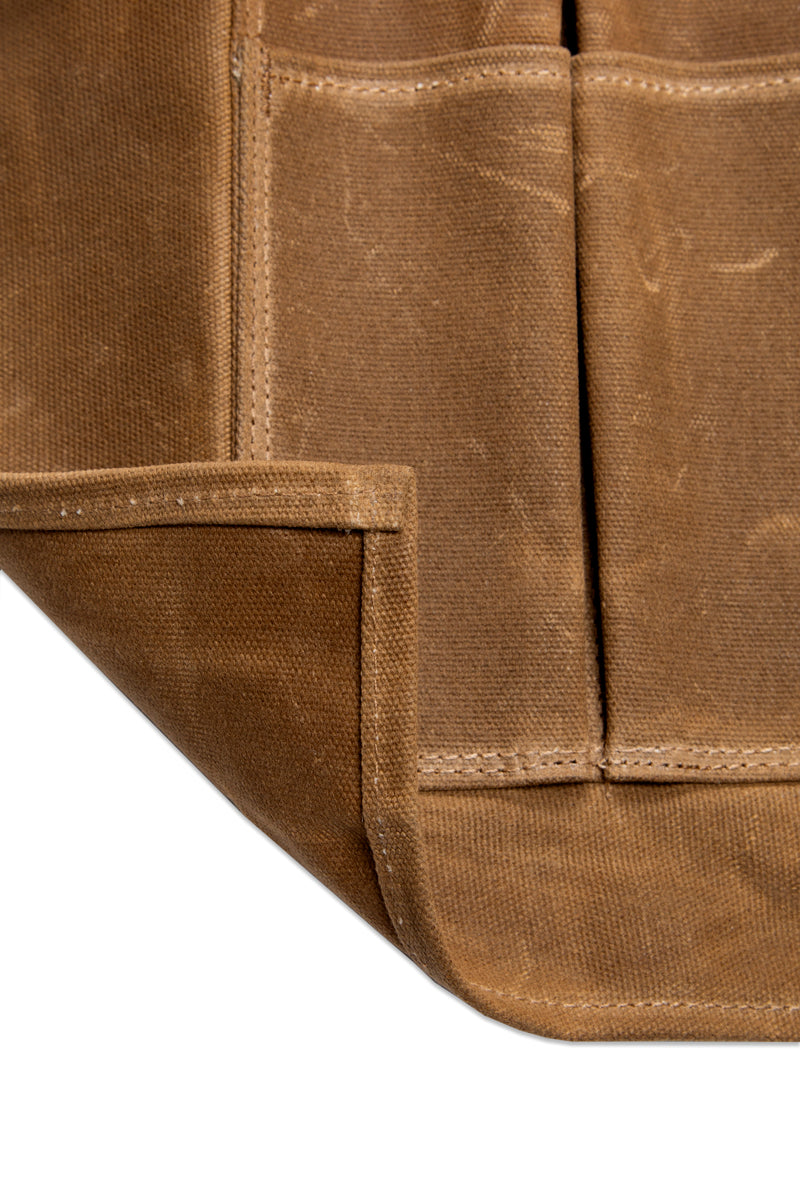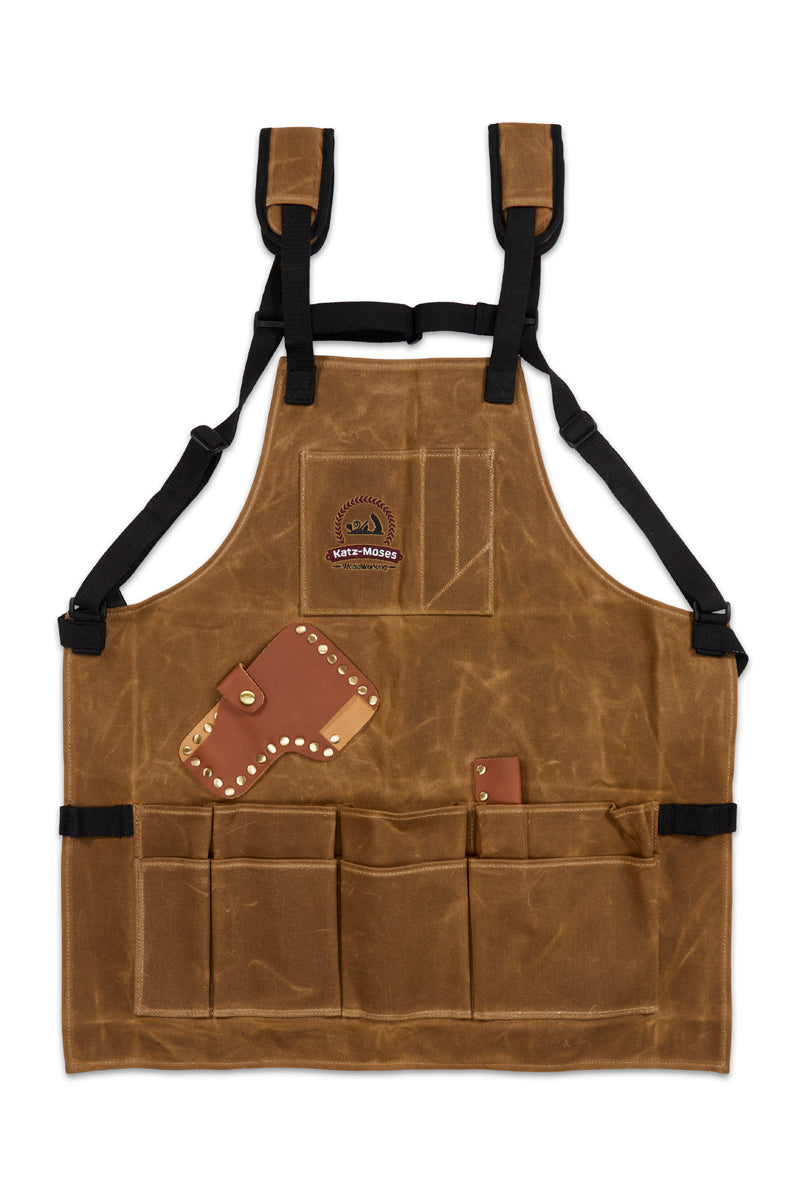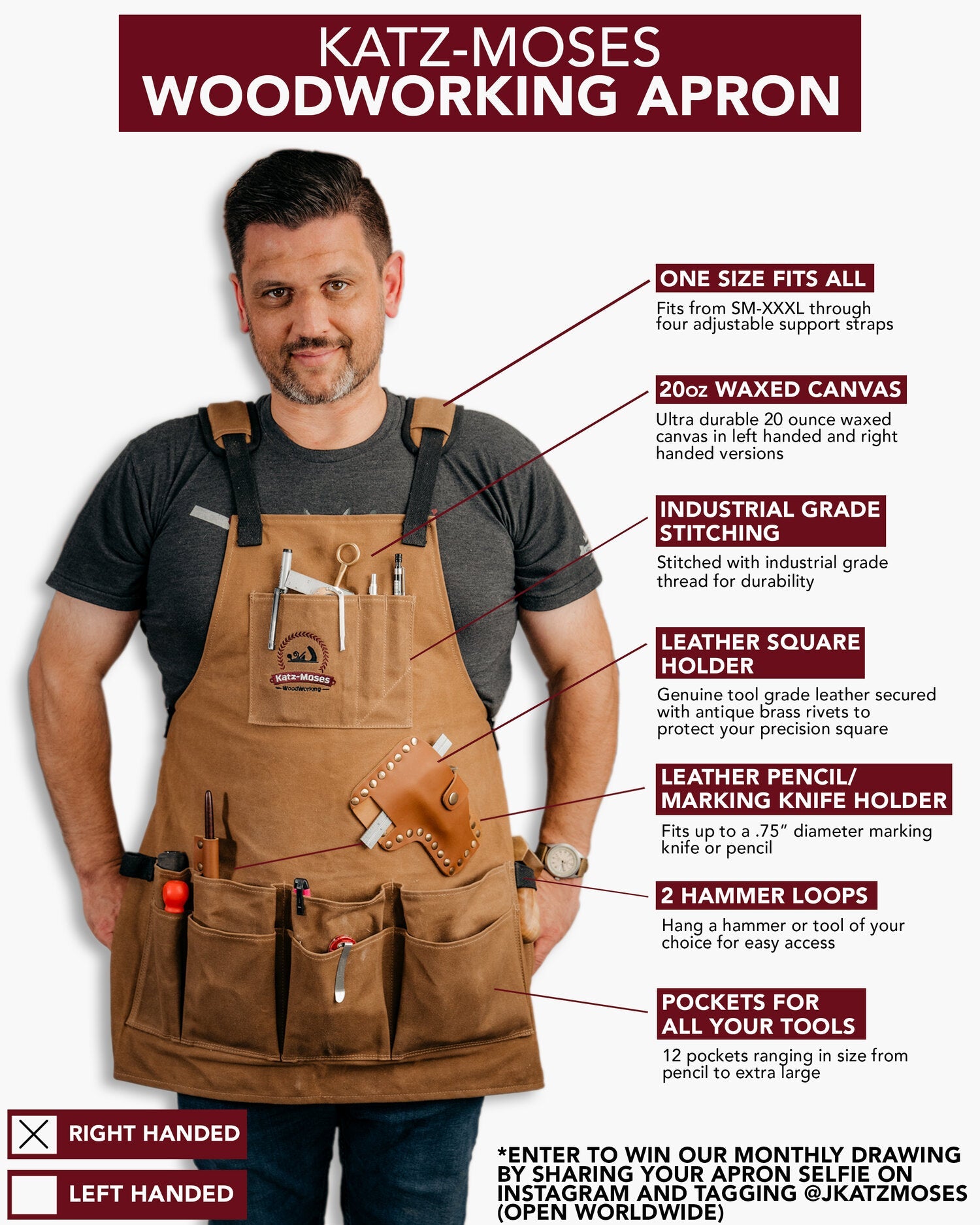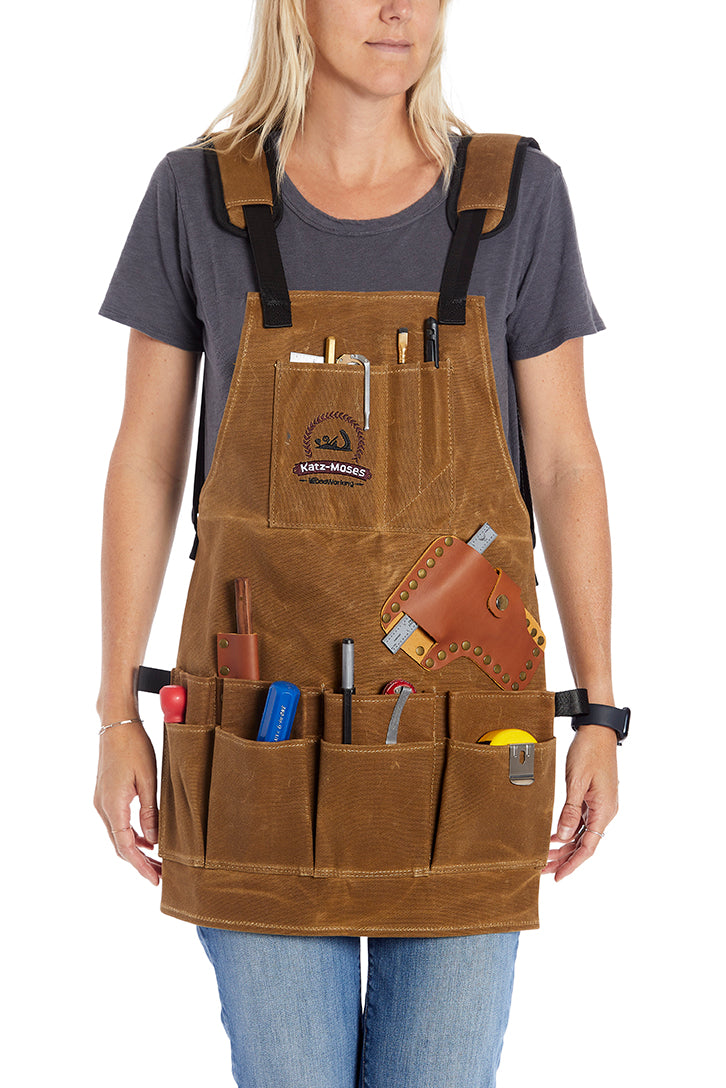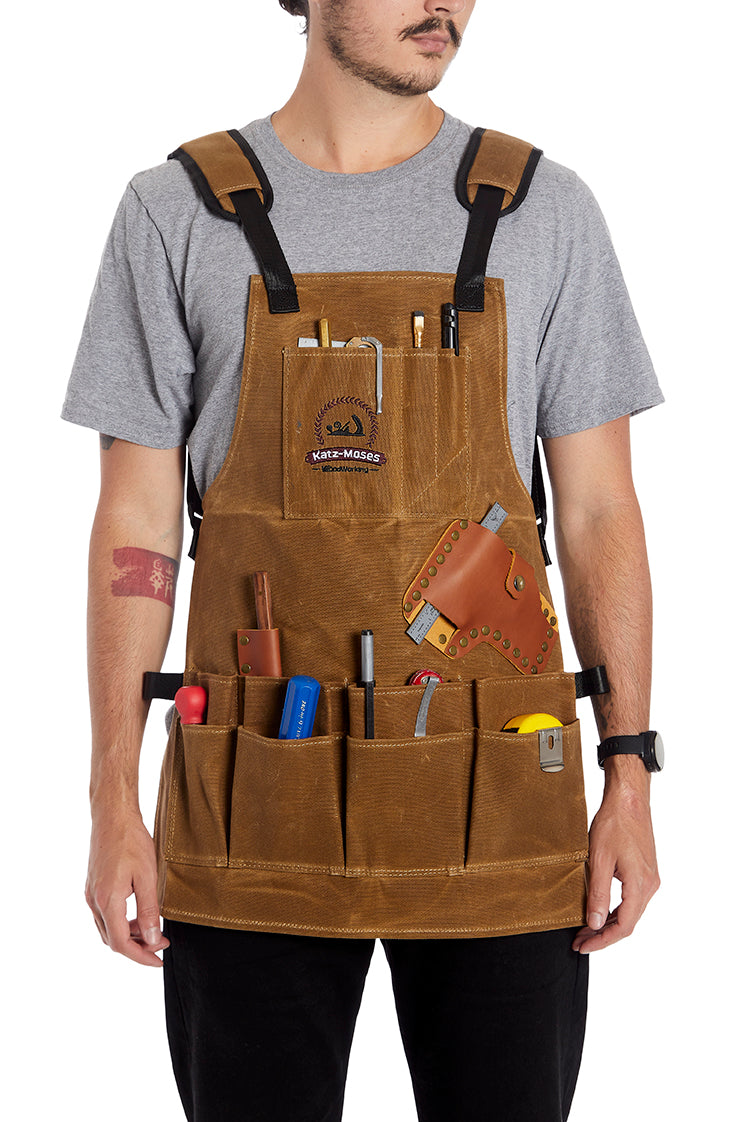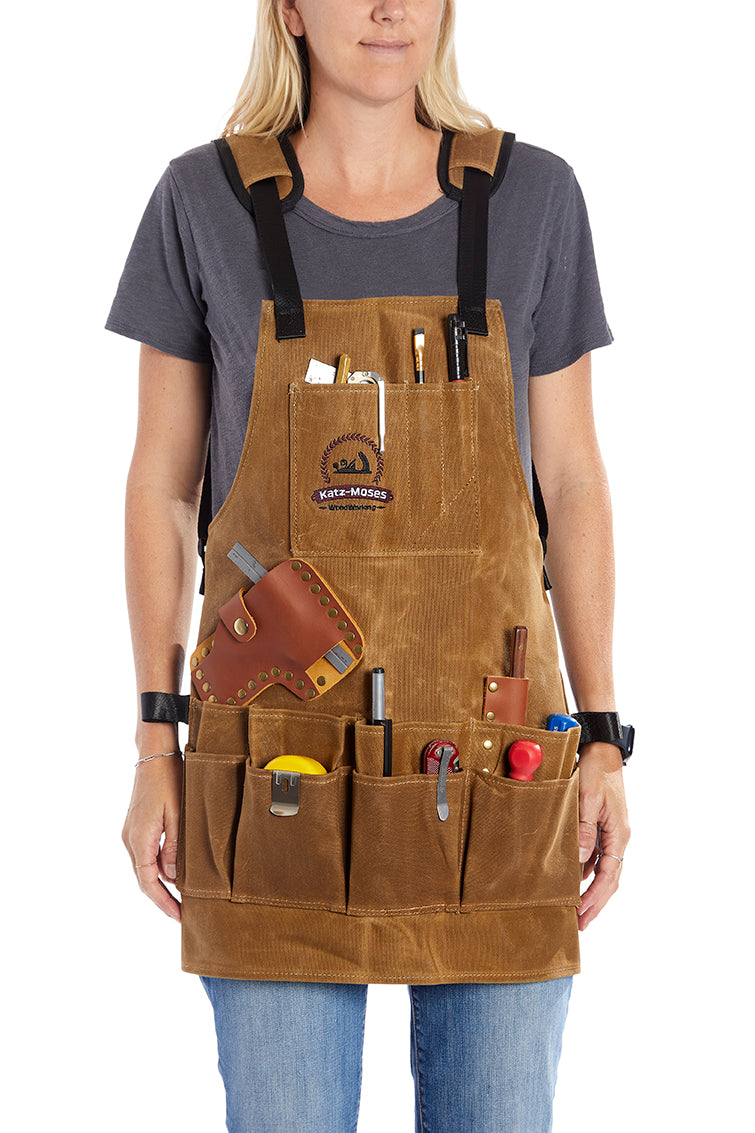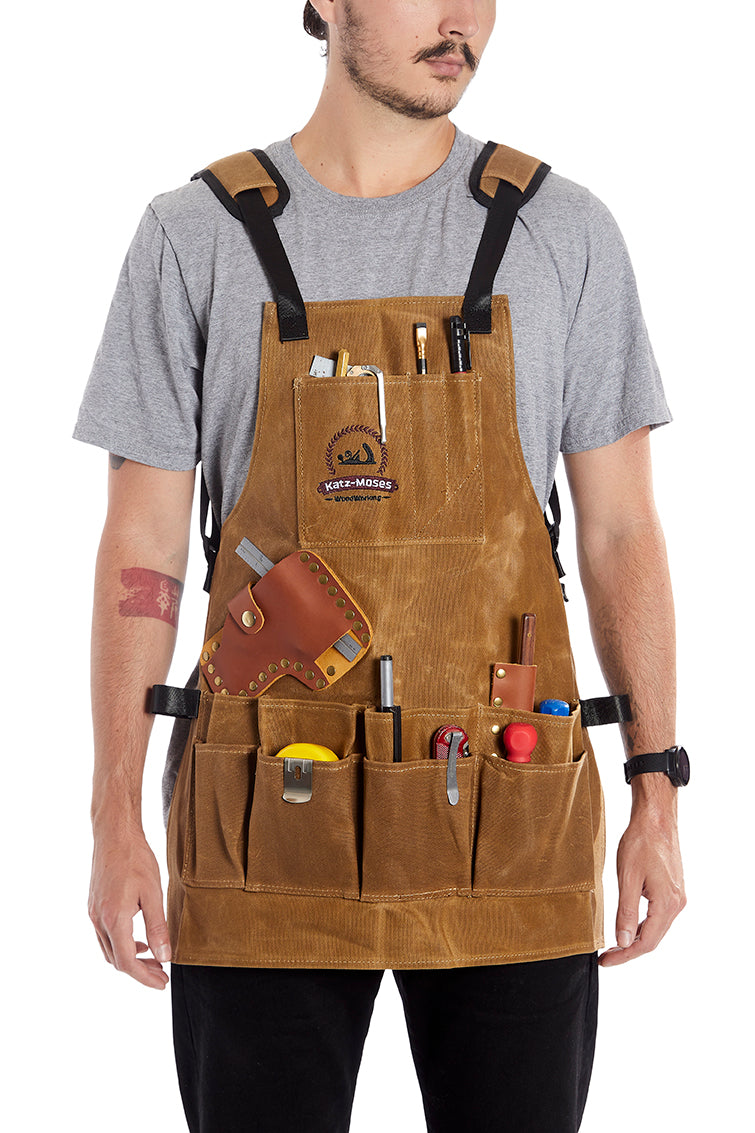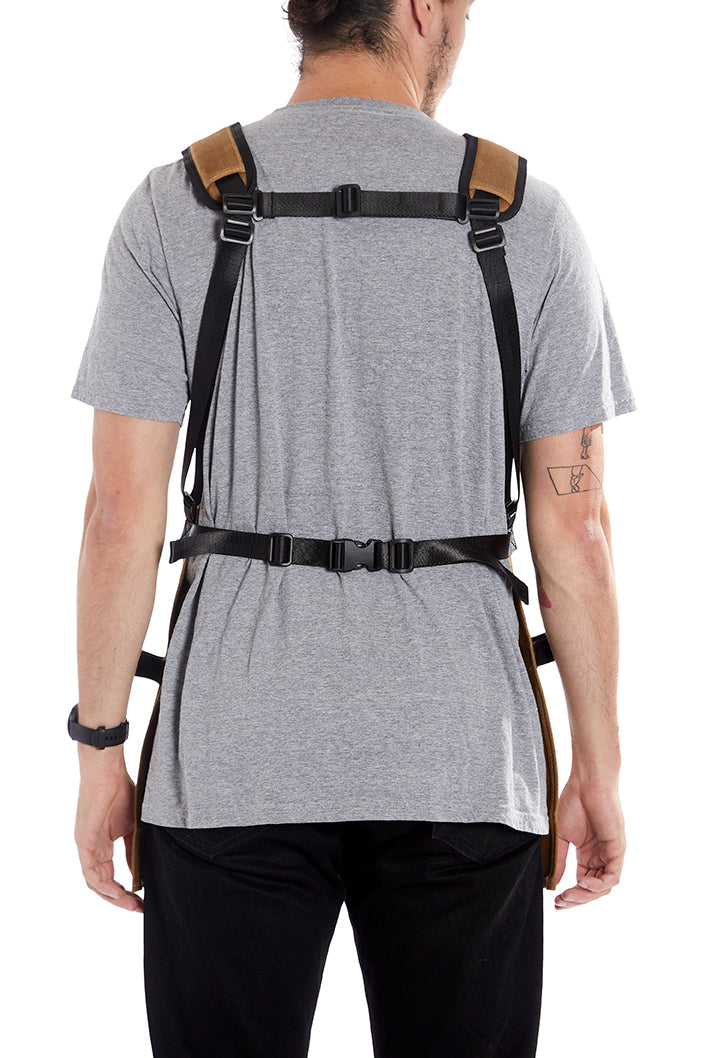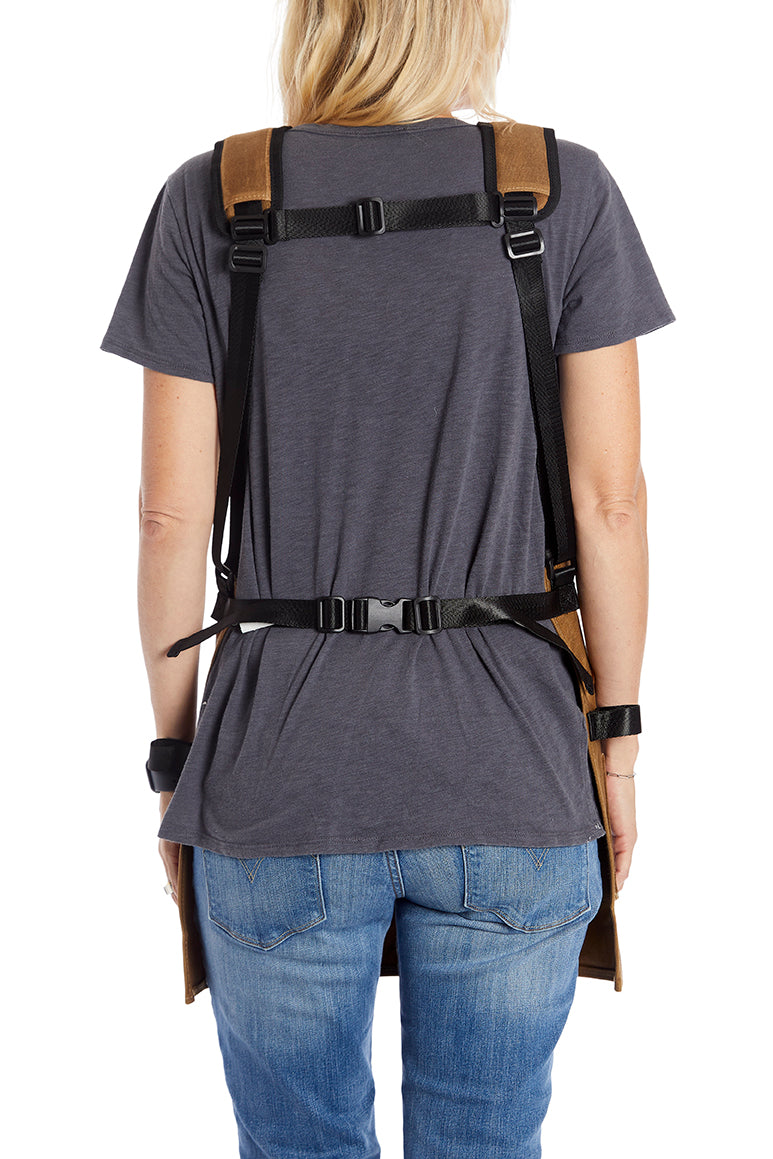 The Katz-Moses Unisex 20 oz Waxed Canvas Woodworking Tool Apron (XS/SM/MED/SLIM)
What's Your Dominant Hand?:
Right Handed
Introducing The Katz-Moses 20 oz Unisex Waxed Canvas Woodworking Tool Apron (XS/Small/Medium/Slim). This ultra durable tool apron is the first made especially for woodworkers. It has a custom leather square holder and marking knife holder in the perfect location (left and right handed versions) for hassle free measuring and marking. The leather is secured with commercial grad antique brass rivets and buttons. The apron has shoulder, back and waist support that makes it comfortable to wear daily and in any temperature. It fits all (XS/Small/Medium/Slim* exact sizing below) and at 20 ounces it is the most durable waxed canvas apron on the market. It has 12 pockets ranging in sizes from pencil to extra large and is stitched with industrial grade thread. There are 2 hammer loops and raised embroidery. This is the same version you've seen me wear for years and your support of what we do is instrumental in the content we create.
20 oz Waxed Canvas in Left and Right Handed Versions

Leather Square Holder to Protect you Precision Square. If you don't already have one here is one I love:

3mm thick leather is incredibly strong and puncture/cut resistant but no leather on this planet is cut proof. As always use caution when bending over so as not to add excess pressure to top of marking knife.

Leather Marking Knife/Pencil Holder (Fits .65"-.7" Diameter Marking Knives). If you dont already have one here is one I love:

Commercial Grade Brass Rivets and Buttons

This apron's canvas area is 24" tall (LRG IS 26") and fits Men, Women and Teens XSM-MED. It is worn above love handles and is adjustable from 20" to 42" (12" Belt Extensions available in the store as well and by clicking here)


4 Support Straps for Added Comfort and Adjust-ability

12 Pockets ranging from Pencil to XL

2 Hammer Loops

Industrial Stitching
Leather is not impervious to sharp blades. The leather marking knife holder is 3mm thick leather and extremely strong. We recommend you use caution not to push your knife into the holster with your mid section when bending over. Proper technique is to stick your marking knife all the way into the holster so that it is fully seated in the strongest part of the holder.