Router planes are simple tools… or are they?
Yeah, they are. I just like to stir up drama here and there.
But while router planes are dead easy to use for fine-tuning joinery, cutting hard-to-reach places, and a whole lot more…
There are a few things to know to ensure you get the best results.
The Katz-Moses Tools KM-17 Router Plane is finally making landfall in woodshops around the world…
And to celebrate, I'm giving you 10 tips for mastering your router plane technique — so you can get the most out of your shiny new tool.
---
---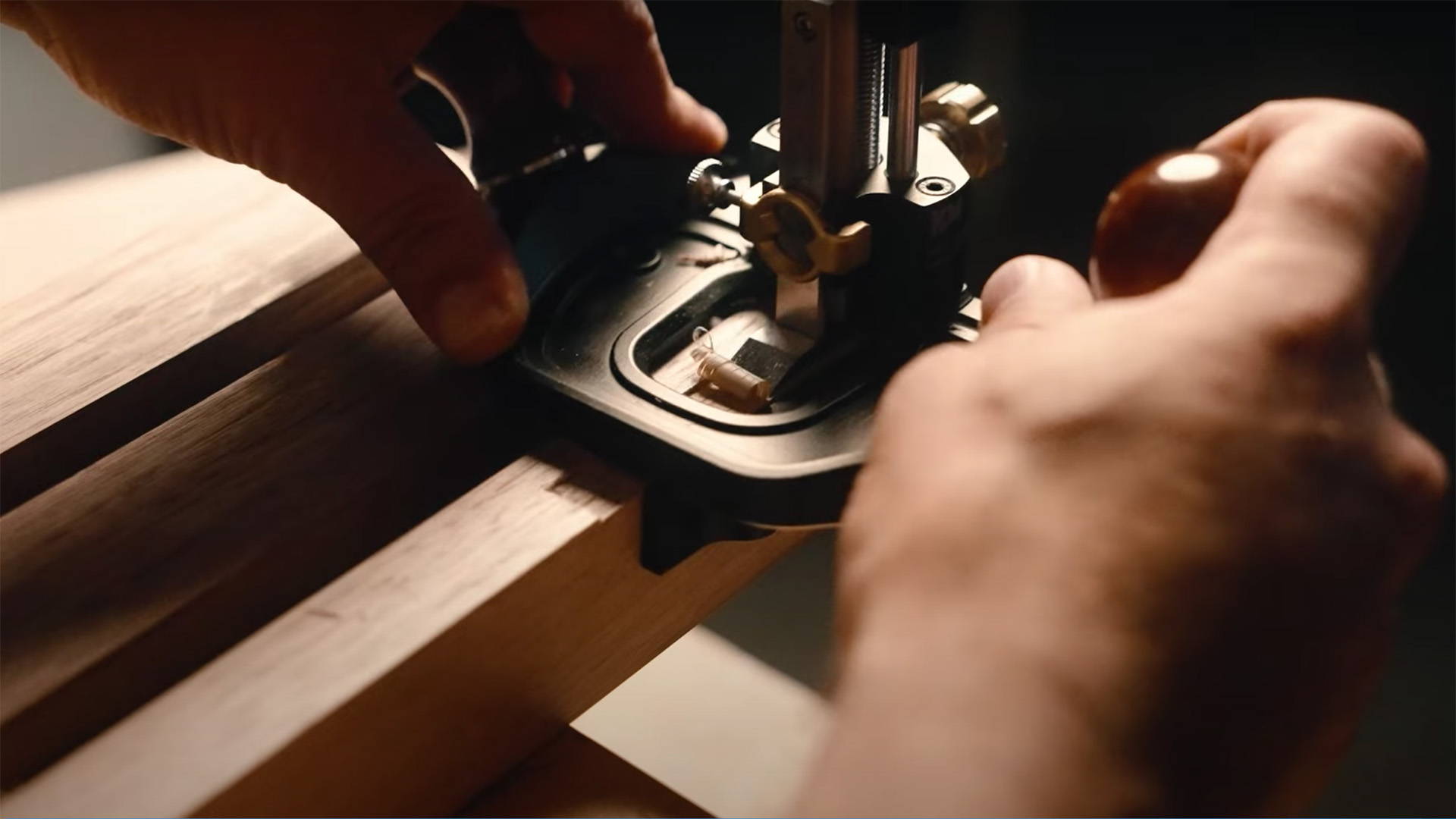 If you're looking to hog out a bunch of material, a router plane is not the tool for the job.
Too deep of a cut leads to chattering and tearout. The pressure on the blade can even tilt the plane forward, cutting deeper than you intended.
The name of the game for router planes is multiple light passes.
Aim to take 1/32" or less at a time.
Start by placing the base of the plane on the workpiece, then lowering the blade until it barely touches the surface.
From there, adjust the blade lowering mechanism a fraction and make your first pass. Then incrementally lower the blade with each successive pass until you reach your final depth.
Remember, it's better to take off too little than too much.
Taking smaller passes not only makes it easier to push the router plane through cuts. It also leads to cleaner, tearout free results.
---
2. KEEP PRESSURE ON THE BASE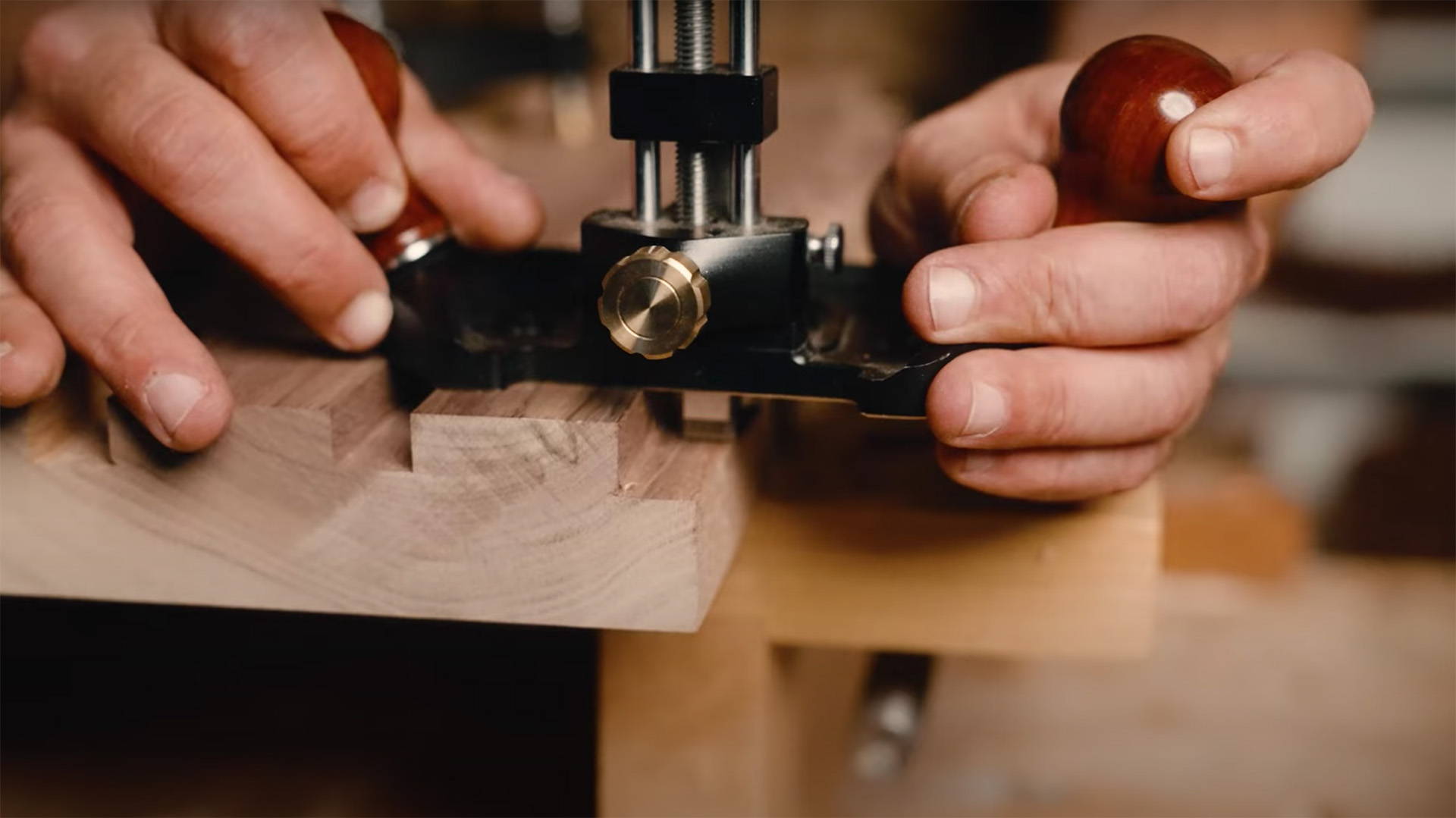 The beauty of a router plane is that it cuts parallel to its base.
But for your cuts to be parallel, the base needs to stay flat on your workpiece.
Beginners might try to put all the pressure on moving the blade into the cut.
What's more important is putting pressure down on the body of the plane so the sole stays flat on your reference face.
This is most critical in cuts where the base isn't fully supported.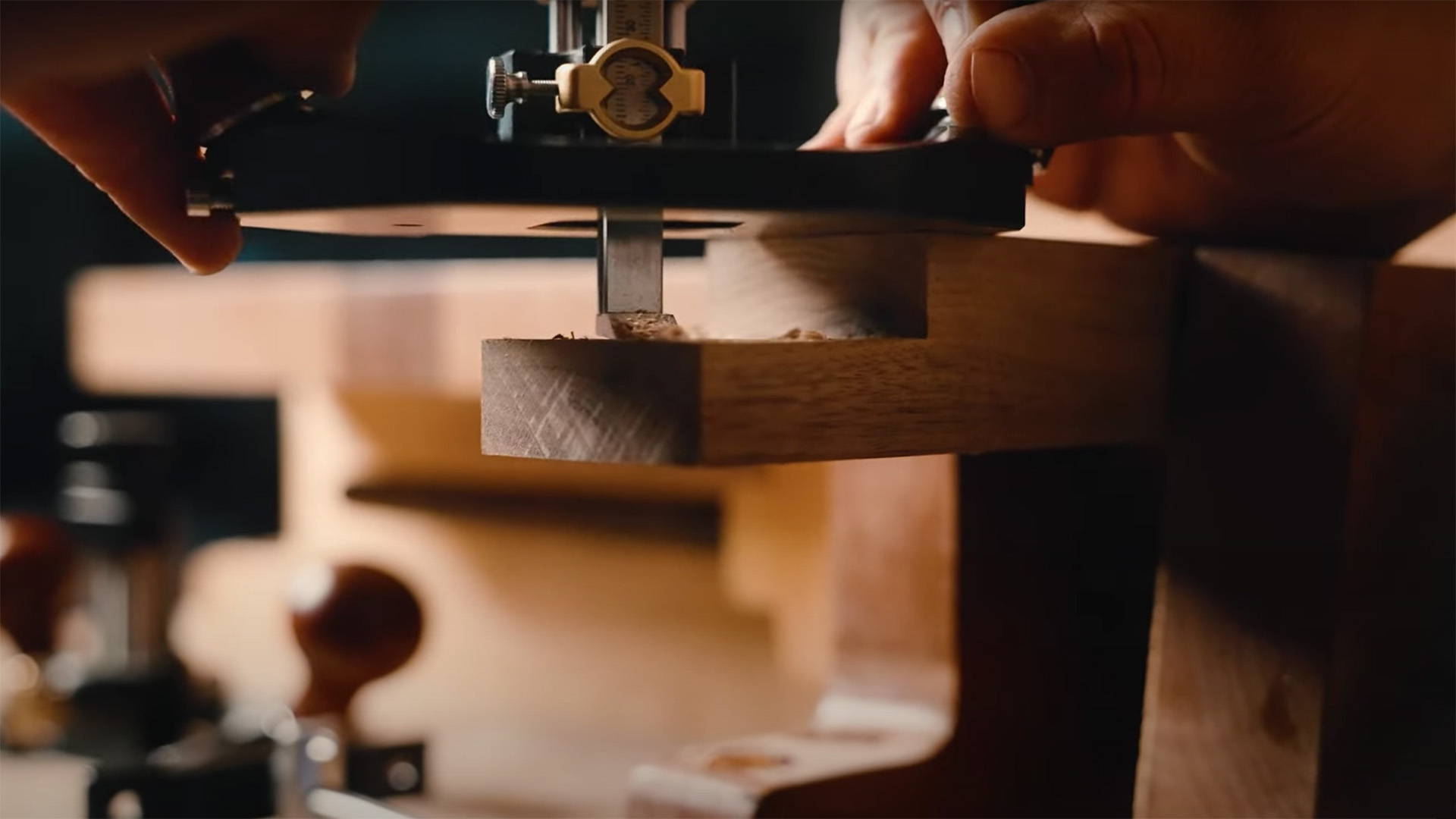 Say you're cleaning up a tenon. To do so, over half of the router plane base has to hang off the edge.
One strategy is to keep all pressure on the part of the base that's supported and pivot into cuts (I'll go into this more below).
Another is to use a second piece of wood that's the same thickness as your workpiece. Place it at the end of the joint to support the hanging side of your router plane.
The important thing is that the sole stays flat on the board face you're referencing.
---
3. PAY ATTENTION TO GRAIN DIRECTION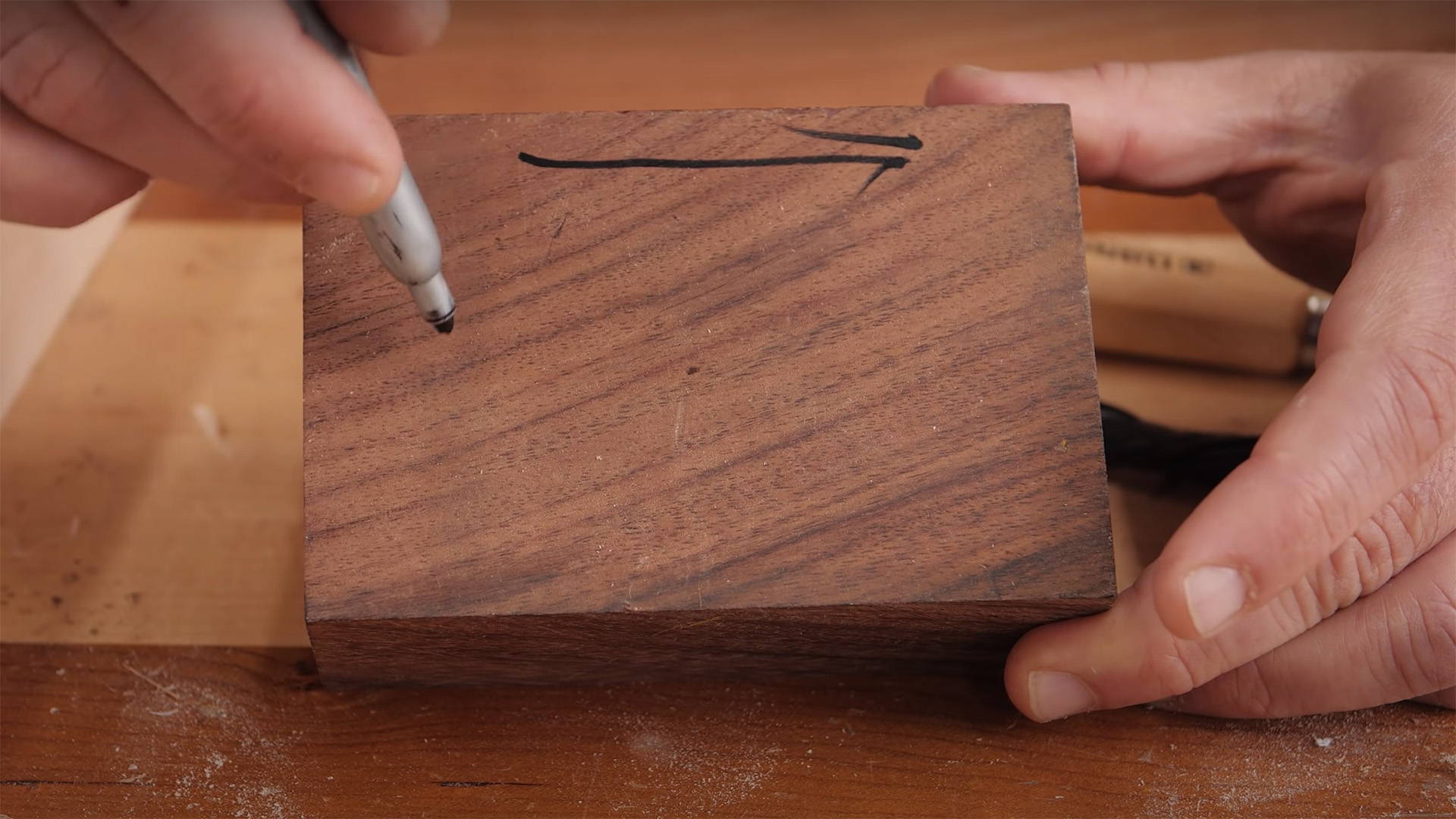 If you've ever used a hand plane, you may have noticed something interesting.
Planing one direction on the edge of the board is easy and produces glassy smooth surfaces.
But going the opposite direction results in a chattery cut and a bunch of tearout.
This is because of grain direction.
When making long grain cuts, grain direction plays a big part in your success (here's how to read grain).
Just like any other tool, paying attention to grain is critical when using a router plane.
If you get tearout no matter which way you cut, try one of these solutions:
Take a shallower cut: The deeper the cut, the bigger the chance of tearout. Lighten up your pass and see if that helps.
Try an angled blade: Angled router plane blades cut at a shear angle, which can sometimes help get better results in figured wood.
---
4. TRIM EDGE FIBERS WITH A MARKING KNIFE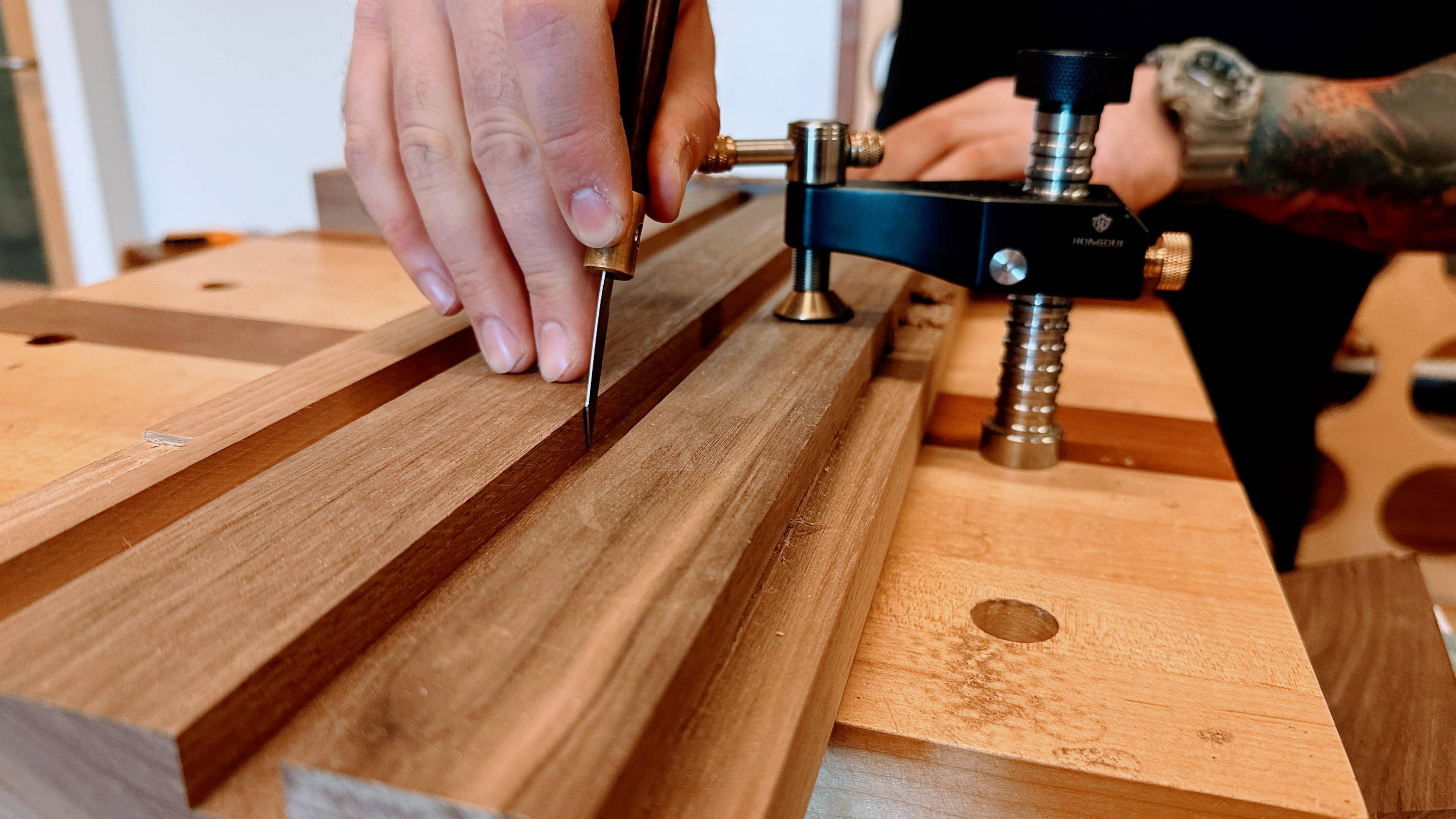 This is a great tip for any time you need to cut across the grain.
The idea is to trim the fibers at the edge of your joint before using your router plane.
For example, say you're going to clean up the bottom of dado.
Place the blade of your marking knife flat against the dado wall and slice along the inside corner. Do this on both sides.
Now when you make a pass with the router plane, the fibers are easily freed because they're already severed at their ends.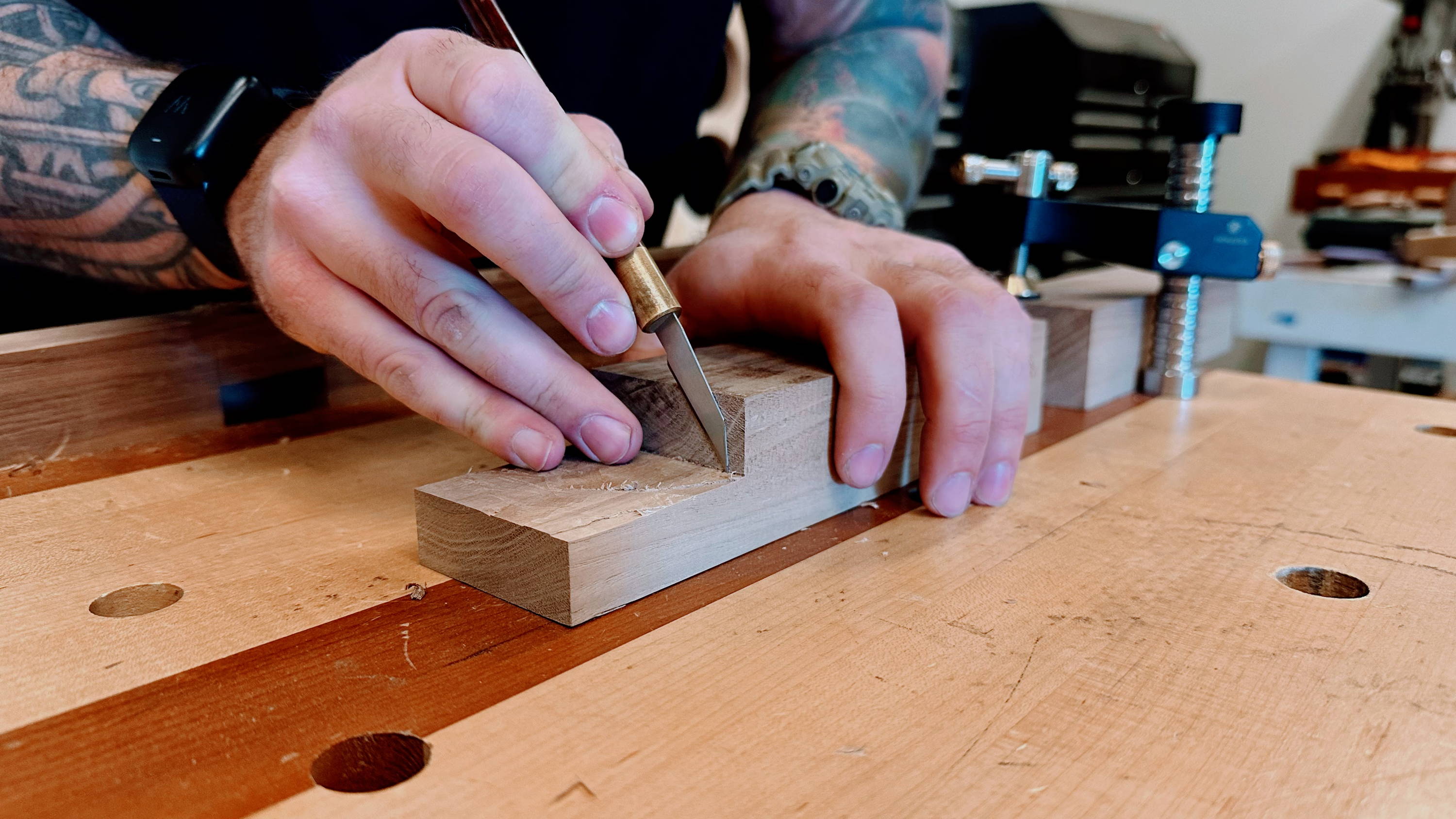 Another example is for lap joints and tenons.
Use your marking knife to slice the fibers connecting your tenon or half lap to the shoulder.
This technique isn't as essential when making long grain cuts, but can be really useful if the grain direction is haphazard.
---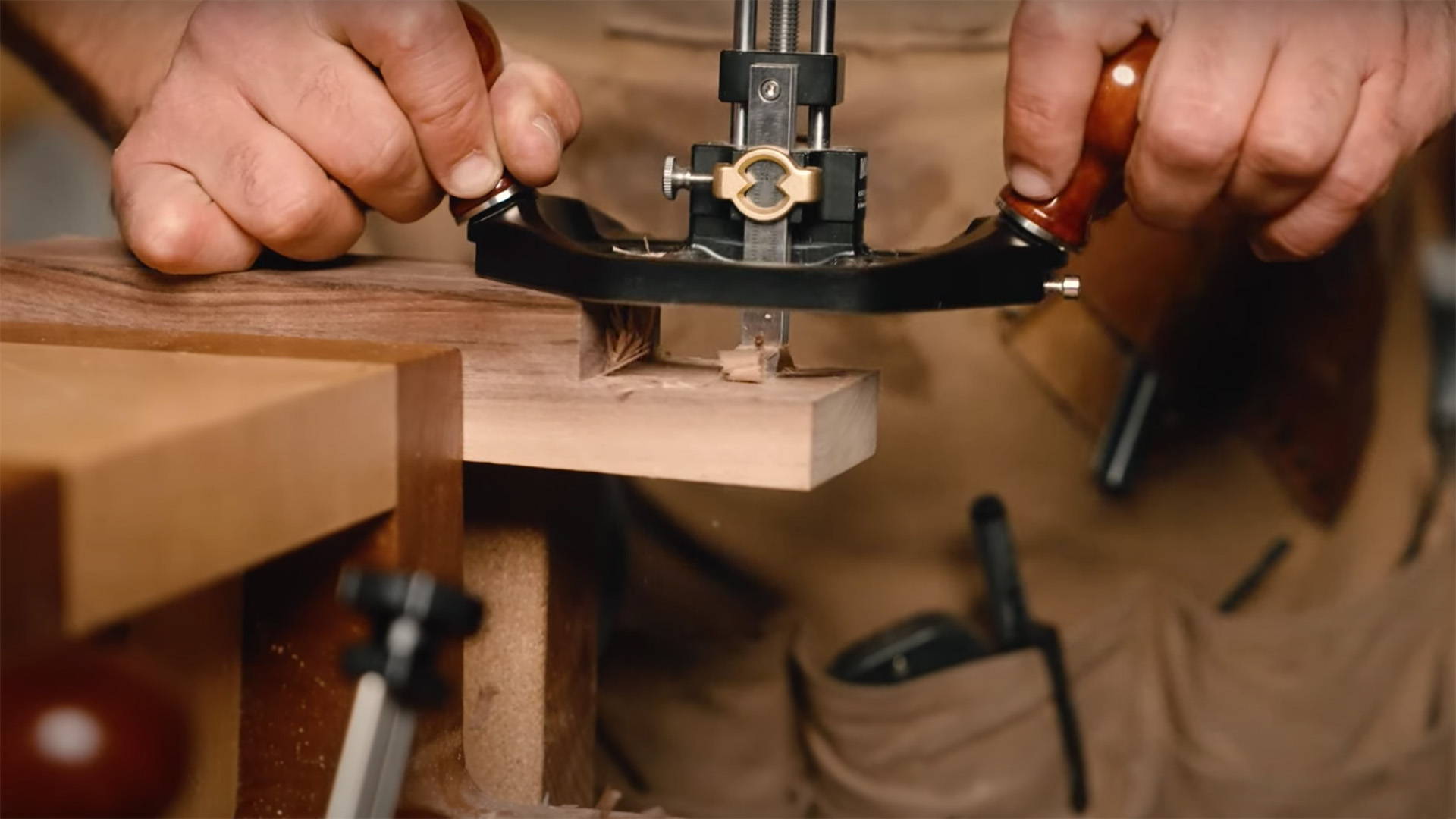 Your first instinct might be to plow your router plane through wood like a 3rd grader barrelling through their classmates in a game of Red Rover.
Set this instinct aside. Because smaller, choppier cuts lead to the best results.
This is especially true for crossgrain cuts, like dados, rabbets, and tenons.
Instead of pushing all the way through, hold one side of the router plane base steady on your workpiece and move the other side to pivot into cuts with short chops.
This puts less pressure on the blade, leading to less tearout. And after chopping away at the whole area, you'll have a perfectly flat surface.
Also, be mindful of how you exit cuts.
If you're trimming down a lap joint, work from both sides, going from the outside towards the middle.
This will save you from inadvertently blowing out an edge as the blade blasts through unsupported fibers.
---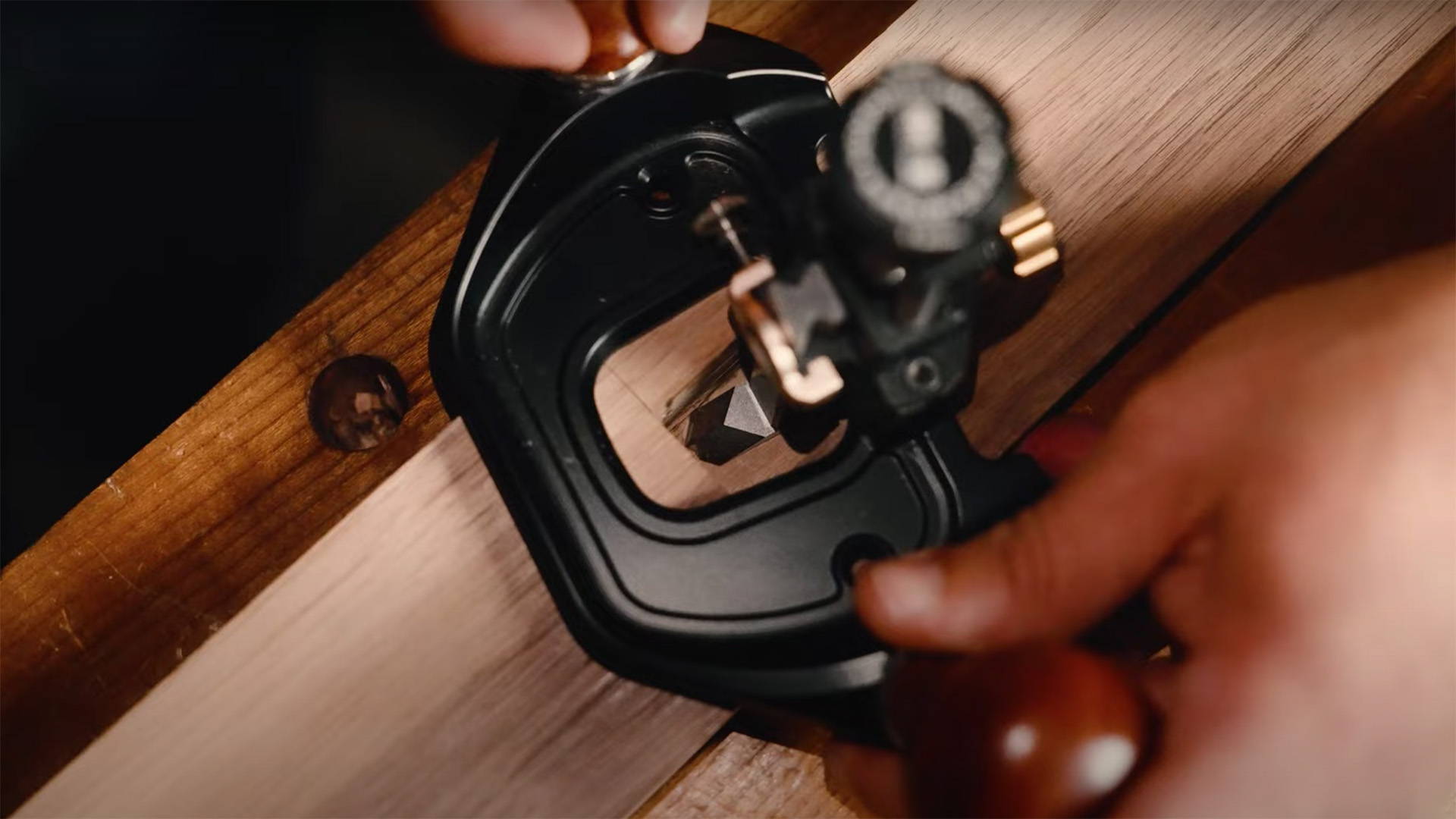 Router planes generally come with two blades (the KM-17 included):
Straight blade: Features a single, square cutting edge
Angled blade: Features a pointed, 45° blade with two cutting edges. Historically, it's also been known as an "Old Woman's Tooth" or "Witches Tooth" (probably so named by an old man who never flossed)
I use the straight blade for most operations, and it works well for pretty much everything.
But if you're struggling with tearout — or need to hog out material — it's worth giving the pointed blade a try. The shear cutting angle makes it a little easier to push through.
It can also be helpful for getting into acute corners where the straight blade won't fit.
In all honesty, the use cases aren't very different. Try out both and see which blade works best for different types of cuts.
NOTE: We are prototyping and testing smaller blades for the KM-17 Router Plane. These will be ideal for detailed inlay work — and we'll be sure to let you know as soon as they're available!
---
7. KEEP YOUR BLADES SHARP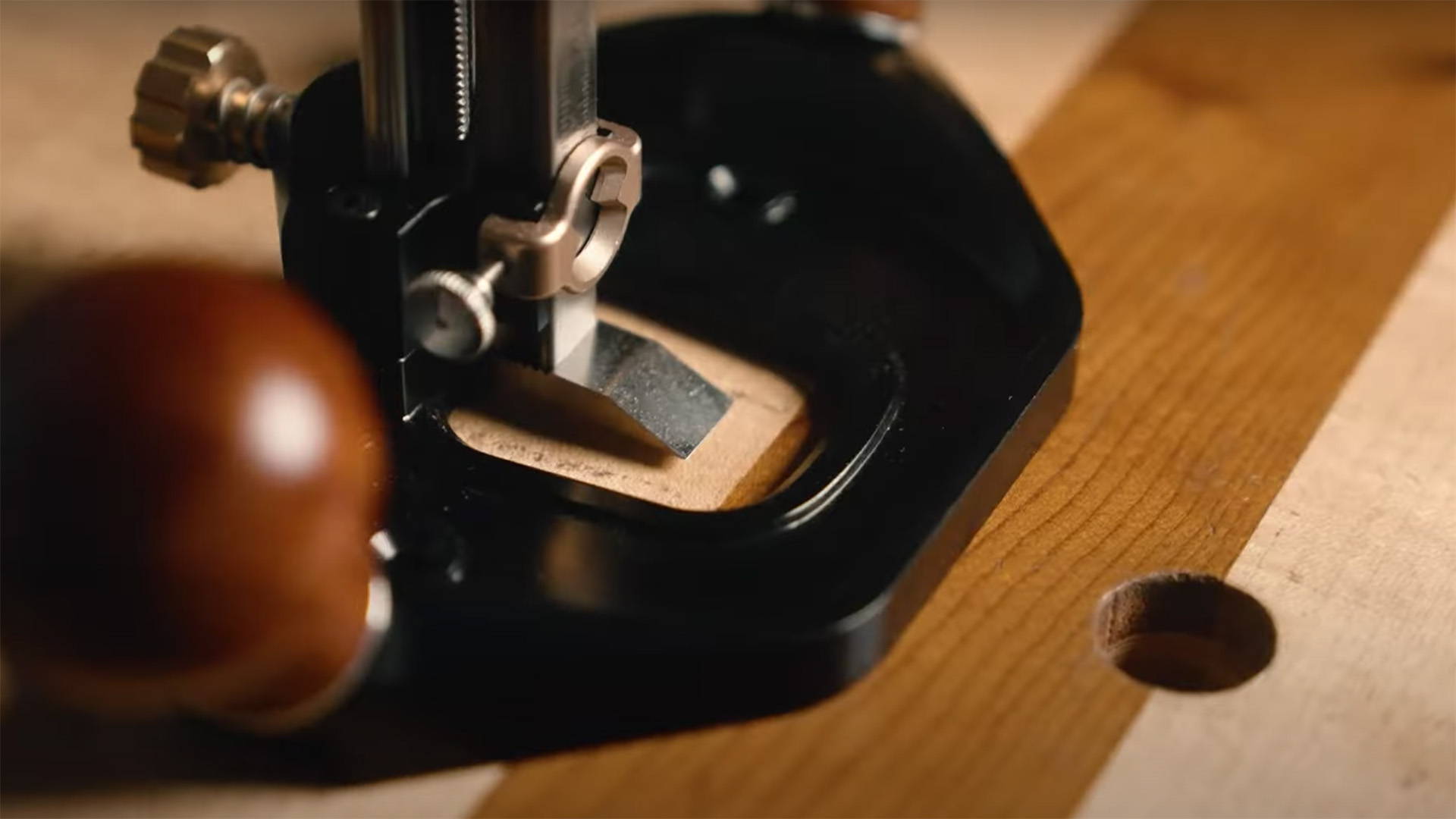 This probably goes without saying — but a sharp blade is critical for clean cuts and good performance.
Sharpen router plane blades the same way you'd sharpen a chisel.
For the angled blade, just sharpen the two cutting edges independently.
(The KM-17 comes with a blade holder that lets you sharpen with a honing guide so you can get the angle exactly right.)
But my favorite way to keep my blades sharp is to consistently strop.
I'll do the paper test every day before using the router plane, and strop it sharp if necessary. This extends the time between full on sharpenings, and maintains a razor sharp edge.
Some people talk trash about this method (looking at you, Giffrow…), but it works great for me.
If you like, you can add a micro-bevel to your router plane blade — but I don't think it's necessary.
---
8. USE AUXILIARY BASES AND FENCES

Sometimes, you need a larger surface area on the sole or fence of your router plane.
Say you're cutting a long lap joint and the router plane isn't wide enough to reach the end of the joint.
This is when you'd attach an auxiliary base. And it couldn't be easier to do.
Most router planes (including the KM-17) come with pre-milled holes in the base and fence. These let you easily attach a board of any size with a couple screws.
I recommend using a stable hardwood for auxiliary bases and fences. Make sure it's milled flat, cut a hole in the center for the router plane blade to pass through, and screw it on.
The fun thing about this is you can get pretty wacky with it.
Say you want a dado or groove cut into a board at an angle (instead of 90°).
Mill a board so one face sits at the appropriate angle. Do this with a planer, wedges, and a sled.
Then use this board as your auxiliary base.
Have I tried this myself? No. But will it work? You tell me!
---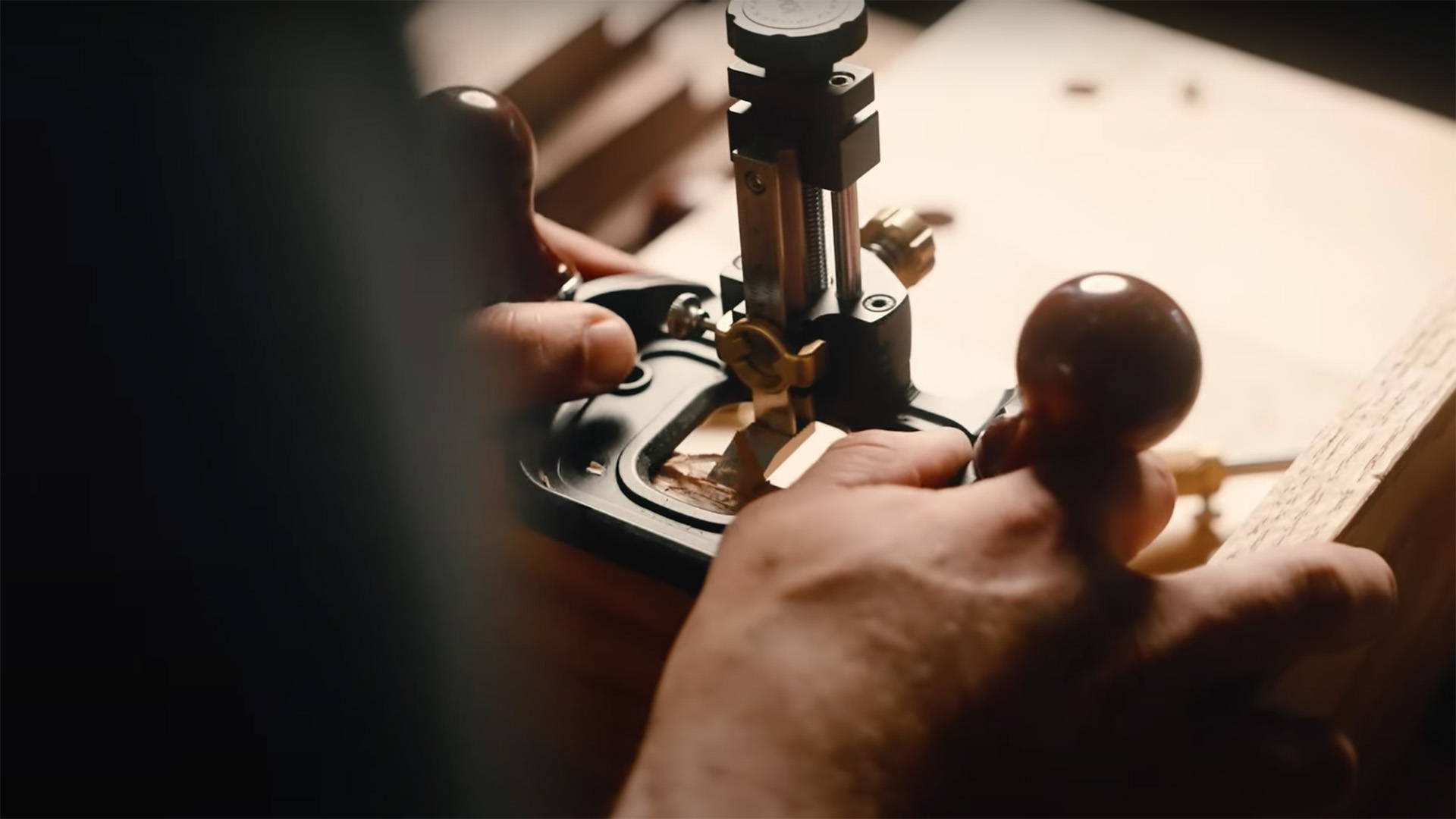 Is it better to push or pull a router plane? The answer is: It's up to you.
Personally, I like to pull my router plane towards me while making long grain cuts. I find it runs more smoothly.
Sometimes, I'll even do a combination of both pushing and pulling.
Try both methods and use whatever works best for you. Point is, there isn't a right way.
---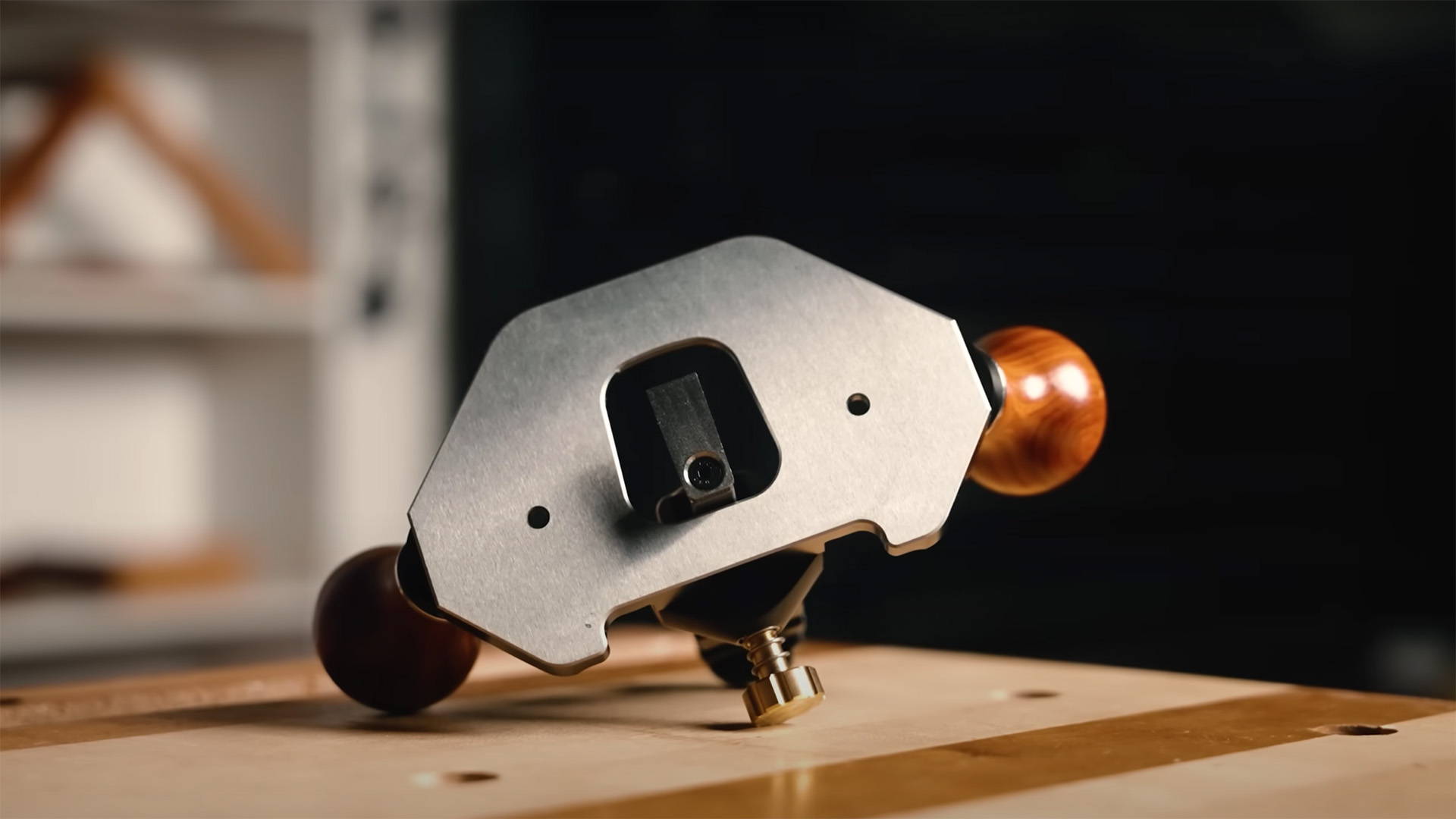 Router planes aren't just useful tools. They look friggin cool.
So how can you keep your plane looking pretty and shiny for years to come?
As with almost all of life's problems, the answer is paste wax (how do you think I get my hair to sit so perfectly?).
When you get a new plane, rub it down with a healthy slather of paste wax. Especially on the sole, or bottom of the base.
This helps prevent rust, keeps it from getting scratched, and helps your plane run more smoothly through cuts.
If rust spots do develop, lightly hit it with a bit of vinegar and steel wool. Then finish up with another dose of paste wax.
---
NOW SHOW ME HOW IT'S DONE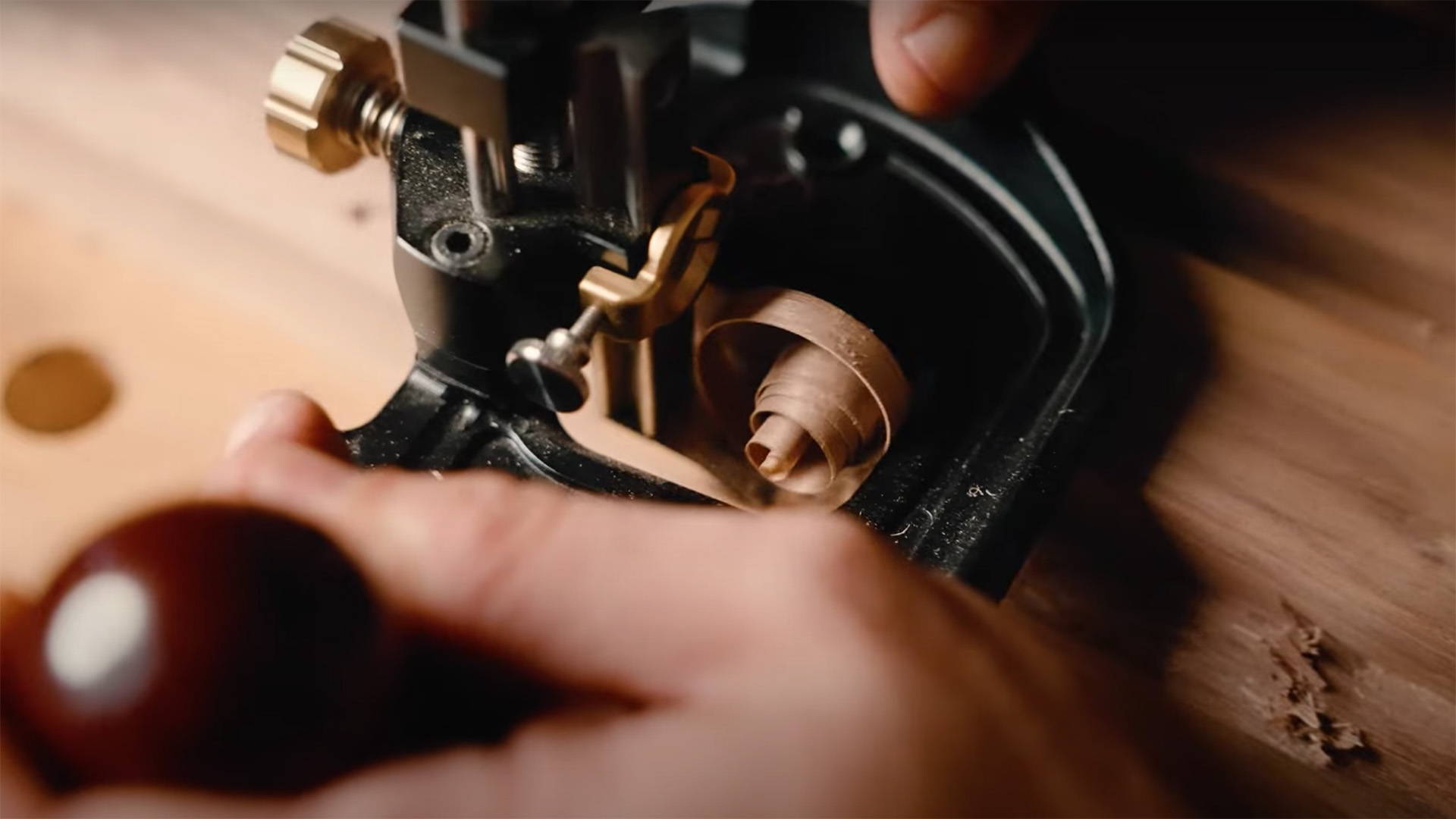 With the little bit of knowledge above, you'll have no problem getting great results with your router plane.
But of course, there's no teacher like experience.
So get in the shop and start putting your router plane to some good use.
If you purchased a KM-17 Router Plane, show us what you make with it!
Tag us on Instagram and TikTok to show off your creations — and as always, thank you for your support.
---