Big things are on the horizon for the Katz-Moses Woodworkers with Disabilities Fund (KMWDF) — because we've got a new Director who's going to be captaining the ship to glory.
Chris Giffrow will be leading the charge for KMWDF, working to expand our mission of helping makers with disabilities pursue their woodworking passions — so truly EVERYONE can experience the empowerment, confidence, and joy the act of creation brings.
Chris is not only an attorney protecting the welfare of children. He's also a phenomenal woodworker, creating under the name Cow Dog Craft Works.
I had the chance to catch up with Chris so he could tell you a bit about himself.
Read on to learn what makes him happy, the name of his beloved Cow Dog, and why you shouldn't be afraid to get "primitive" with your woodworking.
WHY'S FT. LAUDERDALE THE PLACE TO BE?

I'm not entirely sure if Fort Lauderdale is where I'm rooted forever, but as my hometown for most of my life and the place I grew up, I can tell you that it's got a little bit of everything to offer.
The culture here is wild. It's a melting pot of Hispanic, Caribbean, European, a little Southern flair too. Whatever or however you're feeling that day, you can live it.
YOUR DAY JOB IS AS AN ATTORNEY, ADVOCATING FOR CHILDREN IN FOSTER CARE. WHAT PART OF THE JOB MAKES YOU THE HAPPIEST?

I'm a sucker for justice and standing up for what's right. So while my day job can be emotionally taxing quite often, knowing I'm fighting for those who can't fight for themselves is incredibly meaningful.
My happiest moment is reunifying a family and closing their case successfully. Everyone loves a comeback story and an underdog and to see people overcome their obstacles and thrive, that's priceless.
HOW'D YOU COME UP WITH THE NAME COW DOG CRAFT WORKS FOR YOUR PERSONAL BRAND?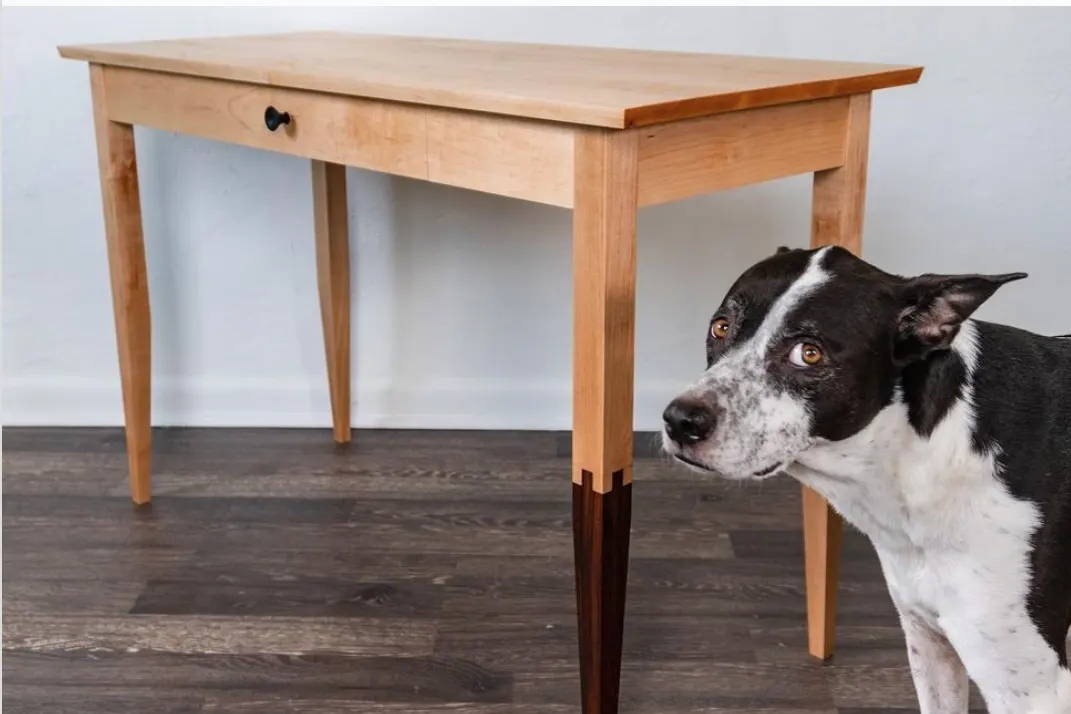 My dog Eddie is the inspiration behind that. He's an Aussie Shepherd, Queen's Heeler, and American Bulldog mix, with probably a few other ingredients in his cocktail too.
As a herding dog that's black and white, the name Cow Dog came to mind instantly. We've been through thick and thin since I got him as a puppy in 2012, so it only felt right to name my passion after him.
WHAT GOT YOU STARTED IN WOODWORKING? WAS THERE A PROJECT THAT MADE YOU SAY "WHOA, I'M GOING TO BE OBSESSED WITH THIS"?
Well, anyone that knows me well enough knows that I get immersed in my passions. Whether that's hobbies, goals, relationships, etc., if I'm in, I'm all in.
After I bought my house and did a bunch of work on it, I had a number of power tools in my garage and no furniture, and not much in the way of money to purchase furniture either. So I decided to make my own and now I make furniture in my shop for substantially more money than if I were to buy it in a store.
Woodworking is so fun to me and I always find it hilarious that most of us start with a "I bet I can do that for cheaper" attitude, and then spend thousands on tools and quality lumber.
TELL ME ABOUT YOUR YOUTUBE CHANNEL AND BLOG. WHAT DO YOU WANT VIEWERS TO TAKE AWAY FROM THEM?
My YouTube channel is ever-evolving and my blog and Instagram really reflect that. When I launched on YouTube in the summer of 2019, I was under the impression I was going to be a DIY channel. But I got hungry to push myself and try new and different things.
I started incorporating more hand tool woodworking into my practice and I've doubled down on that a bit by getting into Japanese tools.
HAND TOOLS ARE YOUR PREFERRED WEAPON OF CHOICE. HOW'D THAT START, AND WHAT DO YOU LIKE ABOUT HOW THEY INFLUENCE YOUR WOODWORKING?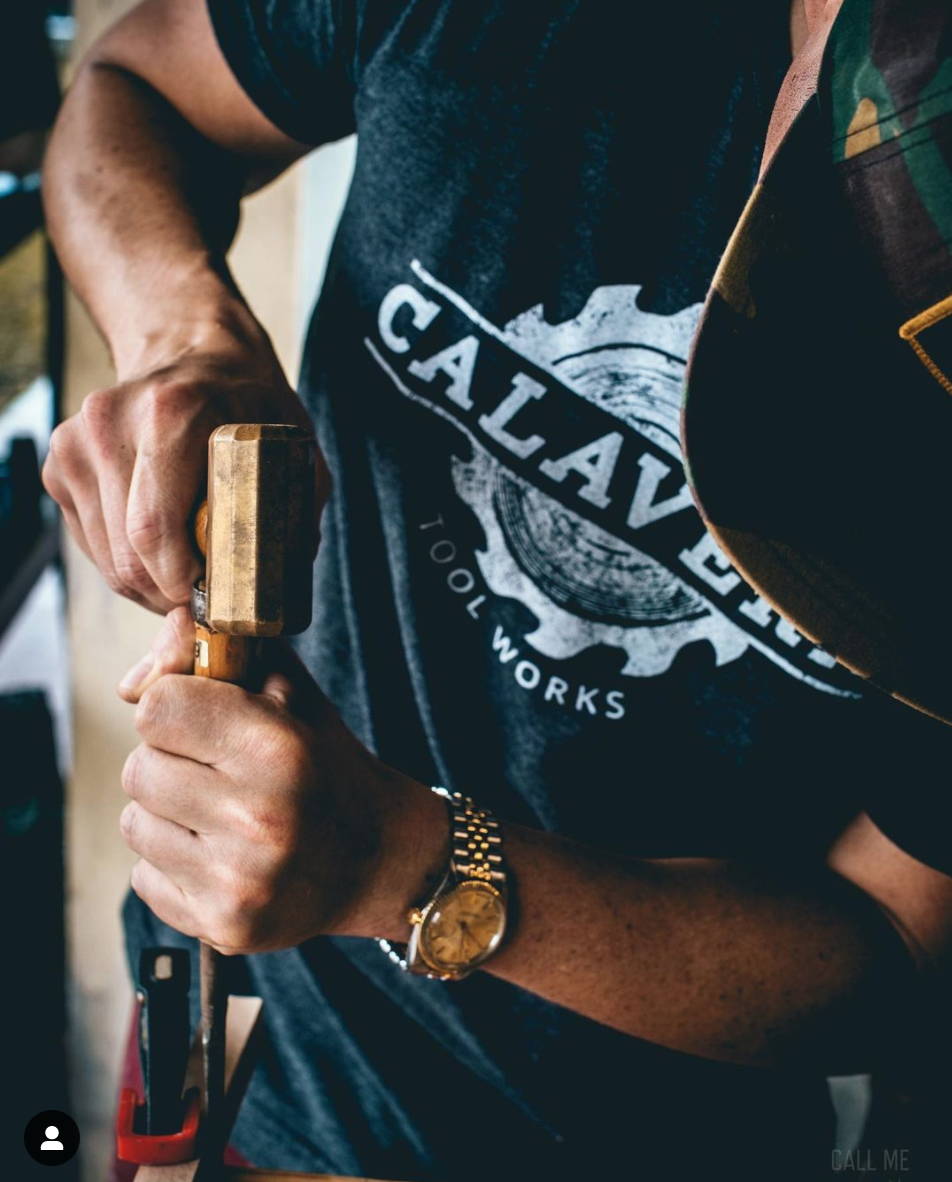 Interestingly enough, it started just because I thought the tools looked cool. Hand planes, nice chisels, whatever they are. Candidly? They look dope.
They certainly force me to slow down and be more thoughtful and precise with my work.
But let me expand on this a bit too and bear with me here: As a half Singaporean kid growing up in an area of the country that at the time was sort of devoid of Asian culture, I never felt very represented and frankly was a bit ashamed of my culture.
My parents had a ton of Chinese and Japanese furniture that I just didn't see in my friend's homes growing up. Those lines and angles made their way into my furniture from day one and I've really leaned into that a bit more with Japanese tools in the past couple of years.
Japanese woodworking tools still haven't been devoured by the industrial revolution so to speak. They're handmade and crafted by artisan blacksmiths. No two are the same even from the same smith. They are valued for their quality and beauty and using and maintaining them is a discipline and art in itself.
There's an element of cultural representation and preservation in using them and I feel a connection to my Eastern culture and a pride that I haven't ever known before in my life.
YOU HAVE A FULL-TIME JOB. YOUR SHOP IS A ONE-CAR GARAGE. A LOT OF THE WOODWORKING COMMUNITY CAN RELATE - BUT YOU'VE MANAGED TO REALLY MASTER THE CRAFT. HOW'D YOU DO IT, AND ANY ADVICE FOR OTHER WOODWORKERS WITH LIMITED TIME AND SPACE?
I certainly wouldn't go as far as saying that I'm a "master" of anything. What I will say is that I'm a student of the game and that game is forever growing.
To sort of parlay back into hand tool woodworking, one of the beauties of hand tool woodworking is the fact that you don't need a lot of space to do it and you really don't need a lot of tools.
I speak regularly with timber frame construction workers in Japan who go to work with a pull saw, a couple of planes, and barely a handful of chisels. I know a woodworker in India who creates beautiful small boxes on his patio with about three tools.
Hand tool woodworking doesn't require a huge footprint and while I certainly love having some power tools like a thickness planer and a cabinet saw to make my life easier, those power tools were all made to replace a hand tool at some point.
If you're not scared of being primitive, you can do a lot by stepping into the past a bit.
BESIDES YOUR JOB AND WOODWORKING, HOW DO YOU LIKE TO SPEND YOUR FREE TIME?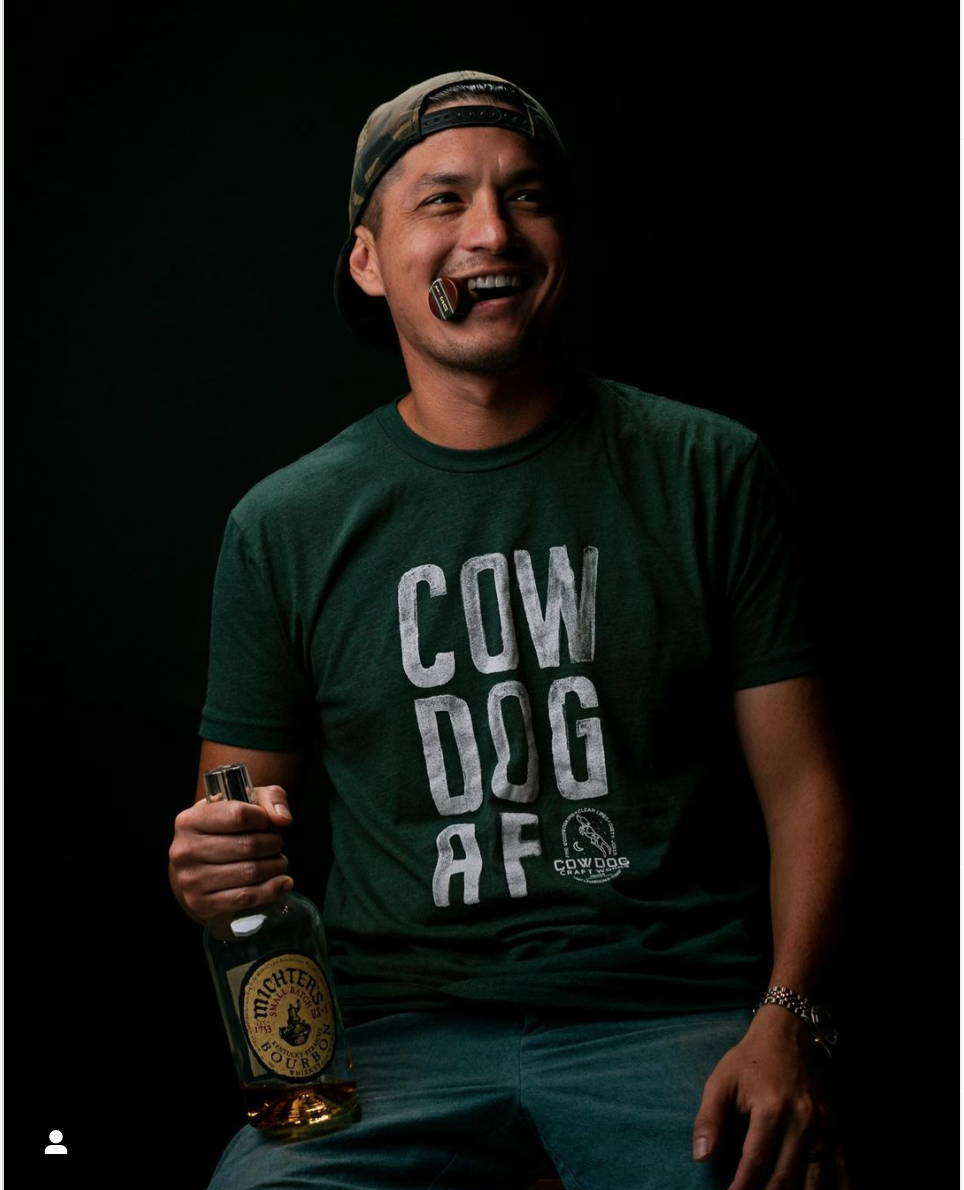 I'm a big bourbon guy so that's a lovely vice that I geek out on often. That really dives back into my obsession with hand-crafted things made with passion and love.
I love playing golf when I can and I'm a huge NBA fan. Let's go Heat!
WHAT'S THE MOST EXCITING THING ABOUT YOUR NEW ROLE AS DIRECTOR OF THE KATZ-MOSES WOODWORKERS WITH DISABILITES FUND?
Oh boy. Where do I even begin?
First and foremost, how can you turn down Jonathan Katz-Moses when he tells you that he wants you to be a part of a team that is going to give back to the people in our woodworking community that need it the most?
But in all seriousness, this craft has given me so much: therapy, cultural identity, satisfaction through creation. I want to ensure that it's accessible to everyone and especially those with physical and mental health conditions that would benefit from all that this craft has to offer.