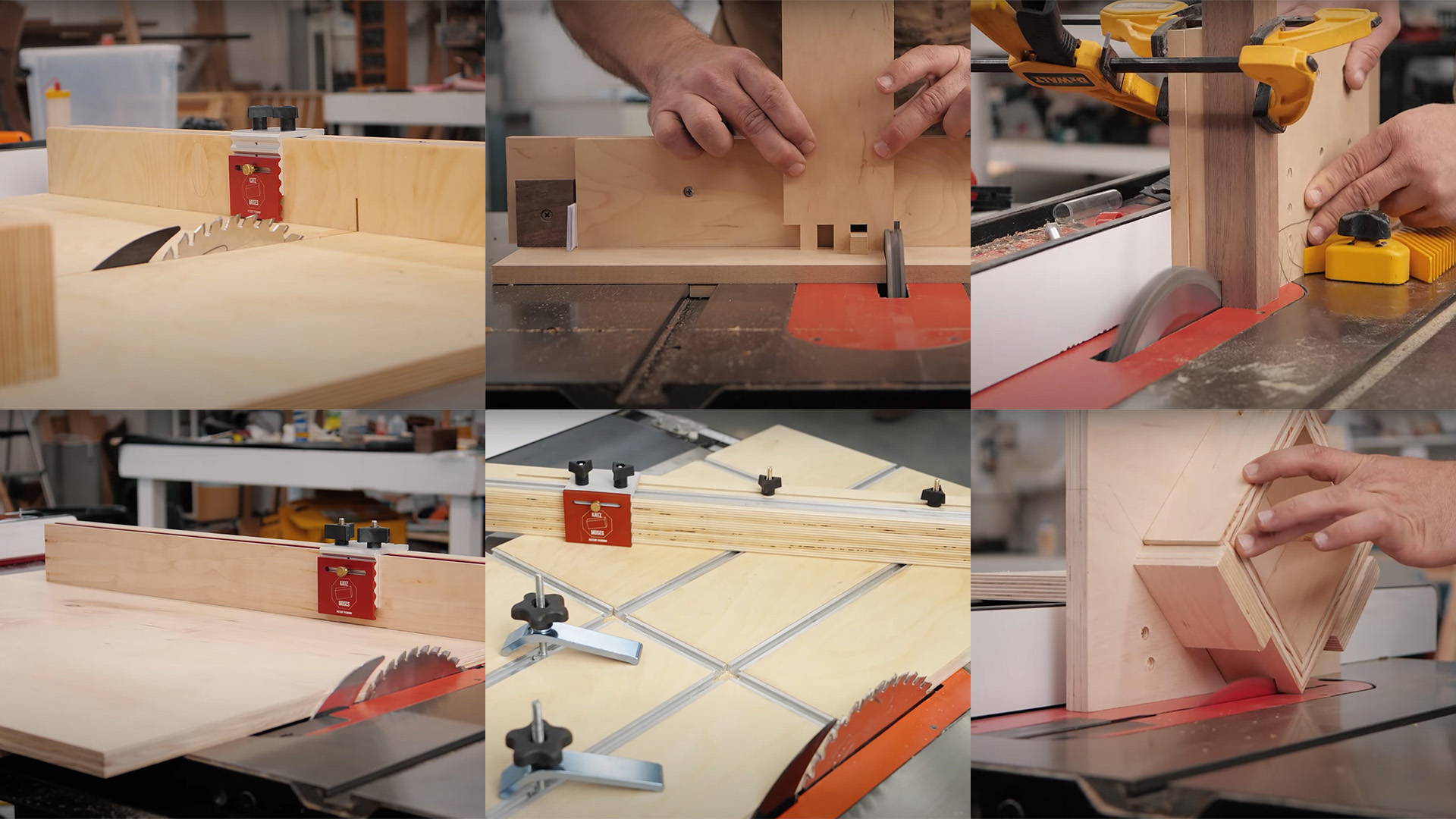 Want to get the most out of your table saw? You need to build some sleds.
Sleds are jigs designed to slide past the table saw blade, either with runners in the miter slots or by riding along the table saw fence.
They make repeatability and accuracy simple — and allow you to safely make cuts that would otherwise be sketch-tastic.
I have a whole collection of table saw sleds I use for everything from rough dimensioning to ultra-precise joinery.
But which ones should you build?
Today, I'm presenting you with my 6 Most Used Table Saw Sleds for joinery and general use.
With these sleds, you'll be equipped to make any standard cut. And you can always adapt them to your needs along the way.
Want to soup up your sleds? Here are some additions I recommend:
---
---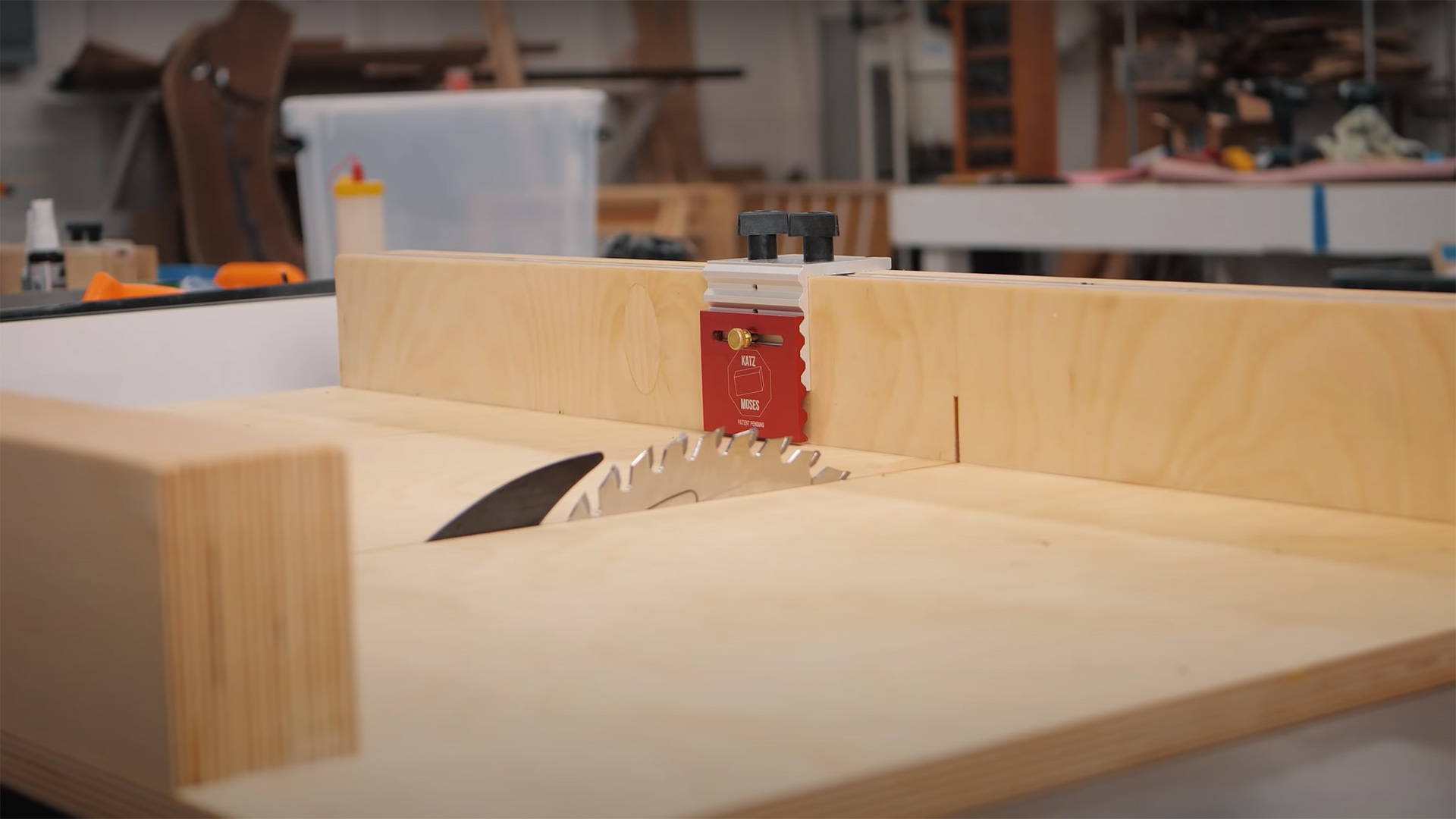 A standard crosscut sled is the first table saw sled you should build.
It's perfect for clean and accurate 90° crosscuts — and with the addition of a stop block, it makes repeatability a cinch.
The sled encompasses the blade on both sides, supporting offcuts and making cleaner cuts. Plus, you can cut from both sides of the blade.
A square fence is critical to good crosscut sleds. For that, we use the 5 Cut Method (don't worry — we have a calculator for that).
---
---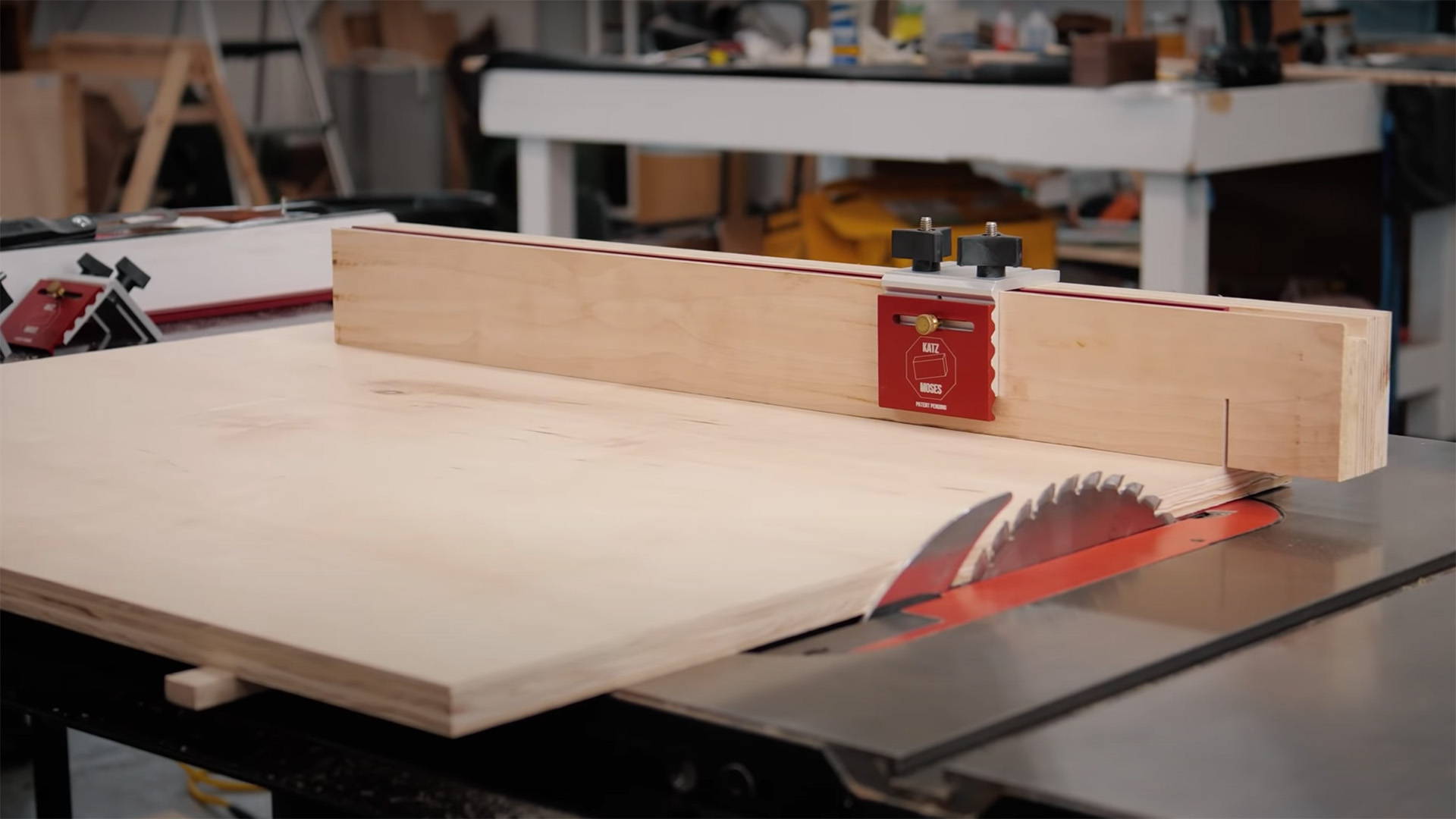 This is a simpler version of the standard crosscut sled and has different use cases.
It has one runner and only sits on the right side of the table saw blade. The side closest to the blade is a zero-clearance edge, making it easy to line up boards for precise cuts.
My favorite use for this sled is when I'm cutting miters (with the blade at 45°) or using a dado stack.
An angled blade or dado blade would chew up a regular two-sided crosscut sled. But because this sled is only on one side, it's no issue.
Having the fence extend past the blade helps reduce tearout and can serve as an indicator of where to line up your boards.
You can even make a dedicated miter sled like this with the zero clearance edge at 45°.
---
---
MULTI-SLED FOR TAPERS AND ANGLES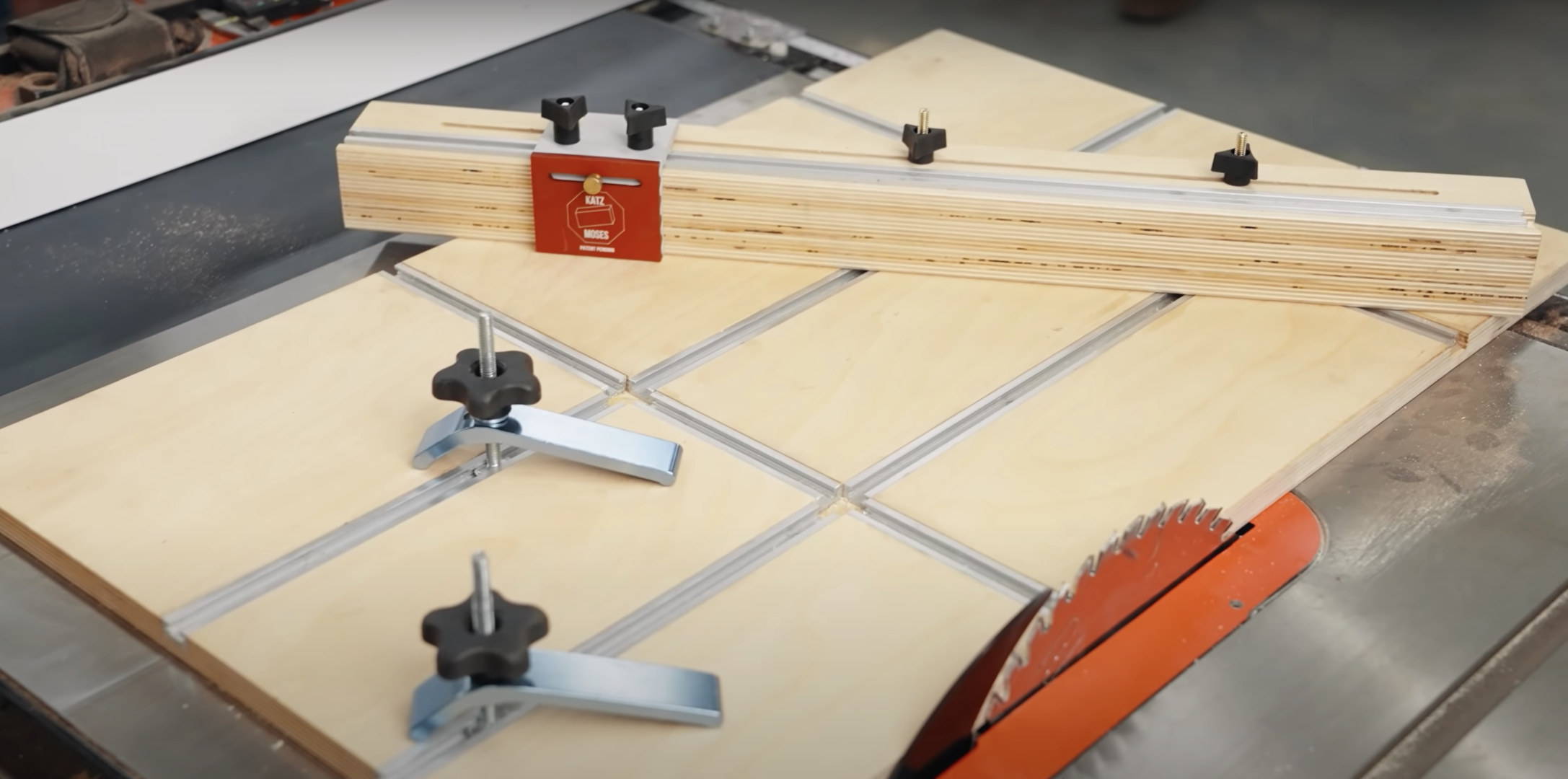 This multi-sled is ultra versatile.
The adjustable fence lets you make repeatable rips and crosscuts of virtually any angle.
You can use it for angled crosscuts, tapers, straight line ripping — even as a 90° crosscut sled in a pinch.
It's a great sled for 45° frame miters, especially when you add in a stop block.
---
---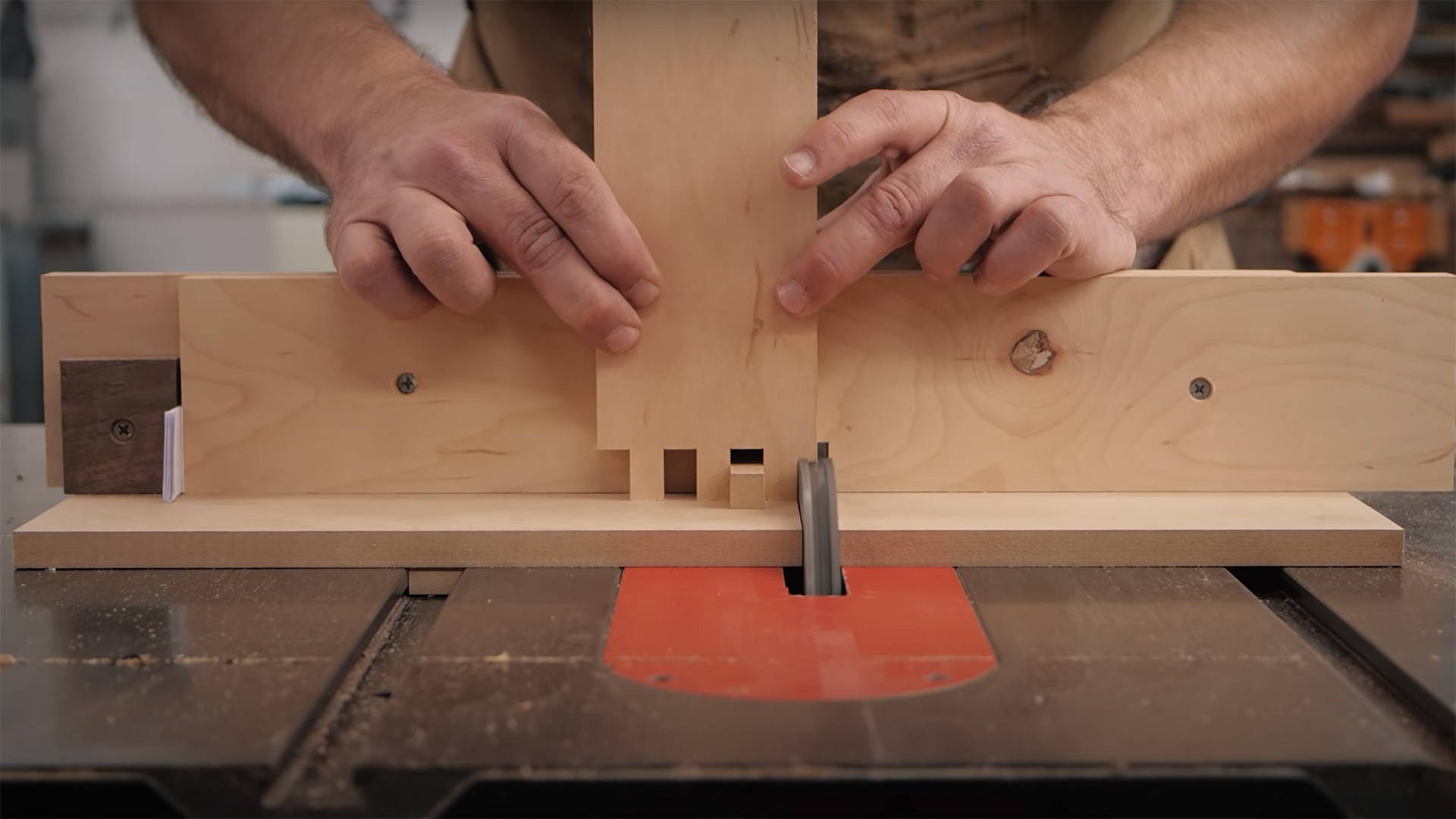 Box joints or finger joints are an excellent joinery option for newer woodworkers.
They're super strong, look great, and as long as your jig's set up correctly, easy to cut.
I built a box joint jig to use with a dado blade on my table saw. But it can be adapted for a regular table saw blade or your router table as well.
This version is micro-adjustable, which is important for getting a tight and accurate fit.
---
---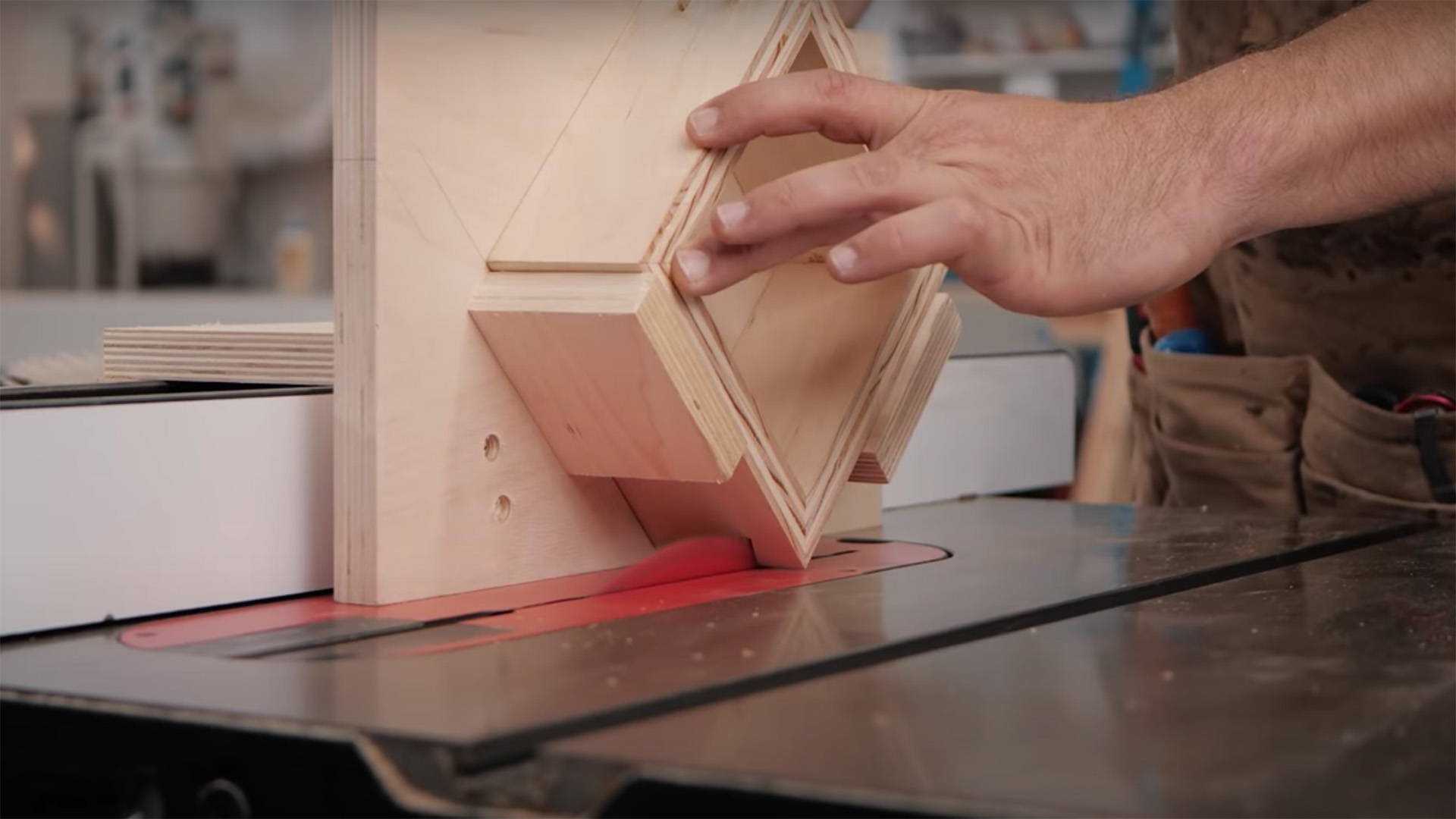 Splines are a great way to add strength and beauty to miter joints.
This sled rides on your table saw's fence and makes cutting splines quick, accurate, and repeatable.
It's awesome when you want two evenly spaced splines. Just set the sled in position for one spline, make the cut, rotate the box, and cut the other side.
The sled can also be used on the router table to cut dovetail keys or thicker splines.
---
---
BRIDLE JOINT / TENONING JIG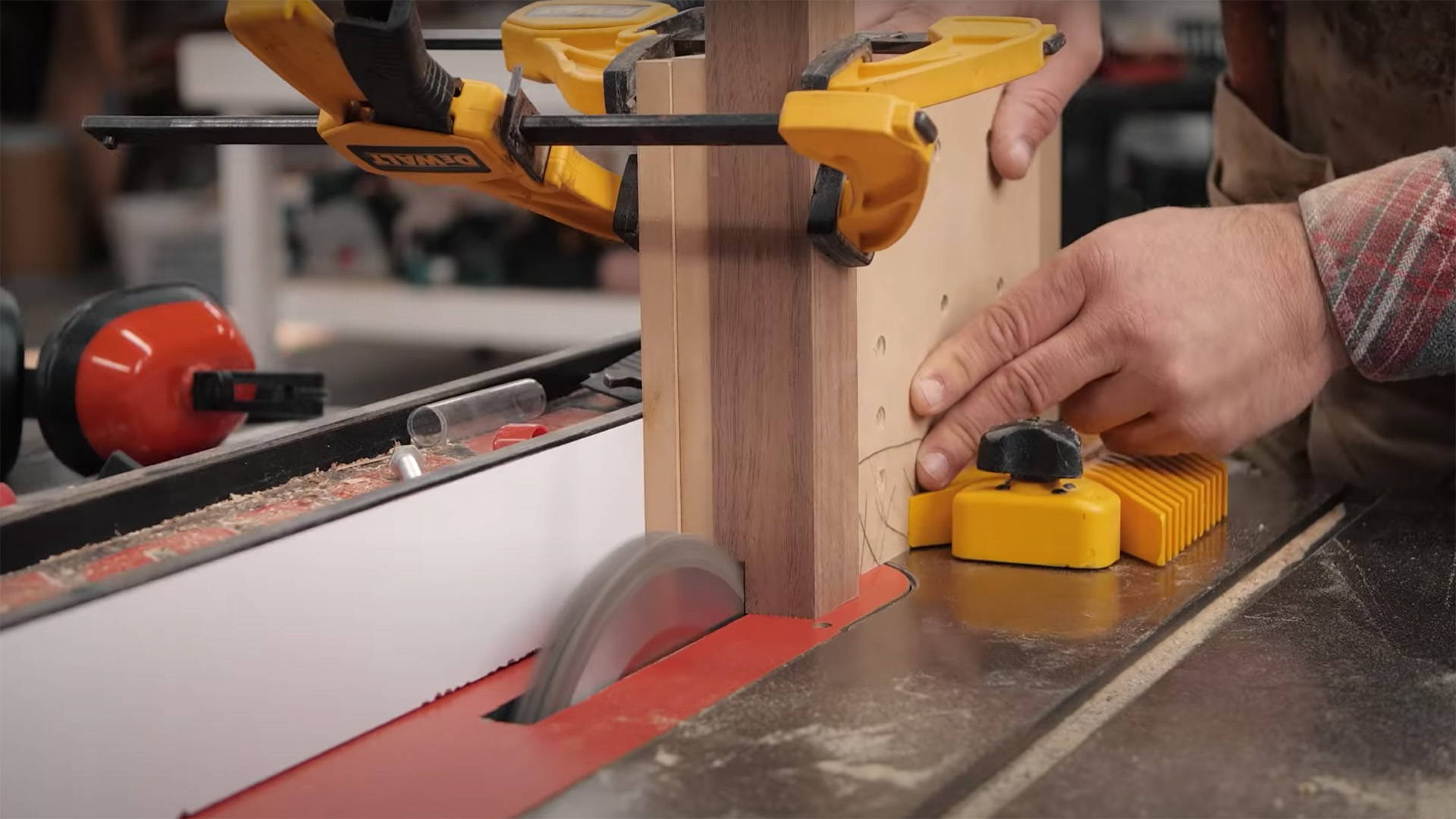 Bridle joint or tenoning sleds hold boards upright in a safe and accurate way.
This would be a tricky cut to make on a standard crosscut sled. The fence isn't usually tall enough to give enough support, and you often end up with your fingers too close to the blade.
The version I made can be micro-adjusted with shims for greater accuracy. But there's a bunch of different versions.
Tamar from 3x3 Custom made a great bridle joint / tenoning jig with an adjustable fence that lets you make angled bridle joints and tenons.
---
---
---
TABLE SAWS ARE BETTER WITH SLEDS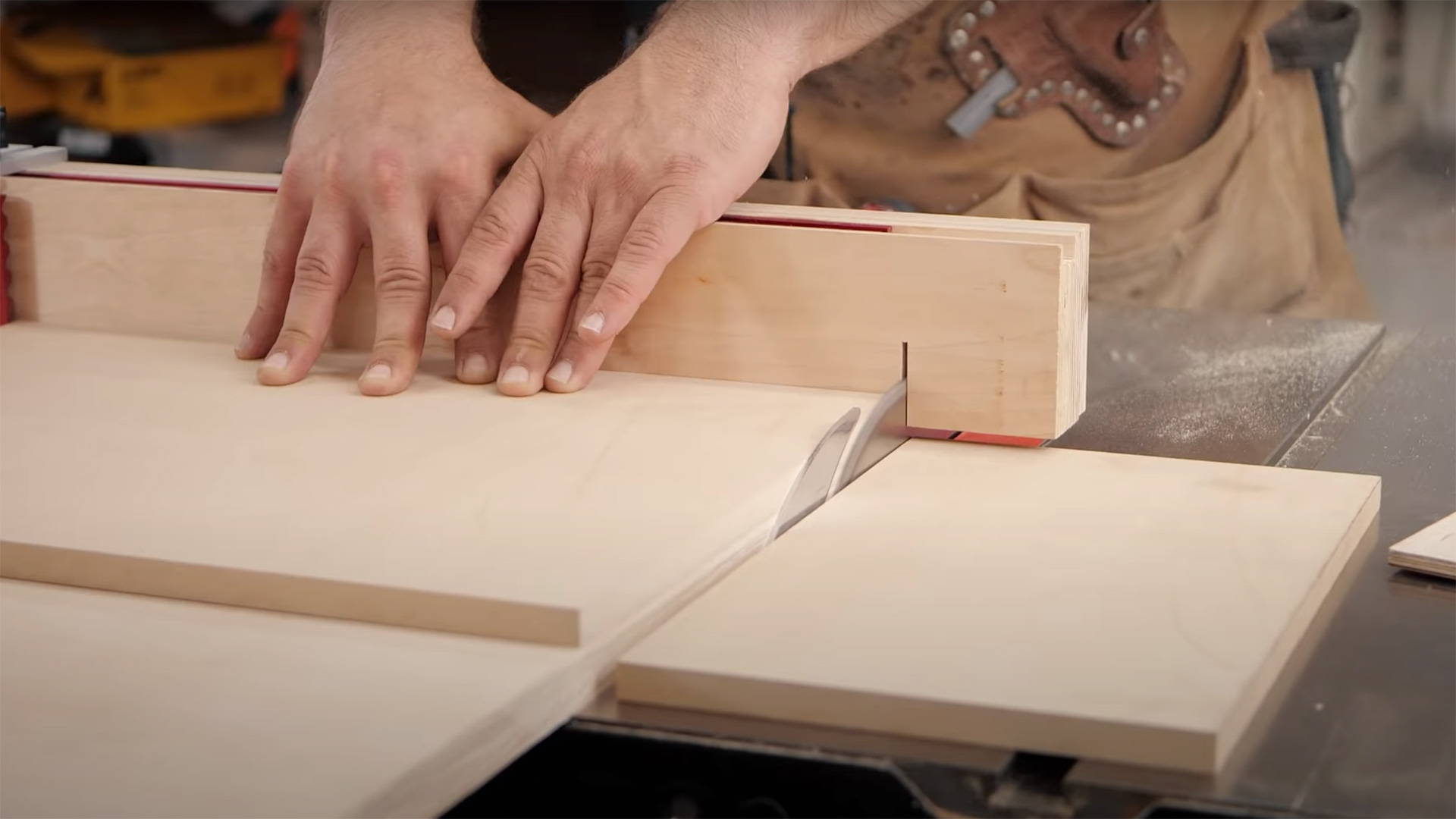 Sleds are a serious game changer for woodworking accuracy and repeatability.
And with the 6 sleds listed above, you'll be able to make almost any type of cut on your table saw.
Of course, there are a WHOLE lot more sled-styles out there — from seat-saddling jigs to table saw "lathes." But we'll leave those for another day.
Looking for more ways to improve your woodworking? Check out these tips and techniques for better accuracy.
---