To get the best results template routing, you need to cut your workpiece as close to the template as possible.
I aim to get within 1/16" of the template — which not only ensures a safer cut, but also leads to less tearout from my flush trim bit.
But it can be nerve racking to cut so close on the bandsaw alone.
The good news is, you don't have to. Because there's a few low-stakes ways to cut super close to your template without being a bandsaw wizard.
1. FLUSH TRIM BANDSAW JIG

This simple jig works sort of like the bearing on a flush trim router bit, except it's on your bandsaw.
By providing a stop for the template, it helps you cut at a consistent depth all the way around your workpiece — with little risk of cutting into the template itself.
The mouth wraps around the bandsaw blade and controls cutting depth. Set it so the tip extends 1/16" past the blade, and you'll get a consistent 1/16" proud cut all the way around your templated (here's a video of how it works).
I like to add spacers underneath to raise the top piece. This lets me cut with the template facing up so I can see what curves lay ahead.
You can build one of these jigs yourself, but we also have a CNC-cut flush trim bandsaw jig available in our store. It comes with 5 pieces to work as spacers and all the necessary hardware.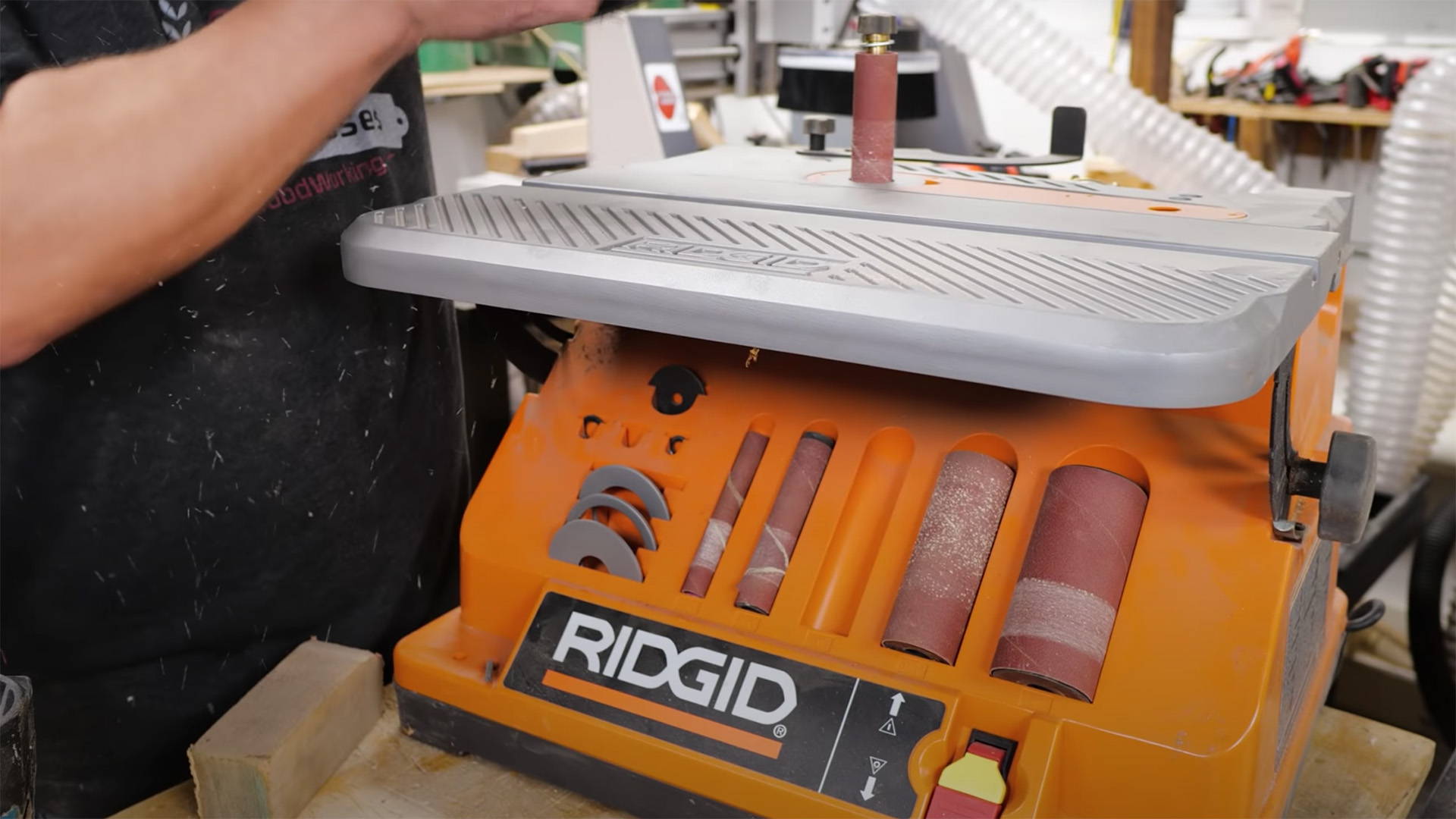 The second way to get closer to your template works equally well with a bandsaw or jigsaw.
Start by cutting off the excess material all the way around the template. Get as close as you feel comfortable with, but don't worry about getting 1/16" away.
After you've cut off the bulk of the waste, take your workpiece to a stationary belt or spindle sander.
With the template facing up, sand the workpiece on all sides until you're within 1/16" of the template all the way around.
It's dusty — but with a careful hand, you can get your workpiece super close to the template. From there, just take it to the router table and finish it off with a flush trim bit.
3. BLOCK PLANE OR SPOKESHAVE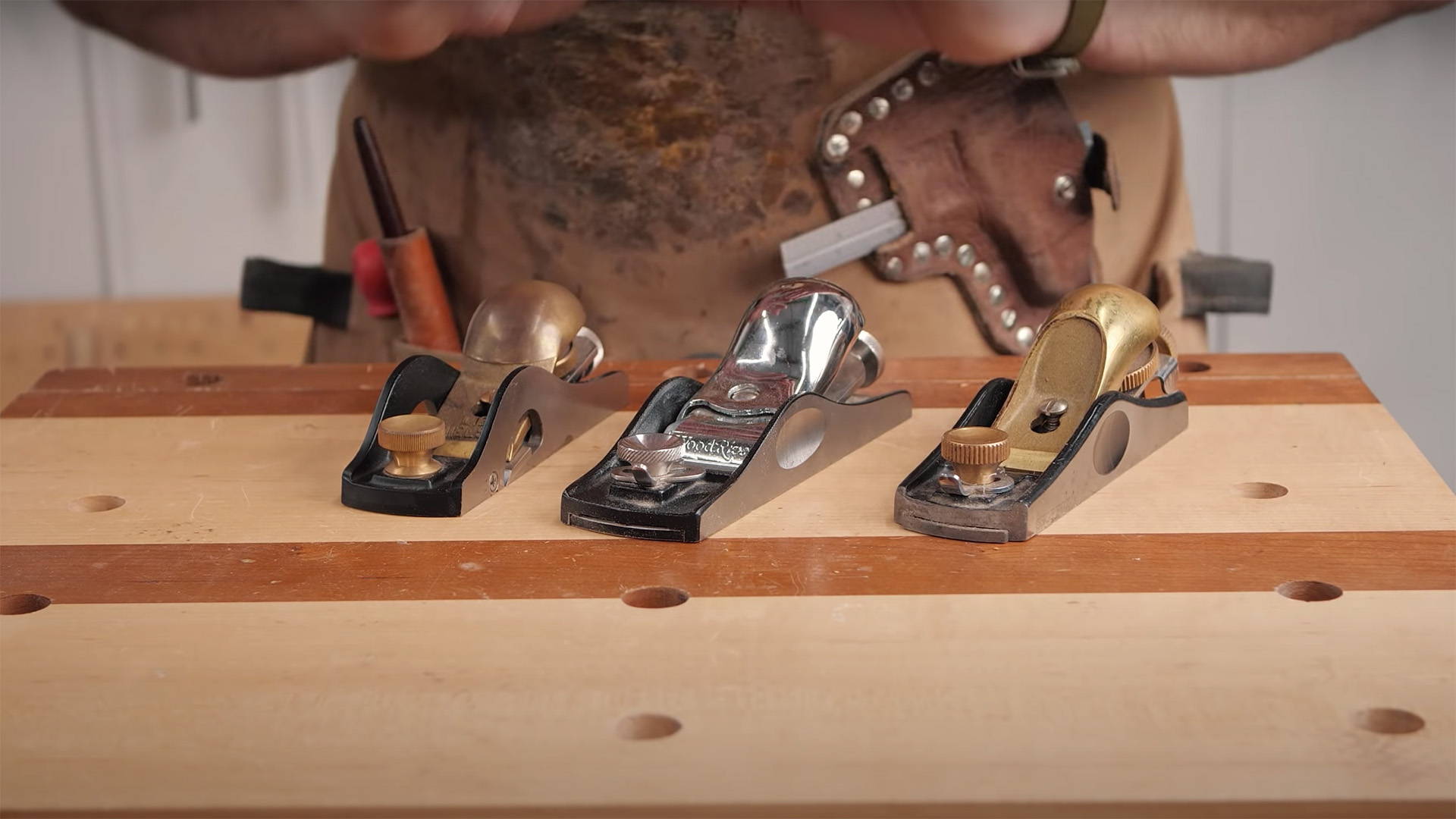 Want to make as little sawdust as possible? Then you'll love this method for cutting boards close to your template.
Rough out the shape with a bandsaw or jigsaw. The closer you get, the less work in the next step.
From there, it's time to grab your hand tools. Specifically a block plane and spokeshave.
Lock the workpiece with the template still attached in a vise and start shaving away material. For straight edges, I like to use my block plane. It can even work for convex curves.
If you have sharp concave curves, a spokeshave is the tool for the job (maybe even a chisel if you have really tight radius curves).
With this method, you'll need to be mindful of two things: grain direction and edge squareness.
Do your best to cut with the grain on all edges. This will involve a bit of moving around. On curved edges, the rule of thumb is usually to cut "downhill."
And unless you're a master at holding your hand tools at exact angles, periodically check with a square to make sure you're not undercutting the workpiece on the opposite side from the template.
Once you're within 1/16" of the template and all sides, you're ready for the flush trim bit.