When it's time to inlay hinges, you're at the finish line of your project. Translation? The stakes are high.
What makes it tricker is that inlaying metal hardware requires exact cutting depths. You can't sand or hand plane hinges flush after the fact.
Luckily, the plunge-base router trick I'm sharing here today is a game-changer.
It's a shortcut for dialing in precise cutting depths — with no measuring — so you can easily achieve flawless hinge inlays.
Let's plunge right in.
UNDERSTANDING THE PLUNGE-BASE DEPTH STOP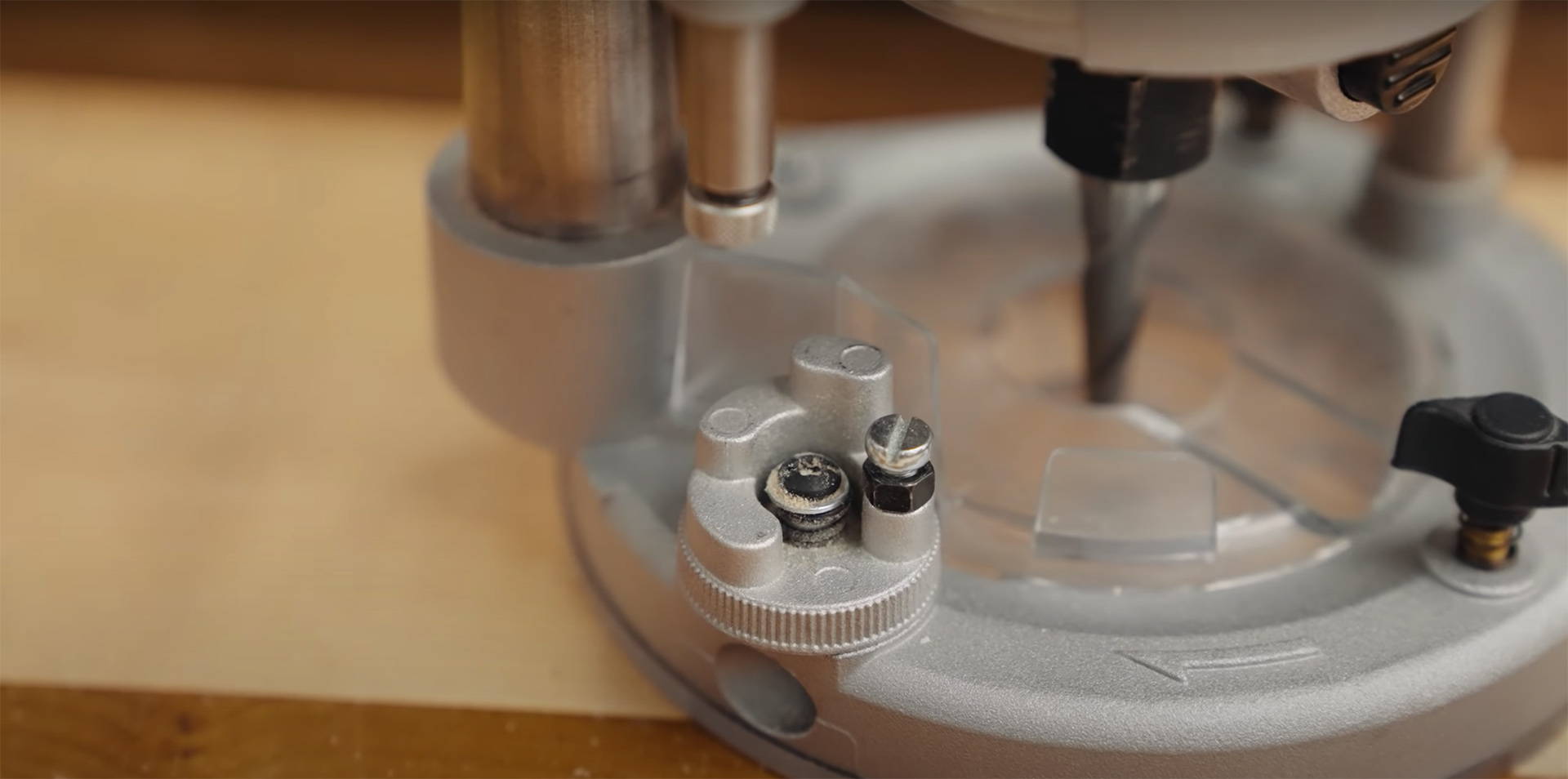 This trick takes advantage of the coolest feature on plunge-base routers — the depth-stop mechanism.
It's made up of two basic components:
Depth Rod: The rod on the side that can be locked down at different positions. It's like a stiff-arm that stops your router bit from plunging any further.


Rotating Turret: This rotating "spiral staircase" can be adjusted to let the depth rod move deeper.
When you're inlaying hardware like hinges, you want a fit as seamless as a key sliding into a lock.
And the depth rod and turret can do that precise work for you. Here's how.
SETTING UP YOUR PLUNGE-BASE ROUTER FOR PERFECT INLAY DEPTHS

With this straightforward trick, achieving precise inlay depths is a breeze — with no need for measuring.
Here's how it works.
1. CHOOSE THE RIGHT ROUTER BIT

For inlays, a downcut spiral bit is your go-to. Why? It's all about the finish.
This bit leaves the top edges of your cuts clean, smooth, and tearout-free (especially important if you're using a mortise template).
2. ZERO-OUT THE ROUTER BIT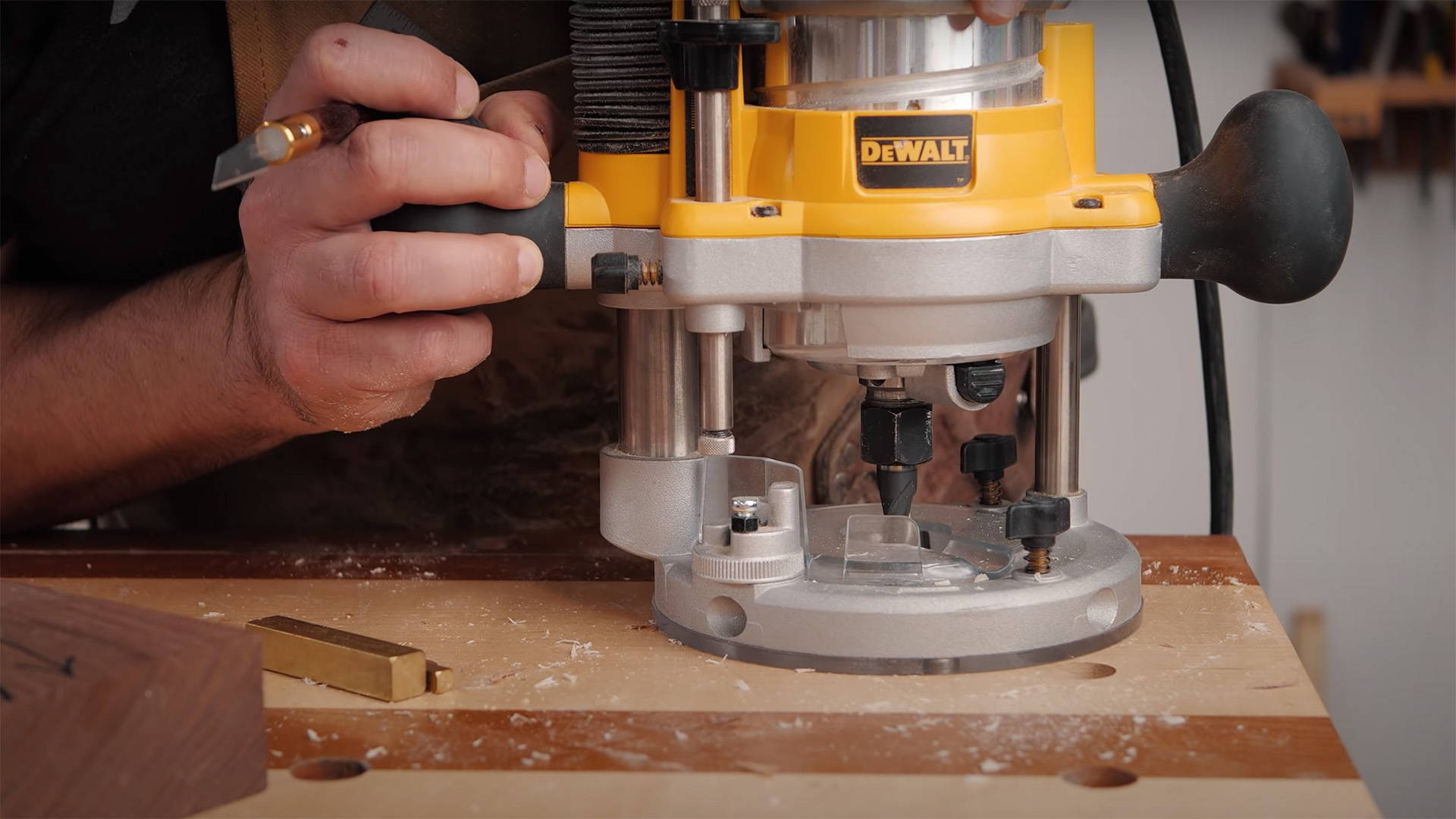 Set your router on a known flat surface and plunge that router bit all the way down until it touches the surface beneath.
This makes it flush with the bottom of the router base — "zeroing it out" for the next step.
Side not: If you're using a template, place it under the router base while you lower the bit to the flat surface below. That way it's accounted for in your cutting depth.
3. SET UP THE DEPTH ROD AND TURRET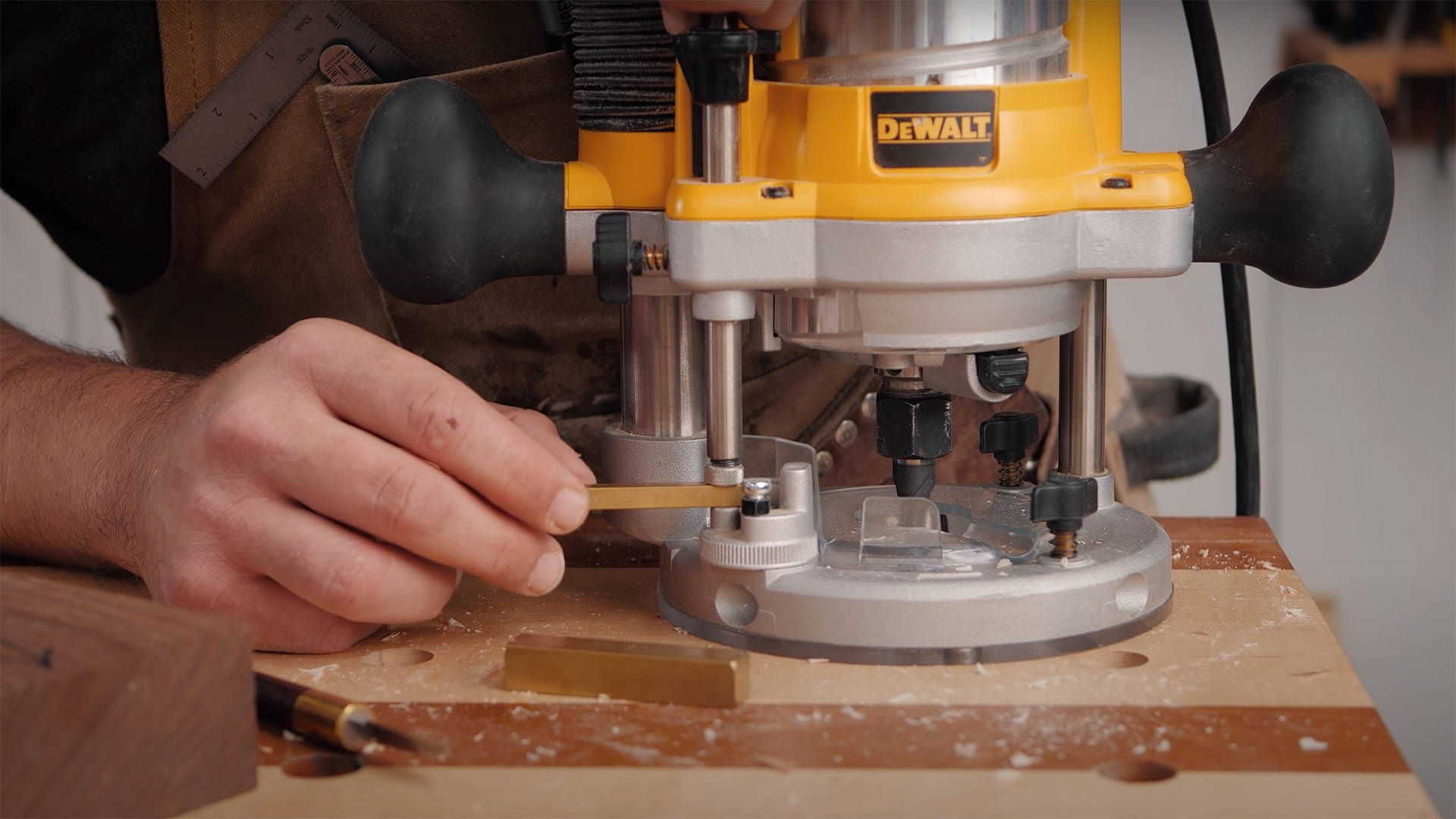 This is where the magic happens.
Set the rotating turret so the highest step is beneath the depth rod. Set one side of your hinge on top of the turret, then drop the depth rod until the hinge is sandwiched between. Now lock down the depth rod.
When you plunge the router, the cutting depth will exactly match the thickness of the hinge. Pretty sweet, right?
Here's a few other tips for fine-tuning those hinge mortises.
OTHER TIPS FOR HINGE MORTISES

You've set the stage for perfect inlay depths. Now, let's dive into some additional tips for a perfect fit.
1. TRACE WITH A MARKING KNIFE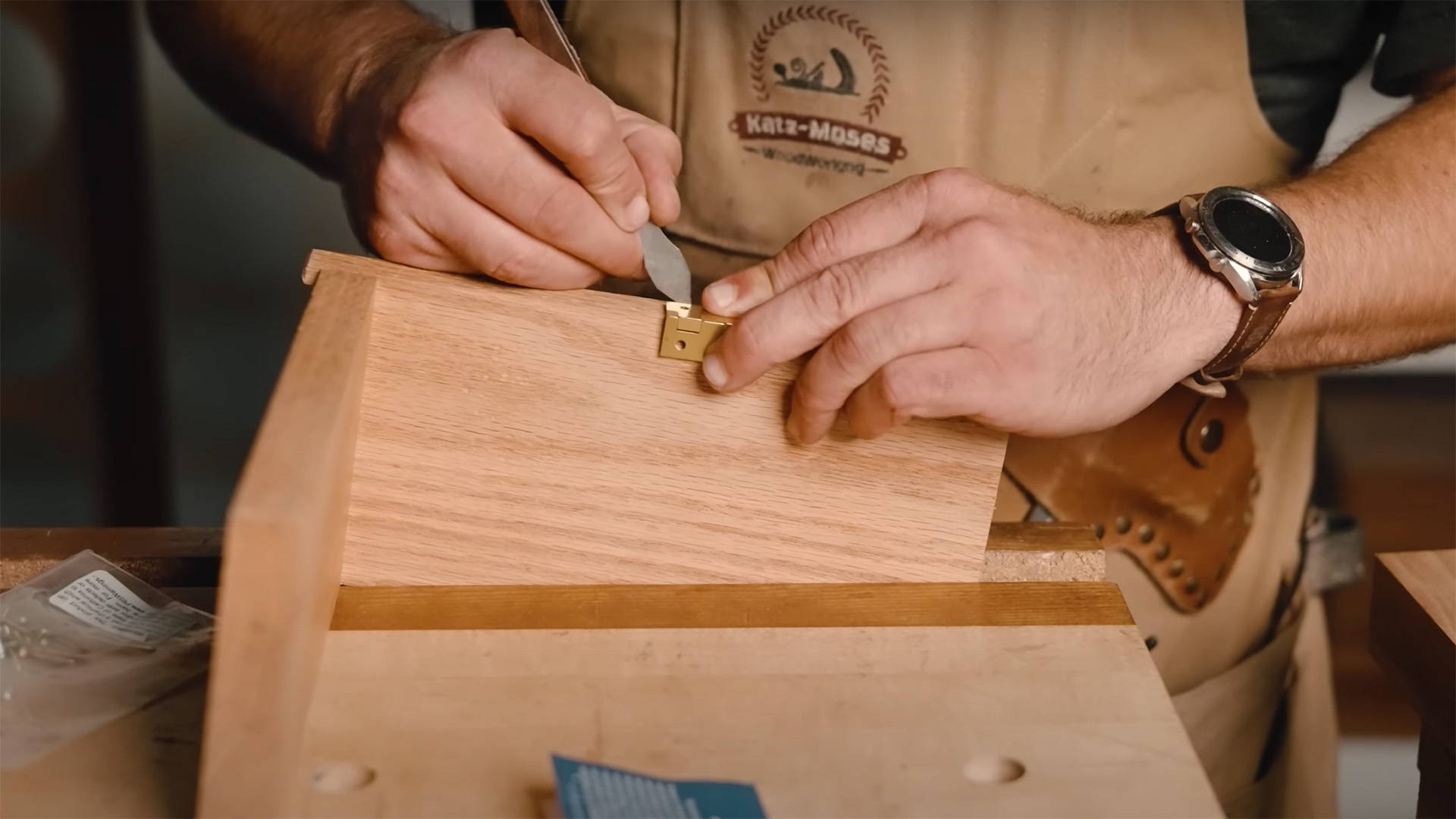 Use a marking knife to trace the outline of your hinge onto the wood.
This leaves no room for guesswork when finishing off the edges with a chisel — and helps prevent any tearout from going past the edges of your mortise.
2. FINISH THE WALLS WITH A CHISEL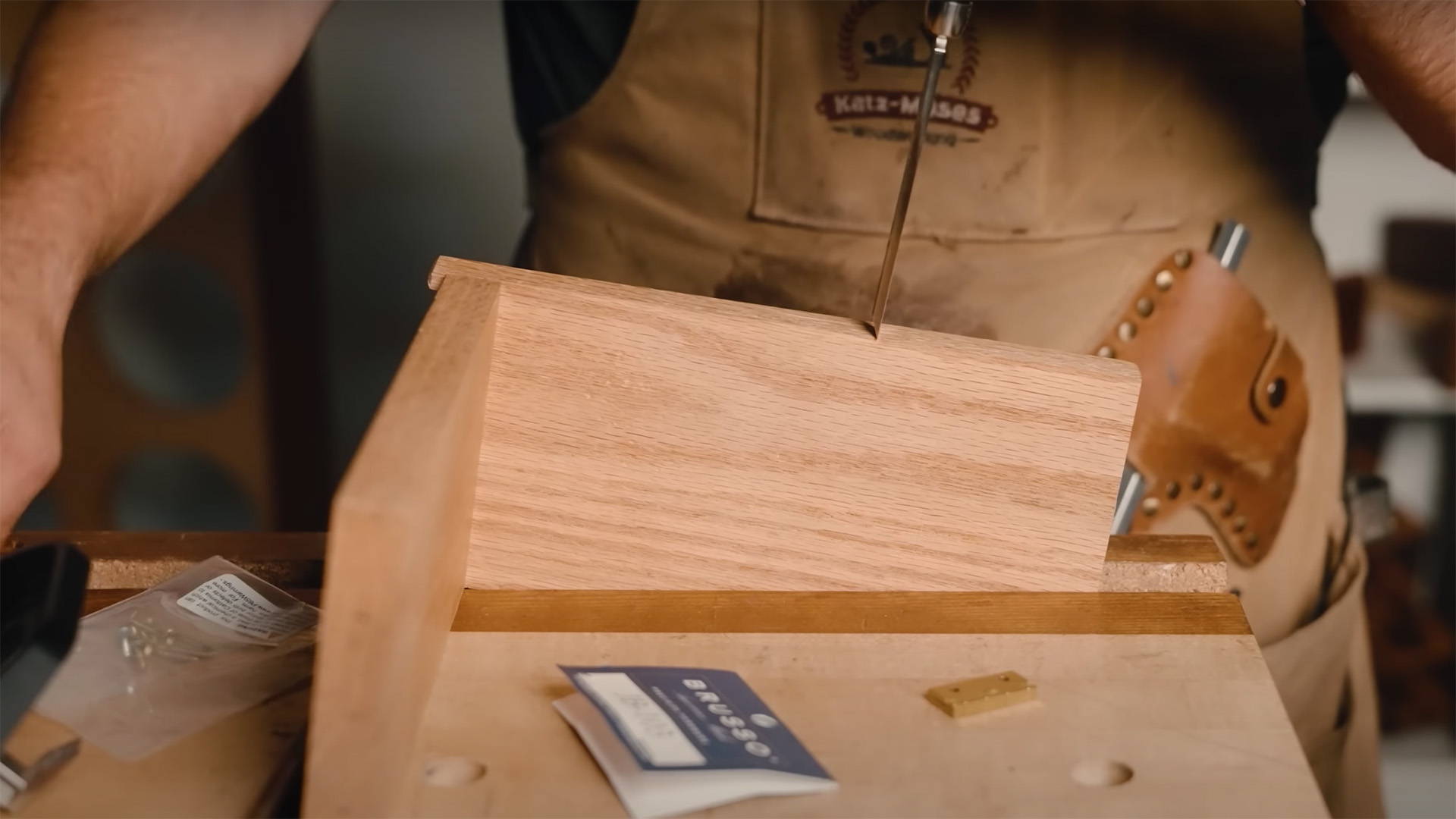 After you've cleared the majority of the mortise with your router, finish off the rectangular edges with the widest chisel that works.
Slowing things down with hand tools at this stage prevents any mishaps — and lets you tip-toe into a perfect fit.
With this plunge-base trick, you've unlocked a game-changing technique for dialing in perfect hinge mortises.
Now take it to the shop and watch your projects reach a new level of precision.
Want more tips for your electric router? Read this.
What other tips do you have for perfect hinge mortises? Let us know in the comments below!
Follow us on Instagram @katzmosestools, on TikTok @katzmoseswoodworking, and check out my YouTube channel for more great woodworking content...
And as always, STAY SAFE IN THE SHOP!