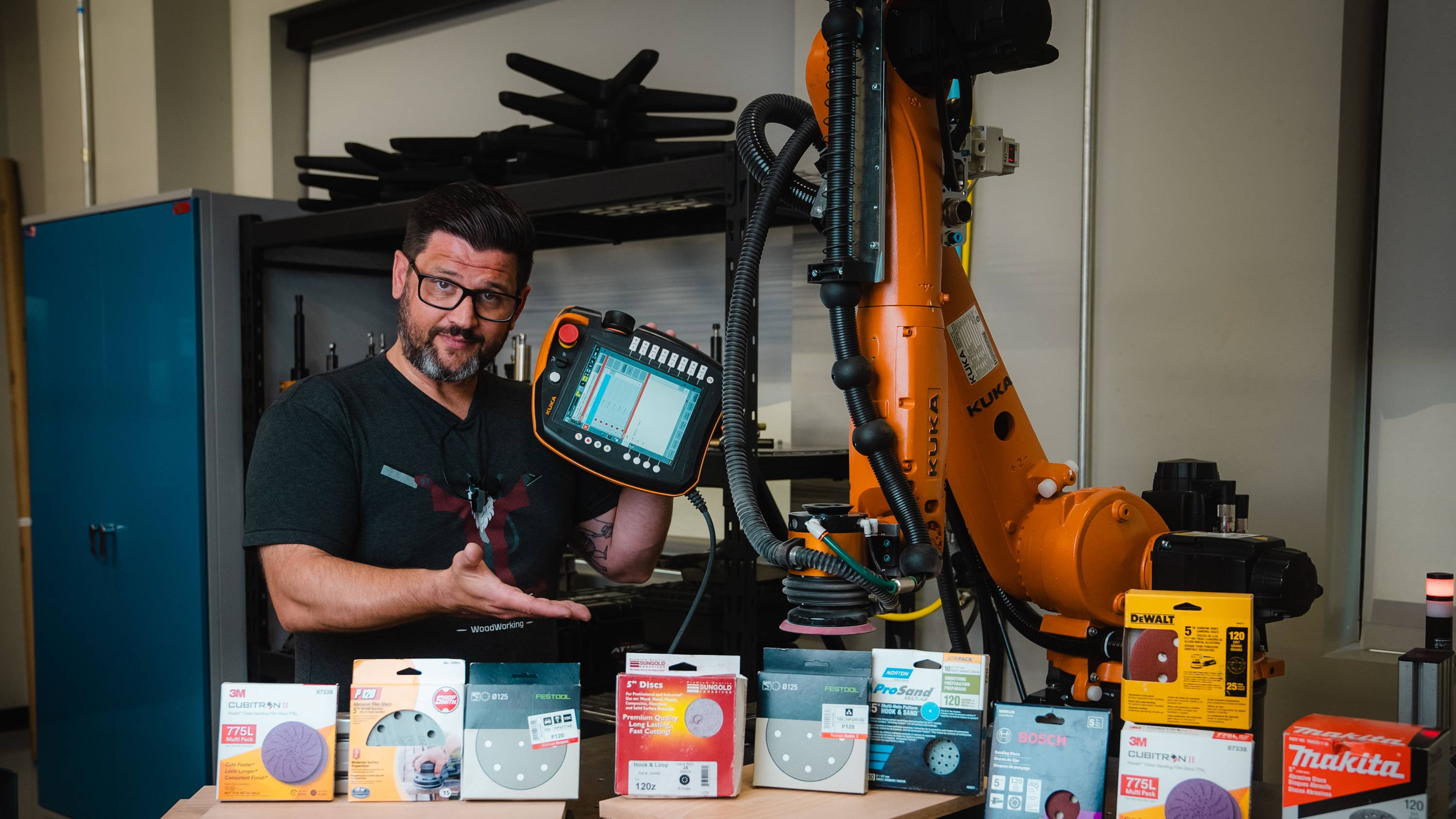 Sanding is an inescapable part of the woodworking process and just like any other craft, working with good tools makes all the difference! A good sandpaper is tough, durable, and effective. It'll remove a ton of material while leaving a consistent and minimal scratch pattern so you can enjoy that beautifully smooth and even surface on your wood projects.

There's an ocean of products to choose from so I've spent four days testing 19 papers with a special robot arm to help you navigate this ocean!
Discover my top 3 picks for performance and durability in 2021 below.
WHAT'S NEW IN THE INDUSTRY?
In the past few years, there's been a lot of innovation in the sandpaper industry. For example, Mirka Ltd. no longer holds a patent on the mesh disc, allowing other companies to experiment with this design. Mesh abrasives can cut faster and longer than traditional sandpapers by preventing crud buildup on the cutting surface.
Some developers have also begun to change the formula and alumina zirconia (ceramic) has become an interesting choice for the woodworker. Though better known as an abrasive for metalworking, some manufacturers create ceramic or ceramic blends for woodworking. This is because ceramic grains break evenly while constantly exposing fresh cutting edges.
Because sandpaper is consumable, the only true test of value is durability. How long can you use it? How much cutting can it do? Those are the essential questions that you need to ask before investing your money in a product. In the long run, a cheap sandpaper that won't last for very long will be more costly to use than an expensive abrasive that continues to work well over an extensive period.
To determine the durability and performance of different sandpapers, I conducted a friability test. The term 'friability' refers to the breakdown of an abrasive when heat or pressure is applied. The amount of breakdown determines the friability rate. Highly friable sandpapers break down easily, constantly creating new, sharp surfaces, while a low friability abrasive more quickly becomes dull or round.
To ensure that I achieved precise and accurate test results, I enlisted the help of industrial robots from my friends over at ATI Industrial Automation. These orbital robotic sanders could deliver the same amount of pressure throughout the whole testing period of four days! Every sandpaper tested was a five-inch disc with a 120 grit to which I applied 10.78 pounds of force through robotic pressure. I tested every abrasive for five 5-minute intervals, weighing the boards after every interval to determine the number of grams removed.
I tested the sanding capacity of every disc on red oak, which measures a 1290 ft-lb (pound-force) on the Janka scale: a hardness test that determines the resistance of different woods to denting and wear.
To determine a winner, I looked for a combination of affordability and cutting capacity. To calculate this, I divided the cost of the individual discs by the total grams of wood removed.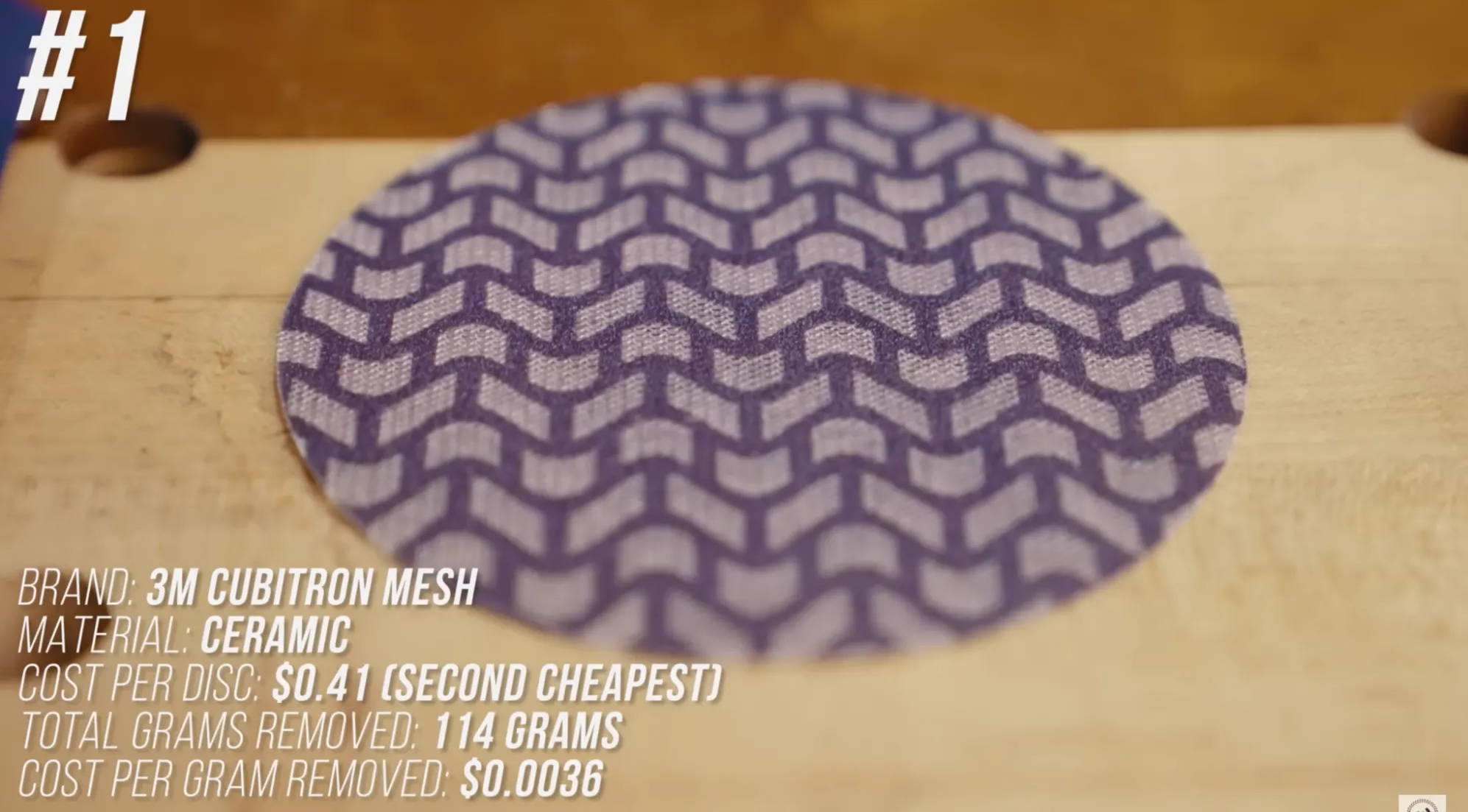 This 3M Cubitron Mesh abrasive utilizes a mesh pattern that prevents buildup and allows for a cooler sanding process. Combined with the consistent breakage of ceramic grains, this design offers the best of two worlds! The 3M Cubitron Mesh sandpaper removed over 40 grams more material than the runner-up! It was also the second cheapest abrasive among all the brands tested.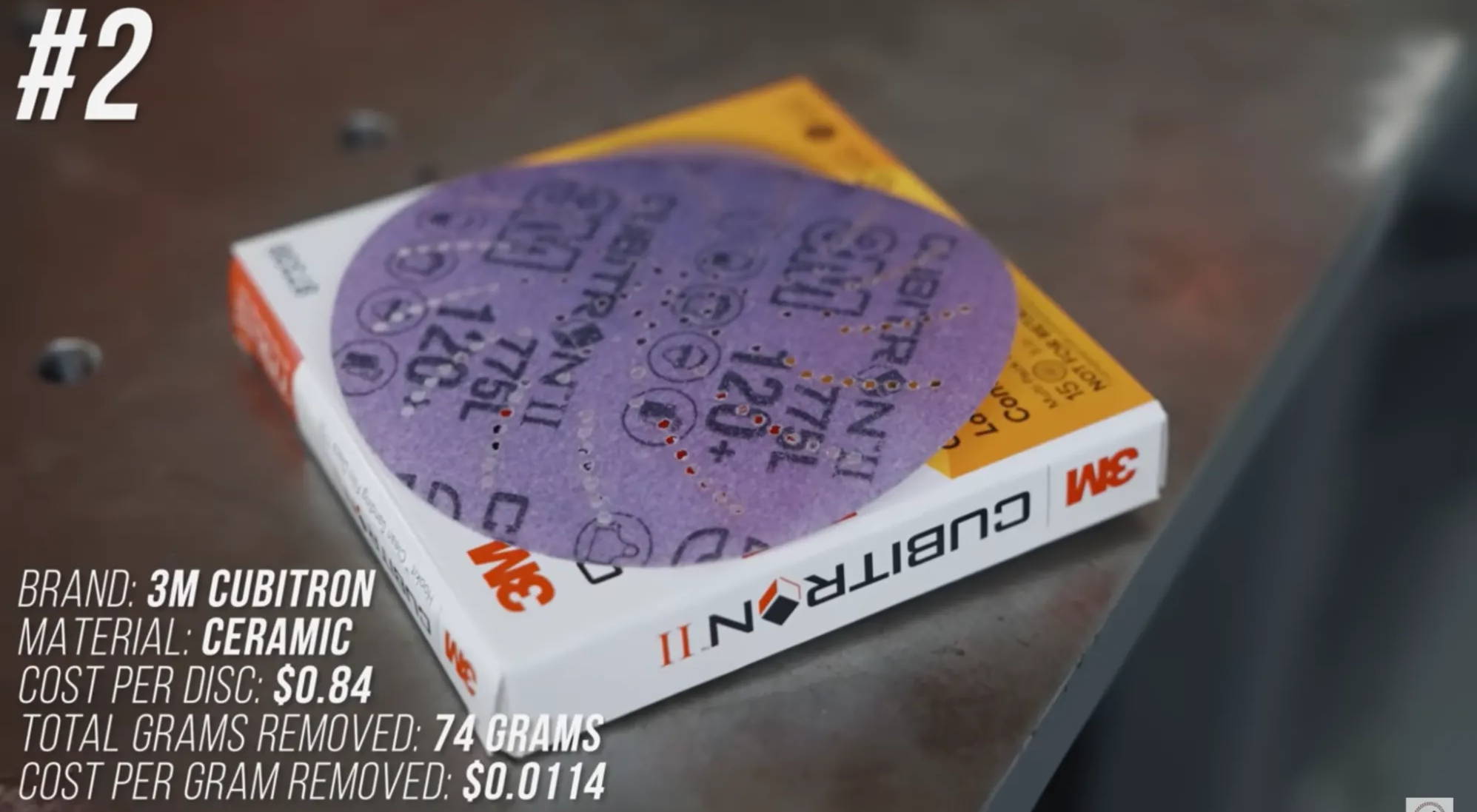 Slightly more expensive but utilizing a more durable film backing, the regular 3M Cubitron still gets the job done. The Norton Mesh Power abrasive achieved almost the same result as the regular 3M Cubitron in grams removed (76 vs. 74). The Norton abrasive also contains a ceramic formula, but because it's on the pricier side ($1.70 per disc), it fell way down in the ranking to spot no #10.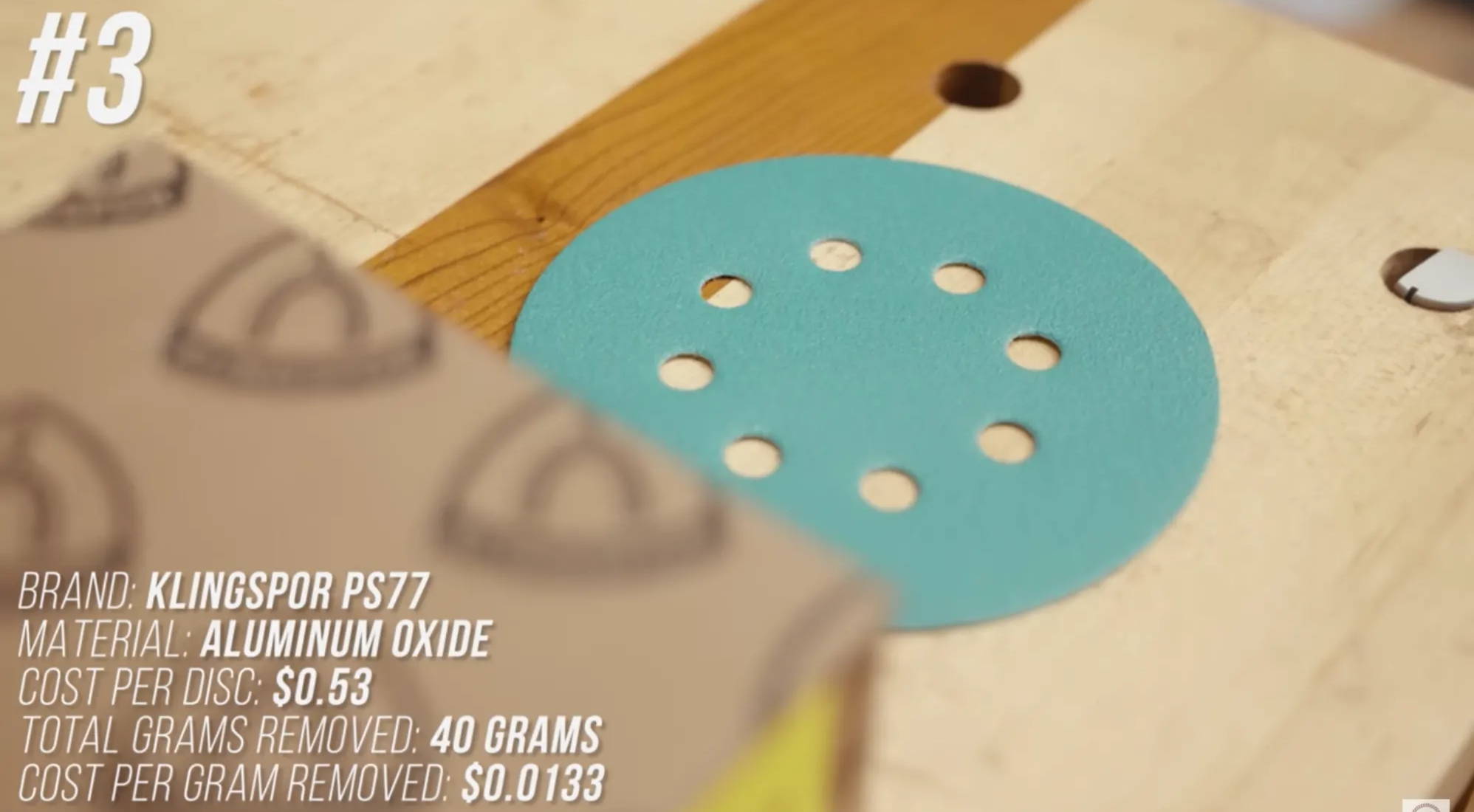 Klingspor made it into the top 3 because of its low price. However, the overall performance of this sandpaper in terms of grams removed landed on the average number of 40. The material, aluminum oxide, is the traditional formula used for industrial sanders and it'll get the job done just fine. However, if you want to speed up your tedious sanding sessions, 3M Cubitron is the way to go.  
What do you think of our results? So you agree with our rankings? Disagree?
Let us know in the comments below!
I'd love to hear what's worked for you.
We're here for you. If you have any questions or need customer service, you can email us at support@kmtools.com.
As always, STAY SAFE IN THE SHOP!