Crisp, clean, hand cut dovetails:
This is what I consider the litmus test for woodworkers moving beyond the beginner stage.
There's a ton of different dovetail joint styles, but the through dovetail is the basis of them all.
If you want to level up your woodworking skills, learning to cut through dovetails by hand is a must.
To help you out, I've put together this comprehensive 10 Step Guide on how to do just that.
Looking for high quality dovetail tools? Check out our collection of shop-tested tools I use to cut my own dovetails!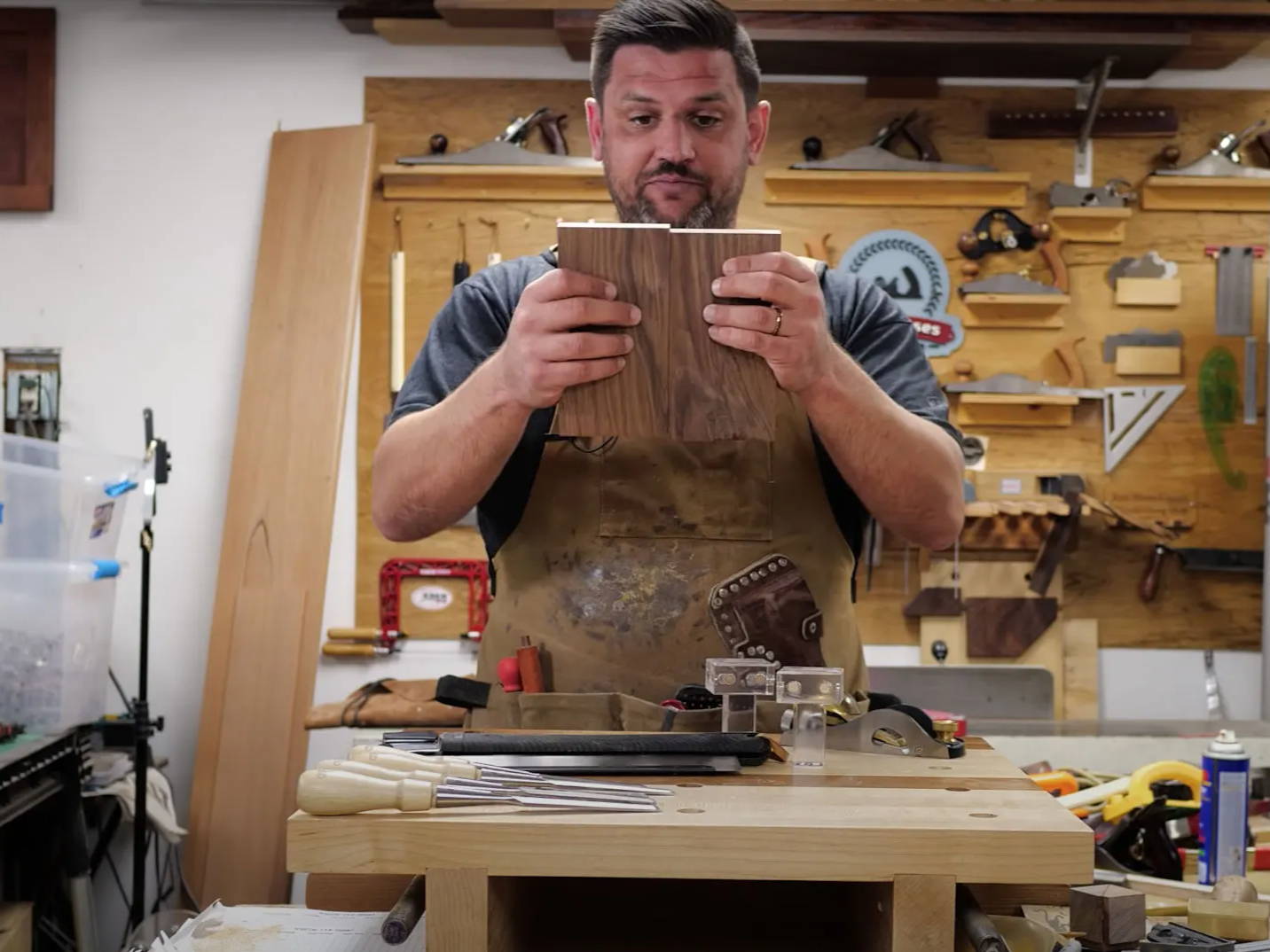 1. MAKE SURE YOUR LUMBER IS SQUARE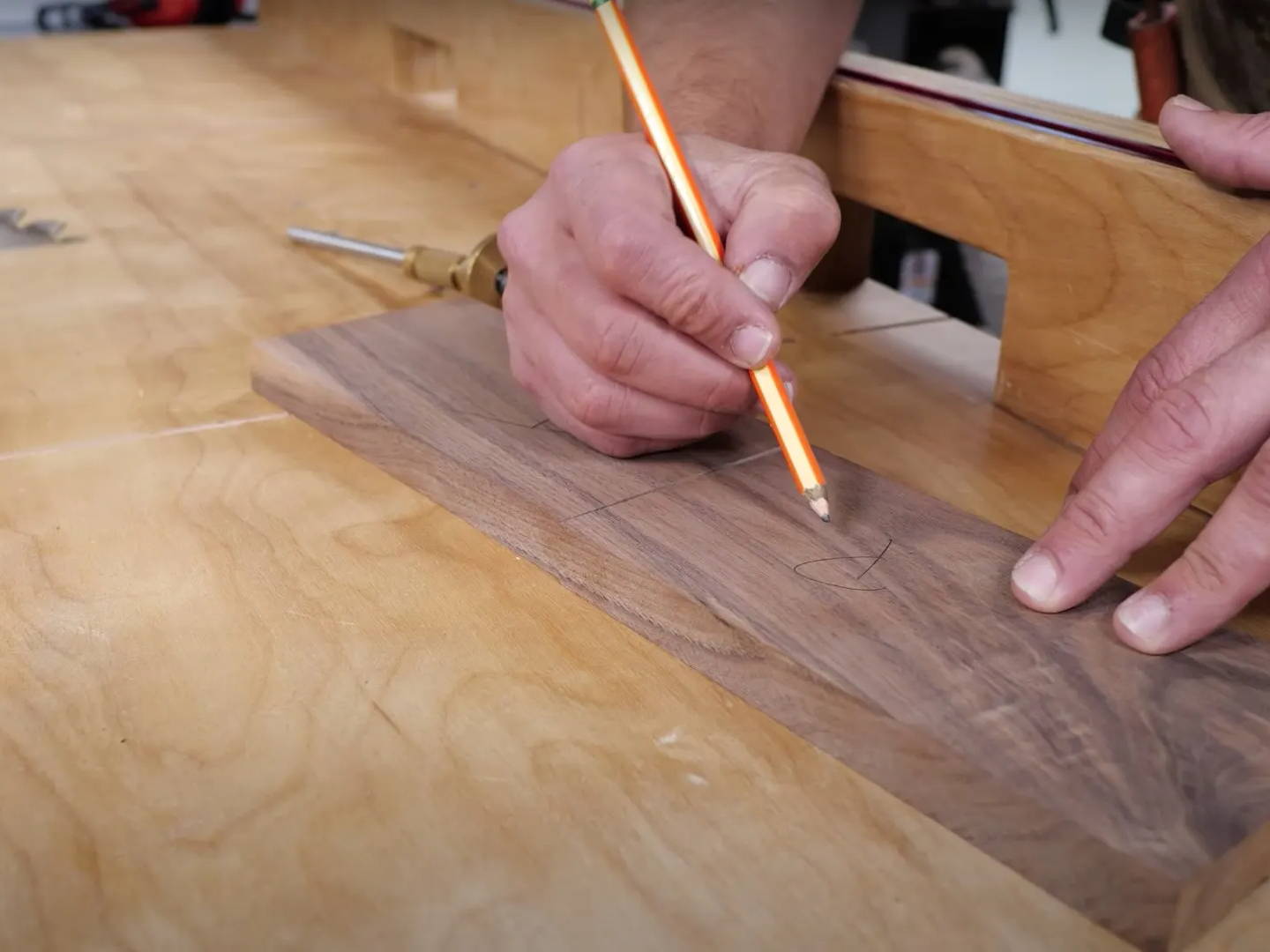 2. DECIDE ON DESIGN AND
LABEL YOUR BOARDS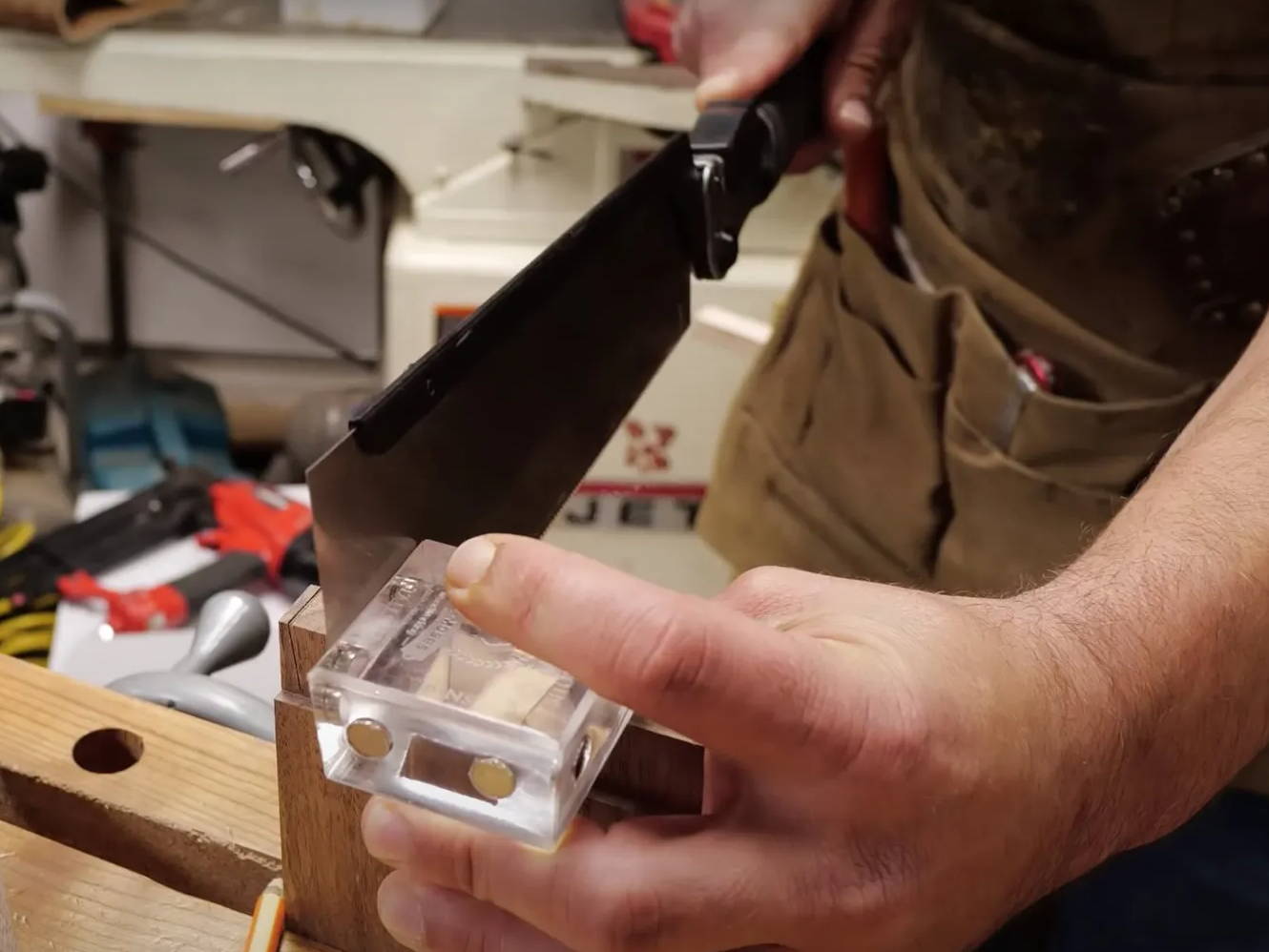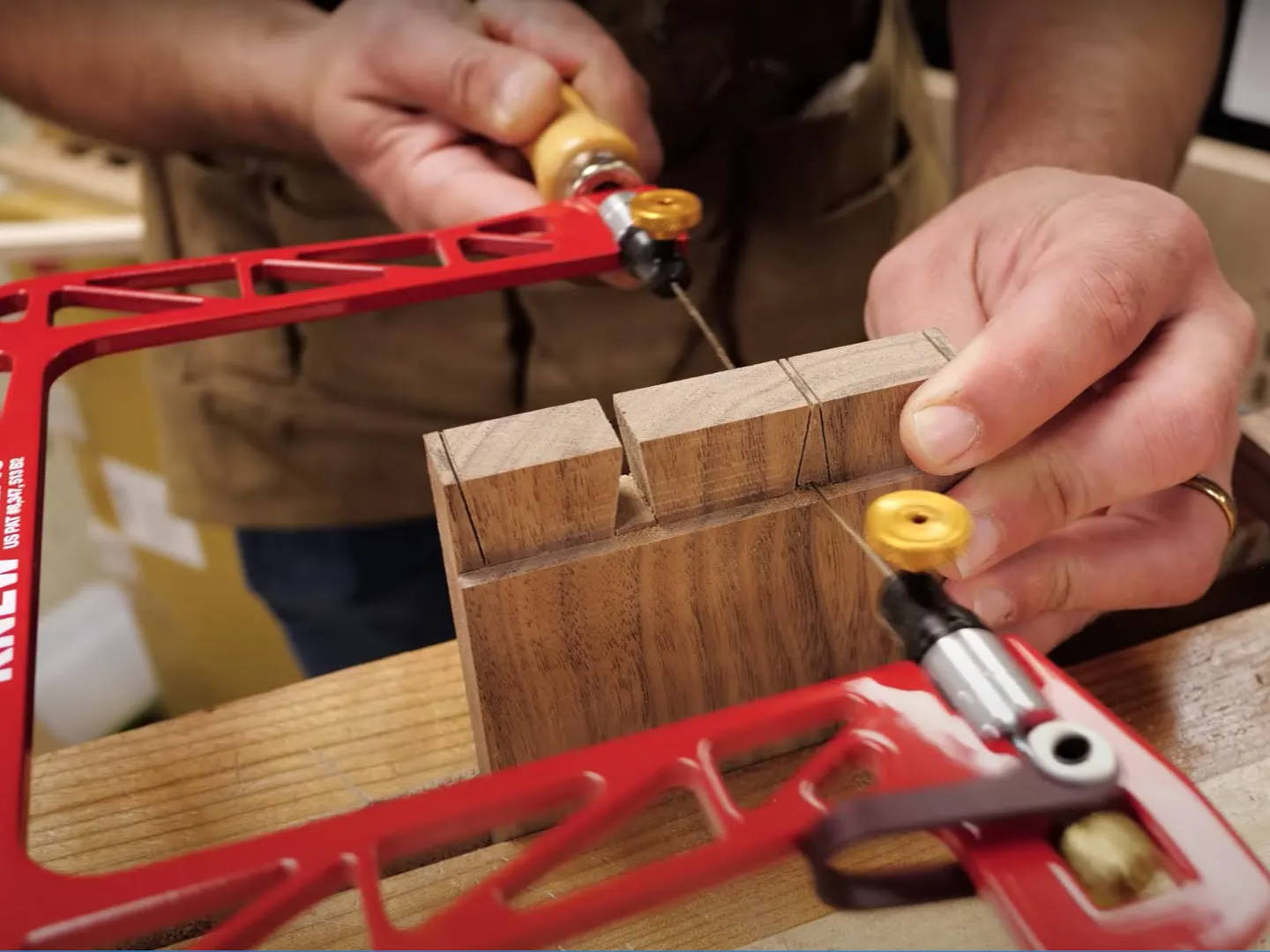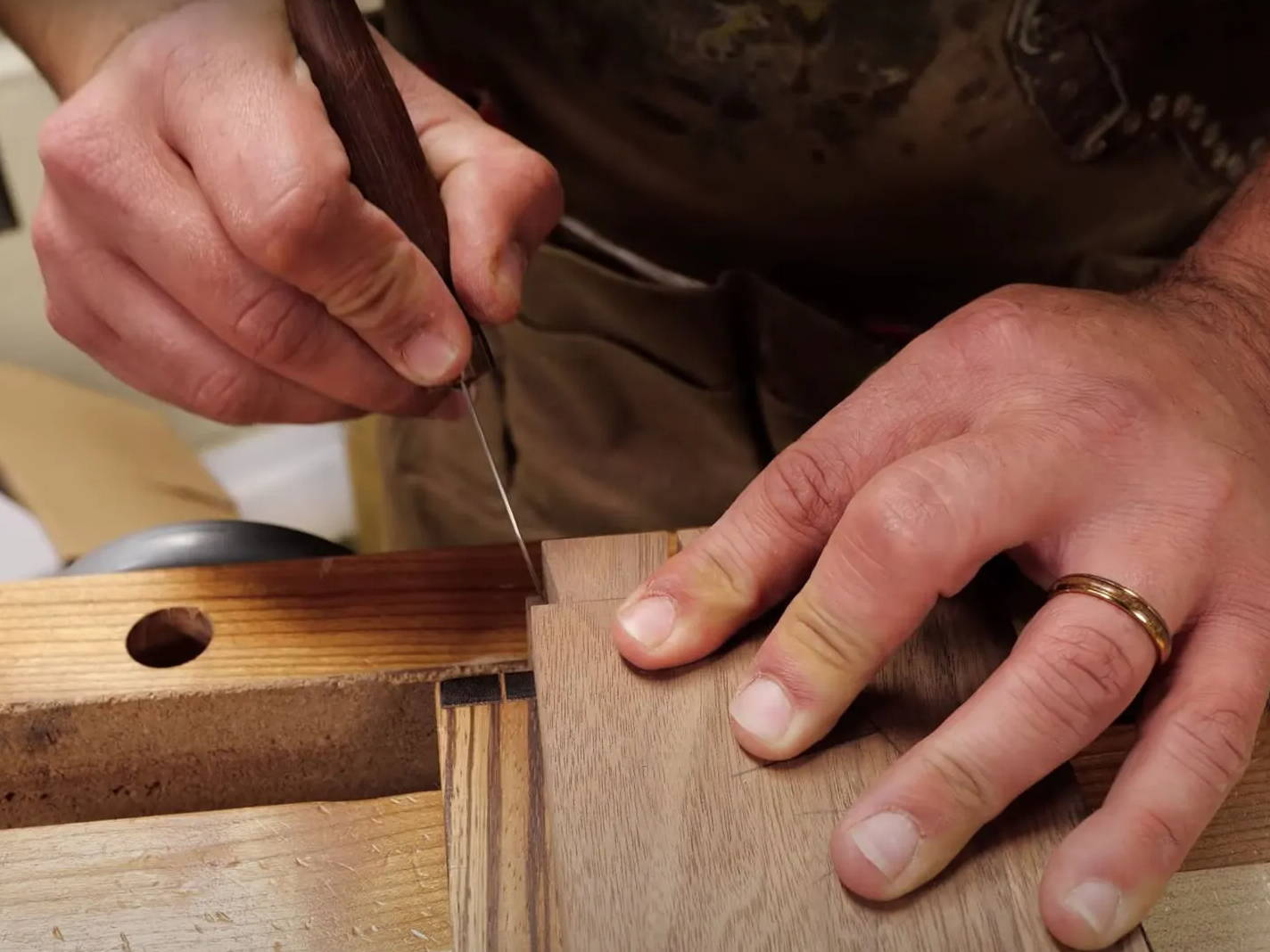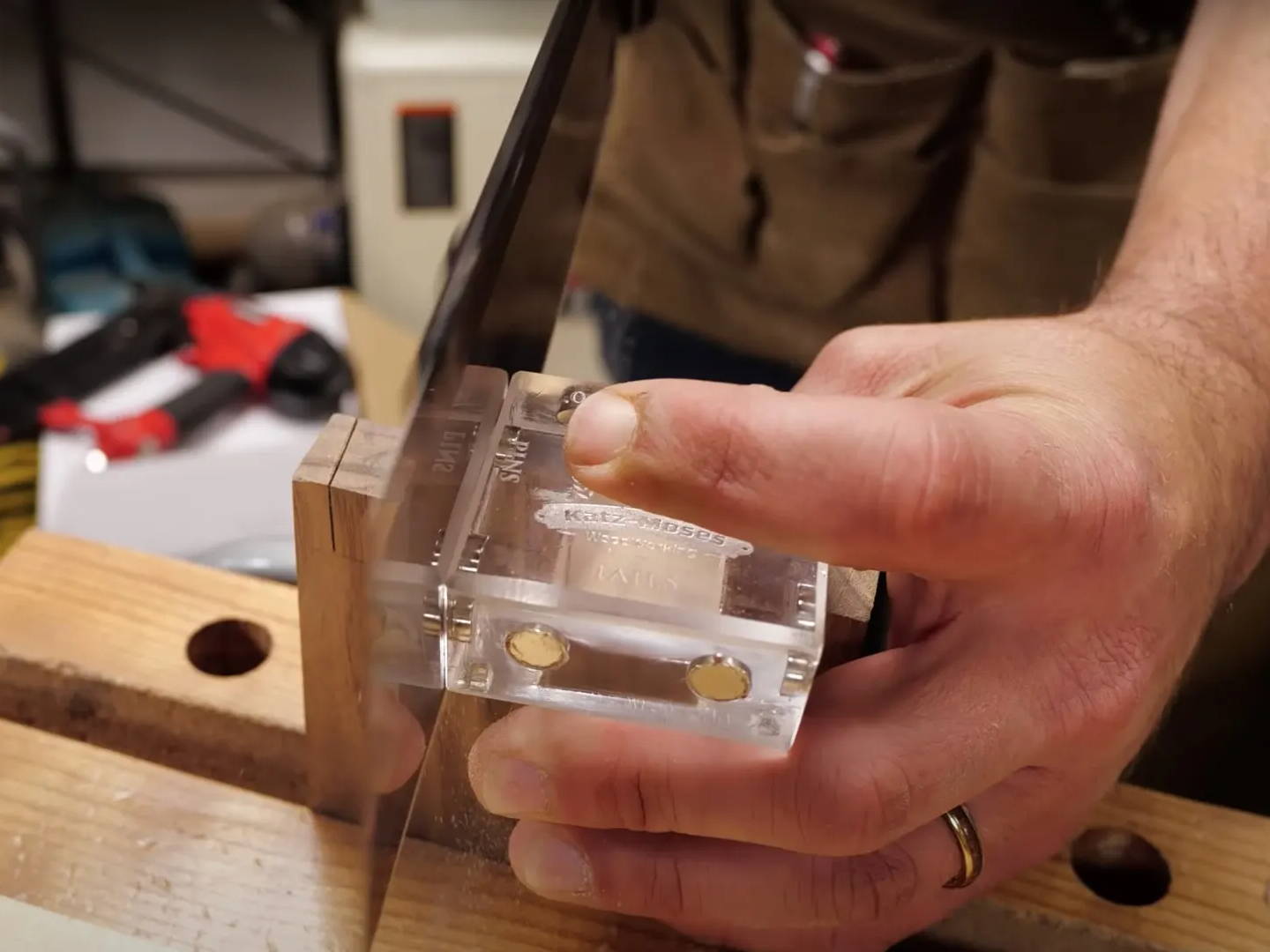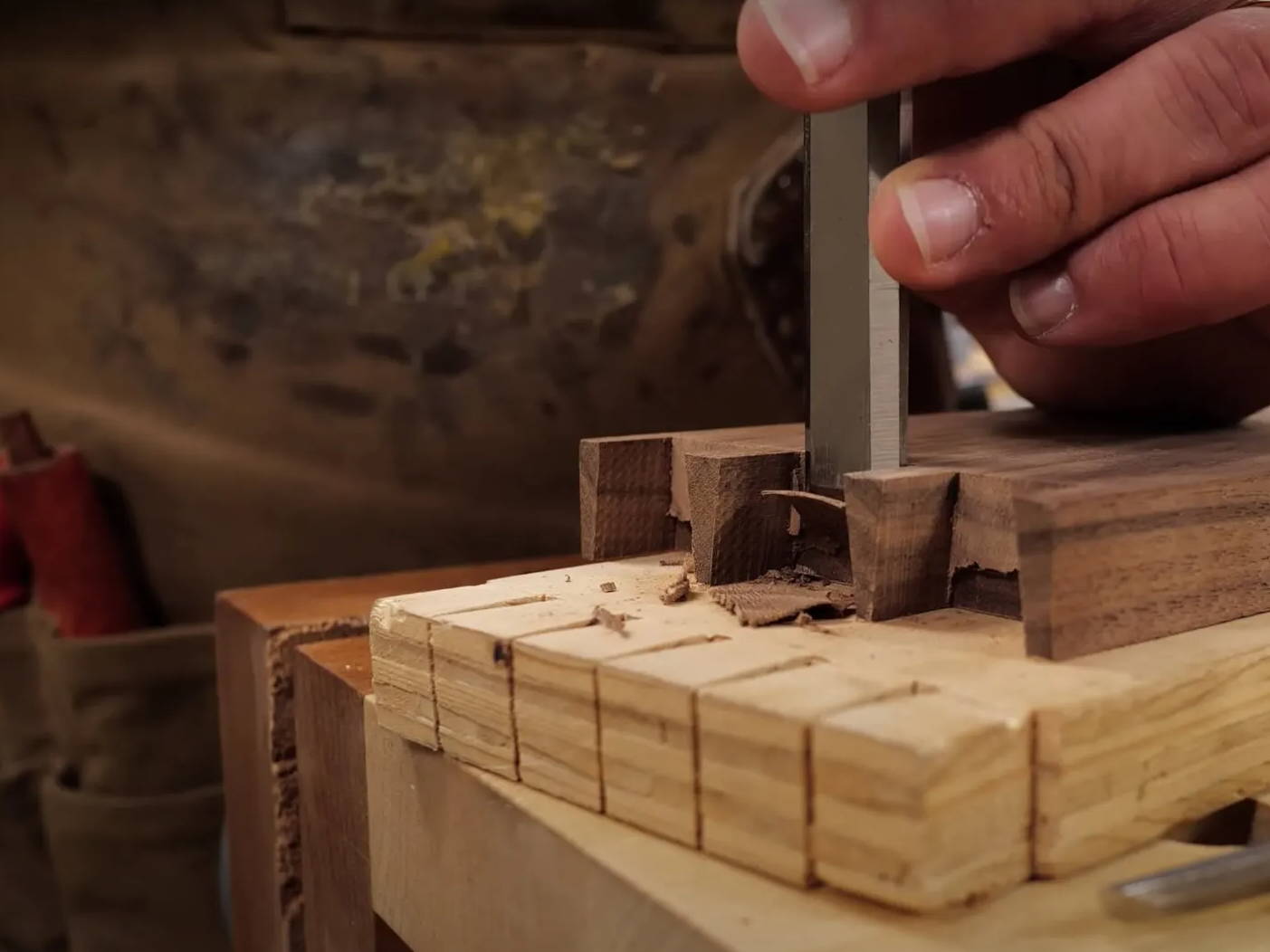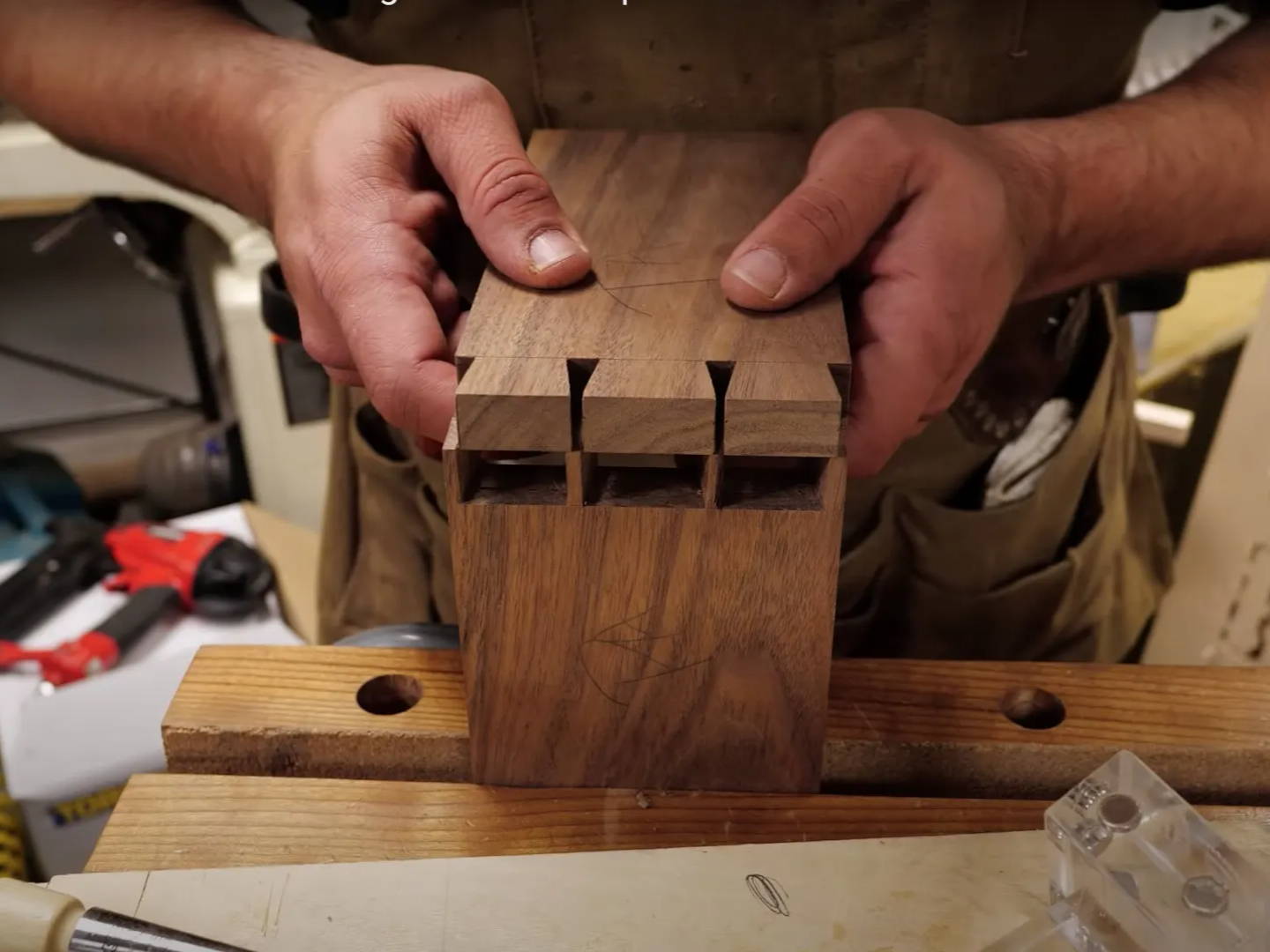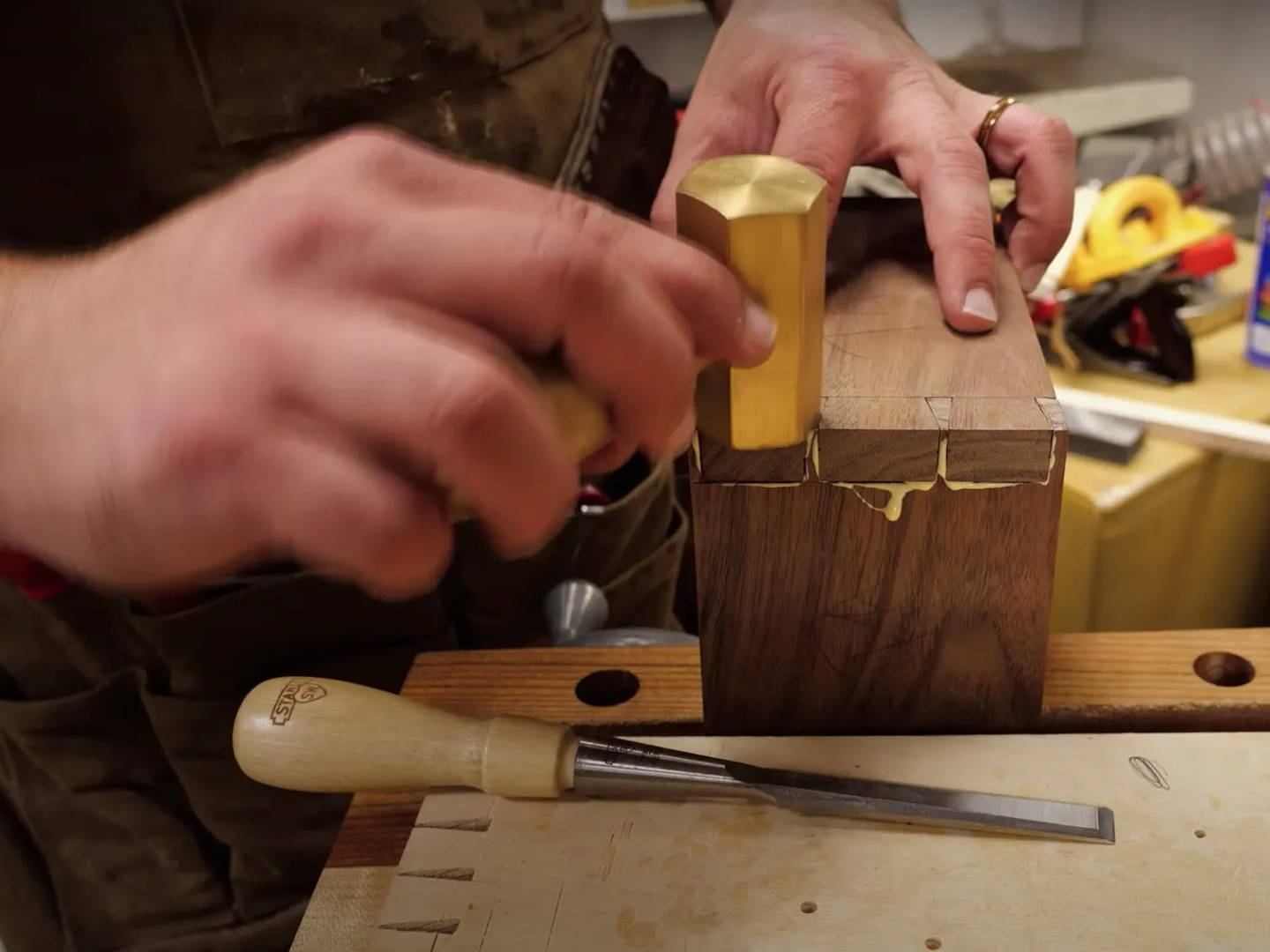 10. GLUE UP AND FINISHING TOUCHES
Already have your dozuki in hand?
Click any heading below to skip to the pertinent section.
WHAT IS A THROUGH DOVETAIL JOINT?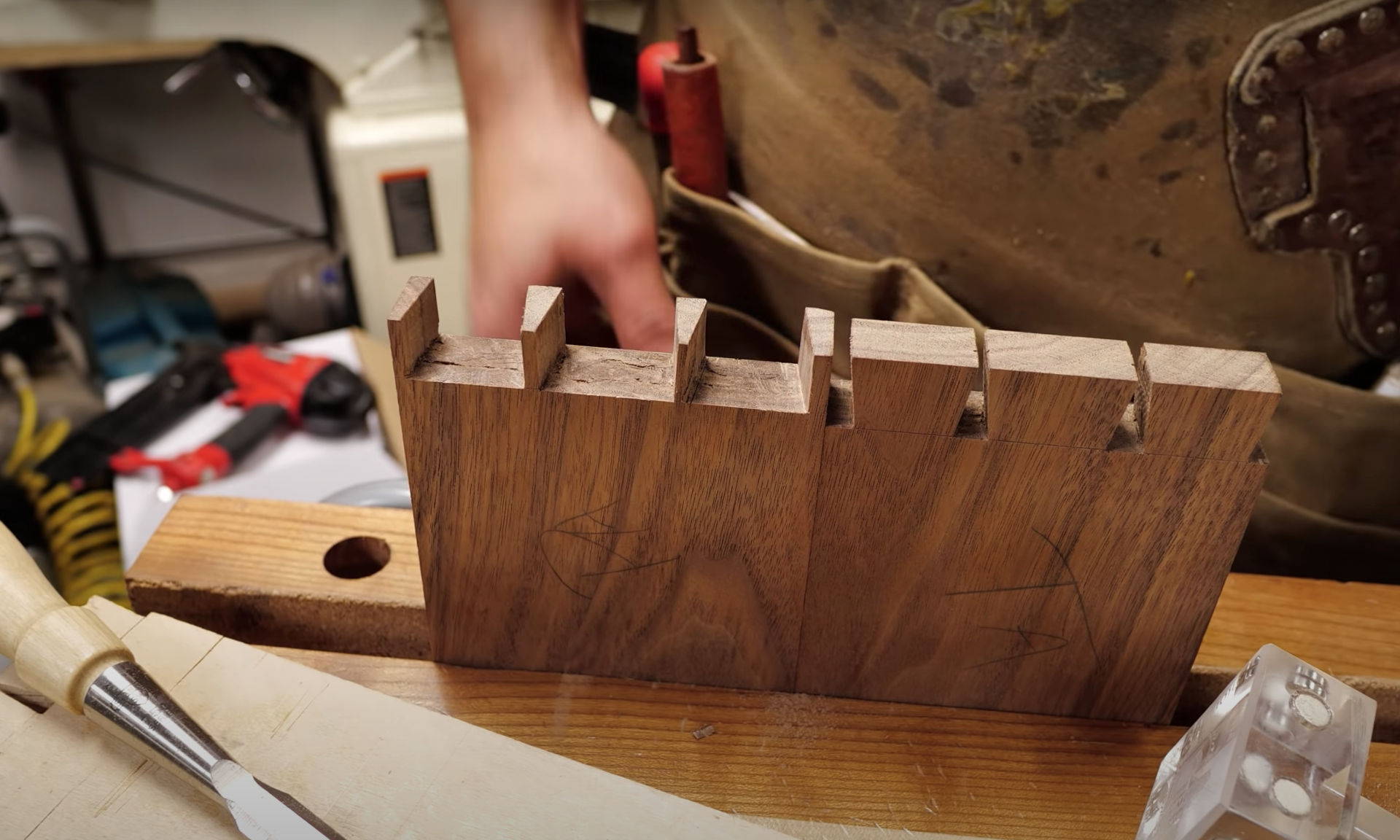 Through dovetails are usually just called dovetails because they're the basis of all variations of the joint.
The "through" means the pins and tails are visible on both sides of the finished joint (unlike half-blind dovetails, where they're only visible on one side).
THE ANATOMY OF A DOVETAIL JOINT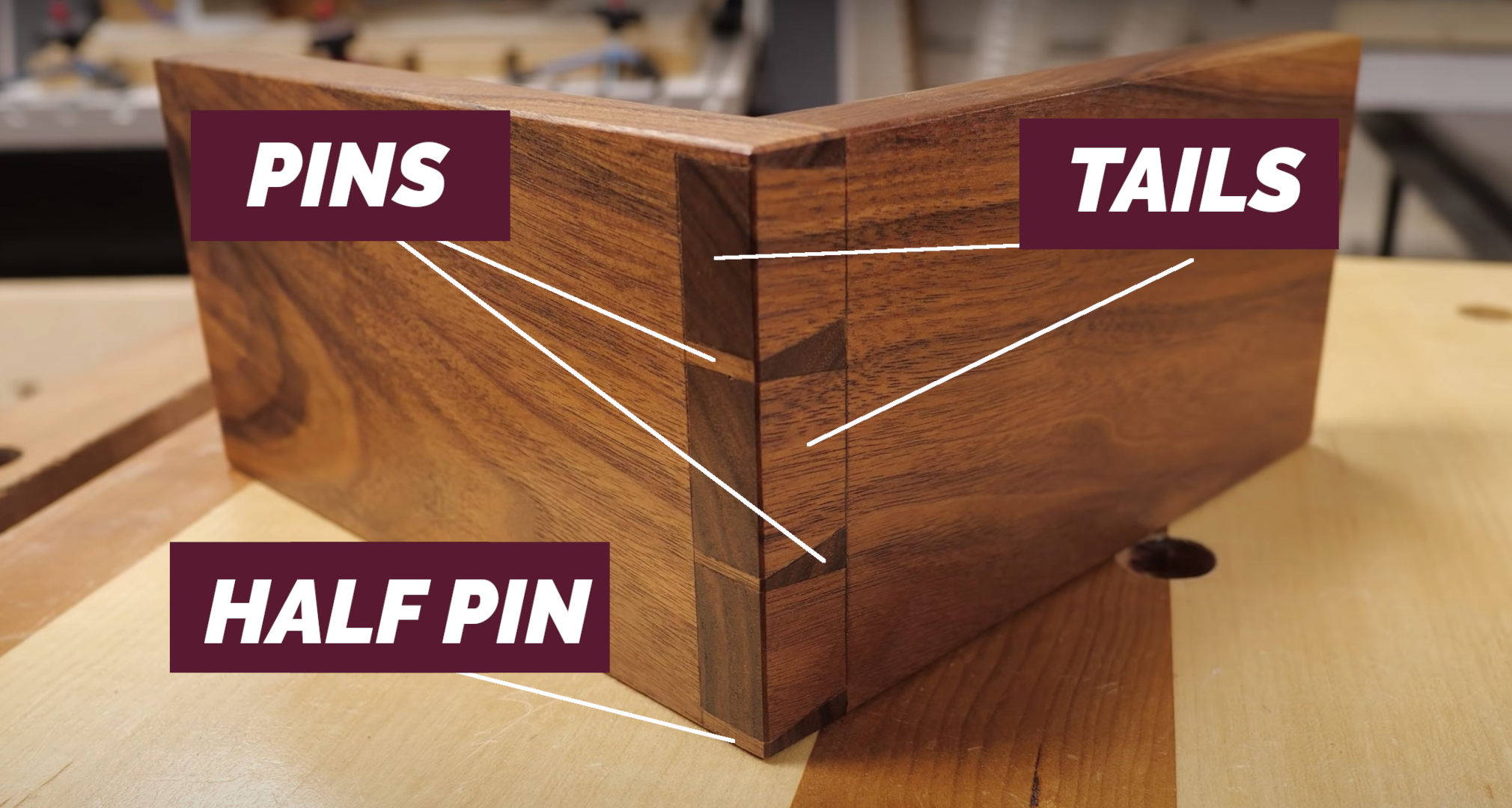 The portions that are angled along the face of the board (long grain) that look like a dove's tail.
The portions that fit into the sockets between the tails, cut at an angle on the end of the board or end grain.
Half pins get their name because they only have one angled cut. They're not necessarily half the size of a regular pin.
MARKING GAUGE OR DEPTH LINE

The depth of the opposing board and the depth you saw your pins/tail to.
The outward facing portion of your board (if it's a box, the face people will see on the outside).
TOOLS FOR CUTTING DOVETAILS BY HAND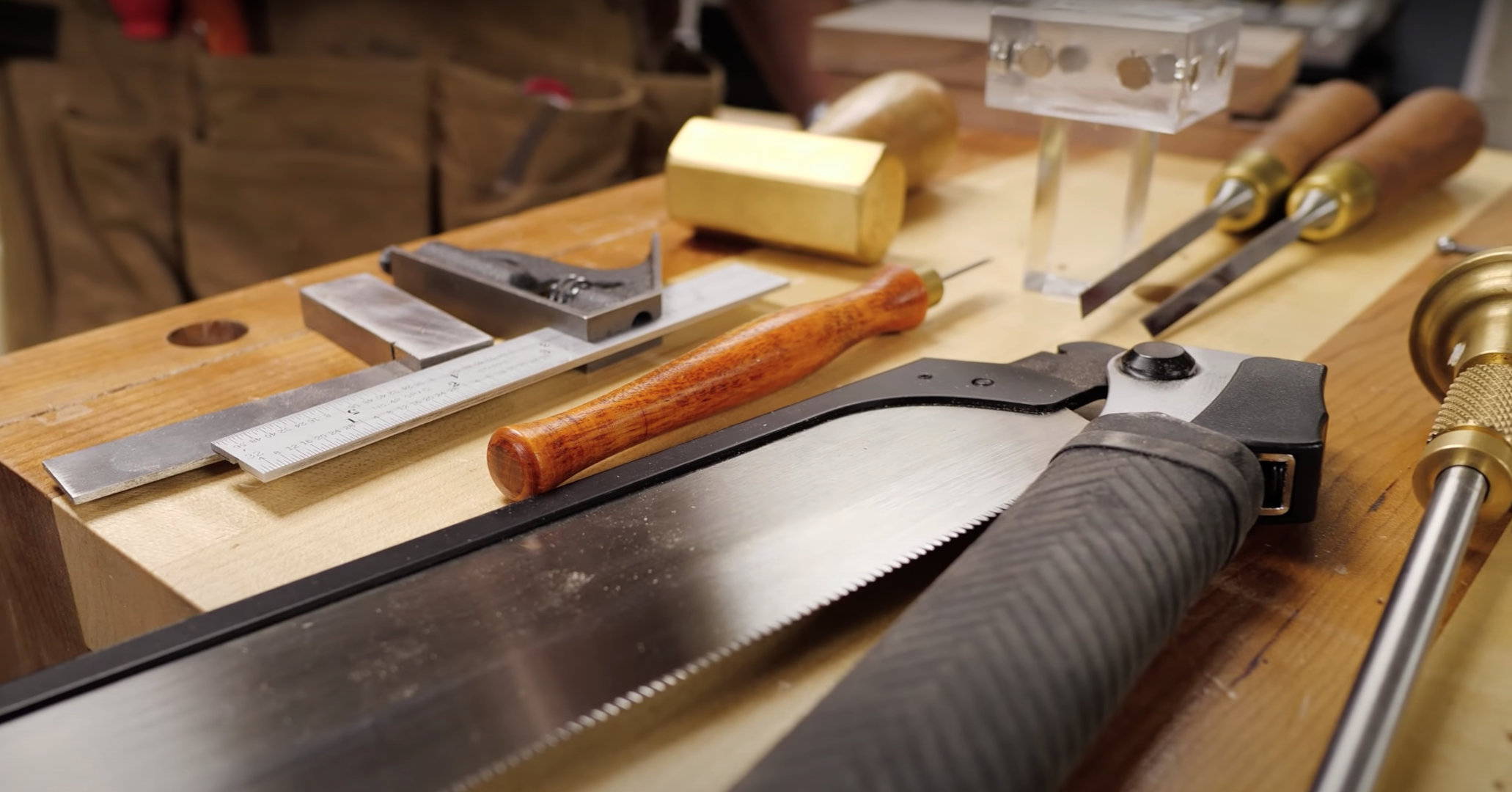 Most of these items are available in the Katz-Moses Tools store — and are the very same tools I use to cut my own dovetails.
NICE TO HAVE DOVETAIL TOOLS

The Katz-Moses Magnetic Dovetail Jig* (1:6 or 1:8 models): This simple tool dramatically cuts down the learning curve of dovetails to instantly increase your accuracy — and yes, they still count as hand cut
Dividers: You can also use a compass, ruler, or calipers too.
Skewed chisels: Definitely not necessary, but certainly help you get into tight corners without bruising the show edges of your pins and tails
*I'll explain how to cut dovetails with and without my magnetic jig — but I can't stress enough how much simpler, faster, and more accurate it makes cutting dovetails.
It still takes some practice but you'll be in the minor leagues by your second or third set. I promise! You can watch how it's used here.
THE 10 STEPS TO CRISP DOVETAILS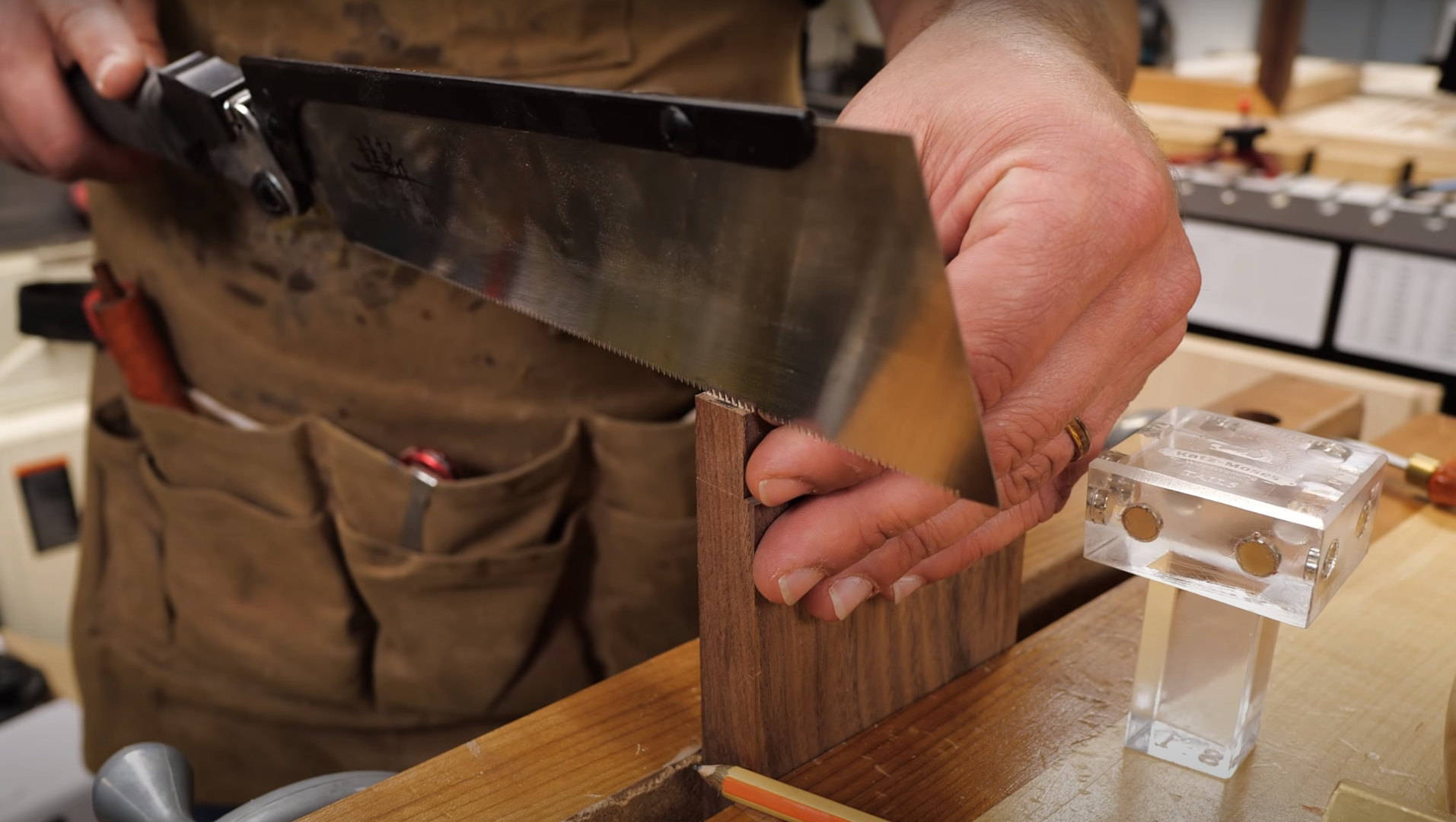 1. MAKE SURE YOUR LUMBER IS SQUARE

Starting with square lumber is essential to getting a tight-fitting joint.
If you don't have a jointer or planer, a shooting board and hand plane makes squaring the ends of boards by hand super simple. Here's a great video on how to make your own.
Make sure the mating ends of your boards sit perfectly flat against each other and are the same width.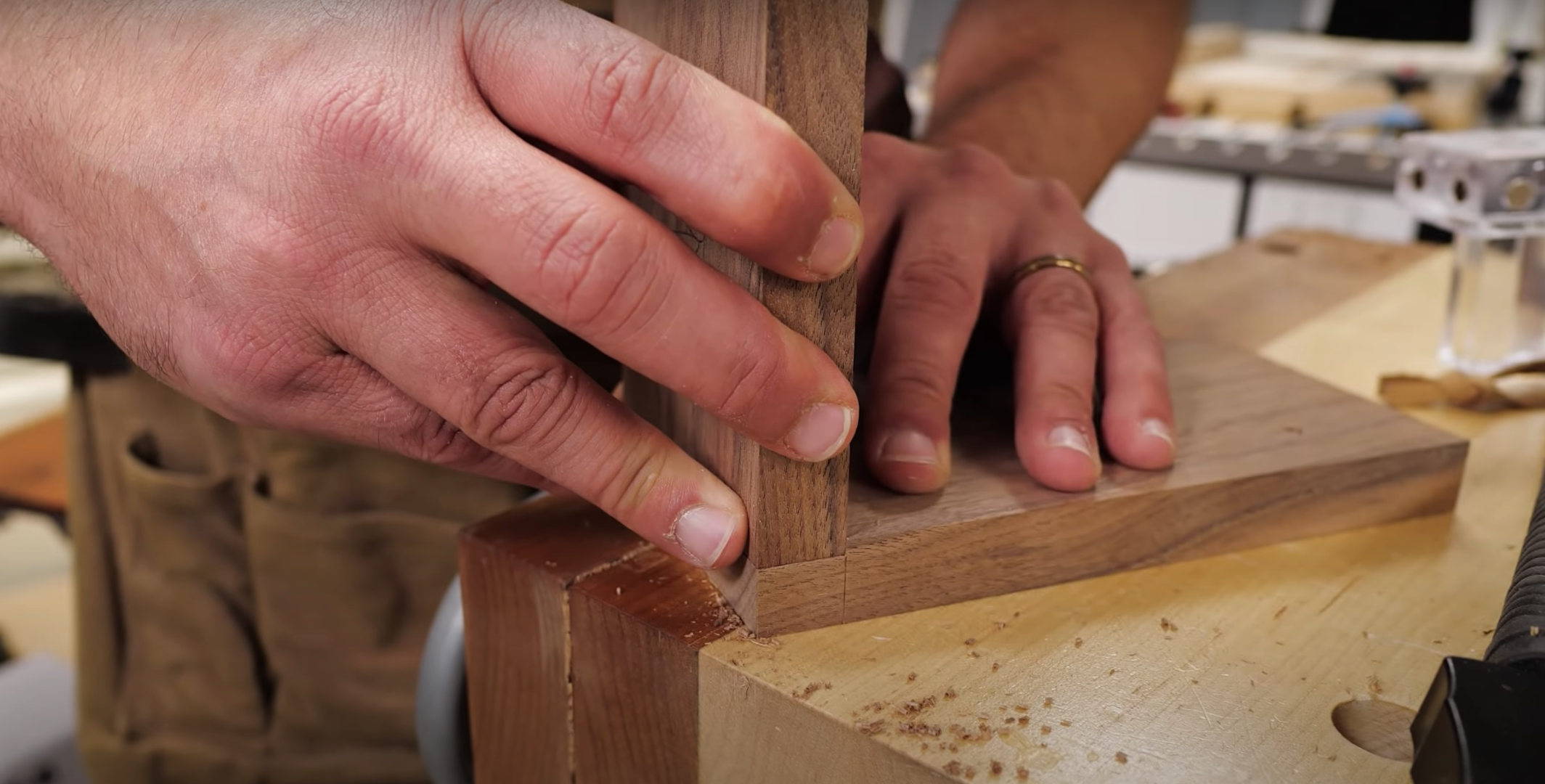 TIP: While your boards have to be square and the same width, they don't have to be the same thickness.
2. DECIDE ON DESIGN AND LABEL YOUR BOARDS

Take some time to think about how you want your dovetail joint to look.
Do you want lots of low angle tails with fat pins, or a few big tails and ultra-narrow pins?
There isn't a right or wrong way to design your dovetails. Play around with different ideas and figure out what you like best.
I myself am a huge fan of the tiny pins. Nothing proves they're hand cut like a gap a router dovetail bit couldn't fit into.
A few things to consider:
Grain wrapping or matching
Number of tails and pins
Angles of tails and pins
Size of tails and pins
Once you settle on a design, label your boards with a pencil.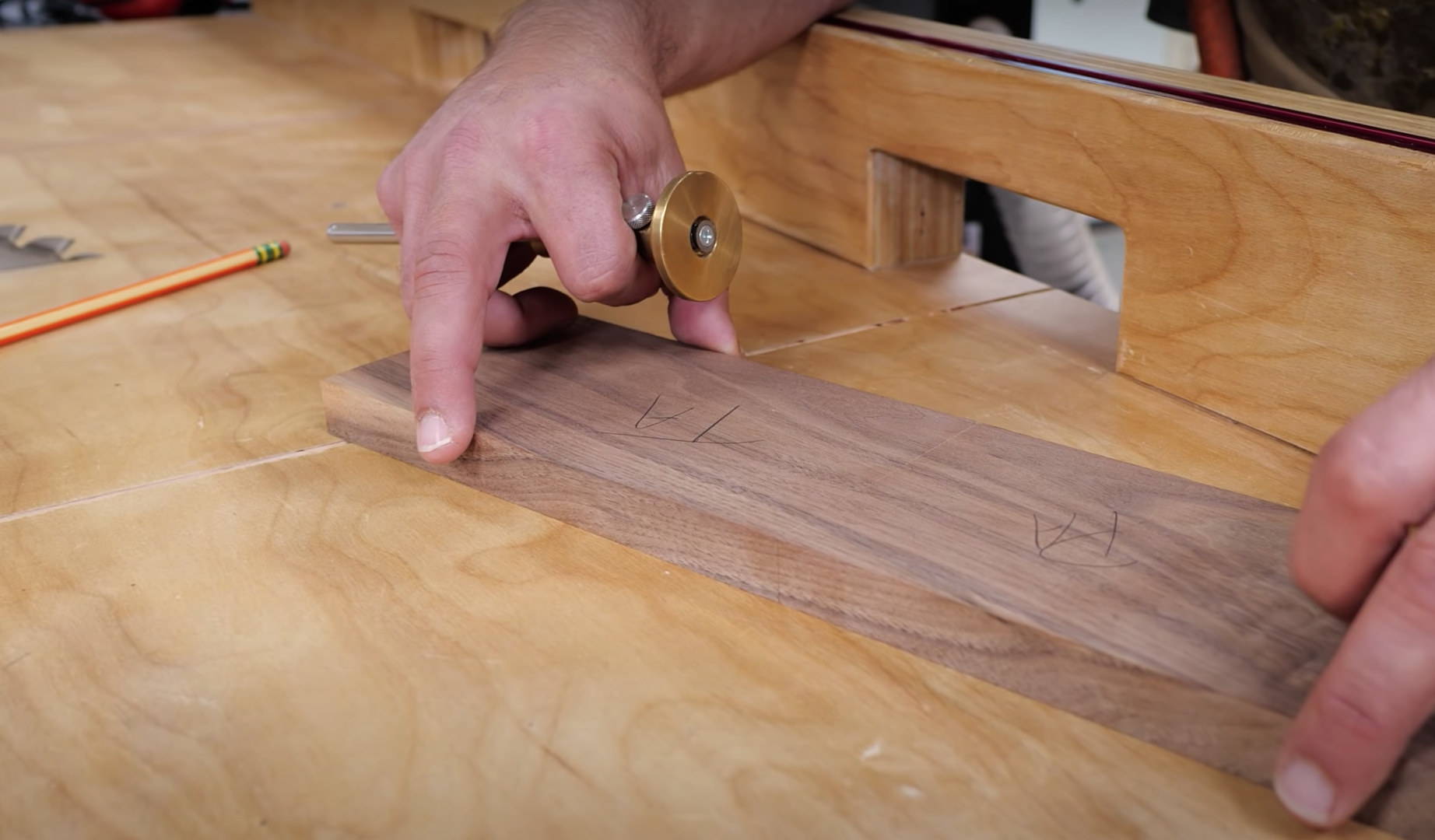 Dovetails can get confusing, and you need to be consistent with how the boards go together.
Label your pin board, tail board, the ends where they'll join, and their show faces.
Take your time laying out and marking your tails.
If your lines aren't precise, your joint won't be either.
As always, I recommend using a marking gauge and marking knife over a pencil. And use your most accurate square. You can read more about accuracy here.
What came first: the tail or the pin?
Some woodworkers prefer to start with the tails, others with the pins.
The "right" way is whatever works best for you — but I always start with the tails because it's much easier to transfer to your pins board in a later step.
A) MARK THE DEPTH LINE ON YOUR TAILS BOARD

Set your marking gauge to the thickness of the pins board — then set it just a hair wider.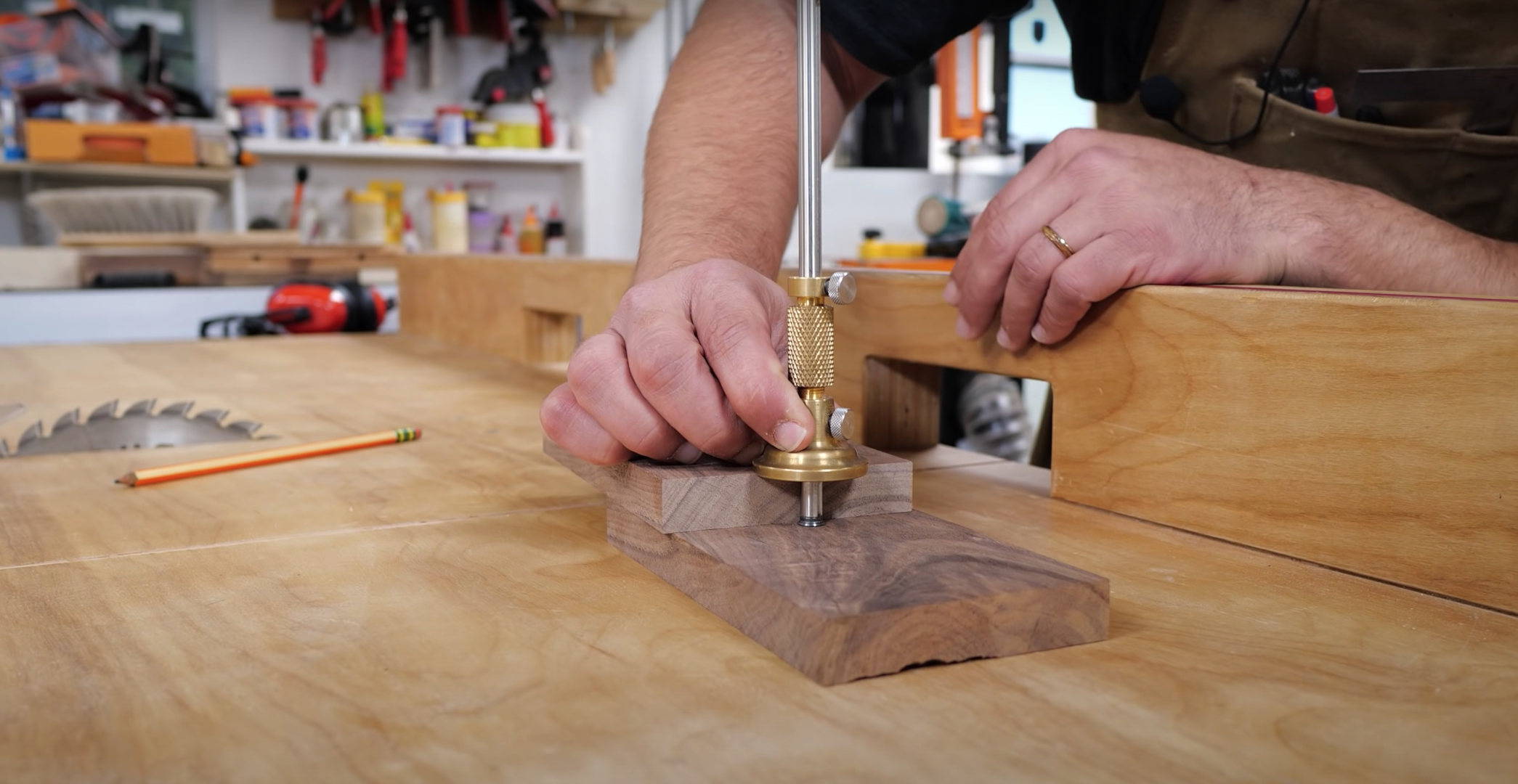 This will make your tails slightly proud of the pins board — which I prefer, since they're easy to take down with a hand plane or sandpaper later.
Make a marking gauge line all the way around the tails board (make sure it's the tails board), including the sides.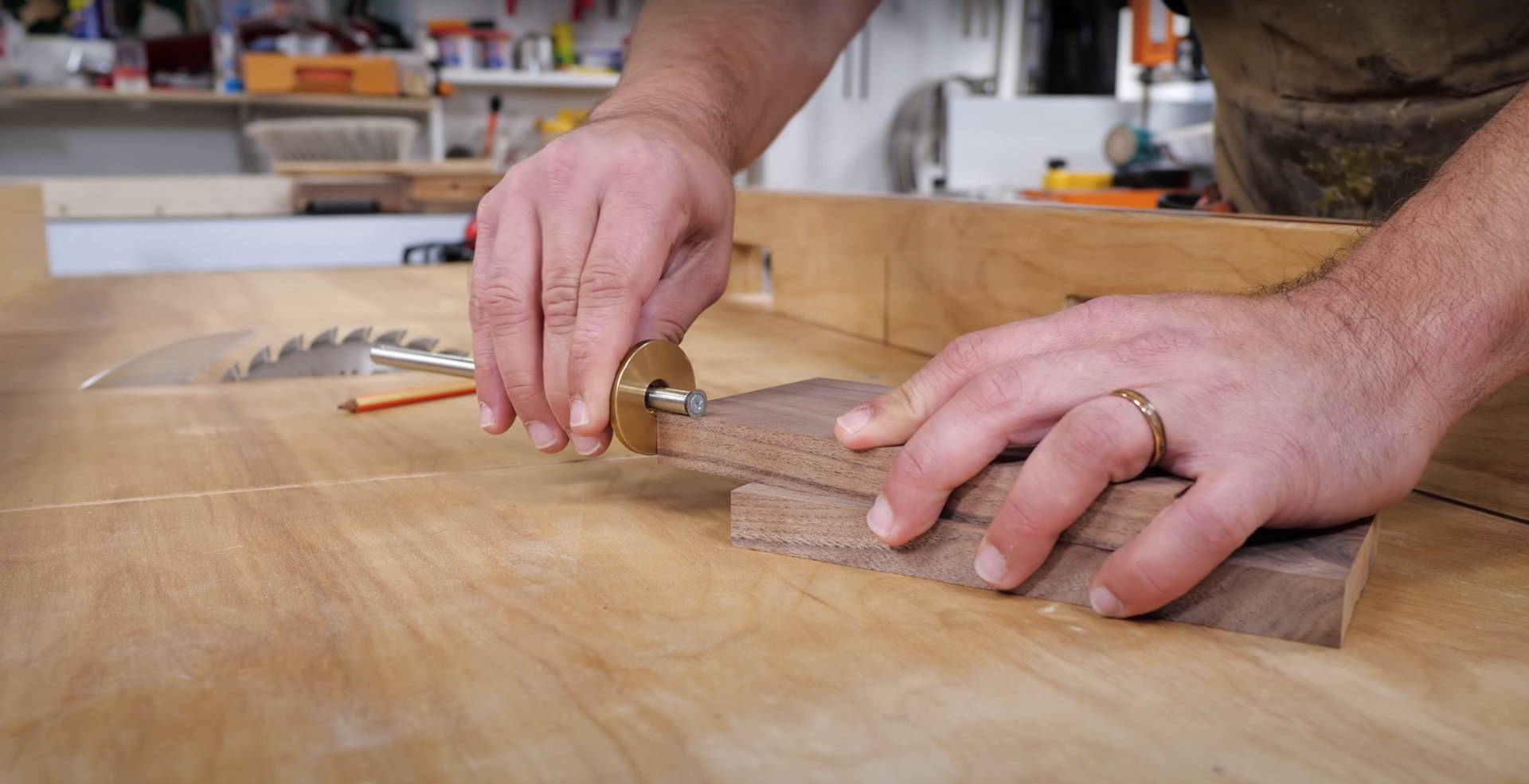 TIP: When making an initial cut with a marking gauge, put more pressure against the fence than the blade. Then take a second pass with more pressure on the blade.
This helps you get a clean and accurate line.
B) MARK THE OUTSIDE EDGES OF YOUR OUTER TAILS

Looking at the end grain of your tails board, decide how far from the edges you want your tails to start.
I recommend at least ⅛ inch (3mm).
This distance will determine the width of your half pins, and anything smaller than ⅛ inch is more likely to snap off.
The spacing of these lines doesn't actually matter.
All that matters is that the top edges of your tails are square.
If you like, go ahead and lay them out with total disregard for symmetry.
But if you're not a serial killer…
Here's an easy way to lay out symmetrical dovetails — with hardly any math at all:
NOTE: This can be a tad confusing if you're just getting started. Nothing wrong with skipping this step and using a ruler to lay out your tails.
HOW TO LAY OUT TAILS (NOW WITH LESS MATH!)
Measure the distance between the two lines you marked on the end grain of your tails board.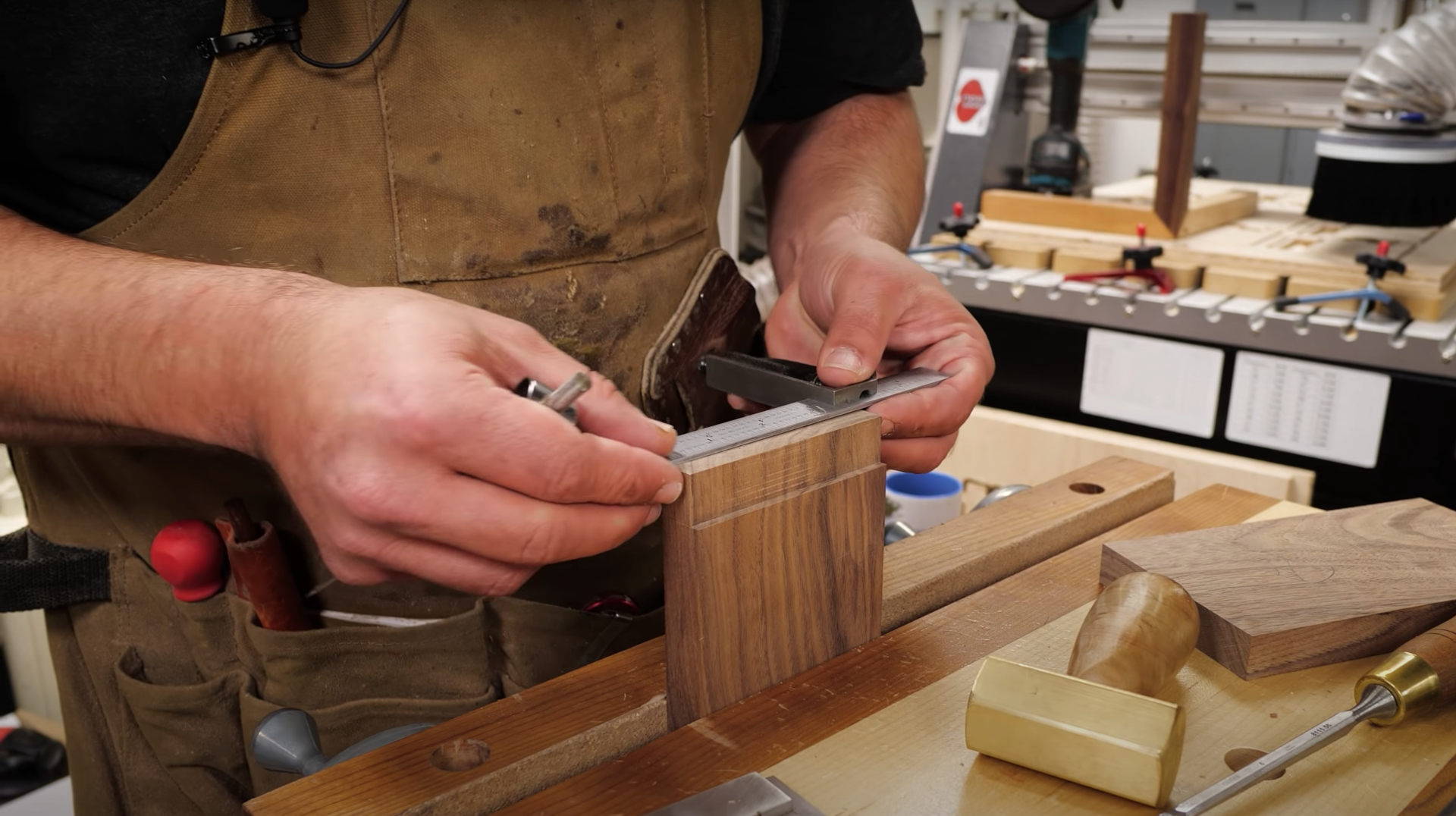 Divide that distance by the number of tails you want.
This gives you the width of 1 tail + 1 pin:
[distance between outside tail edges] ÷ [number of tails] = [width of 1 tail + 1 pin]
Set your dividers slightly wider than the result (use the etched measurements on a good square as a guide).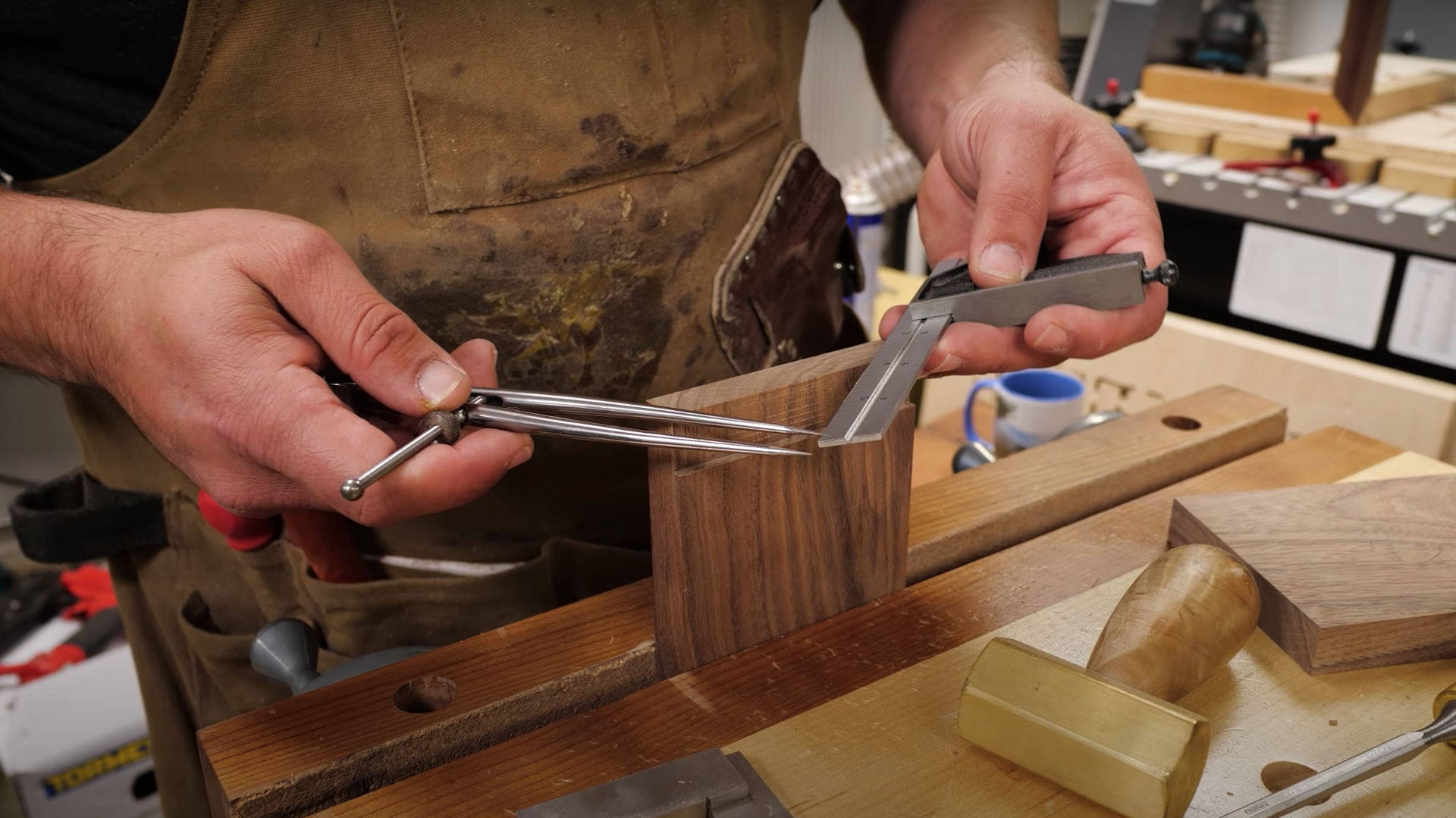 Place one side of your dividers into one of your marking knife lines.
Without making any marks, walk the dividers across the end grain until one of the legs passes the other marking knife line.
The distance your divider lands past the other marking knife line will be the space between your tails — a.k.a. the width of your pins.
If you want more or less space between the tails (which will lead to thicker or thinner pins), make small tweaks to your dividers.
Repeat and adjust until you find a tail-spacing you like.
Once you settle on the space between your tails…
Place one side of your dividers in one of the marking knife lines.
Walk your dividers across the board again, but this time sink the points into the end grain to make small holes.
Stop before the opposite half pin line, then repeat the process starting from the opposite marking knife line.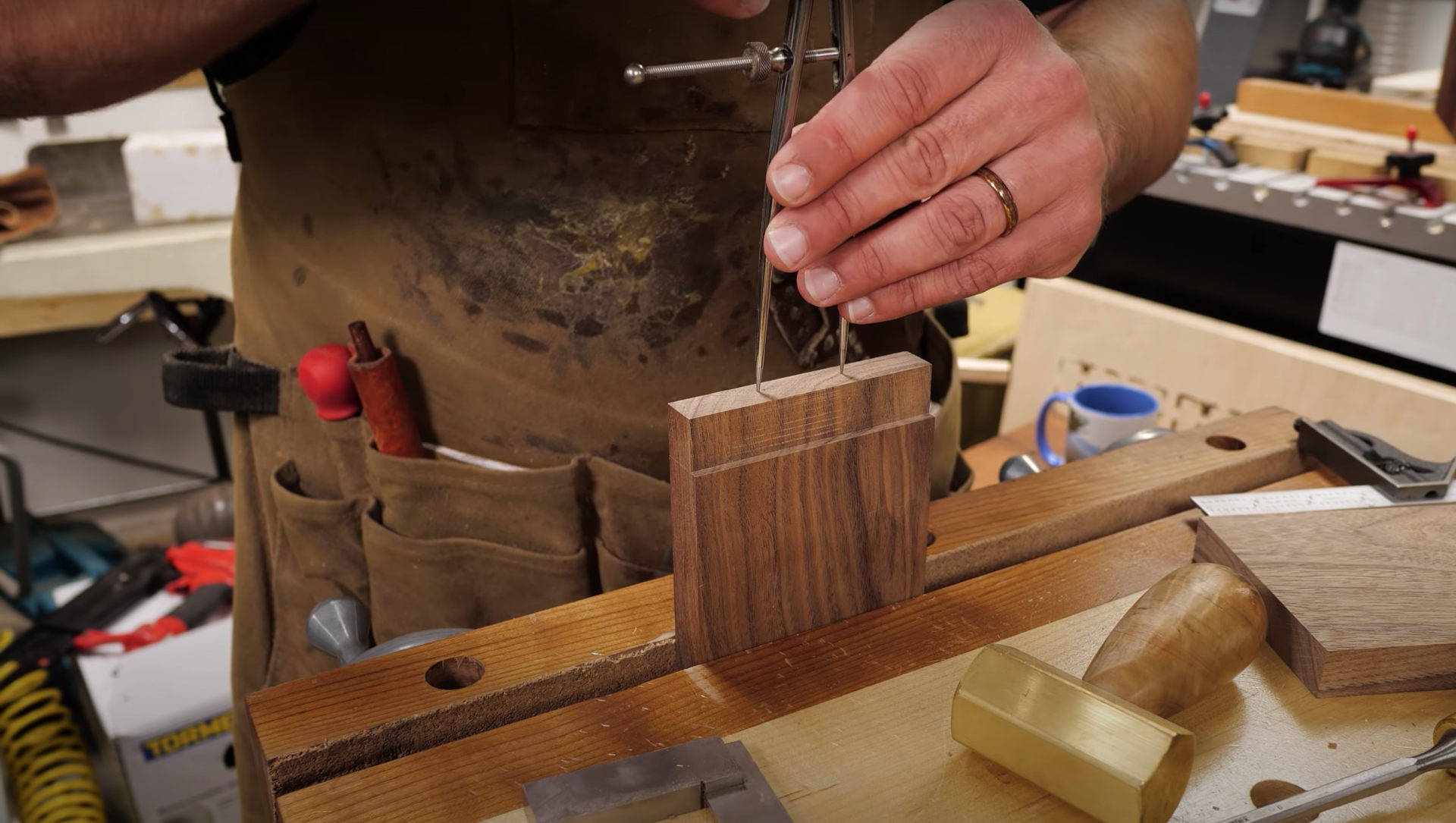 Set your marking knife into one of the holes left by the dividers, slide your square up to it, and mark your line.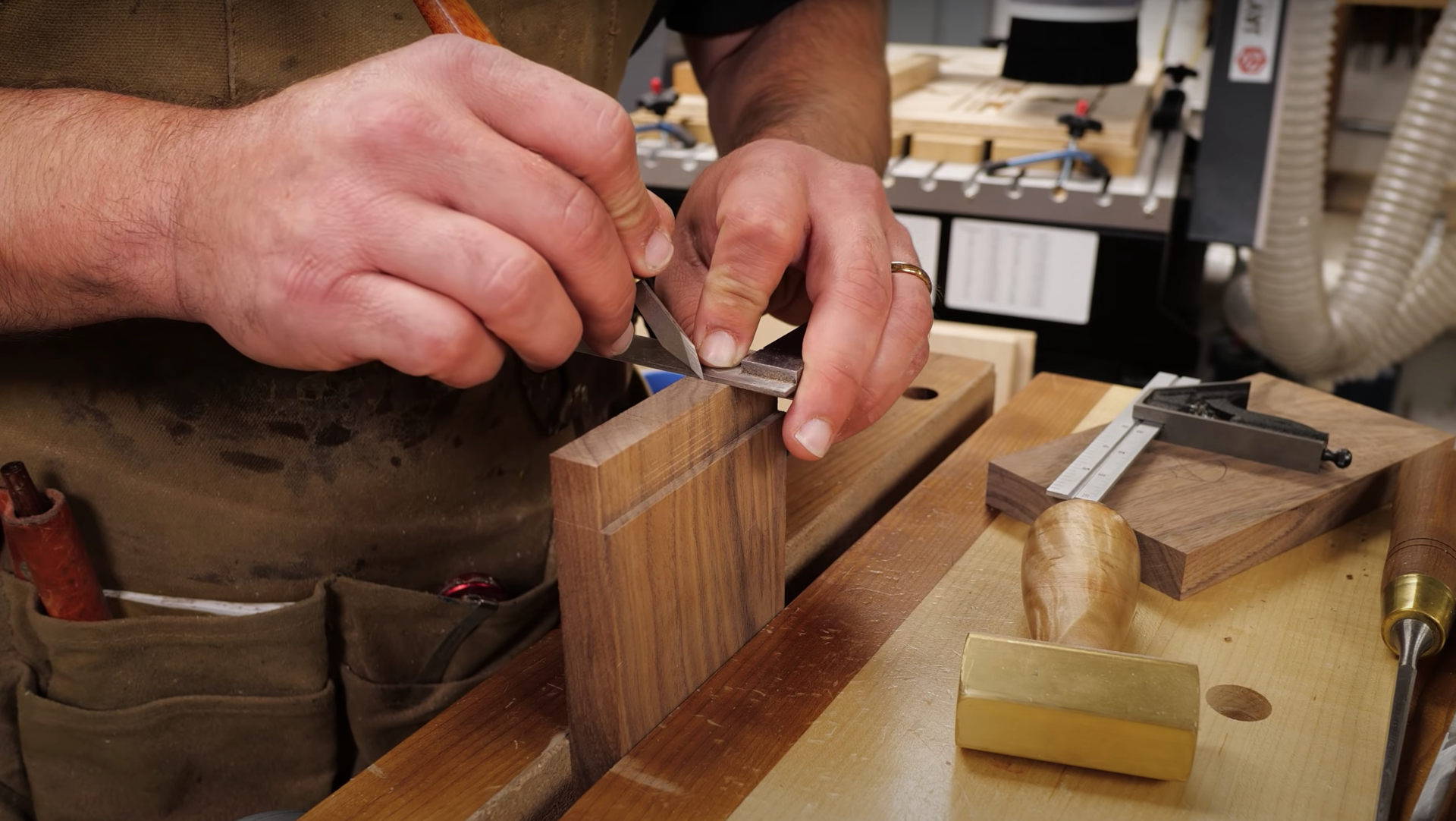 Do this for each of the holes, making sure each line is square.
Congratulations. You just marked all the top edges of your tails.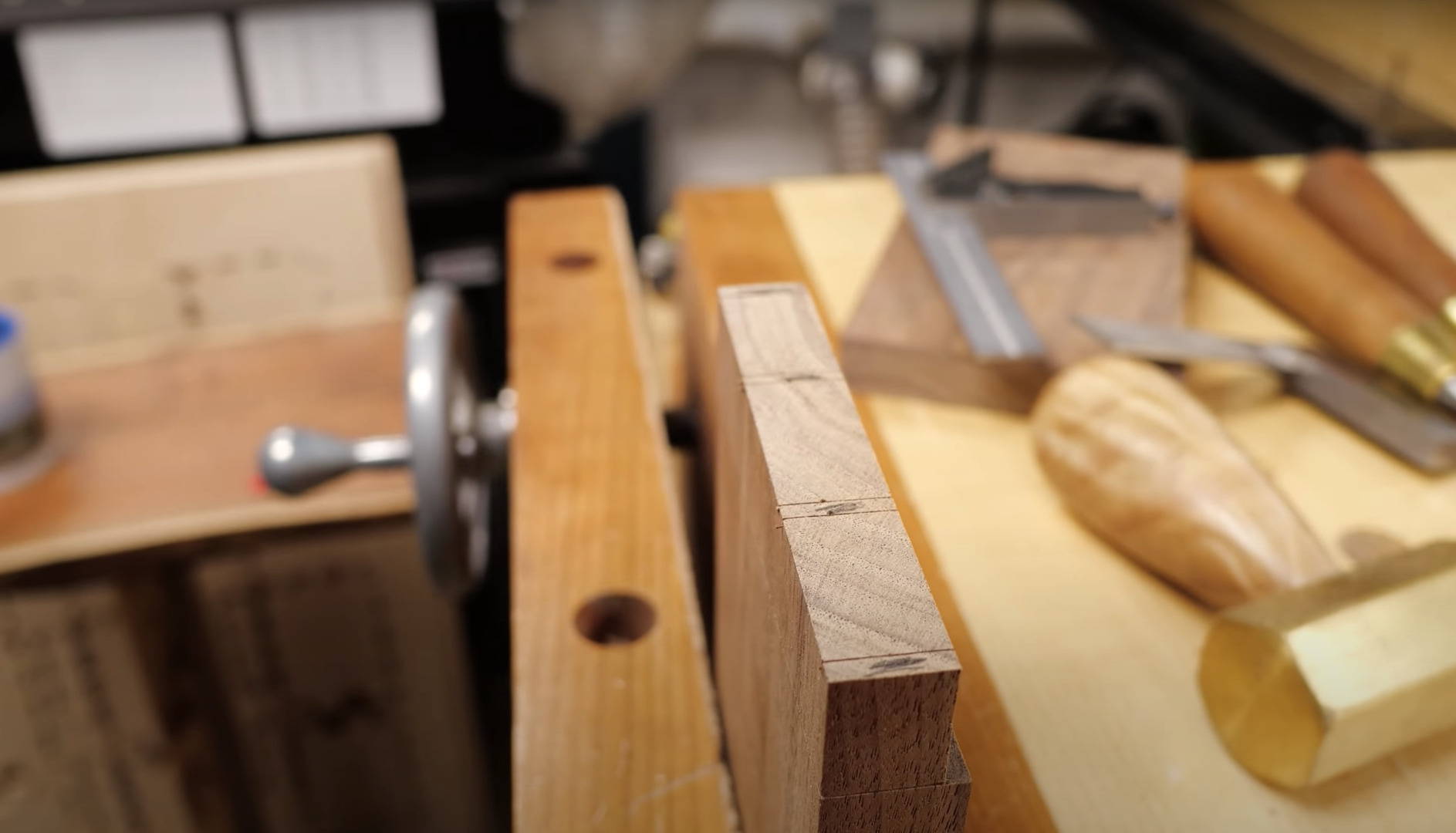 D) MARK DOWN TO YOUR MARKING GAUGE LINE

Now it's time to decide on a dovetail ratio, or angle.
If you have one of my dovetail jigs, you can skip ahead to Step 4.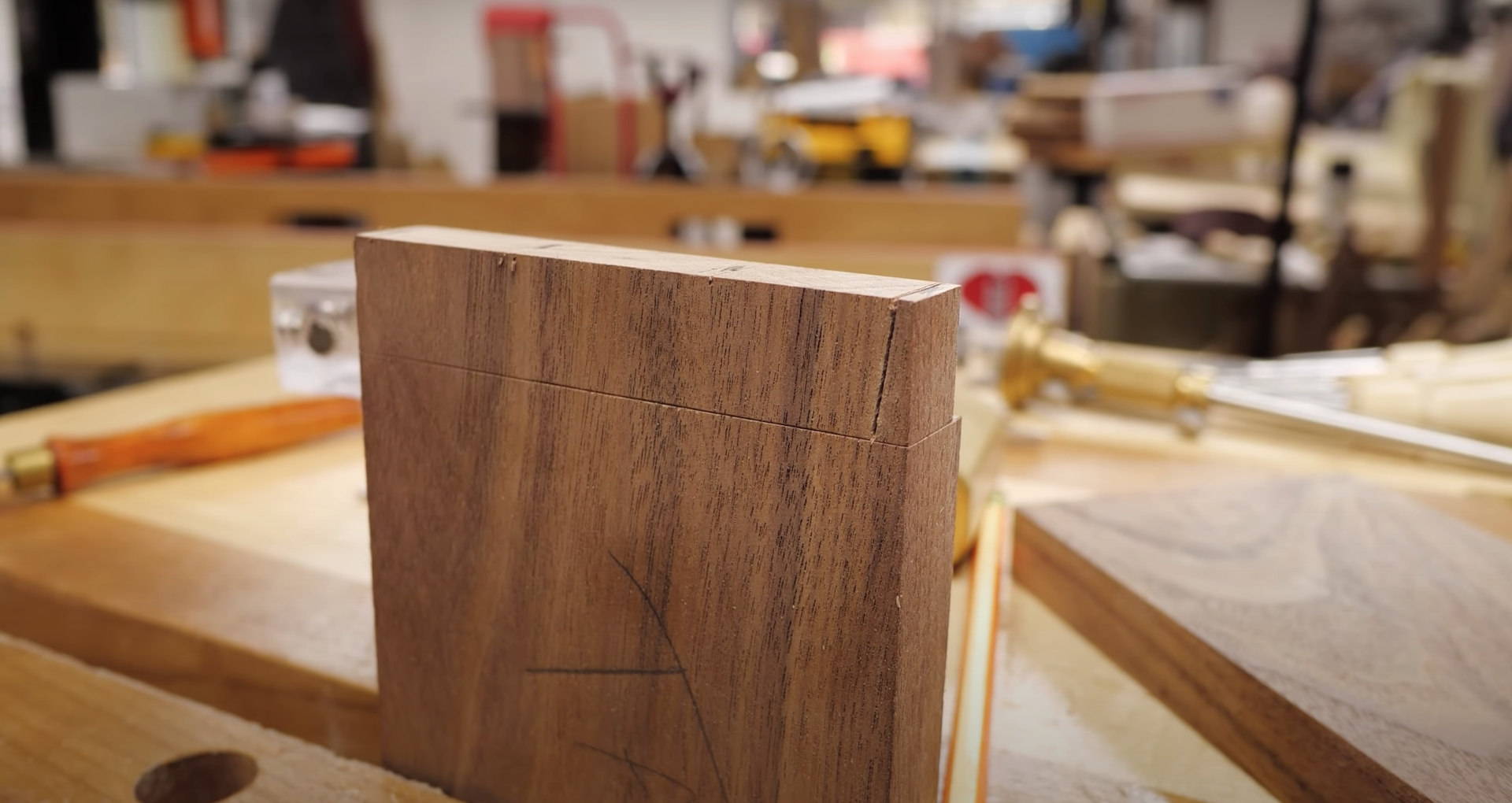 HOW TO CHOOSE DOVETAIL ANGLES
Dovetail angles are usually expressed as ratios — the most common being 1:6 and 1:8 (said "one in eight," and also written as 6:1 or 8:1).
As a general rule of thumb:
Use 1:6 for softwoods
Use 1:8 for hardwoods
The reason has to do with the steepness of the angle.
Steeper angles like 1:6 give more strength to a joint in softwoods (in theory). The 1:8 angle gives a slimmer look, and because hardwoods are much stronger, it has plenty of hold.
1:8 is my favorite.
Here's how to set a sliding bevel or protractor to the correct dovetail angle (if you don't have a jig or guide).
To set your bevel to a 1:8 angle:
Mark a point on the edge of a scrap panel
Mark a second point 1 unit to the side (inches, centimeters, nose hairs, doesn't matter)
Mark a third point 8 units above the second point at 90° (same units as in step 2)
Set the base of your bevel against the edge of the board
Raise the blade of the bevel to be the hypotenuse between the first and third points
That's your dovetail angle.
Once you have your bevel or combo square set, mark a line from the outside edges of your tails down to the marking gauge line.
Make sure you mark the angles in the right directions.
Use a pencil to mark out your waste with an "X".
After putting all that work into perfectly laid out lines, you don't want to accidentally cut on the wrong side.
PRO TIP: CUT A RABBET ON THE TAILS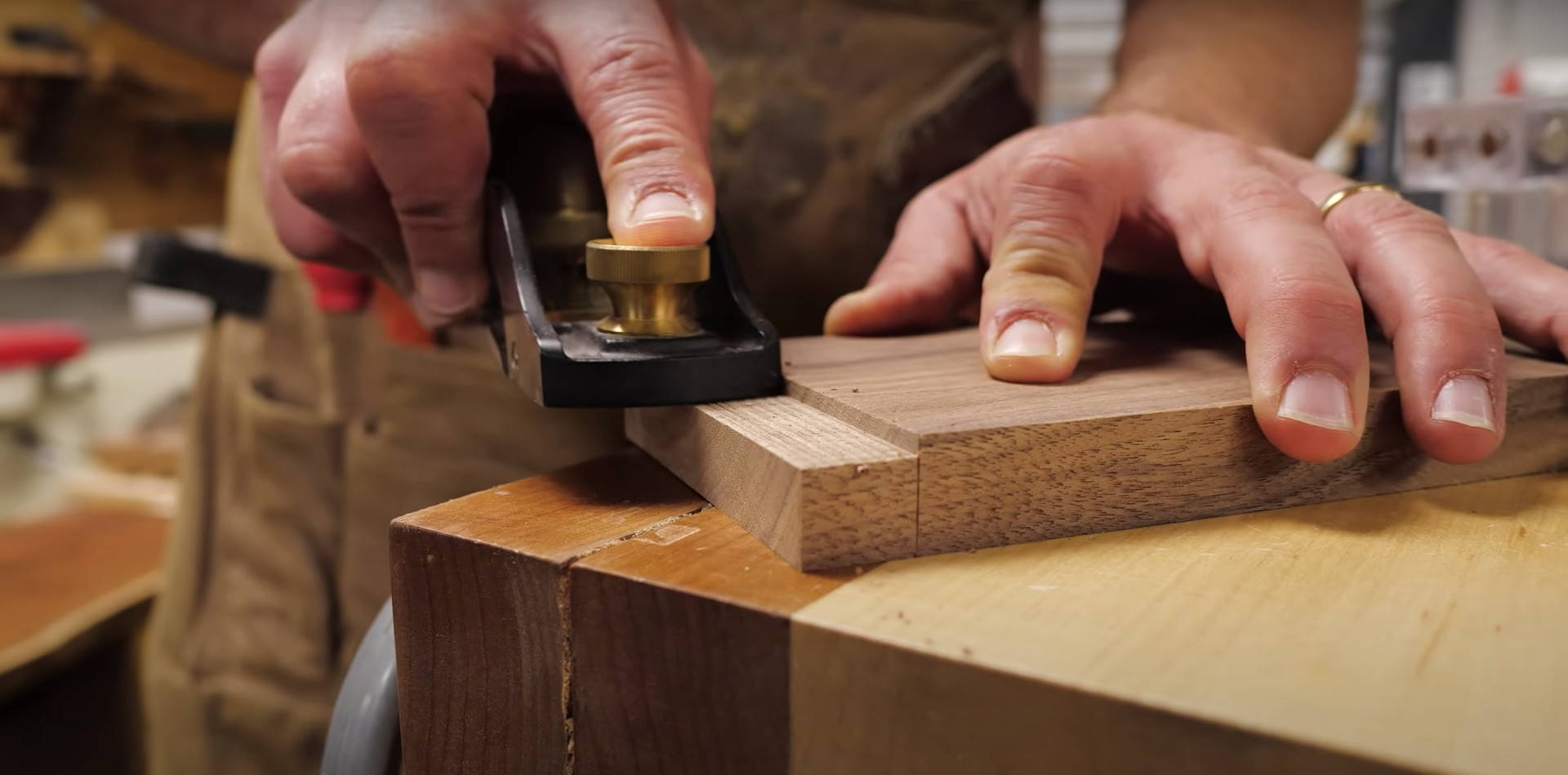 This step isn't necessary, but it has a few advantages:
It gives the inside of your joint a super clean look (even if you mess up)
It makes it easier to clean out waste between the tails because you have a square reference for your chisel.
It makes it easier to trace the pins onto your pin board because you have a square, positive stop right at your marking knife line.
Cut a rabbet on the back (not show face) of your tails down to the marking gauge line.
It doesn't need to be deep — around ⅛ inch will do.
I cut it on my table saw crosscut sled with a flat-top blade — but you can use any saw blade and clean it up with a rabbeting plane.
Even super thin dovetail saws have tooth set — meaning the teeth bend out from the saw in alternating directions.
That's why you don't want to set the whole saw into your marking knife line…
Set the correct side of the saw into your line.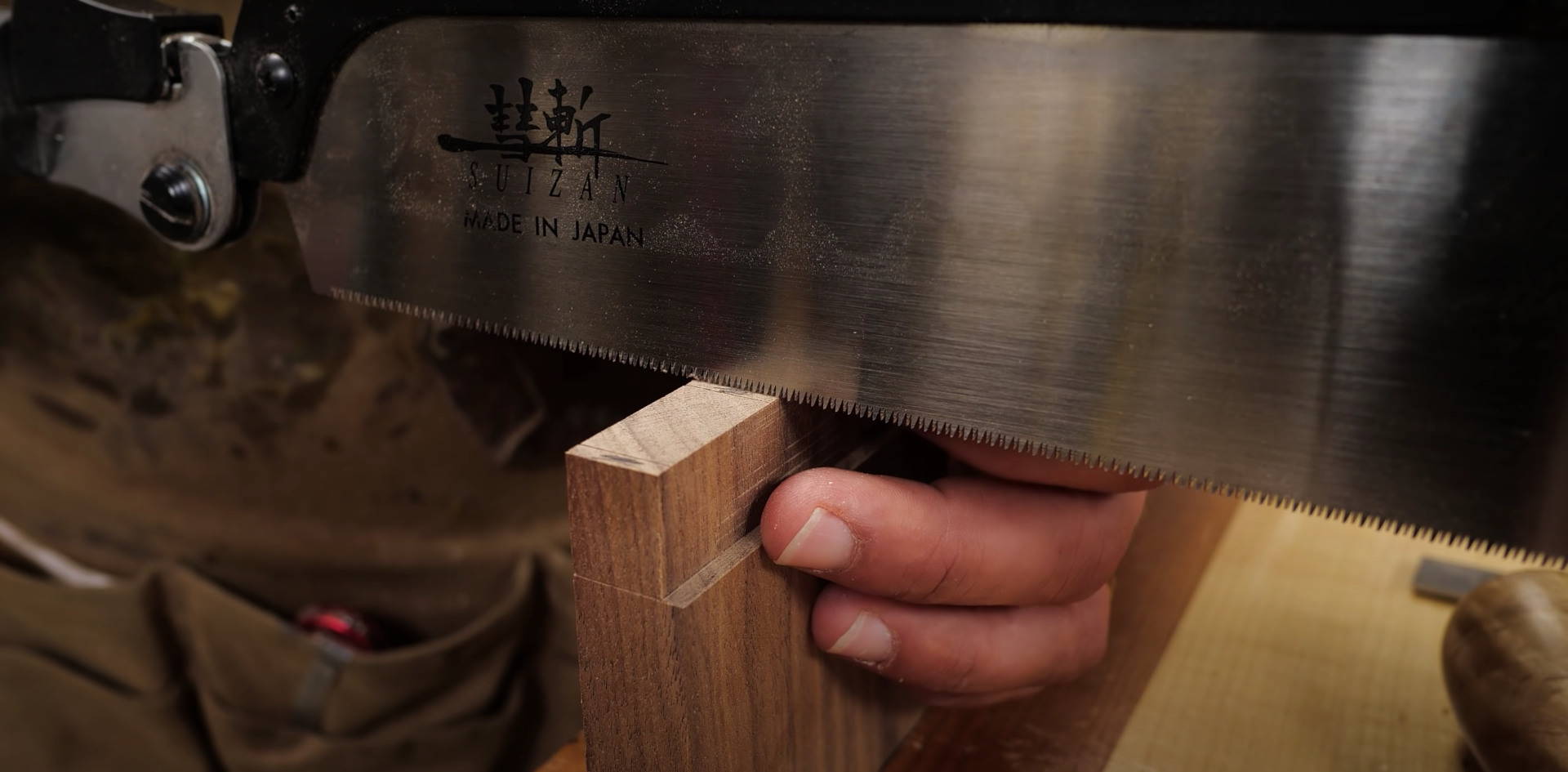 That way, the other set of teeth cuts into your waste and doesn't take out your line.
Treat your marking line like your neighbor's fence: You can touch it, but you can't go over it.
Starting with your show side facing you, make a light stroke in the non-cutting direction to establish your cut (push with a Japanese saw, pull with a Western saw).
If you're using my dovetail jig, slide the tail side up against your saw after you've done your backwards stroke. Hold the jig steady and let the saw and magnets do the work.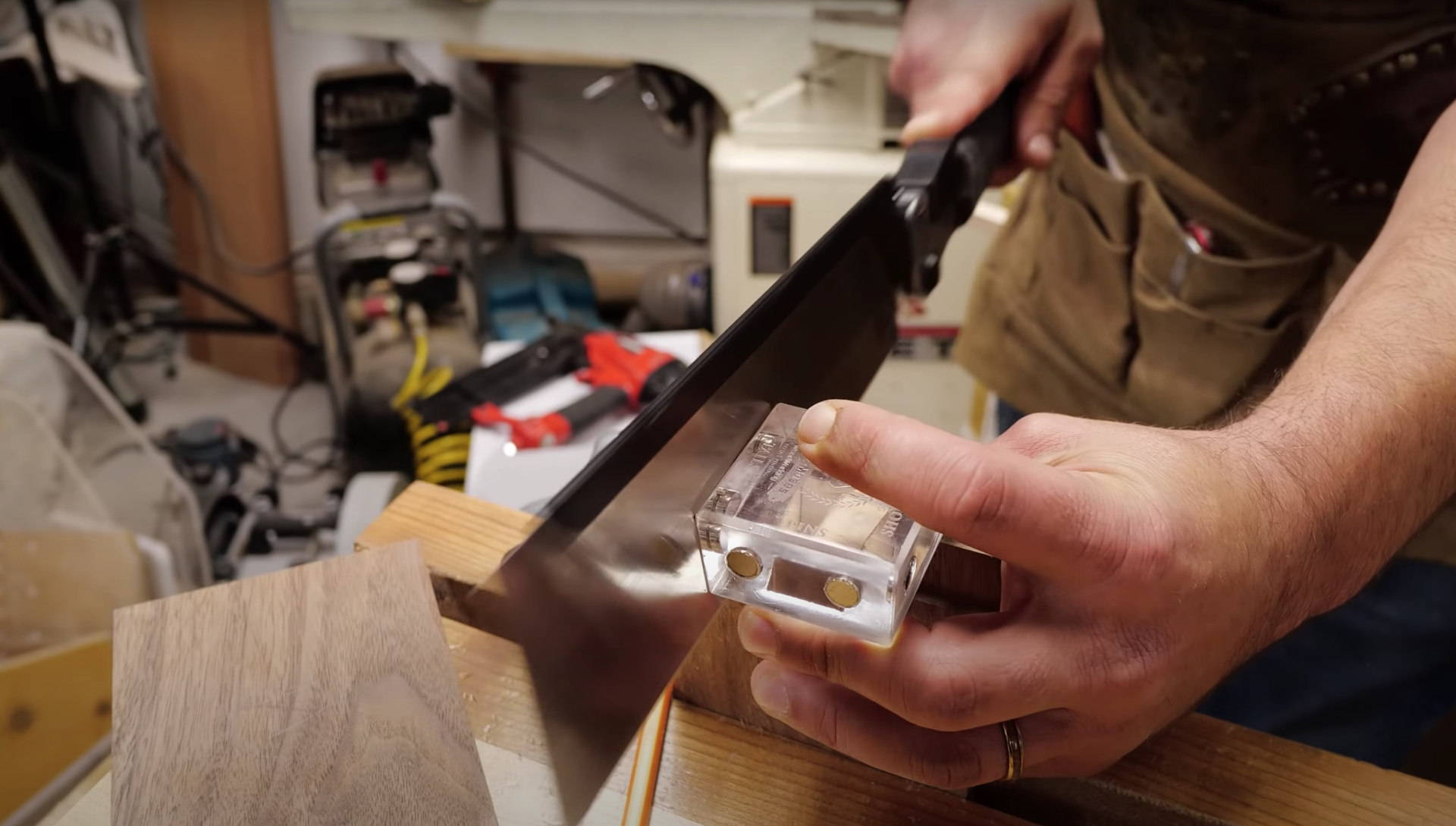 If you're not using the jig, just move your arm like a pendulum and stick to your lines.
PRO TIP: When sawing correctly, your arm should move in a singular plane, like shooting pool or throwing darts. Read this to brush up on proper saw technique.
Take your time here and be careful not to saw below your marking gauge line.
I like to cut all the right sides of my tails, then flip the board around in my vice and cut the left sides.
TIP: Save your sawdust. You can use it later to fix any gaps in your dovetails.
It'll make you look like a genius (even if you're not).
Clearing out waste with care and precision is a make-or-break part of dovetails.
Don't rush through it.
A) USE A COPING OR FRET SAW TO CUT OUT THE BULK

With your show side facing you, bring your coping saw blade into the outside edge of a tail and cut away toward the next tail.
The closer you get to your marking gauge line, the less chisel work you'll have to do later on.
That said, be careful to not cut below your marking gauge line on either face.
B) CLEAR THE WASTE FOR THE SHOULDER/HALF PINS

You can do this with either a dovetail or crosscut saw.
Flip the board sideways, set your saw edge in the marking gauge line, and cut down to the first tail at 90°.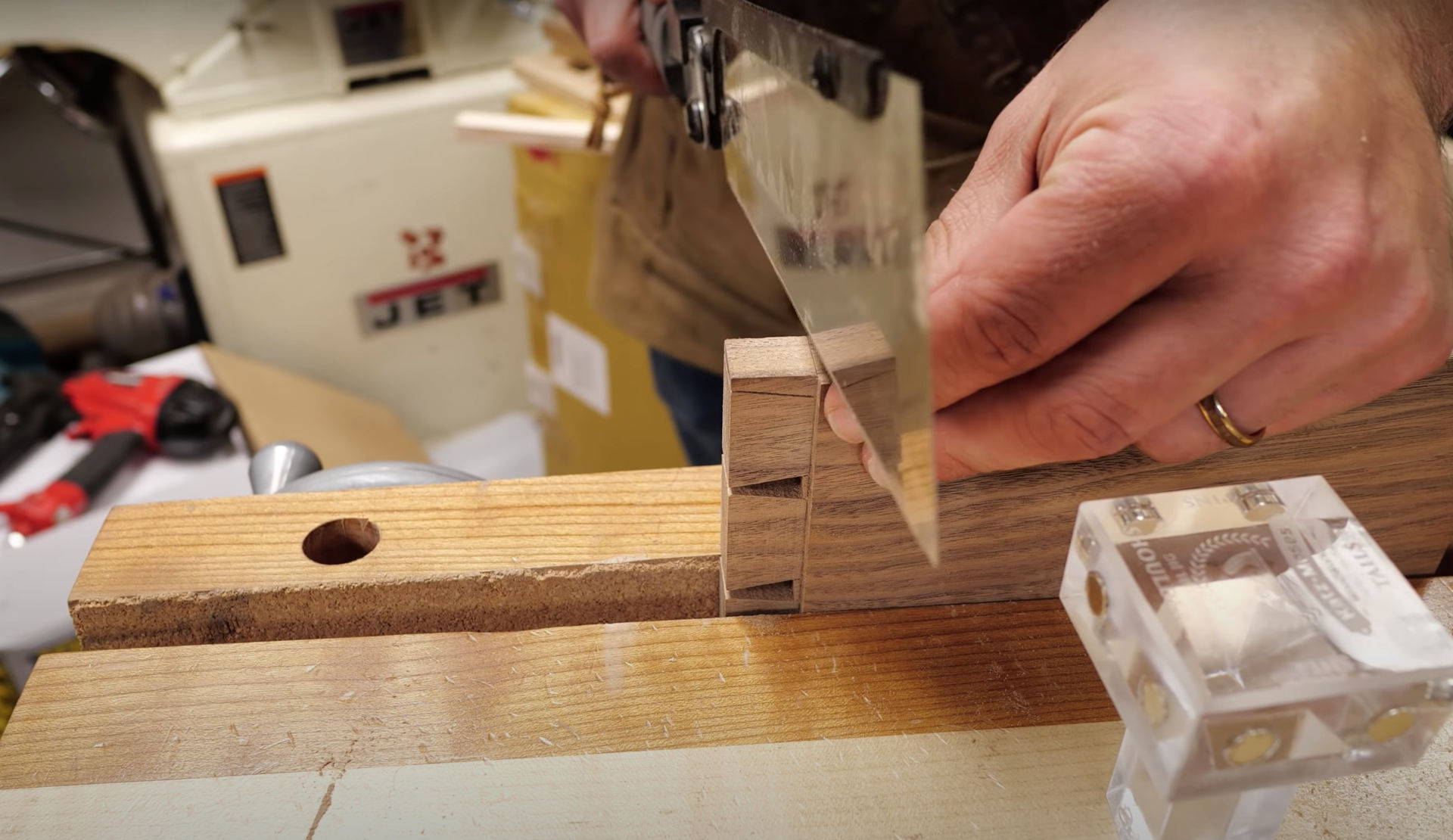 You can use the 90° side of my dovetail jig as a guide. If you don't have one, make a knife wall to help guide your saw.
Be careful to not cut into the tail, and repeat on the other side.
C) CHISEL OUT THE REST OF THE WASTE

The #1 Rule of Chiseling is don't start on your line.
If you do, the bevel can push your chisel back into the marking gauge line and ruin your clean edge.
Chisel away half your waste at a time, and only go halfway through the thickness of the board.
That way you don't bruise the marking gauge line facing you, or blow out the opposite side.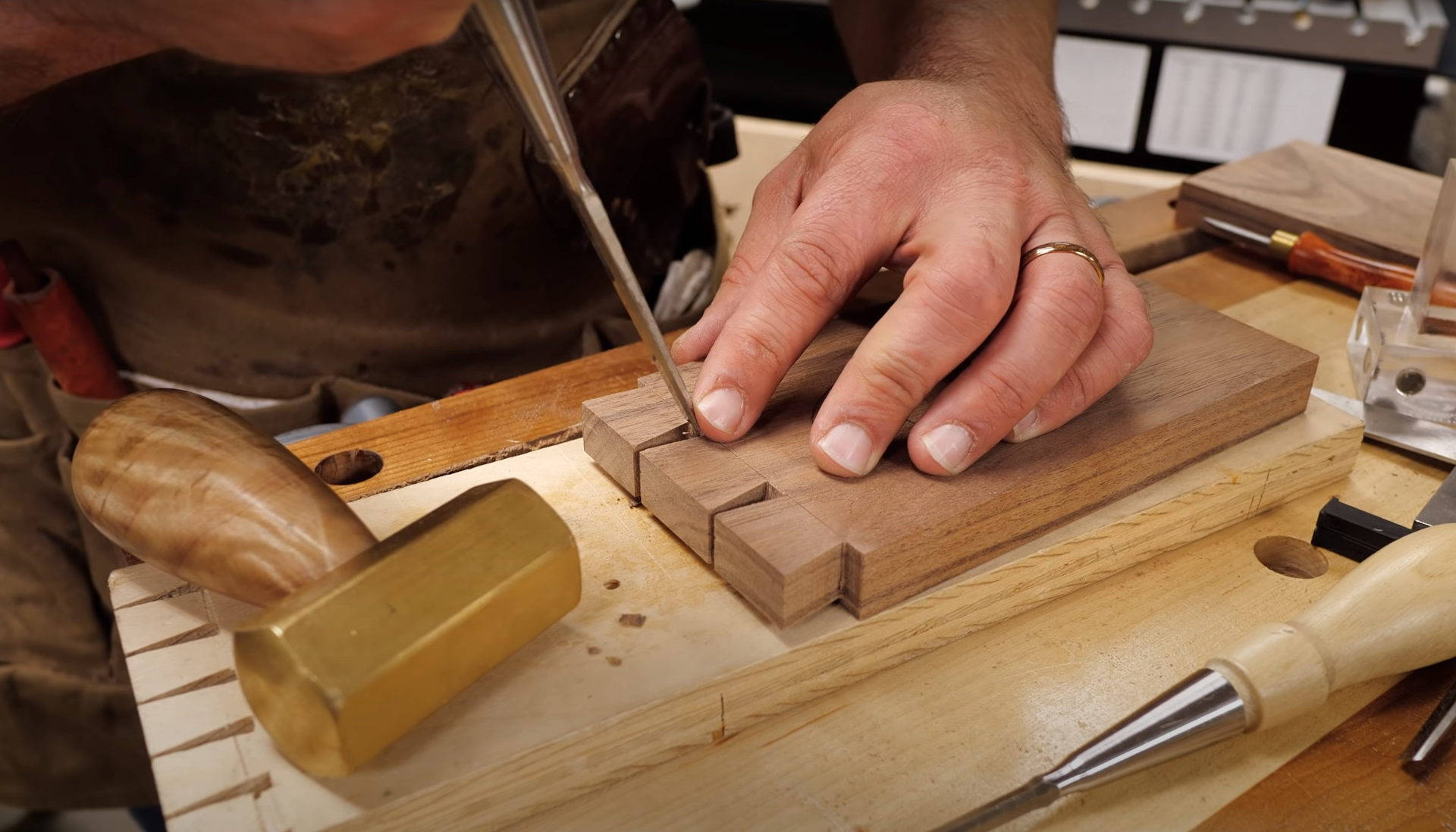 When you can't halve the waste any more, set your chisel in your line at 90° and lightly hit it halfway through.
Now flip your board over and repeat on the other side.
When you're done, use a square to check for flatness between the tails. The blade should touch both marking gauge lines.
If it doesn't, use a chisel to scoop out any humps.
It's ok to undercut the space between your tails.
As long as the marking gauge lines stay crisp, undercutting will be hidden by the pins.
TIP: When cleaning out waste, hold your chisel low on the blade towards the tip.
You can use your fingers as a brake so you don't blow through your marking gauge lines.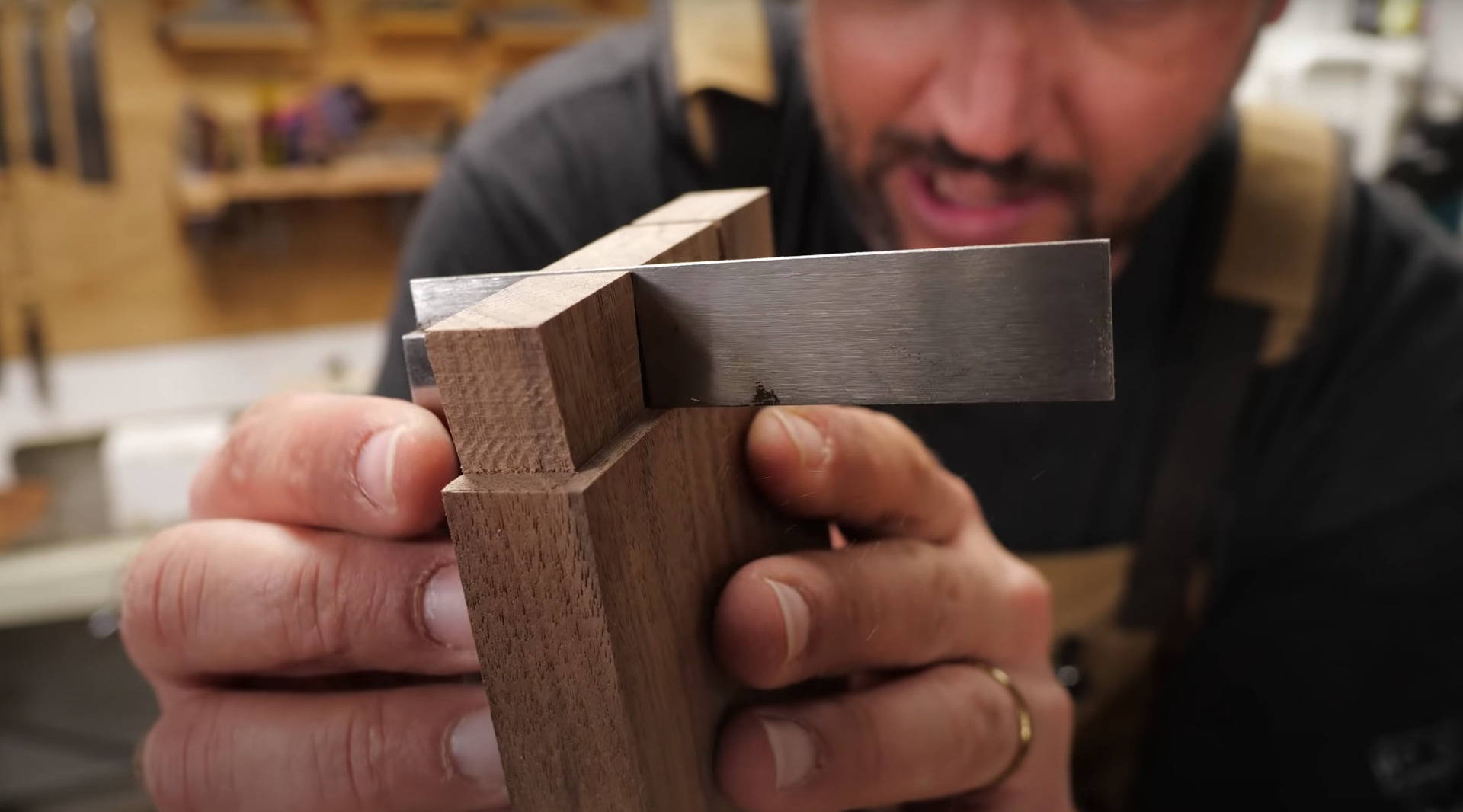 Time to grab your pin board.
Set your marking gauge to the thickness of your tail board, plus a hair so the pins sit proud.
NOTE: If you cut the rabbet on the back of your tails, make sure your gauge is set to the thickness of the TAILS, not the rest of the board.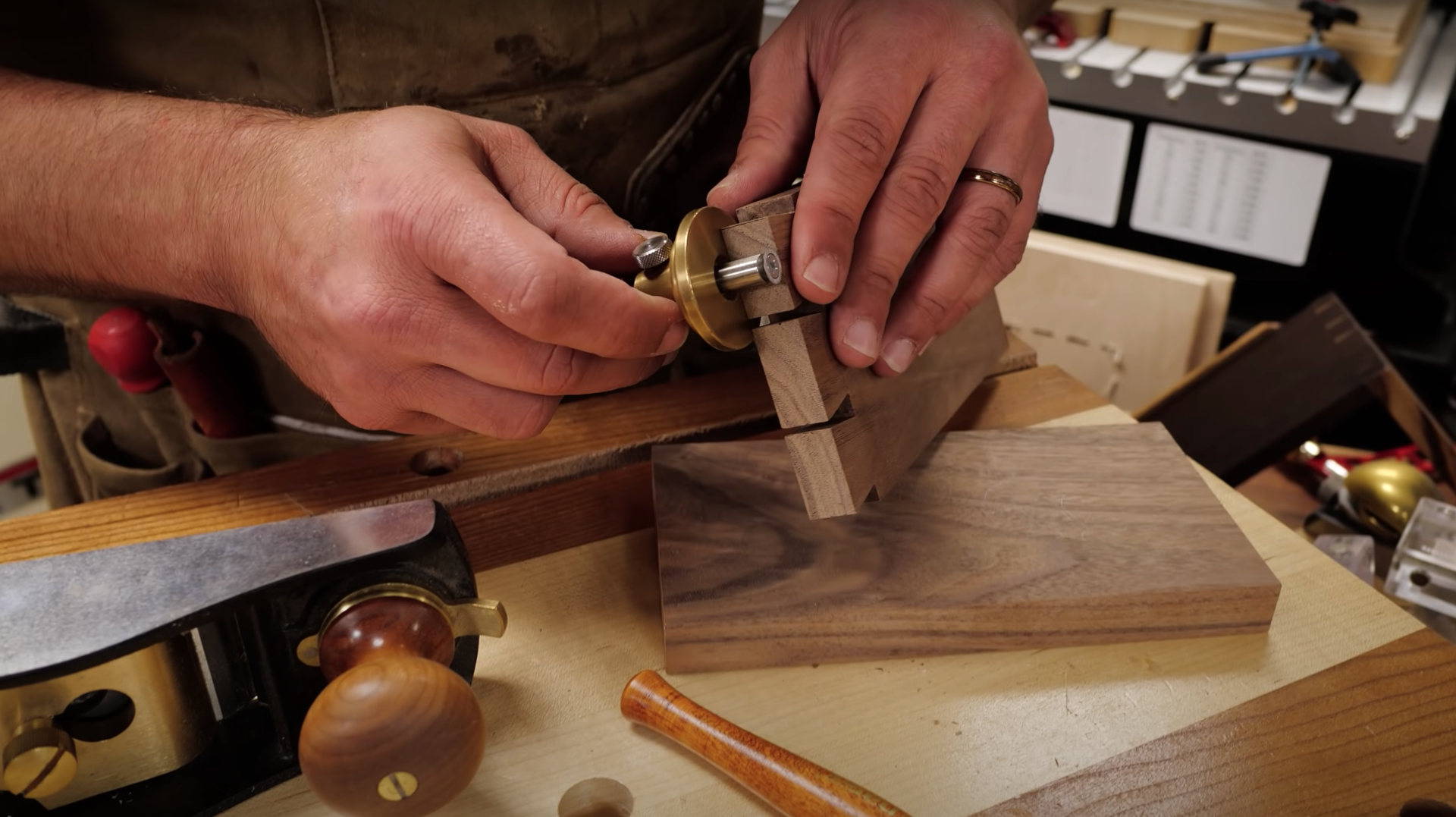 Mark both faces of the pin board with your marking gauge. Don't mark the sides (these will be the half pins).
For the next steps, make sure your show faces are positioned correctly.
NOTE: I recommend using a dovetail alignment board for tracing out pins (this video shows how they work).
The coplanar fences make it easy to align your tails and pins boards — even if they slip.
IMG: alignment board
We have CNC cut dovetail alignment boards available in our store.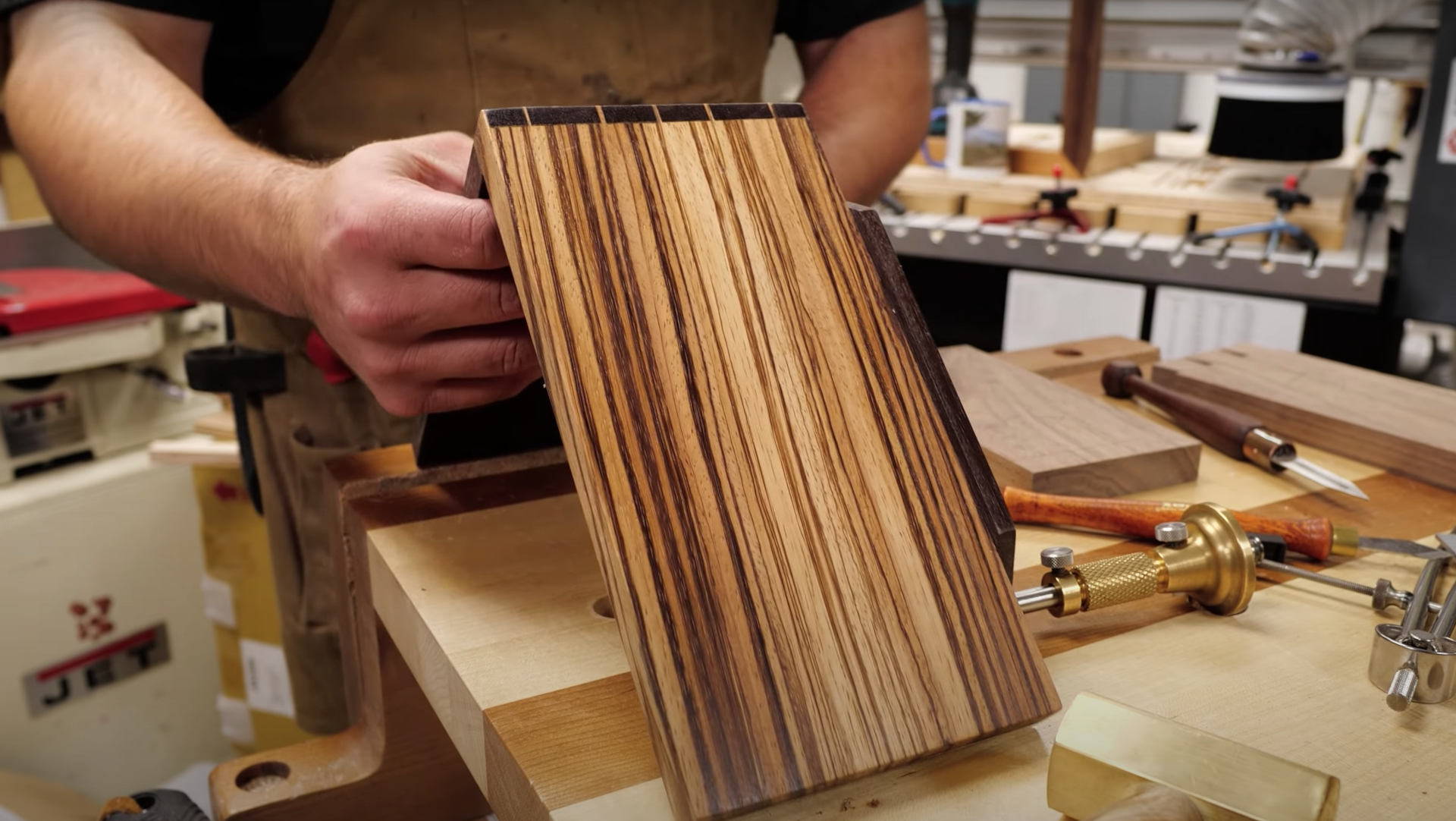 If you have a dovetail alignment board:
Place your pins board and alignment board in your vice, setting the edges of the pins board flush with the top of the alignment board and fence
Place your tails board against the fence on top of the alignment board, lined up flush with the pins board (easier if you cut the rabbet)
Holding the tails board steady, use the flat side of your marking knife to trace around the tails onto the pins board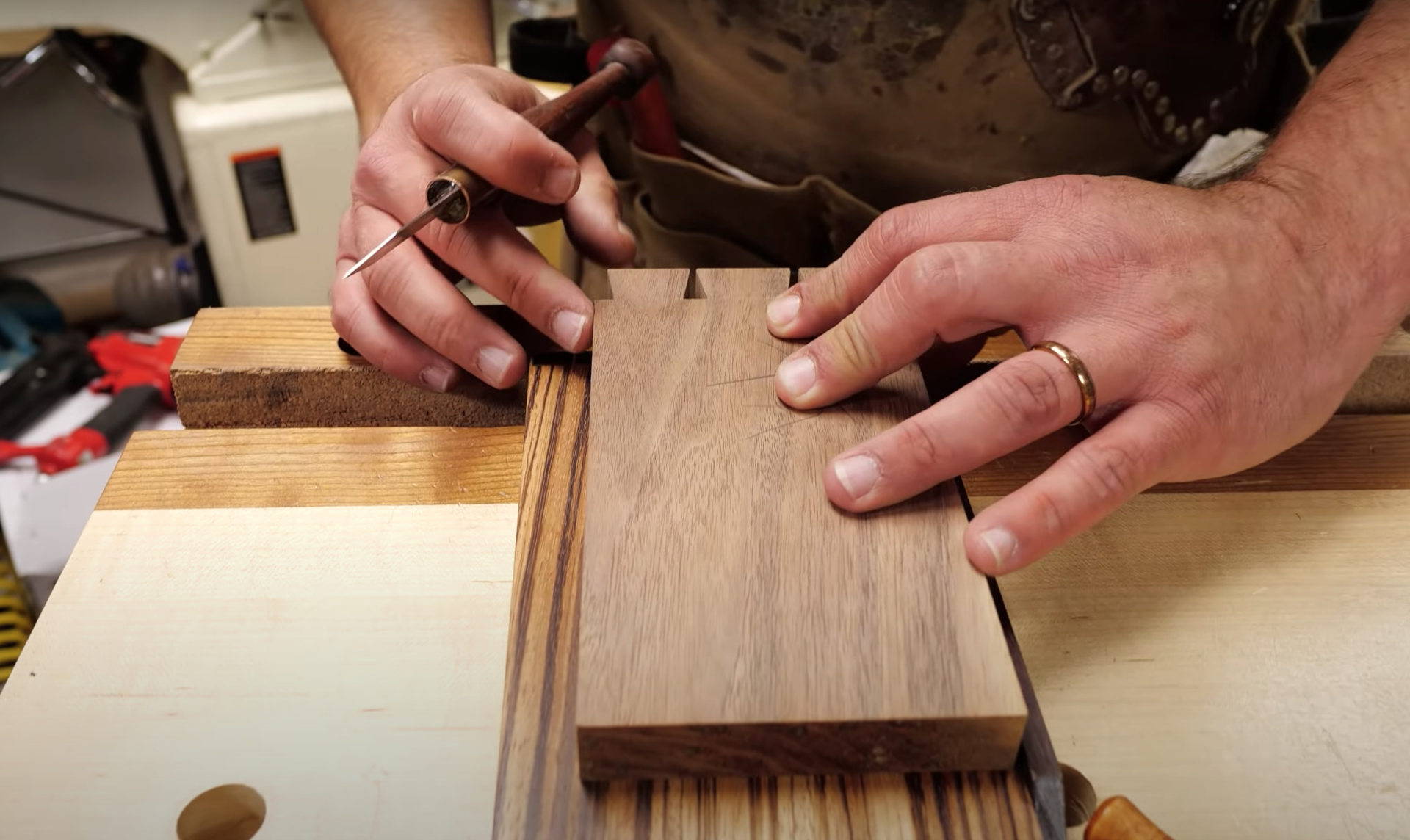 Start with light pressure, then retrace with slightly more pressure. Take your time.
If you don't have a dovetail alignment board, you can use a hand plane on its side to help balance your tails board.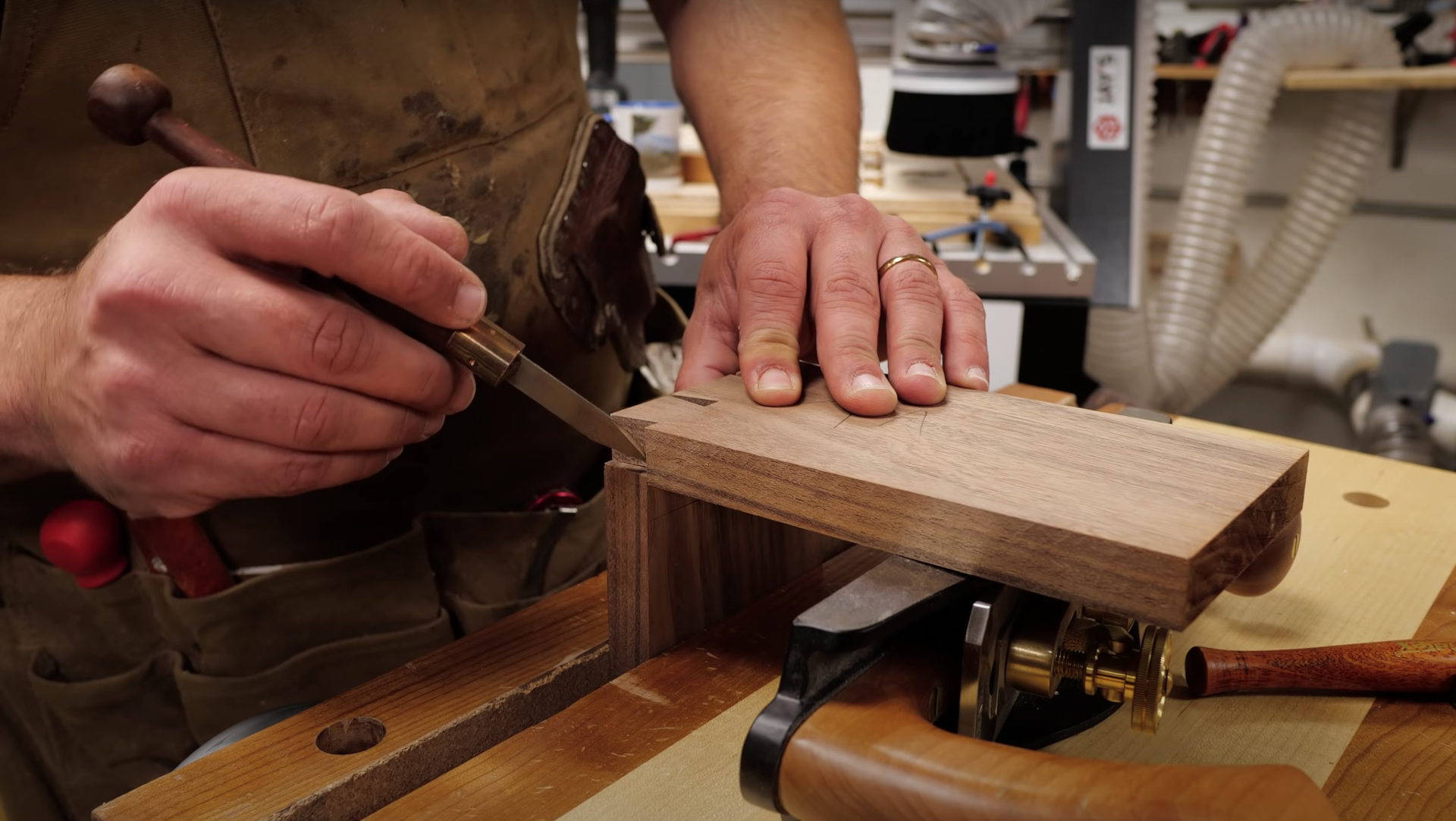 If you're using my magnetic dovetail jig, skip straight to cutting your pins.
If not, use your square to mark a 90° line from the end of each pin mark down to your marking gauge line.
And don't forget to mark your waste.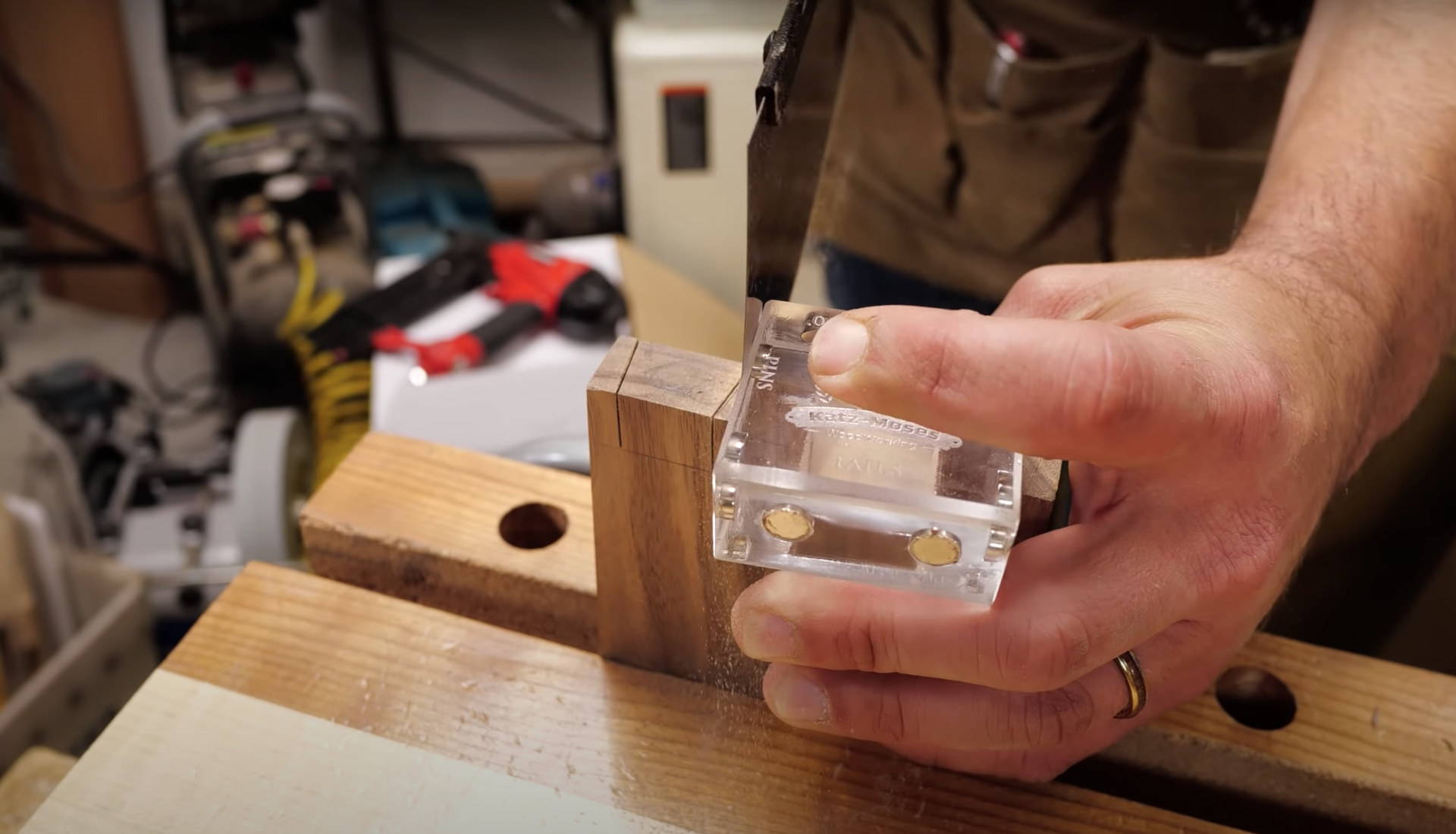 The easy thing about pins is you're sawing straight down, or plumb to your board.
The tricky part is you're not cutting straight across.
With my magnetic dovetail jig, set the correct side of your saw into your line and slide the pin side of the jig up to it.
If you're not using the jig, take your time and stay focused on the two lines facing you as you saw.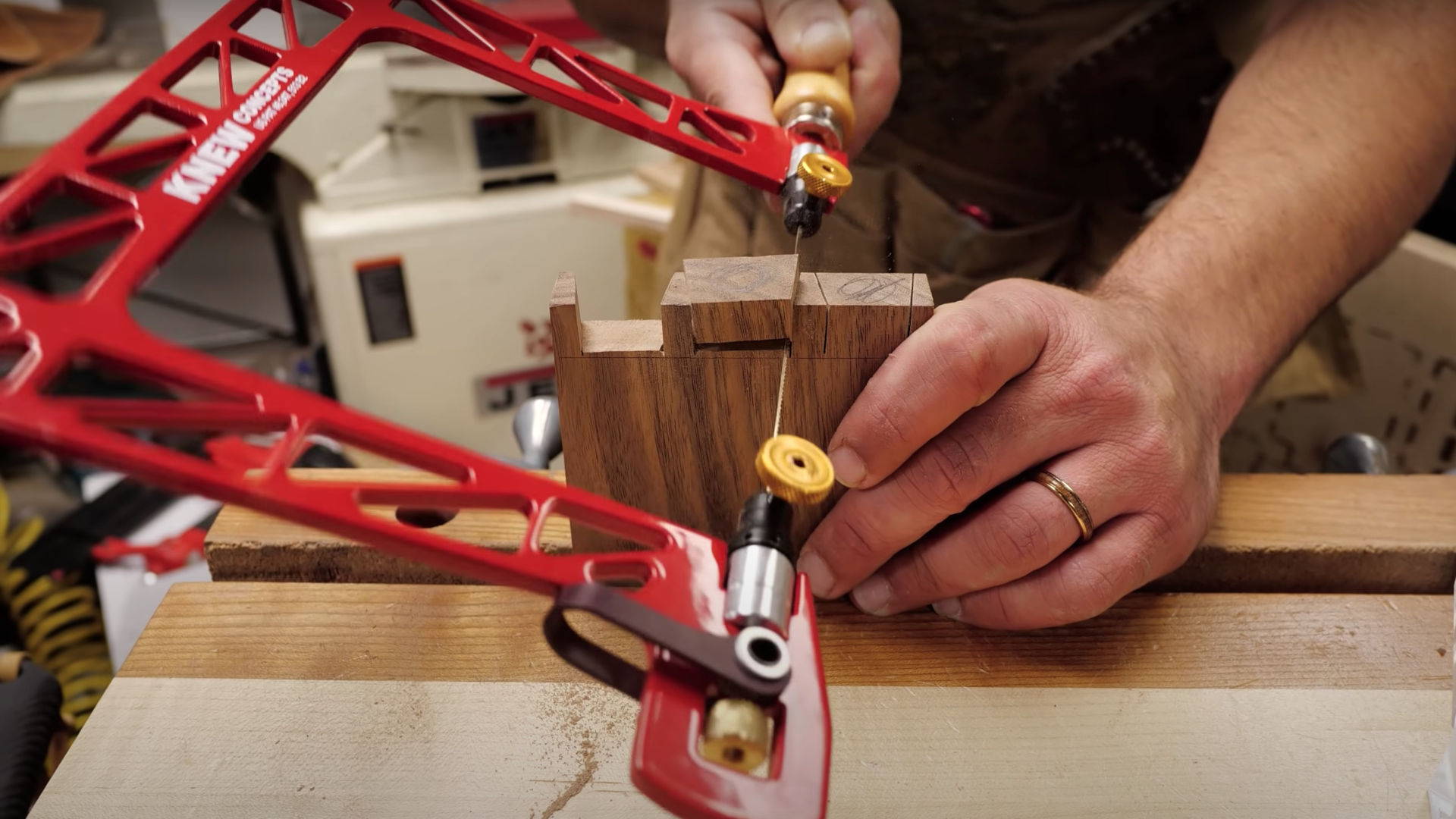 Like with the tails, use a coping saw to cut out the bulk of your waste.
Just be extra careful not to cut into the corners of your pins, since they're at an angle.
When it comes time to chisel, I like to start with the show side.
Remember to only take half of your waste at a time, and keep your chisel at the same angle as your pins.
Just like before, use your square to make sure the bottoms (or valley) between your pins are perfectly flat. If not, you can scoop them out with a chisel.
Again, undercutting is ok as long as your marking gauge lines stay crisp.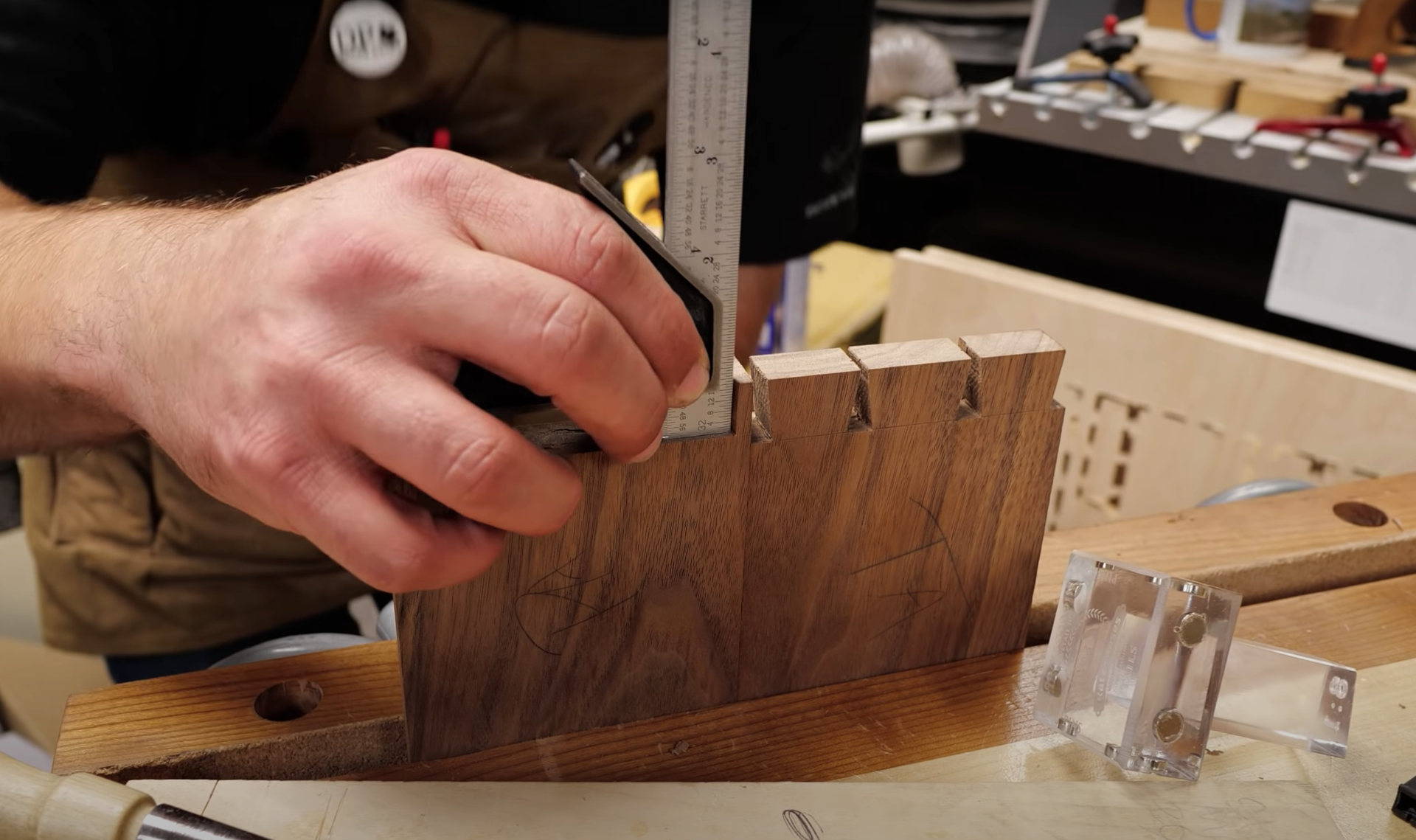 Place the tails into position onto the pins and apply slight pressure — but don't push them all the way in.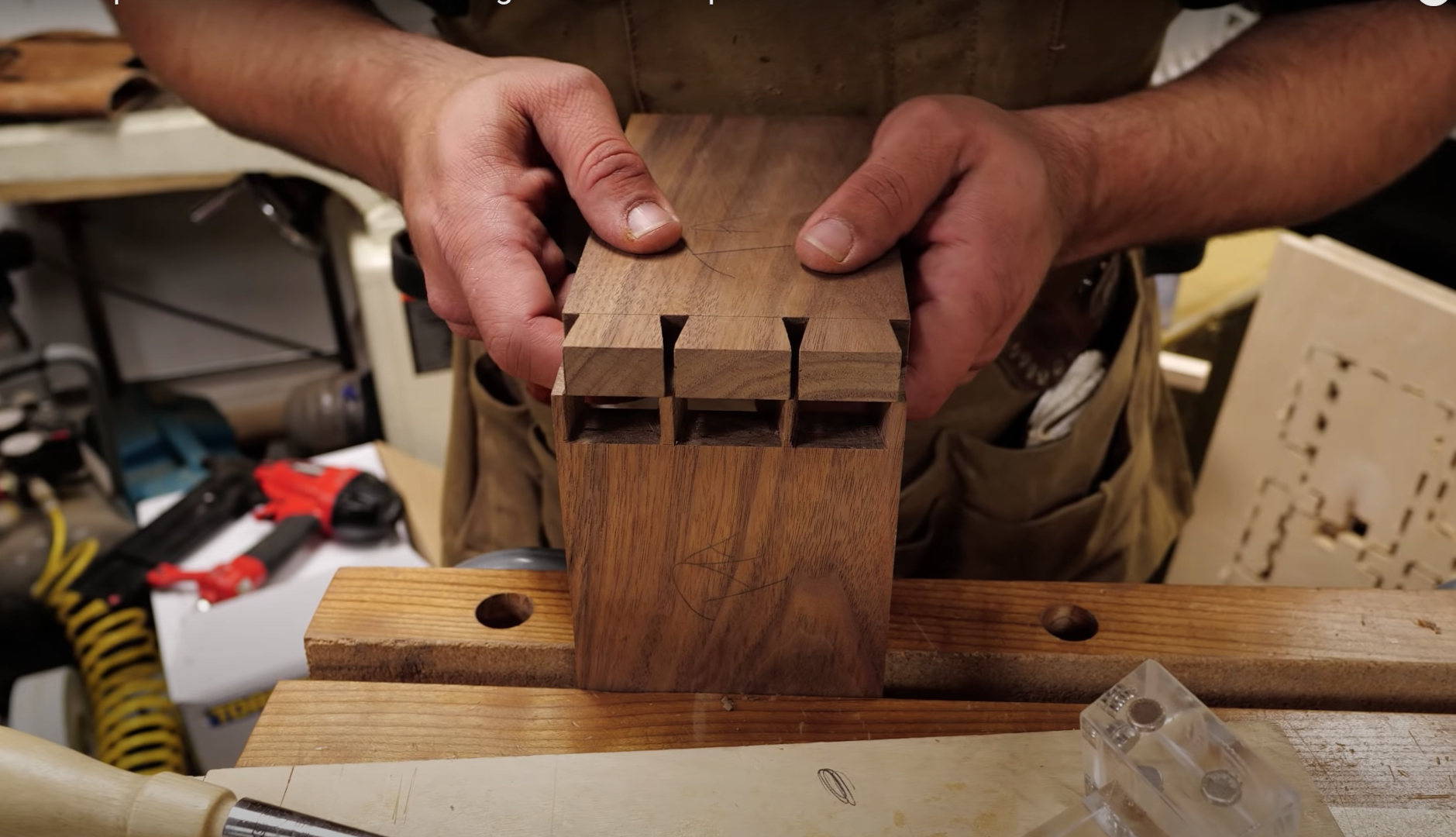 If the edges of your tails get bruised, clean up your pins a bit more in the corresponding places and triple check they're square.
TIP: Get a file that has one narrow side without teeth.
Place that in your valley to only remove material from your pins/tails and not your marking gauge line.
Once you're confident the joint will go together without splitting your boards, it's time to put this bad puppy together.
Place your pins and tails into position, then use a mallet to lightly tap them into place.
Tap along the length of the joint so the tails and pins settle into each other evenly.
NOTE: A proper fit will go together without needing powerful mallet blows.
Glue causes slight expansion to wood, so if you need anything more than light taps will a mallet, you're too tight.
After the dry fit, carefully pull the joint apart and reach for the glue bottle.
10. GLUE UP AND FINISHING TOUCHES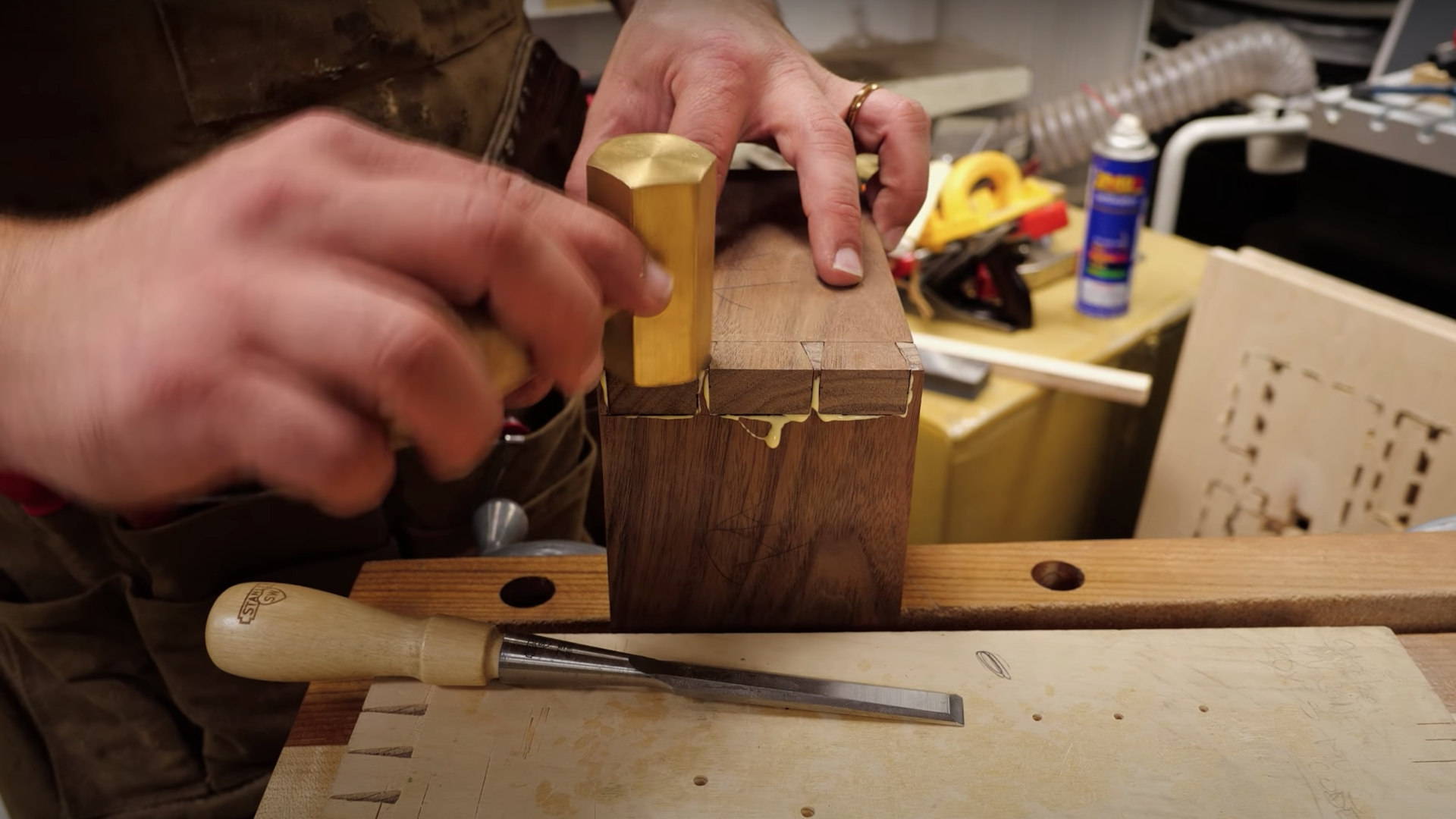 Apply a small amount of glue to all mating sides of the pins and tails.
Just don't overdo it — too much glue causes fit issues and is a pain to clean.
Then use a mallet to put the joint together.
If it seems tight, you probably won't need clamps — but if it's your first few times cutting dovetails, clamps may be helpful.
TIP: Make your dovetails look airtight with this trick.
1. Rub just enough glue on the joint to fill in any gaps
2. Use a wet rag to wipe away the excess
3. Grab the sawdust you saved and rub it all over the joint
4. Once it dries, lightly sand for an immaculate looking joint.
At this point, all that's left is to hand plane or sand your joint flush.
You're also left with the choice of whether to get rid of the marking gauge lines or not.
Some people like to leave them because they think it creates a more "hand made" look, but it's up to you. Personally, I prefer to remove them.
CONGRATULATIONS — YOU'VE CONQUERED DOVETAILS

Dovetails can seem intimidating…
But with a little patience and a lot of practice, they don't have to be.
If you want to dramatically cut down the learning curve, pick up one of my dovetail jigs:
Made from clear, super strong urethane (the same material billiard balls are made from)
Magnets have 10 pounds of pulling pressure to keep your saw on your line
Include every angle needed to cut dovetails
Got any useful dovetail tricks up your sleeve? Share them in the comments below!
Be sure to follow us on Instagram @katzmosestools and check out my YouTube channel.
And as always, STAY SAFE IN THE SHOP!