Woodworking is an immensely fulfilling activity. But it can also be immensely dangerous — if you don't take the right precautions.
Think about it.
In the shop, you're constantly working with sharp edges and spinning blades. Airborne irritants are all over the place trying to find their way into your lungs.
And I hate to say it, but your power tools don't love you back.
Luckily, there's a lot you can do to protect yourself from the dangers of woodworking. And it all starts with the right Personal Protective Equipment (PPE).
Today, I'm giving you a list of must-have safety equipment you need in the woodshop — so you can continue to enjoy the craft while staying out of harm's way.
Depending on the type of woodworking you do, there may be other essential safety gear. But this list is a good place to start.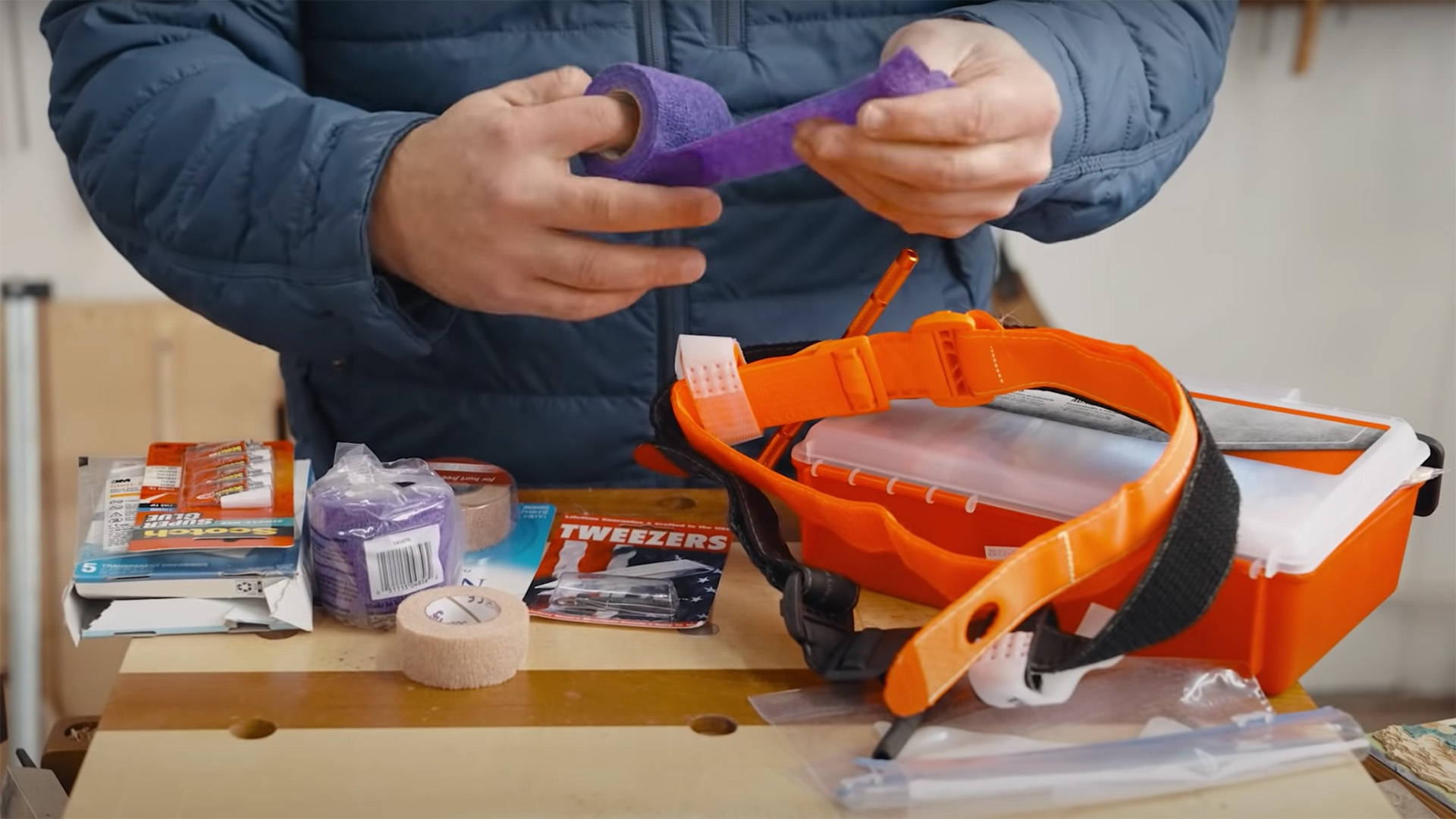 If something goes wrong in the shop, you need to be able to respond quickly. And that means a fully stocked First Aid Kit close at hand.
The most important thing is that your safety kit is ACCESSIBLE.
If you get injured, you don't want to have to rummage through drawers to find it. You may even want to leave it open so you can grab items with one hand.
After my jointer injury, I spoke with several medical professionals about workshop safety (here's the video). The first thing they emphasized was being PREPARED for things to go wrong — and always having your first aid kit stocked and ready to deploy.
What should go in your woodshop first aid kit? Here's a few must-haves to start:
Bandages (preferably pink and decorated with princesses)
Gauze
Tweezers (no one likes splinters)
Antibacterial ointment
Alcohol spray
Cold compression bags
Exam gloves
Make sure you read the instructions and know how and when to use everything in there. Do it before you need to.
2. DUST MASKS & RESPIRATORS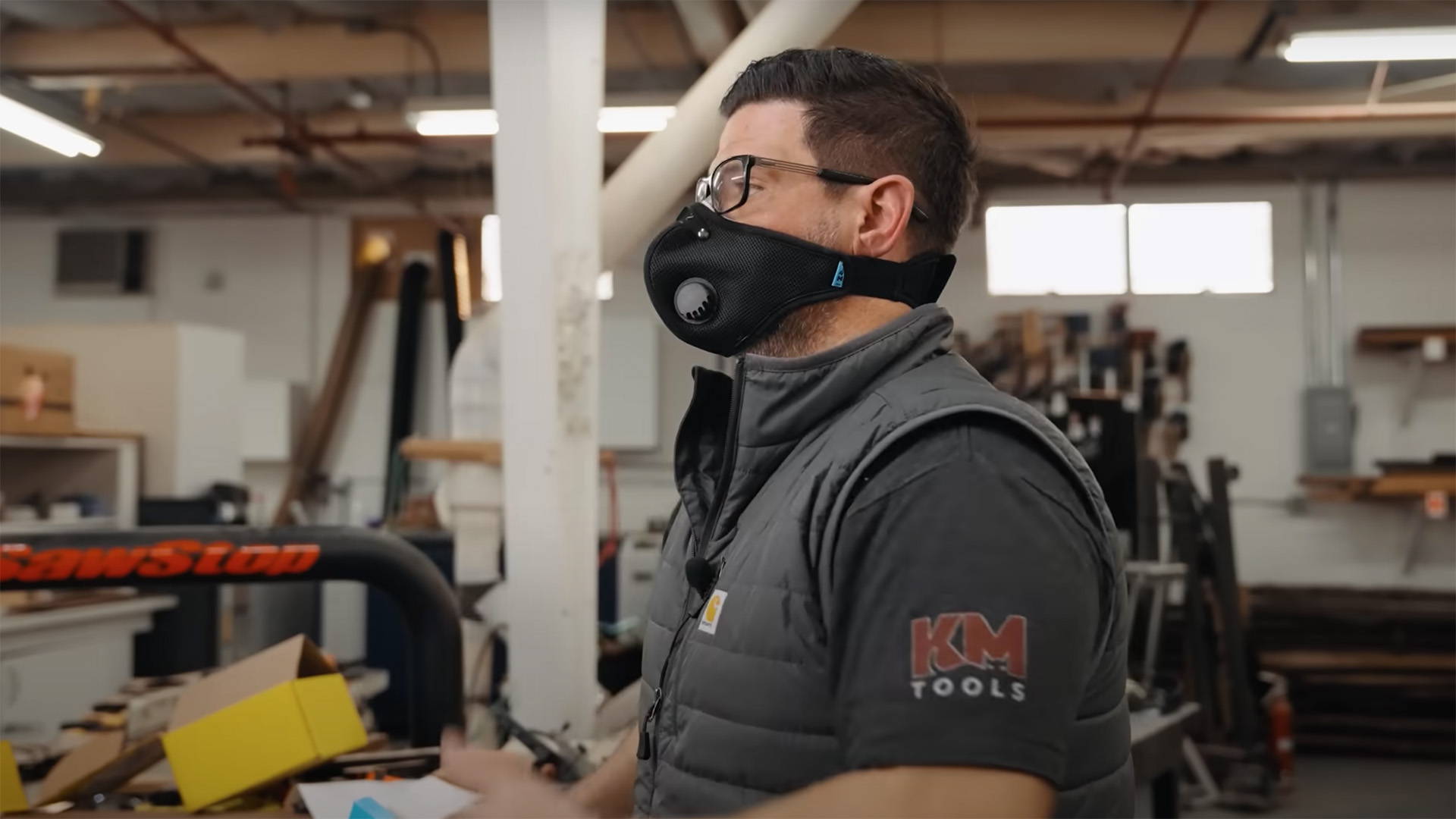 Sawdust has been proven to pose major long term health risks — and a good dust mask is a critical line of defense for your lungs.
But what makes a good dust mask? Basically, one that can filter out the dust particles you can't see.
Particles under 10 microns or micrometers (μm) aren't visible to the naked eye (for reference, a human hair is about 80 μm).
But the particles that are really damaging to your lungs are 5 μm or less.
A good dust mask should at least filter out 95%+ of particles down to 0.3 μm — and it's best if it has replaceable filters.
The RZ masks we carry have replaceable filters that block 99.9% of particulates down to 0.1 μm. We carry the replacement filters as well. Most importantly, they're comfortable, so you'll actually wear them.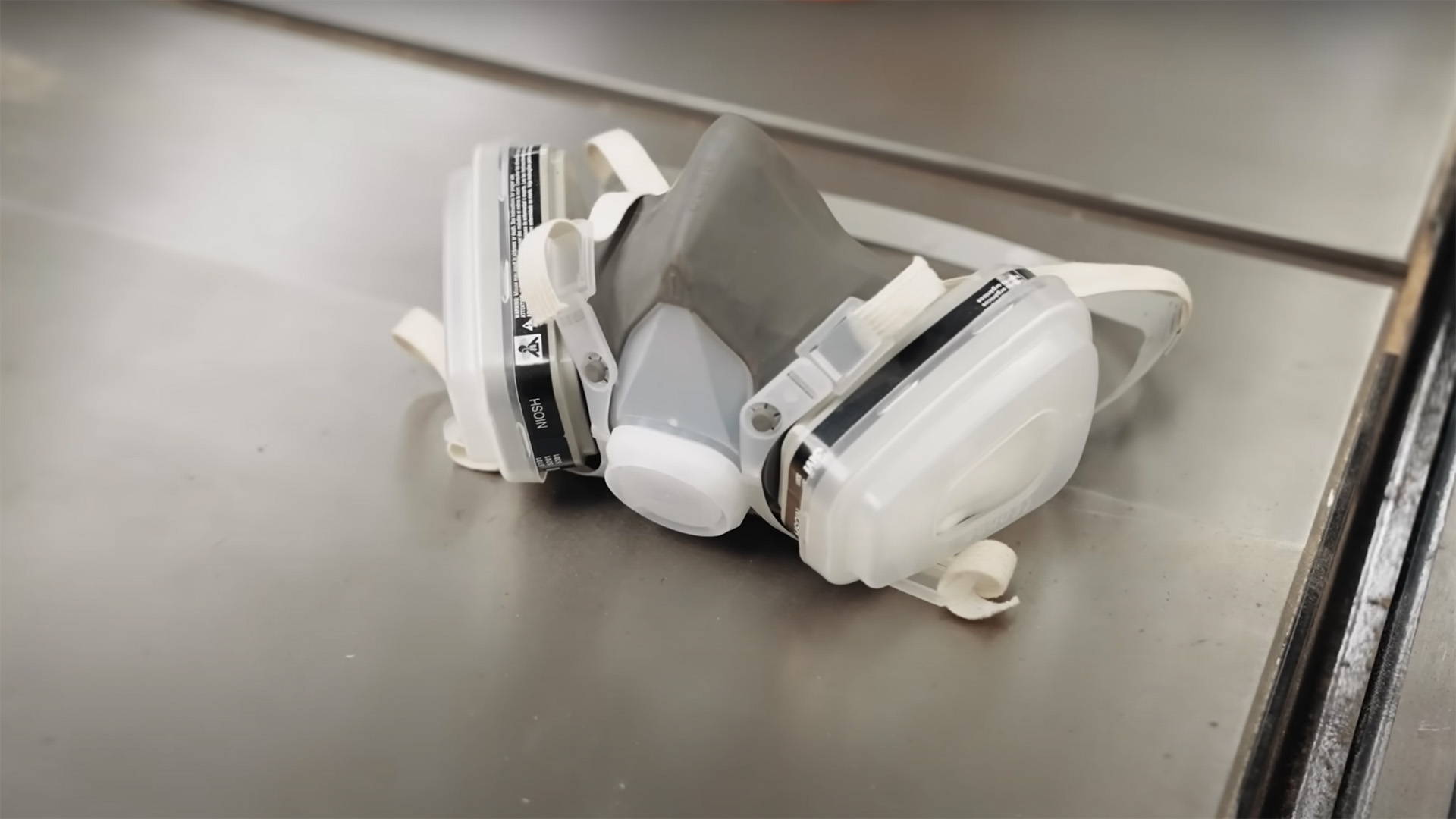 Sawdust isn't the only airborne danger in the woodshop. A lot of common finishes contain Volatile Organic Compounds (VOCs) which are muy malo for your health.
To protect yourself from VOCs, your best best is a respirator with the right type of filters.
It's key that the respirator creates a good seal around your face. And for spray finishes, your best bet are OV AG P100 filter cartridges that filter at least 99.97% of solids and liquid aerosols.
Check out the 3M Multi-purpose Respirators and replacement cartridge filters we carry in our store for top-of-the-line protection.
On top of wearing a mask, good dust collection and ventilation in your shop are critical.
That's a whole other rabbit hole — but be sure to check out my videos about dust collection.
3. HEARING PROTECTION: EARBUDS & EARMUFFS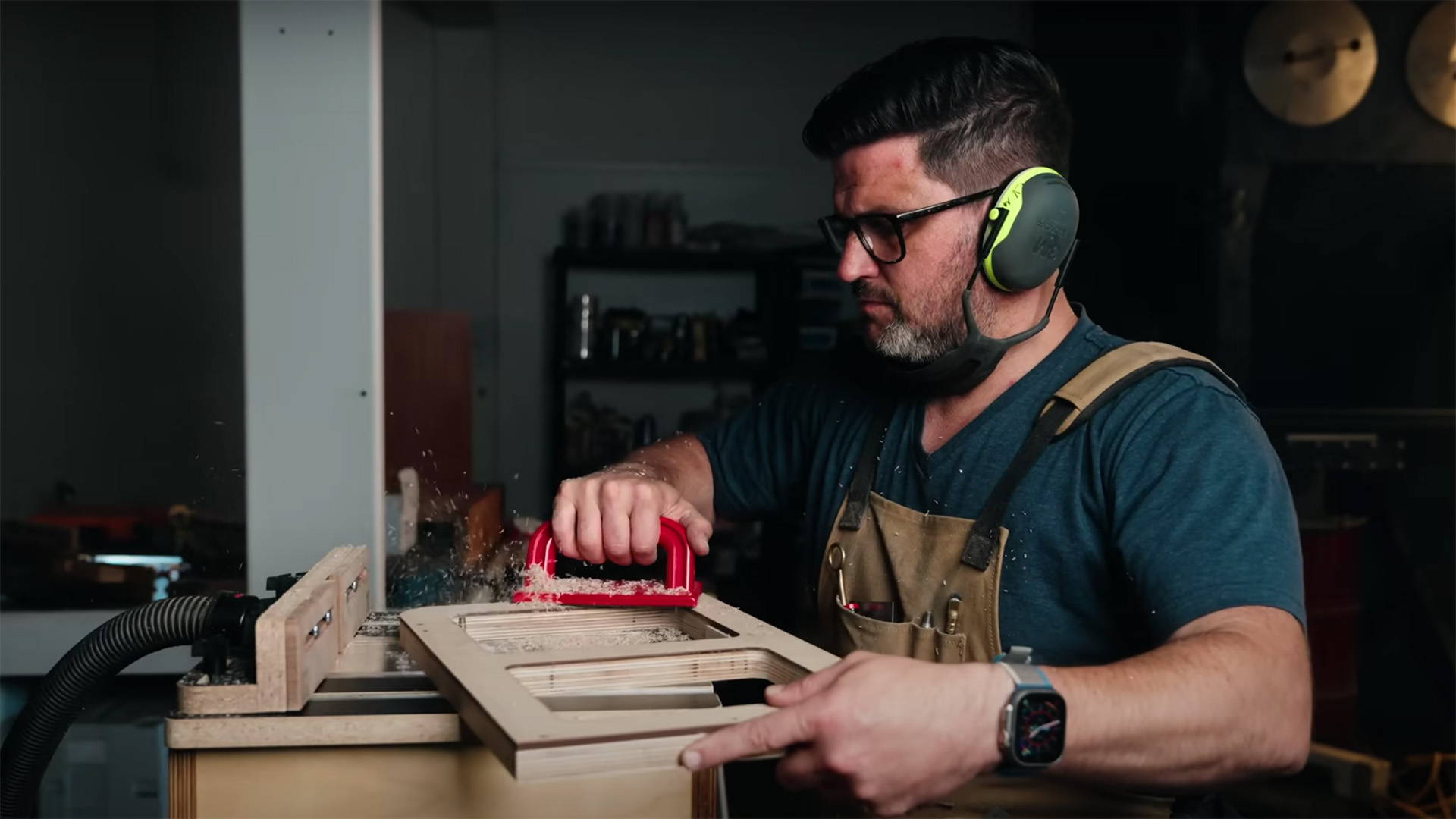 Power tools can get loud (looking at you, lunchbox planer). And prolonged exposure to loud noises ain't good for your hearing.
Sustained noises over 85 decibels (dB) can start to cause hearing damage. And most big power tools create over 90 dB — even over 100 dB in some cases.
Hearing protection helps bring these decibel levels down to less damaging levels. What you want to look for in earplugs and earmuffs is the Noise Reduction Rating (NRR).
NRR is a measure of decibel reduction. But NRR 20 doesn't mean your hearing protection reduces noise by 20 dB. Instead it's calculated by subtracting 7 from the NRR rating then dividing by 2 (don't ask). So NRR 20 actually equates to about a 6.5 dB reduction.
If you work a lot with loud tools, use hearing protection with an NRR rating of at least 20 dB.
The other big factor to keep in mind is comfort and ease of use. The size and shape of your noggin plays a big part, so try out different options and see what works best.
We carry multiple types of hearing protection to suit your needs — from simple earplugs to Bluetooth enabled earmuffs for listening to music or taking calls. Check them out below.
4. SAFETY GLASSES & GOGGLES

Routers, table saws, and other power tools can send wood chips flying. Sometimes even entire boards.
And if any of them happen to fly at your face, you don't want to get poked in the eye by a giant splinter.
Safety glasses come in all styles, from the stylishly retro to the painfully futuristic.
Anything is better than nothing — even your Nana's inch-thick bifocals from the 70s (ok, maybe not those, Dahmer).
What's important is that they're comfortable and that they let you see clearly.
While wearing a dust mask, a lot of safety glasses have a tendency to fog up. There are some home-cooked remedies to prevent fogging…
But even cooler are these 3M safety glasses with an anti-fog coating. And they literally DO NOT fog up.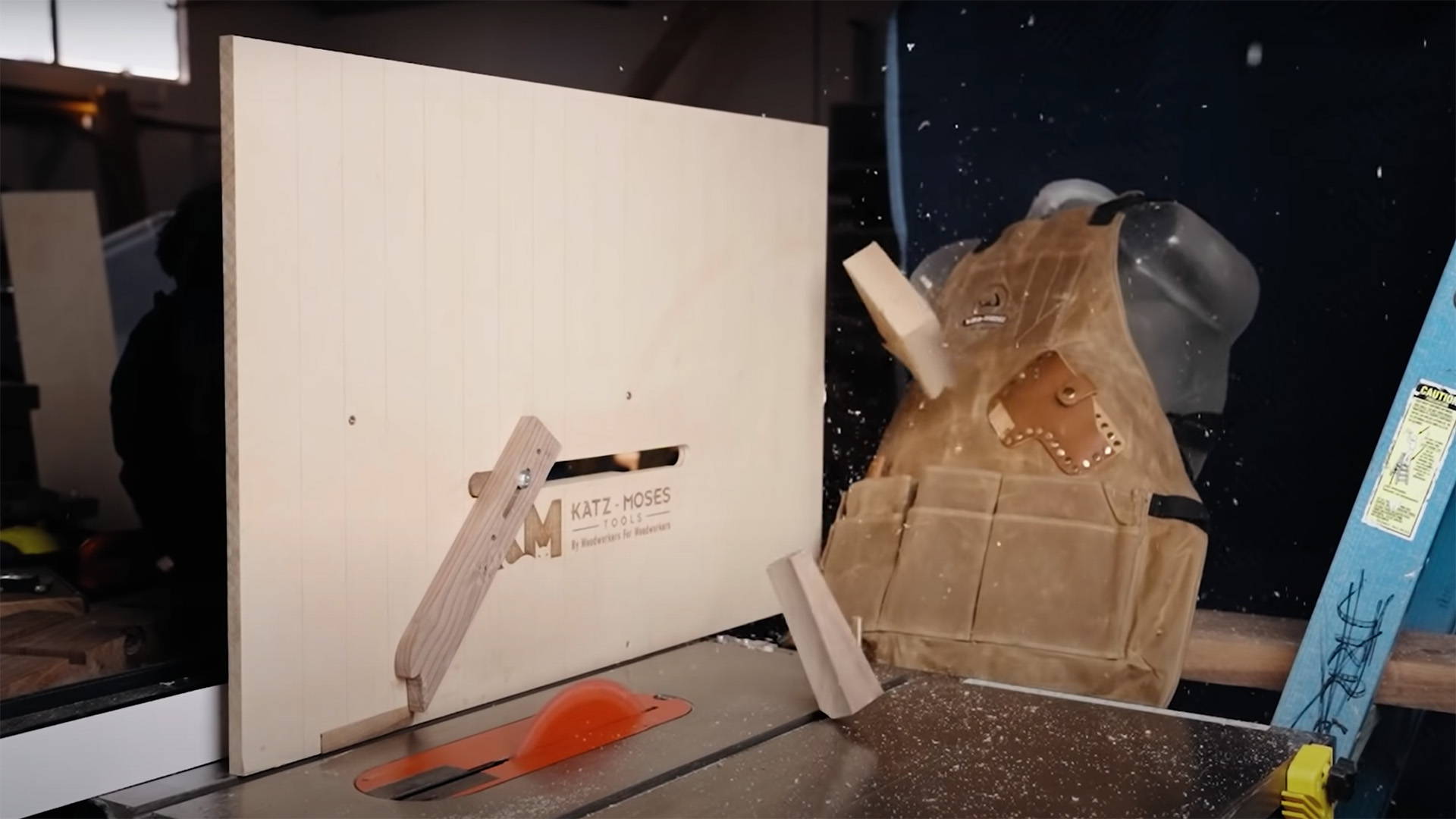 I swear this isn't just a shameless plug — I truly do consider a good apron critical woodworking PPE.
Over the years, multiple people have told me how their Katz-Moses Woodworking Apron has saved them from getting seriously injured by table saw kickbacks.
What could have been a gouge in the abdomen was reduced to a minor bruise. And 20 oz waxed canvas is to thank for the protection.
They're also great for avoiding accidental stabbing with sharp tools. No chisel-fueled hara-kiri here, folks.
The Katz-Moses Woodworking Apron is made with ultra-durable 20 oz waxed canvas, industrial stitching and brass rivets, has 12 pockets, 2 hammer loops, and dedicated leather holders for your square and marking knife.
6. PUSH PADDLES & PUSH STICKS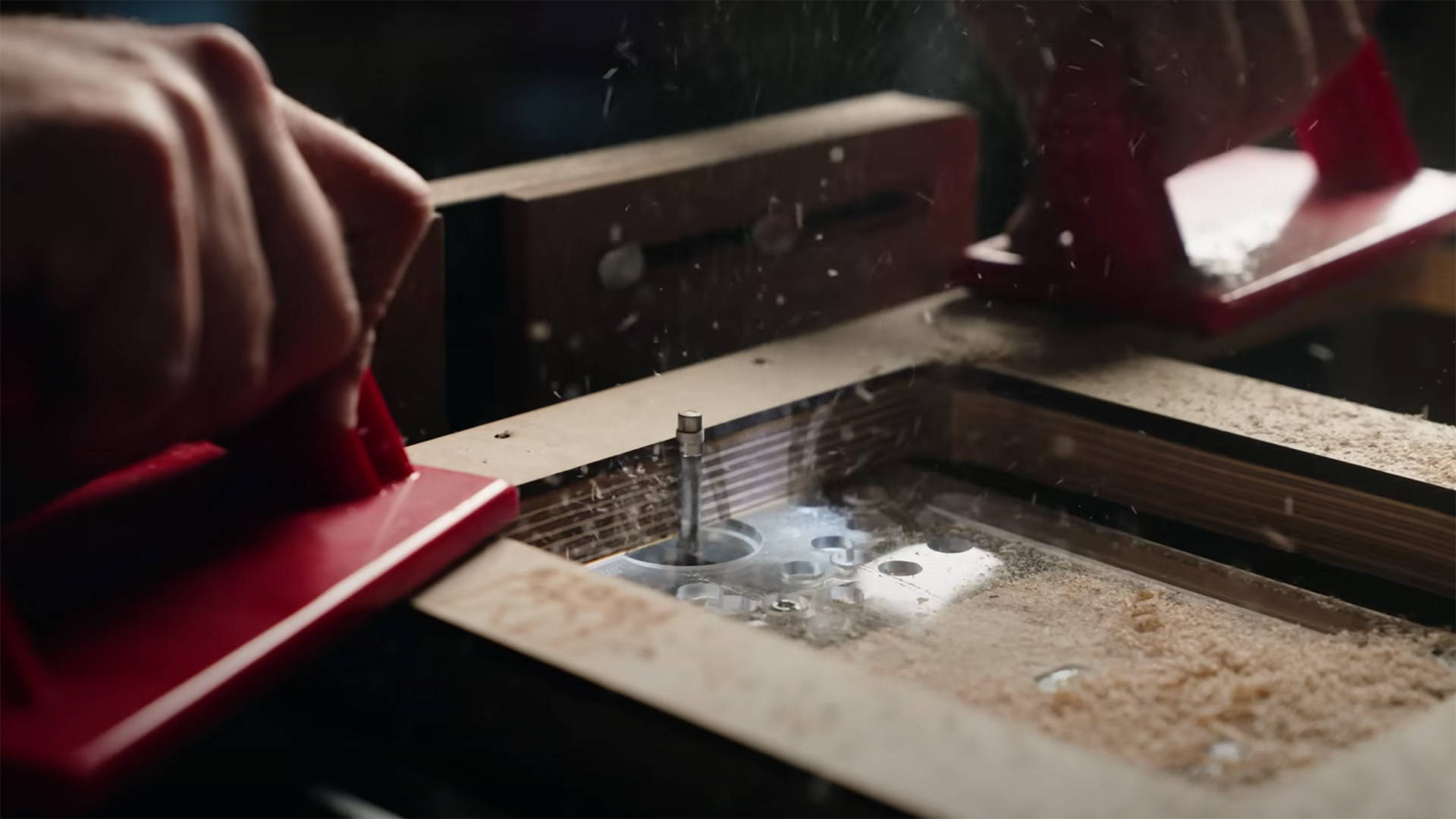 Push paddles and push sticks are the first line of defense between your hands and the spinning blades on your power tools.
I recommend using them whenever possible with your jointer, table saw, and router table. (If I had been using one at the time of my jointer injury, my thumb would've been fine).
It's also important to know when certain types of push paddles and push sticks are right to use (watch this to learn more).
Push sticks are easy to make yourself — and we even have free push stick plans for you to download.
We also carry a 4-piece power tool safety kit that includes 2 push paddles, a push stick, and a featherboard.
The BEST way to stay safe while woodworking is to PAY ATTENTION to what you're doing.
Think about operations and cuts before you make them. Is there a better or safer way to achieve the same results? Then do it that way.
You need to understand your tools. Not just the basics of safe operation — but how a safe cut sounds and feels. If your table saw starts making gnarly noises and a cut is suddenly getting difficult, turn off the saw, step back, and figure out what's going on.
Also, you should be of sound body and mind when you're in the shop. Operating dangerous machinery isn't a good idea if you're distracted, exhausted, or inebriated.
Ripping a board while ripping a b*ng might not be the best combo… just saying.
Part of the reason for my jointer injury was that my mind was elsewhere (not substance related, I promise).
Stay focused on what you're doing. Woodworking's an amazing way to live in the moment.
Along with the items above you should have to stay safe in the shop, there's a few you should avoid.
It's a little counterintuitive at first, but you usually shouldn't wear gloves while operating power tools.
Bits or blades can catch the fabric of the glove and pull your whole hand in. What might have been just a knick can turn into a pretty nasty situation.
LOOSE-HANGING CLOTHING AND JEWELRY

If it dangles, it's dangerous (ladies, gentleman, control yourselves)...
Avoid wearing anything that hangs far from your body and could potentially get caught in a spinning blade.
If the floor of your shop looks like a failed game of extension cord Cat's Cradle, you've got a problem.
Tape down loose cords so you can't trip over them, and try to keep low objects out of the way. You don't want to find them with your foot while carrying a heavy board to your workbench.
And for the love of your toes, wear shoes. Sturdy work boots are ideal.
SERIOUSLY, STAY SAFE IN THE SHOP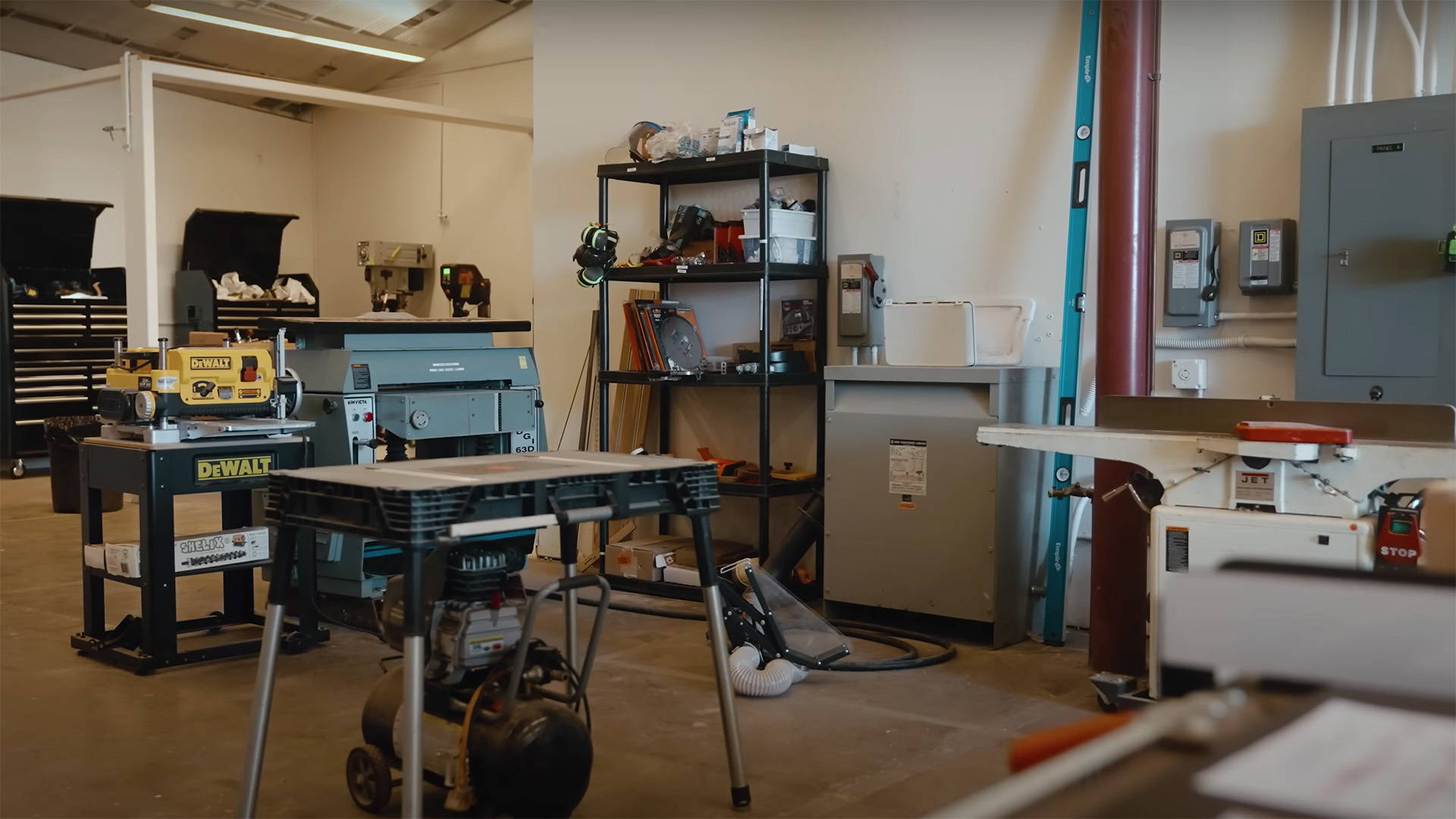 With the right safety equipment, you can improve your chances of avoiding injury in the woodshop. And the list above is a good place to start.
Woodworking should be enjoyable. Not a death wish.
So make sure you get the right PPE, make sure you use it, and keep having a good time in the shop.